Thai Minced Pork and Shrimp Relish (Ma Haw) - Thai food has a long tradition of spicy ground meat-based dips and relishes served with raw sliced vegetables.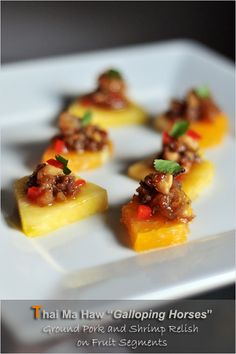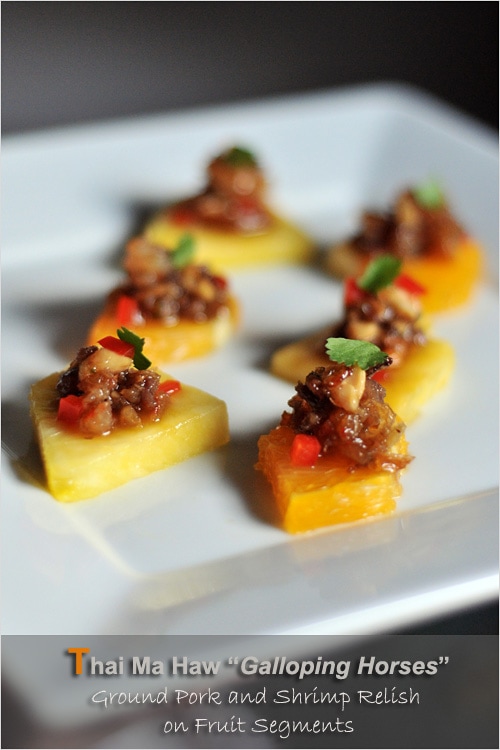 Today, I am honored to have another real chef and cookbook author as a guest writer–Ivy Manning of Ivy's Feast. Ivy is my Facebook fan.
Based in Oregon, Ivy is a freelance food and travel writer, food stylist, and author of two cookbooks: The Farm to Table Cookbook: The Art of Eating Locally and The Adaptable Feast.
Her work has been featured in Cooking Light, Sunset Magazine, Food and Wine Magazine, and more. Please welcome Ivy to Rasa Malaysia as she shares a very special Thai recipe with us and elaborates on some essential Thai ingredients. Called "Ma Haw" in Thai, this bite-size appetizer is great for your upcoming summer parties. Enjoy!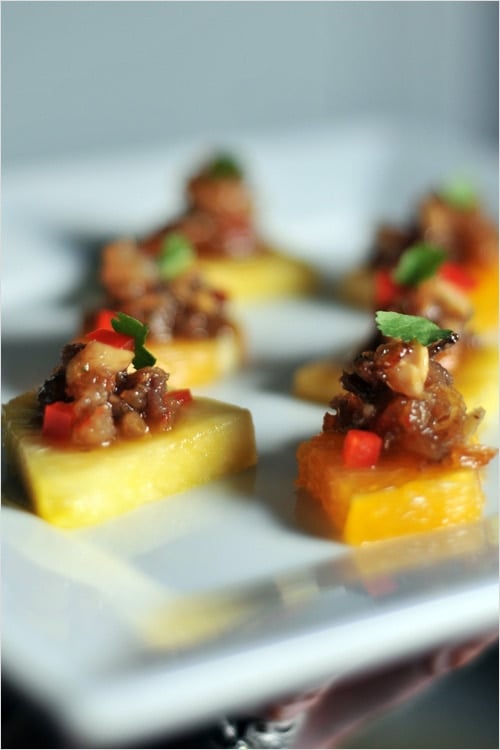 Ever since my big sister introduced me to the guilty pleasure of dipping pretzels into our family's omnipresent jar of Skippy, I have loved the combination of sweet and salty-savory flavors together.
Something about the way the disparate sensations race across the palate when they are combined makes food much more than a sum of its parts.
After a brief conversation about my love of sweet-salty combos, Rasa Malaysia asked me if I had a favorite sweet-salty recipe to share with her readers.
We assumed you could figure out the pretzel-peanut butter chemistry on your own, so my mind raced directly to THE cuisine (in my esteem) that best combines tantalizing flavor combinations: Thai food.
My favorite sweet-salty from Thailand is called Ma Haw, which means "galloping horses" in Thai. It's essentially fruit pieces topped with a minced meat relish.
The first time I had it, I was hanging out with Chef Sompon Nabnian, a well known cooking instructor and author in Chiang Mai. I was smitten from the first bite.
Thai cuisine has a long tradition of spicy ground meat-based dips and relishes served with raw sliced vegetables and fried pork skins as a way to pique the appetite.
But Ma Haw turns that tradition on its ear—instead of crudités, fresh pineapple and juicy orange segments are vehicles for the dip, and instead of a chilies and meat, this dip is all about the sweetness of palm sugar and the funky saltiness of fish sauce. Minced pork and shrimp, fried shallots, and peanuts are there for texture and flavor.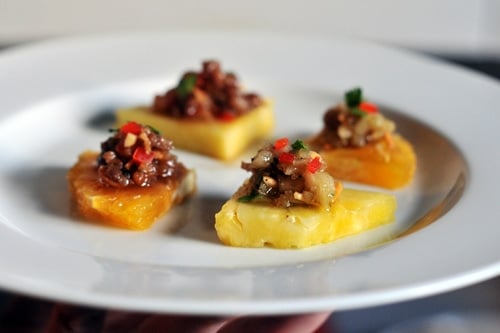 The resulting little bites provide a galloping of flavors across the palate, perhaps that explains their rather precious name. Whatever you call these easy, impressive looking nibbles, I think you find that they are a shockingly effective way to get your appetite up for the fiery curries, creamy coconut soups, and crisp salads we associate with Thai food.
I'd like to make a quick note on the ingredients before you get started, just in case you are not familiar with Thai ingredients. The recipe calls for cilantro roots, which add a stronger flavor than the leaves.
Occasionally you will find these aromatic off-white roots still attached to the base of a bunch of cilantro; it's more common to see them in Asian markets than Western grocery stores. Whenever I do find them, I wash them and freeze them so I have them ready for homemade curry pastes and dishes like this. You can substitute cilantro stems in this recipe if you must.
Since the sauce in this recipe is essentially equal parts palm sugar and fish sauce, the quality of each matters greatly. I use soft palm sugar (the kind that comes in jars) because it is much easier to scoop out than the hard UFO-shaped cakes.
For fish sauce, I use the Golden Boy Brand; you will know it by the charming illustration of a little boy sitting on a globe with a bottle of fish sauce cradled in his arms.
It has a pure, authentic taste that isn't at all murky or caustically salty like other less expensive brands. At the end, I add fried sliced shallots, which you can find in plastic jars at Asian markets in the Vietnamese or Thai food section.
They keep indefinitely in a cool, dry place and they add a lovely crunch to salads, salad rolls, and even pork curries.
How Many Calories per Serving?
This recipe is only 85 calories per serving.
What Dishes to Serve with This Recipe?
For a wholesome meal and easy weeknight dinner, I recommend the following recipes.
For more great recipes like this, sign up for our newsletter. We'll send daily recipes you'll love!
Join
Sign up for our newsletter!
Thai Minced Pork and Shrimp Relish (Ma Haw)
Thai Minced Pork and Shrimp Relish = Thai cuisine has a long tradition of spicy ground meat-based dips and relishes served with raw sliced vegetables.
Ingredients
1/2

pineapple

(hard skin trimmed away)

1

orange

(peel and white pith cut away and discarded)

1

tablespoon

minced cilantro roots

(plus cilantro leaves for garnish)

1

tablespoon

chopped garlic

1/4

teaspoon

white peppercorns

(about 10)

1

tablespoon

vegetable oil

4

oz.

ground pork

2

oz.

shrimp

(peeled and deveined (about 1/4 cup finely chopped))

1/4

cup

fish sauce

1/2

cup

soft palm sugar

2 1/2

tablespoons

chopped roasted peanuts

1/3

cup

fried shallots

2

tablespoons

red bell pepper or red jalapeño pepper

(finely minced )
Instructions
Cut the hard center core out of the pineapple and discard. Cut the pineapple into bite-sized triangle shaped pieces that are about 1/4-inch(0.5cm)thick. Cut the orange in half lengthwise and cut the halves into 1/2-inch(1cm) thick slices. Arrange fruit on a serving platter and set aside.

Pound the cilantro roots, garlic, and peppercorns in a mortar and pestle until you have a fine paste, set aside.

Heat the oil in a wok over medium-high heat. When the oil is hot, add the pork and cilantro root mixture and stir-fry until the meat is no longer pink. Add the shrimp and continue to cook until it is opaque white, 2 minutes. Turn contents of wok out into a small bowl.

Return the wok to the stove. Combine the fish sauce and palm sugar and cook over medium heat until the sugar is dissolved. Add the peanuts and continue to cook and stir until the mixture has thickened and is golden brown, 5 minutes.

Drain off the fat from the pork mixture and discard. Return the pork mixture to the wok and stir to combine with the fish sauce mixture. Remove from heat, add the fried shallots, and stir to combine. Top each piece of fruit with a small amount of the pork mixture, garnish with minced red pepper and cilantro leaves, and serve immediately.
Notes
Note from Rasa Malaysia:
You can get Thai ingredients, cookware, and more online at Temple of Thai.
Nutrition

Nutrition Facts

Thai Minced Pork and Shrimp Relish (Ma Haw)

Amount Per Serving (14 people)

Calories 85

Calories from Fat 27

% Daily Value*

Fat 3g5%

Cholesterol 10mg3%

Sodium 372mg16%

Carbohydrates 11g4%

Protein 2g4%

* Percent Daily Values are based on a 2000 calorie diet.

Notice: Nutrition is auto-calculated, using Spoonacular, for your convenience. Where relevant, we recommend using your own nutrition calculations.