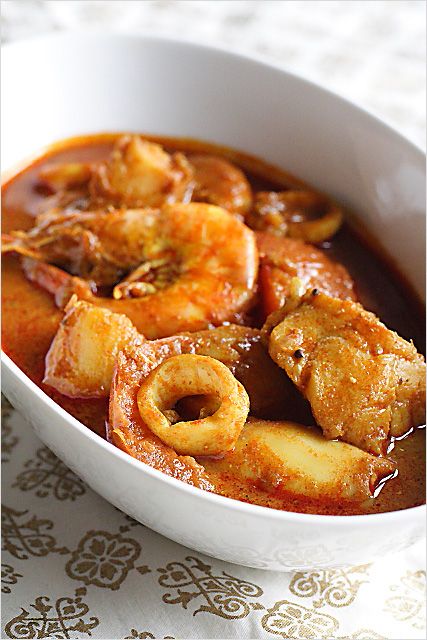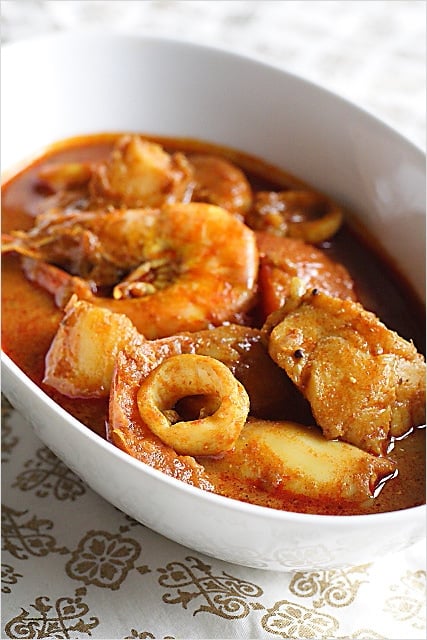 Remember I told you that I hardly ever make my curry from scratch because there are many good curry pastes readily available in Malaysia?
Go to any markets or stores one can find various selection of curry pastes–they usually come packaged in small plastic bags. All you have to do is adding your meat or seafood to the curry paste and you will have a pot of sinfully good–and authentic–Malaysian Indian-style curries.
That being said, this seafood curry was prepared just that–from a seafood curry paste that I brought back from home.
The curry paste was very good; there are mustard seeds, cardamons, cloves, and curry leaves in the paste–which are some of the secret spices/ingredients for a very good pot of Indian-style curries…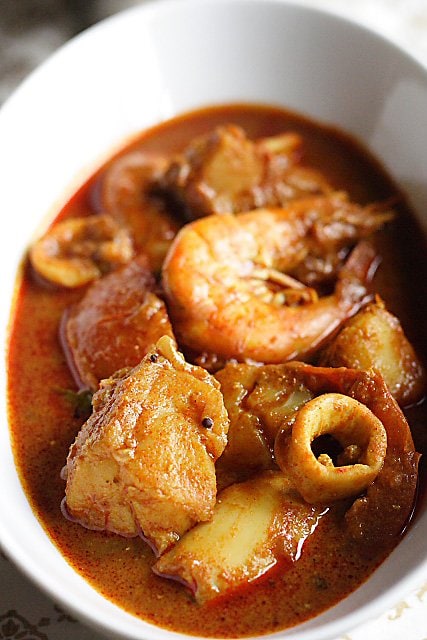 For my US readers, you might be more familiar with Thai or Indian curries offered here at Thai or Indian restaurants. Malaysian curries are quite different.
Unlike Thai curries, Malaysian curries are not sweet because coconut milk is used sparingly to complement the spices but not overshadow their tastes.
Also, no sugar and fish sauce are added so you get the natural flavors of the ingredients–be it meat, chicken, fish, or other seafood. Malaysian curries are also heavier in spices and thus hotter.
Compared to the Indian curries, Malaysian curries are also different because yoghurt isn't used. The cooking style originated from the southern part of India, but had since been localized to a Malaysian taste.
Anyway, everytime I go home to Penang, I am sure to bring back loads of these curry pastes. They keep well in the fridge and last a few months. If you would like to find out more about what brands I like, drop me a comment or email.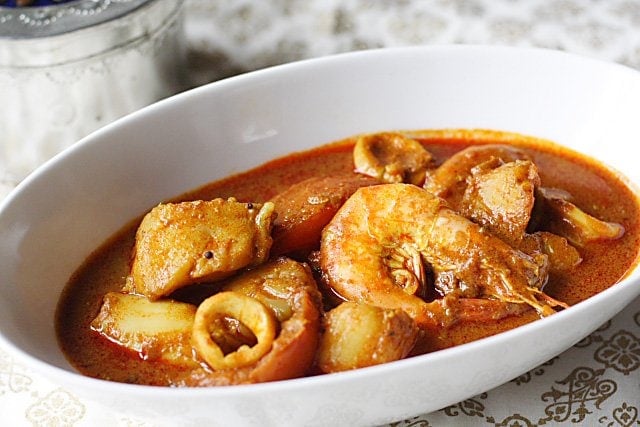 Enjoy!
Other Curry Recipes:
SUBSCRIBE AND GET NEW RECIPES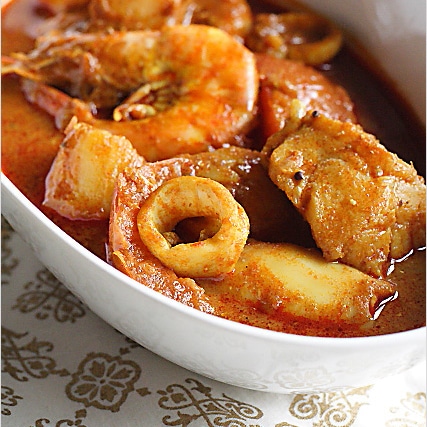 Malaysian Indian-Style Seafood Curry
"Seafood Curry Recipe (Malaysian Indian-Style): The cooking style originated from the southern part of India, but had since been localized to a Malaysian taste.
Ingredients
1

pack seafood curry paste

6

large prawns

6

squids

6

scallops

1/2

lb.

seabass fillet

cut into small cubes/pieces

1 to

mato

cut into wedges

2

tablespoons

coconut milk

1

tablespoon

tamarind pulp

soaked in 4 tablespoons water and extract the juice

2

shallots

peeled and sliced

1 1/2

cups

water

1

tablespoon

oil

Salt to taste

1

sprig curry leaves

optional
Click Here for Conversion Tool
Instructions
Heat up a pot and saute the shallots until aromatic. Add the curry paste into the pot and do a few quick stirs. Add 1 1/2 cups water and bring it to boil. Then add the seafood, cover the pot until cooked. Add the coconut milk and salt to taste. Serve hot.
Click Here to Pin This Recipe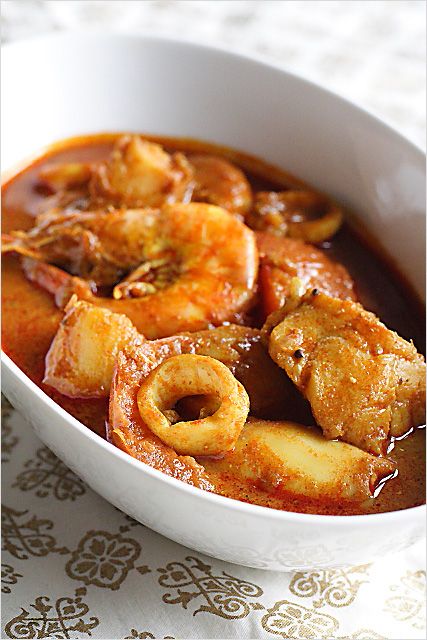 If you try my recipe, please use hashtag #rasamalaysia on social media so I can see your creations! Follow me on Facebook | Instagram | Pinterest | Twitter for new recipes, giveaways and more.