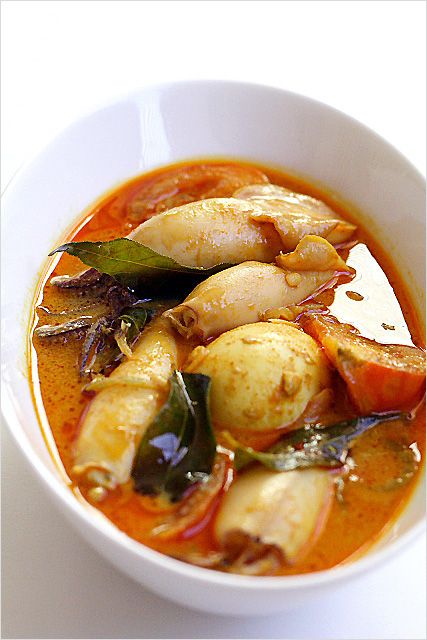 My parents are huge fans of nasi kandar–a type of Mamak/Indian-Muslim food consists of steamed rice with a variety of curries and other side dishes. (Click here and here for a peek of a nasi kandar restaurant and its many colorful dishes.)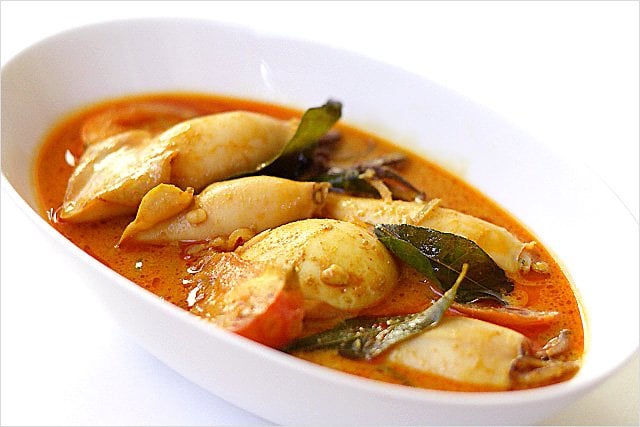 When I was little, my parents would always take me to nasi kandar restaurants. I remember vividly their old joint in Georgetown, Penang. Whenever I go home to Penang, I would take my parents out to savor a meal or two of nasi kandar at their favorite restaurant/stall.
Regardless of where we go, there is one dish that we never miss out–gulai sotong, or squid curry. So, it's no surprise that my mother makes a killer squid curry at home (which I've fortunately learned).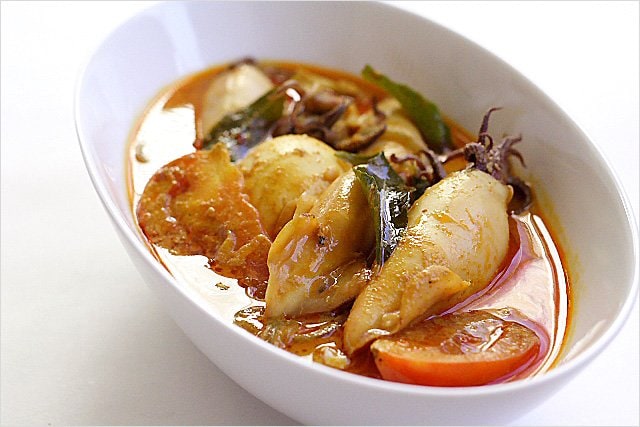 There are two secret ingredients of a great squid curry: curry leaves and a blended spice mix of cumin, fennel, black mustard, fenugreek seeds.
Curry leaves impart a highly aromatic flavor to the curry and the spice seeds add that signature and unmistakable Indian curry kick.
I love hard-boiled eggs in curries, so I also added some eggs. Click here to see the real squid curry served in Penang…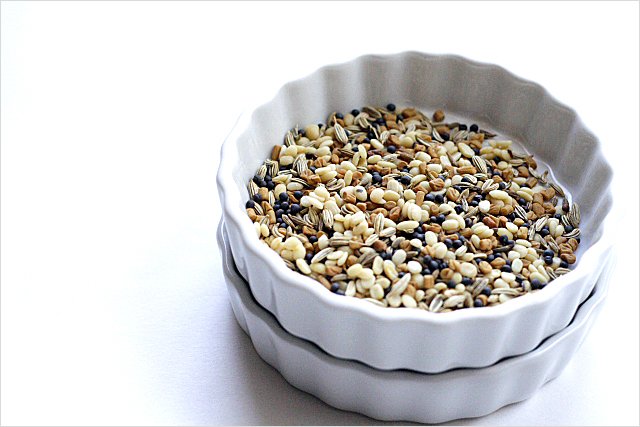 Malaysia celebrates its 50th Independence Day (Hari Merdeka) on August 31st. Hence this post also marks my entry to this year's virtual Merdeka Open House hosted by Babe_KL. Please click here to view my Kerabu Bee Hoon entry last year.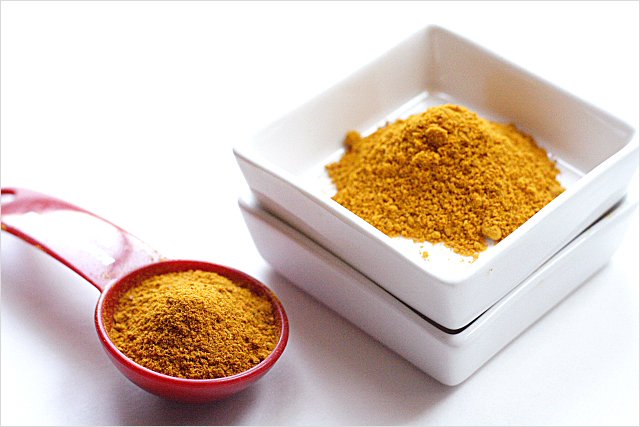 :::::::::::::::::::::::::::::
Special notes to my fellow Malaysians:
I used to take Malaysia for granted, well, when I was in Malaysia. There were always something to complain about–the educational system, the urban planning, the environment, media, government, and the list goes on.
Recently, I was in a meeting with a Taiwanese business partner. She told me in great enthusiasm that she just came back visiting Malaysian Borneo of Sabah and Sarawak.
She used to work in Singapore for 8 years and it was very clear that she adores Malaysia.
"Malaysians should be really proud of their country." She said.
Her statement made me ponder. If a foreigner can love Malaysia so much, why can't we?
"I am very proud of my country. It has so much to offer!" I replied.
I do love Malaysia–as a matter of fact–a lot.
Selamat Hari Merdeka!
:::::::::::::::::::::::::::::
How Many Calories Per Serving?
This recipe is only 509 calories per serving.
What Dishes To Serve with this Recipe?
For a wholesome meal and easy weeknight dinner, I recommend the following recipes.
5 Secrets to 20 Min Dinners
Get tricks for quick & easy meals!
Yield: 4 people
Squid Curry (Indian Gulai Sotong)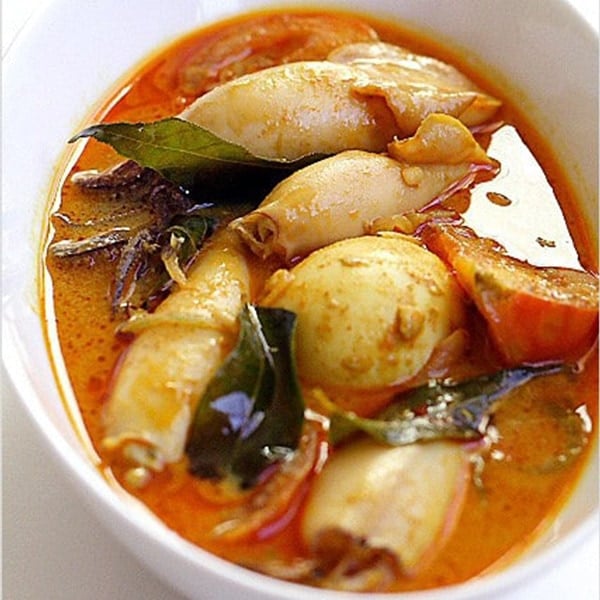 Squid Curry (Indian Gulai Sotong) recipe - Curry leaves impart a highly aromatic flavor to the curry and the spice seeds add that signature and unmistakable Indian curry kick.
Ingredients
1 lb. (0.2 kg) squid, cleaned
1 tomato, cut into wedges
1 can (5.6 oz.) coconut milk
4 hard-boiled eggs, shell peeled
4 tablespoons Baba's fish curry powder
1 teaspoon spice mix, fenugreek, black mustard, cumin, and fennel seeds
1 sprig curry leaves, discard the stem
2 cups water
2 tablespoons cooking oil
4 shallots, sliced thinly
1 tablespoon chili oil
Salt to taste
Instructions
Clean the squid and set aside. Heat up a pot with the cooking oil and saute the shallots. As soon as you smell the shallots aroma, add in the squid, curry powder, curry leaves, spice seeds, and tomato wedges. Quick stir for 1 minute and dish out the squid and set aside (to prevent over cooking the squid). Add coconut milk, hard-boiled eggs, and water and bring the curry to boil for 8 minutes. Add the squid back in and quick boil for 1-2 minutes (before they shrink in size). Add chili oil and salt to taste. Serve hot with steamed rice.
Notes
If you think the squid head and tentacles are unsightly, shove it into the squid tube so it doesn't hang loose. This is the trick I learned from my mother.oose. This is the trick I learned from my mother.
Nutrition Information
Yield
4
Serving Size
4 people
Amount Per Serving
Calories

509
Total Fat

39g
Saturated Fat

21g
Unsaturated Fat

0g
Cholesterol

451mg
Sodium

139mg
Carbohydrates

17g
Fiber

4g
Sugar

4g
Protein

28g