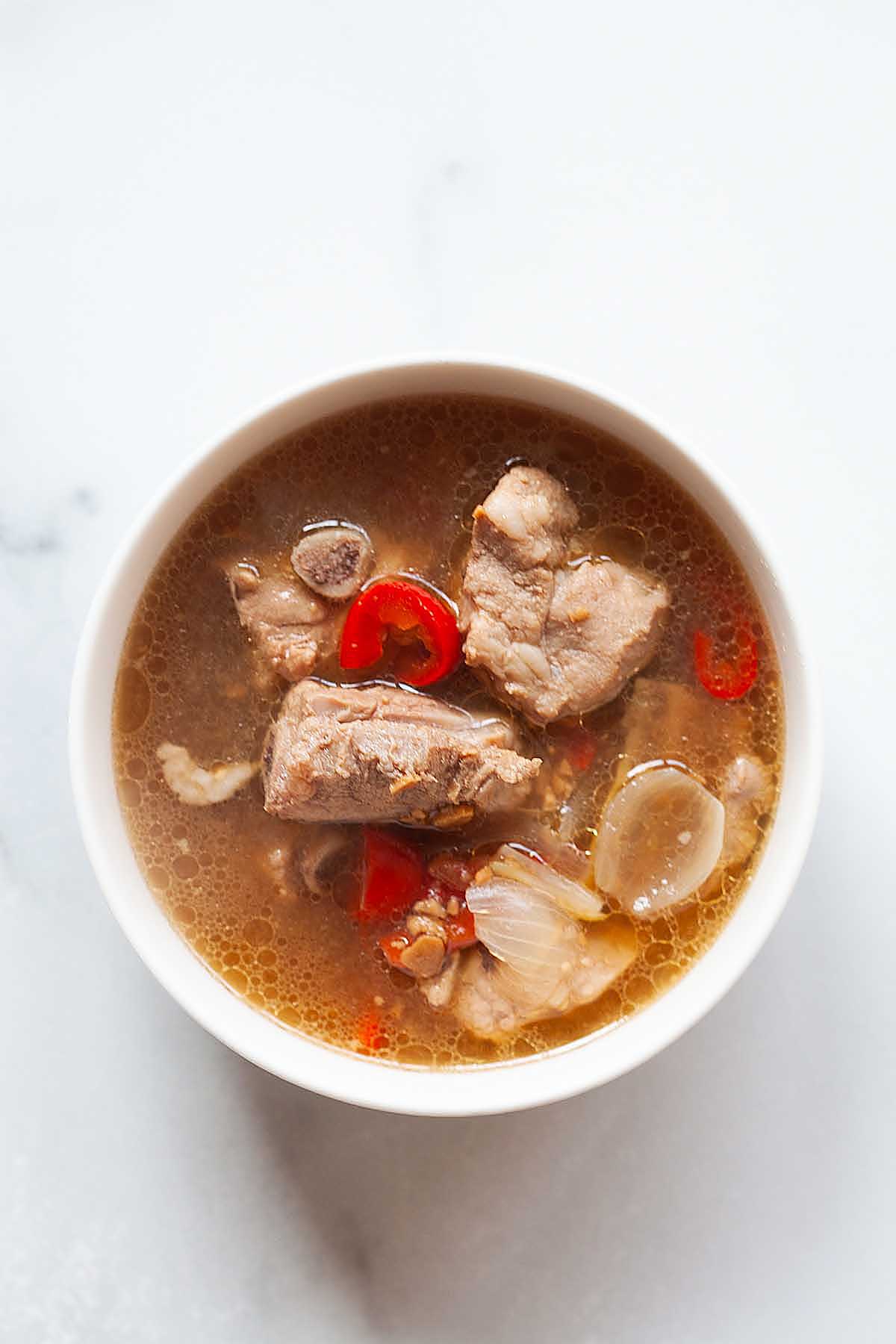 Stewed pork ribs with taucheo (fermented bean paste) was one of my mother's recipes, one that I am fortunate to learn. It brought back a lot of sweet memories as I was preparing it today.
It was my father's favorite dish–one that garnered special attention as my mother would spend hours slowly stewing the pork ribs until the meat falls off the bones. As humble as it looks, Nyonya stewed pork ribs is a very delicious dish, one that would certainly stimulate your appetite with its tangy and savory taste.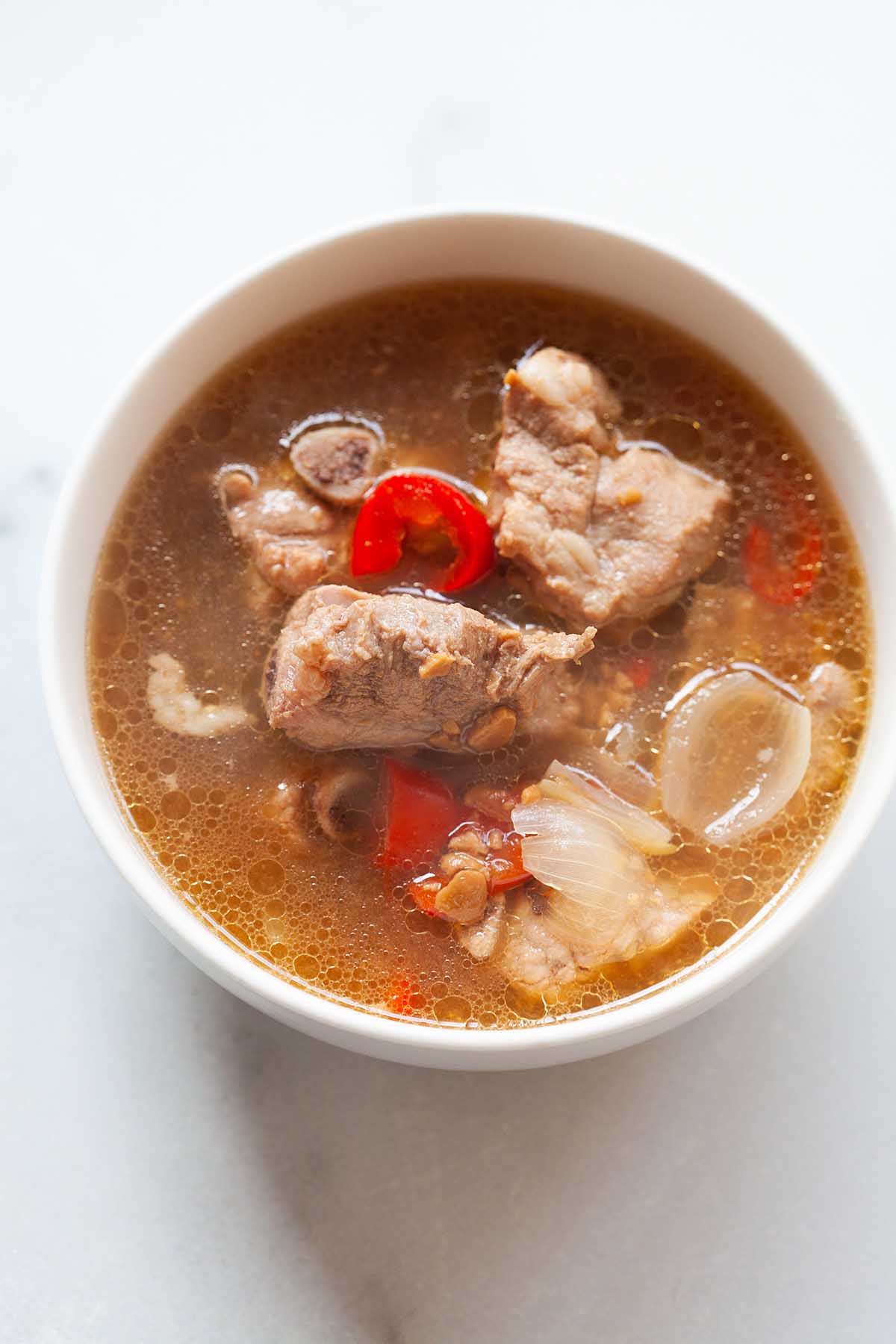 I made this very dish for my parents once. My mother instructed me in the kitchen and taught me the step-by-step, and my father gave me his thumbs up when I served it to him. He told me it was "ho chiak" (delicious)…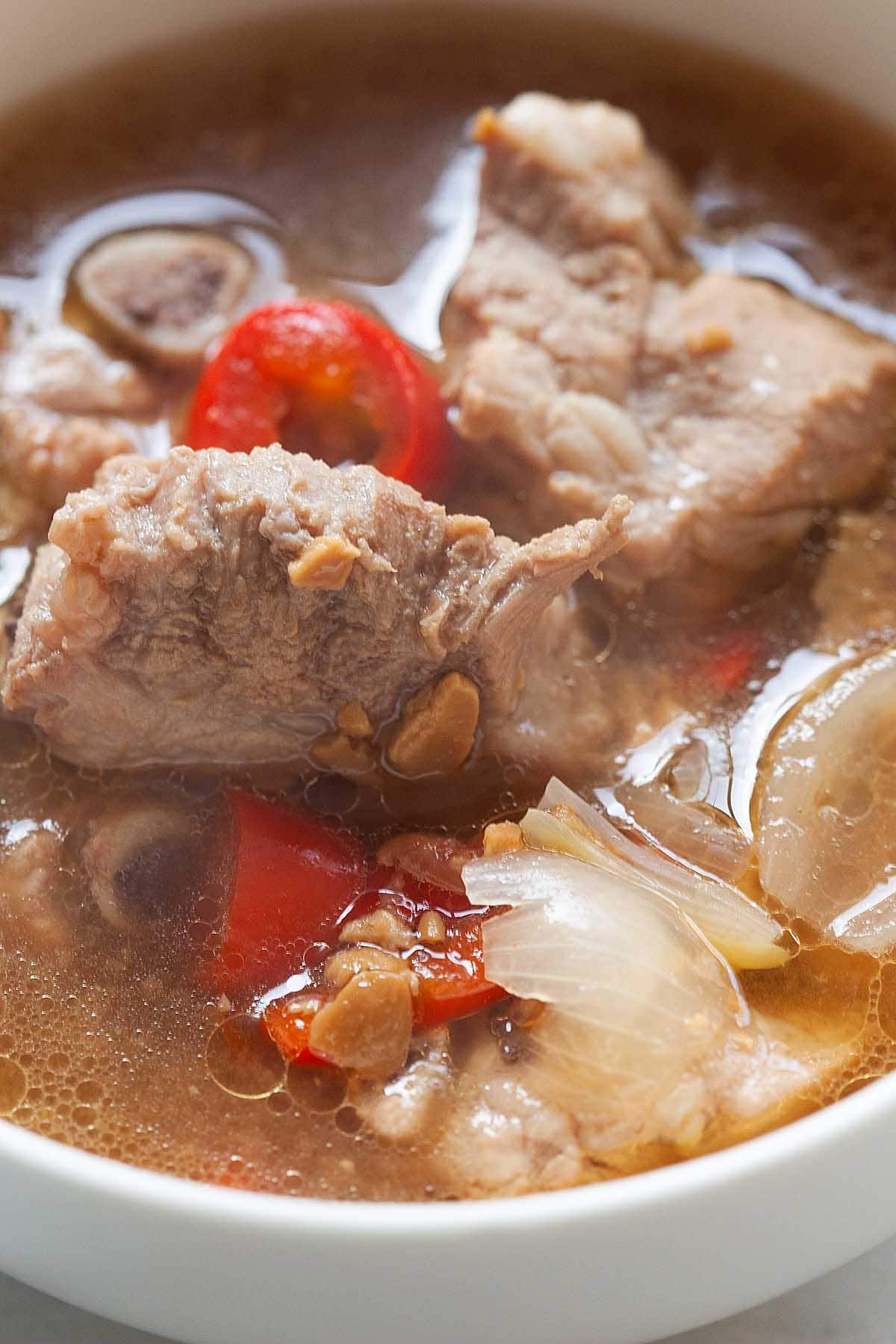 Nyonya loves pork and there are many dishes that are made of pork, and this stewed pork ribs dish is one of them. One of the very common ingredients used by Penang Nyonya is bean paste or taucheo; it's an ingredient that I can't do without.
In Penang hokkien dialect, we refer "stewing" as "khong," so locally, stewed pork ribs is called "Khong Bak Kut" (Bak Kut means pork ribs).
There are other flavorful and mouthwatering stew dishes such as tau eu bak (pork with soy sauce), khong assam, etc, which I plan to share with you over time.
This stewed pork ribs is best served with steamed rice and eat with sambal belacan.
A Nyonya meal is incomplete without sambal belacan.
How Many Calories Per Serving?
This recipe is only 377 calories per serving.
What Dishes To Serve with this Recipe?
For a wholesome meal and easy weeknight dinner, I recommend the following recipes.
5 Secrets to 20 Min Dinners
Get tricks for quick & easy meals!
Yield: 4 people
Nyonya Stewed Pork Ribs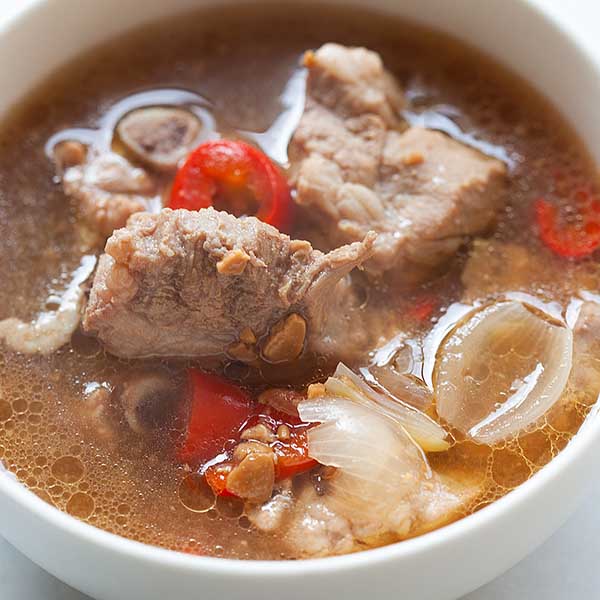 Nyonya stewed pork ribs is a very delicious dish, one that would certainly stimulate your appetite with its tangy and savory taste.

Prep Time 5 minutes

Cook Time 1 hour

Total Time 1 hour 5 minutes
Ingredients
450 g (15 oz.) pork spare ribs
100 g (3.5oz.) shallots, skin peeled
100 g (3.5 oz.) fresh red chilies, seeded and sliced lengthwise
4 cups water
3 tablespoons taucheo/bean paste, smashed with a mortar and pestle
1 tablespoon tamarind pulp, soaked in 1/4 cup water, extract the juice
1 1/2 teaspoons sugar to taste
salt to taste
Instructions
Heat up a stew pot with 4 cups of water and bring it to boil.
Add shallots, chilies, and pork ribs into the water.
Add taucheo (bean paste) and bring it to boil.
Lower heat to medium or low and cover with a lid and slowly stew the ribs for 1 hour or so, or until the meat becomes really tender.
Add tamarind juice, sugar, and salt to taste.
If it's not sour enough, add more water to the tamarind pulp and extract more juice.
Notes
Nyonya stewed pork ribs should taste salty (from the bean paste), sour (from the tamarind juice), and sweet (from the sweet taste of pork ribs and shallots). It should also taste a little spicy from the red chilies. The taste develops overnight and it's even better the next day.
Nutrition Information
Yield
4
Serving Size
4 people
Amount Per Serving Calories 377Total Fat 26gSaturated Fat 8gUnsaturated Fat 0gCholesterol 90mgSodium 398mgCarbohydrates 14gFiber 1gSugar 9gProtein 19g