The best Shrimp and Chive Dumplings.These perfectly wrapped dumplings filled with shrimp and chives are a quick fix when you need dumplings fast.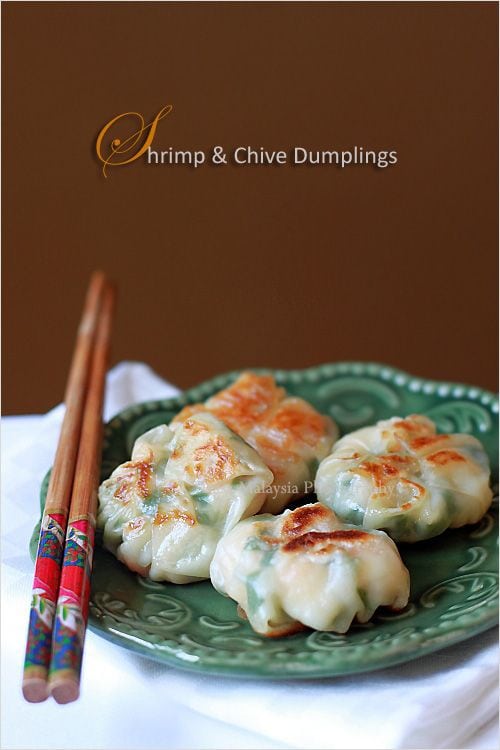 Easy Pan-fried Shrimp and Chive Dumplings
I decided to make shrimp and chive dumplings (韭菜虾饺), but had no patience making the wheat starch skin from scratch. Moving forward, I wanted my shrimp dumplings and I wanted them pronto; I thought of a way to cheat, which I have seen at a few dim sum restaurants.
The answer is wrapping the shrimp dumplings with regular dumpling/potsticker wrappers or wonton skin. So, I settled on wonton skin.
I was going to make har gow or the ever-popular Cantonese shrimp dumplings but the thought of folding the delicate morsels discouraged me.
When it comes to cooking or eating, I am very spontaneous. It's about what comes to mind at the very moment when I am hungry–a recipe from a cookbook, a mouthwatering picture online, or a sudden craving.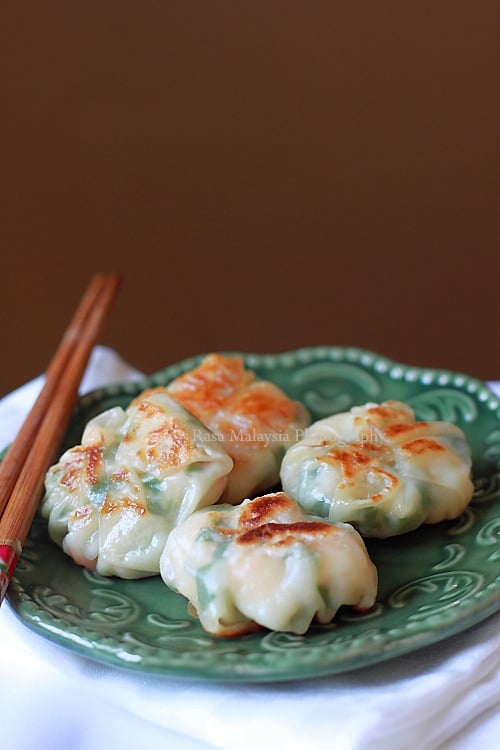 Cooking Tips
Now, what is the technique to make shrimps Chinese-restaurant crunchy–the springy texture and mouth feel as if the shrimps "bounce" in your mouth and "crunch" when you bite into them? A secret that no Chinese chefs would teach you, but I will. Click here to learn all about it.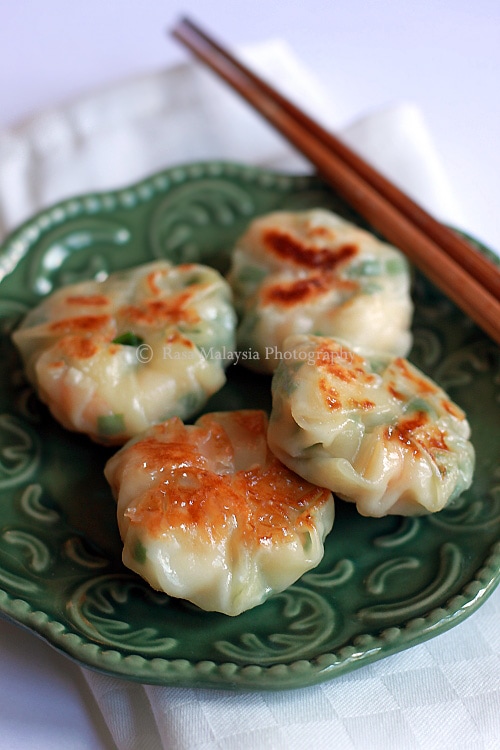 Crunchy and Delicious Shrimp and Chive Dumplings
Anyway, here is my shrimp and chive dumplings recipe–a popular pan-fried dumpling on dim sum menu. These shrimp and chive dumplings perked me up as soon as I had the first bite, and yes, those shrimps did "crunch" and "bounce" in my mouth and as delicious as the ones served at dim sum restaurants (I am serious!).
Click on the image in the gallery above to view complete photoset and also step-by-step picture guide on how to make shrimp and chive dumplings.
What Dishes to Serve with This Recipe?
For a wholesome meal and easy weeknight dinner, I recommend the following recipes.
For more great recipes like this, sign up for our newsletter. We'll send daily recipes you'll love!
Join
Sign up for our newsletter!
Shrimp and Chive Dumplings
Shrimp and Chive Dumplings (韭菜虾饺) - These are a quick fix when you need dumplings fast!
Ingredients
12

oz.

peeled and deveined shrimps, medium to big size

1

oz.

chives, cut into very short pieces

1

teaspoon

egg white

1/2

teaspoon

tapioca starch

(菱粉)

1/2

teaspoon

chicken bouillon powder

1/4

teaspoon

salt

1/4

teaspoon

fish sauce

1/4

teaspoon

sesame oil

3

dashes

white pepper powder

1/2

teaspoon

sugar

1

teaspoon

oil

some cooking oil for pan-frying
Soy-Vinegar Dipping Sauce:
Instructions
Clean and rinse the shrimps with cold water. Pat dry with paper towels. Mix the soy-vinegar dipping sauce and set aside.

Cut the shrimps into small pieces (about 3-4 pieces per shrimp), add chives and mix well. Marinate the filling with the rest of the ingredients for 30 minutes in the refrigerator.

Lay a wonton skin on a flat surface. Dab your index finger with some water and trace it along the four outer edges of the wonton skin. Add a teaspoon of the filling and fold the wonton skin towards the middle.

Dab some water to the wonton skin to seal tight. The dumplings should look somewhat round. Repeat the same until the filling is used up.

Heat up a pan on medium to low heat and add some oil. Transfer all dumplings into the pan and cover it with its lid. Pan-fry the dumplings on one site until golden brown, and then turn over to pan-fry the other site. (Add more oil to the pan if required.)

Repeat to make sure that both sites are equally done. Dish out and serve immediately with soy-vinegar dipping sauce.
Notes
You can use regular potsticker/dumpling wrappers but they are round in shape (hence smaller and harder to fold). If you use wonton skin like I did, buy those wonton skins which are not yellowish, but pale white or grayish white in color.
Nutrition

Nutrition Facts

Shrimp and Chive Dumplings

Amount Per Serving (16 dumplings)

Calories 164

Calories from Fat 9

% Daily Value*

Fat 1g2%

Cholesterol 1mg0%

Sodium 153mg7%

Carbohydrates 1g0%

Protein 1g2%

* Percent Daily Values are based on a 2000 calorie diet.

Notice: Nutrition is auto-calculated, using Spoonacular, for your convenience. Where relevant, we recommend using your own nutrition calculations.