Steamed Chicken in Lotus Leaf - Easy and authentic Chinese steamed chicken recipe. The steamed chicken is wrapped in lotus leaf for extra flavors and leafy aroma. You will love this recipe!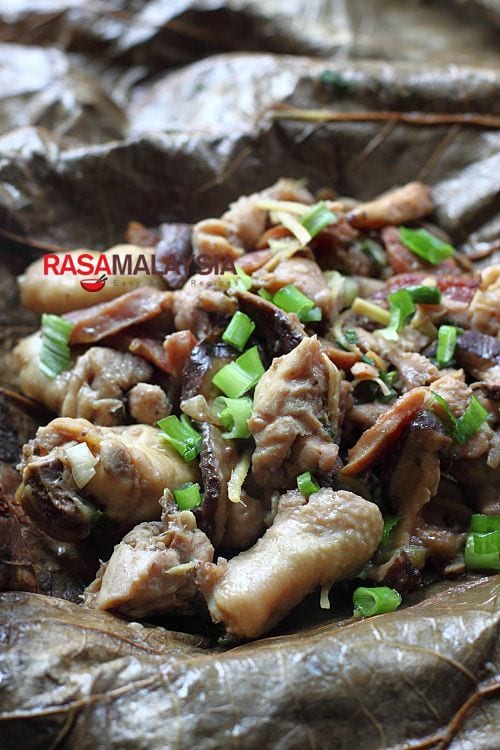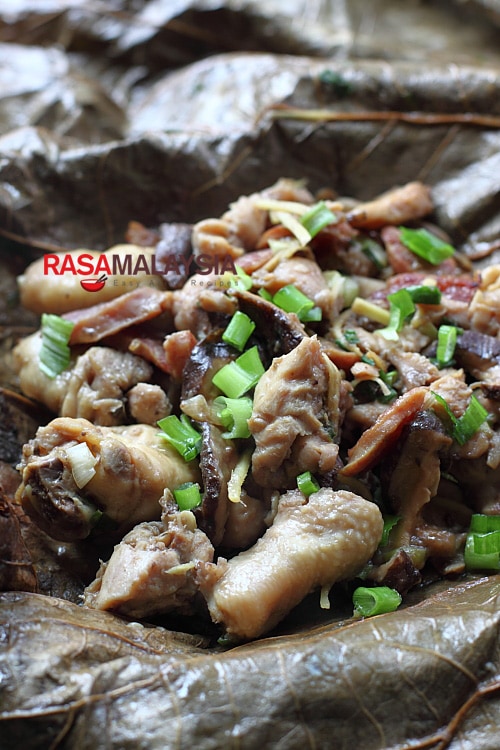 I have always loved sticky rice wrapped in lotus leaf (荷叶饭), commonly available at Cantonese dim sum restaurants. I love the earthy aroma lotus leaves impart to the dish, and most of all, I love it that the leaves retain the moisture and natural flavors of the ingredients. The leafy nuance and fragrance complement and not compete with the preparation. Lotus leaf is really wonderful and I wonder why it's not as widely used in home-cooking as it should be. So, I decided to purchase a pack of lotus leaf and try it out in my everyday Chinese cooking.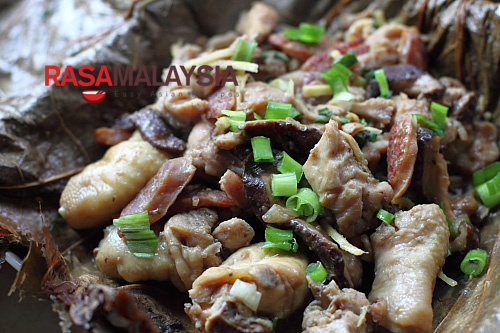 I used the lotus leaf to make steamed chicken—a common Chinese dish. After the first bite of the deeply flavorful and nicely-scented chicken, I have only regretted it has taken me this long to attempt using lotus leaf in my kitchen, when it was fairly easy and so convenient.
With the experiment last night, I resolve to use it more and a few ideas have popped-up in my mind: sticky rice, salt-baked chicken, steamed spare ribs, and maybe even beggar's chicken. I am so thrilled with the many possibilities…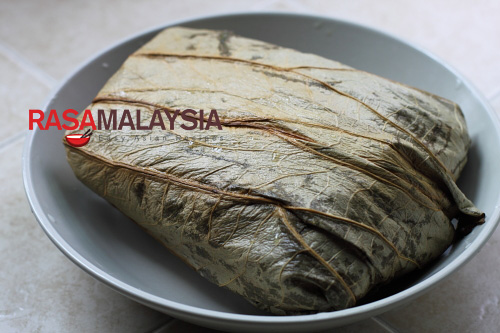 Below is my steamed chicken recipe. You can make the steamed chicken regularly without wrapping it with lotus leaves, but trust me, once you do it this way, you will probably never go back to the plain version.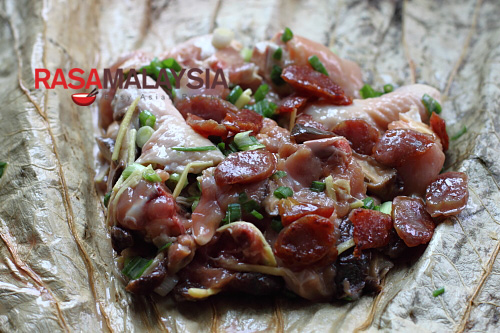 How Many Calories per Serving?
This recipe is only 275 calories per serving.
What Dishes to Serve with This Recipe?
For a wholesome meal and easy weeknight dinner, I recommend the following recipes.
5 Secrets to 20 Min Dinners
Get tricks for quick & easy meals!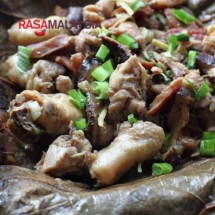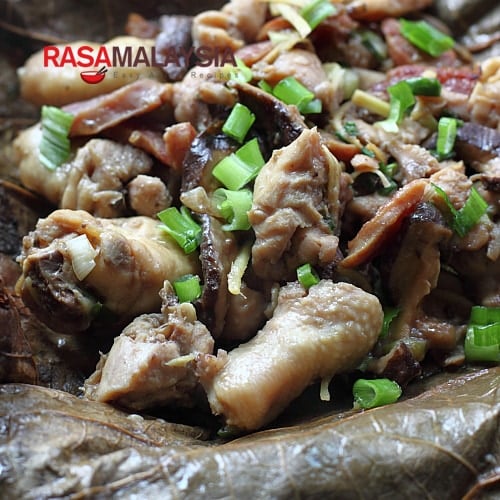 Steamed Chicken in Lotus Leaf
Steamed Chicken in Lotus Leaf – I love the earthy aroma lotus leaves impart to the dish, and most of all, I love it that the leaves retain the moisture and natural flavors of the ingredients.
Ingredients
1

lb.

bone-in chicken, chop into pieces

1 1/2

inches

3 cm fresh ginger, cut into thin strips

2

mushrooms

soaked in warm water, discard the stems, and sliced the caps into small pieces

1

Chinese lap cheong

sausage, sliced diagonally

1/2

tablespoon

oil

1

stalk scallion

cut into small rounds

1

dried lotus leaf
Click Here for Conversion Tool
Directions
Rinse the chopped chicken pieces with cold running water. Pat dry with paper towels.

Marinate the chicken, mushrooms, and chopped scallion with all the ingredients in the Marinade for about 30 minutes.

Heat up a wok or skillet with the cooking oil.

Stir-fry the Chinese lap cheong or sausage until aromatic.

Add the Chinese sausage (together with the oil in the wok) to the chicken and mushrooms. Stir to blend well.

Heat up a pot of water and bring it to boil. Scald/blanch the lotus leaf with the boiling water until it becomes soft.

Wipe both sides of the leaves dry with paper towels and place the chicken in the middle of the leaf.

Fold the sides up and wrap it tightly into a parcel. (Make sure it's fold tight to avoid the juice from the steamed chicken from leaking out.) Lay it on a deep plate and prepare to steam.

Steam the chicken parcel for about 25-30 minutes or until all the chicken pieces are cooked through. Unwrap the parcel and serve the steamed chicken immediately with steamed rice.
Nutrition Facts
Steamed Chicken in Lotus Leaf
Amount Per Serving (4 people)
Calories 275
Calories from Fat 162
% Daily Value*
Fat 18g28%
Cholesterol 94mg31%
Sodium 610mg27%
Carbohydrates 8g3%
Protein 17g34%
* Percent Daily Values are based on a 2000 calorie diet.