Learn how to make sui kow (Chinese dumplings) with this easy step-by-step sui kow (dumplings) recipe. Authentic sui kow recipe that is sure to please.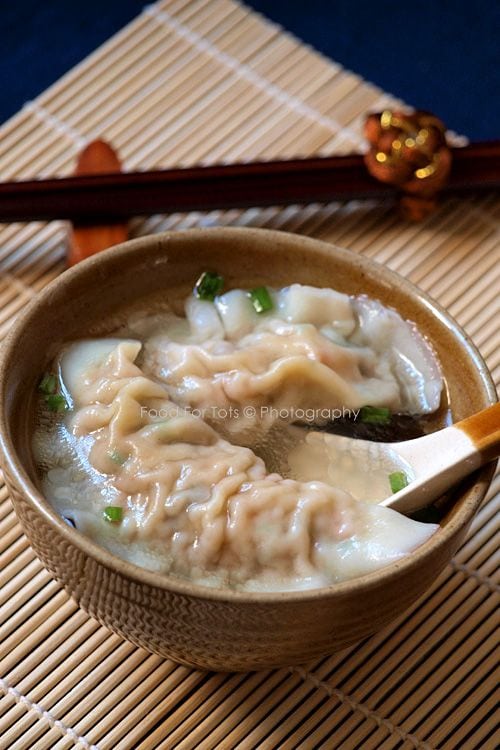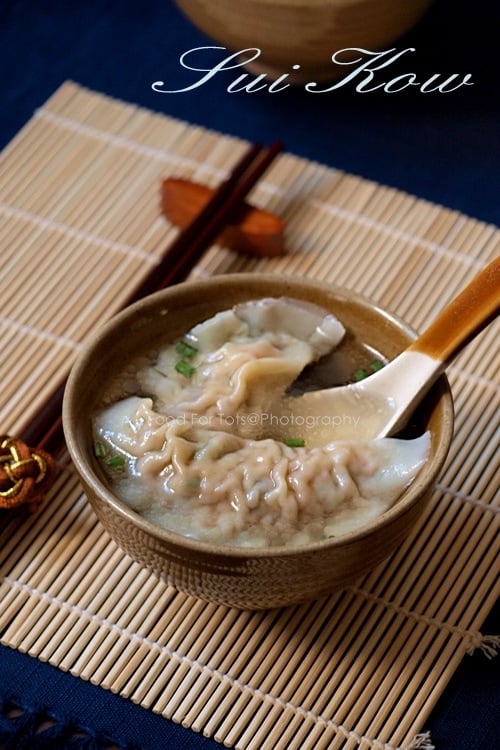 (Chinese recipes, prepare authentic Chinese food now!)
Sui Kow Recipe (Dumplings /水饺)
Guest Writer: Food 4 Tots
I would like to introduce you to a special guest blogger today, Food 4 Tots, who happens to be my high schoolmate in Penang. What a small word! Food 4 Tots is an awesome food blog with recipes meant for toddlers.
Every time I read the blog, I drool over the homey and delicious dishes and secretly jealous of her 4-year old and wish that I am eating at her dining table every day. Please welcome Food 4 Tots to Rasa Malaysia as she shares her sui kow (Chinese dumplings) recipe with us.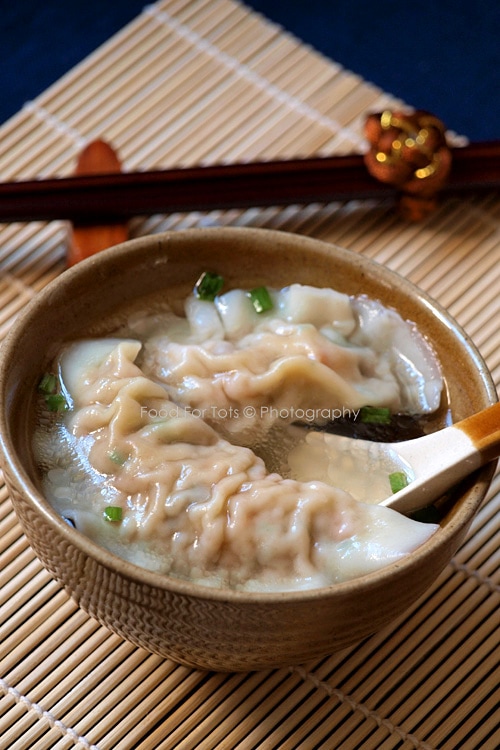 Two year ago, when I was just starting to cook for my family, a friend of mine made a strong recommendation that I visit Rasa Malaysia's food blog for its recipes and cooking ideas.
When I browsed through her blog, I was very amazed by her stunning shots and high level of professionalism in food presentation, not to mention her cooking and baking skills. Since then, I had been following her blog closely and even referred it as my "online cookbook."
I have to say that her featured recipes are getting more and more interesting and impressive now. There are many cooking tips and methods I learnt through reading her posting. Each time I visit her blog, I will be drooling and leaving with a hungry stomach. Her Penang-style cooking also makes me very homesick and I just feel like flying home the next day to satisfy my cravings.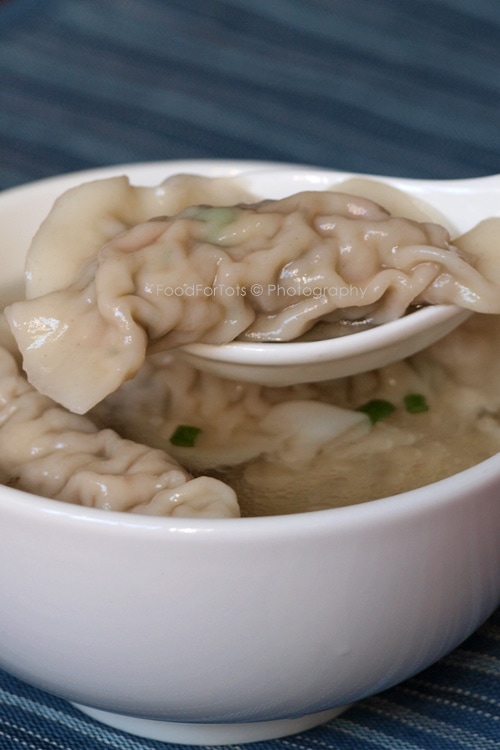 Today, I would like to thank Rasa Malaysia for featuring me as her guest writer. I had chosen sui kow (水饺) as my featured recipe because she loves dumplings. Co-incidentally, it is also my childhood favourite.
I had never gotten bored eating it even until now. Hopefully by sharing this sui kow recipe, you will love sui kow as much as I do.
"Sui kow" (水饺) is a Chinese dumpling which filling is mainly made up of coarsely diced or whole shrimps, minced pork, and other chopped vegetables such water chestnut. Usually, "sui kow" is paired with Chinese wonton noodles. But it can also be served separately in boiled broth.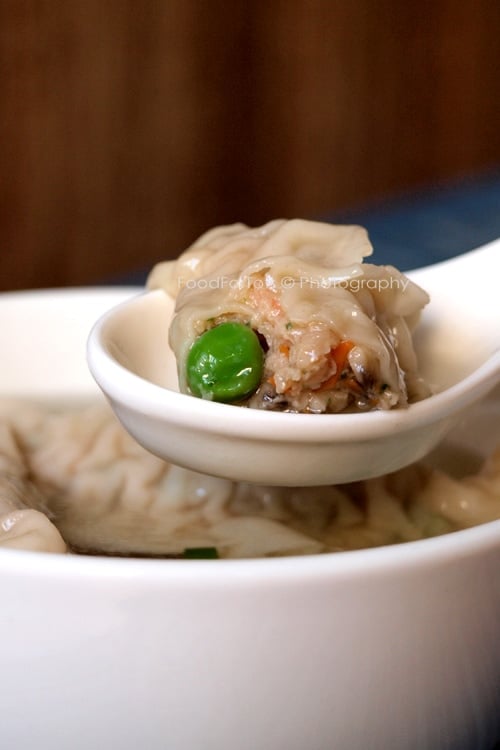 I first learnt about how to make "sui kow" from my mother-in-law. Since then, I always love making sui kow for my family. By serving it with some blanched vegetables and Chinese noodles, it makes a wholesome meal for us. My son (a 4 year-old boy) loves the "sui kow" so much that he can easily wallop 5 sui kows in 1 sitting!
When I told my hubby that I will made "sui kow" to be featured on Rasa Malaysia's blog, he suggested that I should follow his "self-proclaimed" authentic sui kow recipe which he used to eat at a Chinese noodle house in Kuala Lumpur (Malaysia) as a child.
This recipe calls for the inclusion of green peas and finely chopped coriander leaves on top of the common fillings. Although I had neither seen nor tasted this version of sui kow before, my instinct told me that his suggestion is feasible as the green peas will add extra colour and nutrients to the filling whereas the coriander leaves will give more flavour to the sui kow. So I decided to give it a try.
Guess what is the verdict? My hubby's suggestion was proven right! These two extra ingredients did give the sui kow a new twist in its flavour. The green colour of the pea resembles a hidden jade, made the filling more appealing to the eyes.
I must say that it is the best sui kow I had tried so far. The taste and texture are simply AWESOME! Before I had finished my shooting, 8 "sui kows" had disappeared from the serving plate and gone into our stomach! The temptation is so irresitable! Are you as excited as us, too?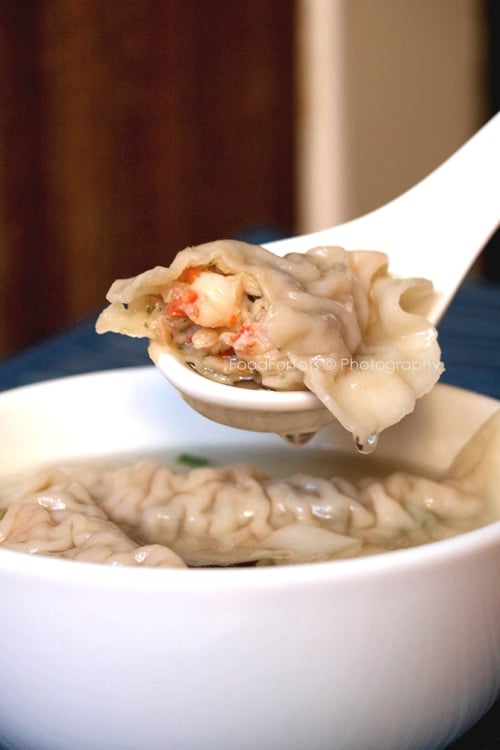 Finally, my hubby said, "If one is to enjoy the full eating of "sui kow", the art of eating it is just as important as the serving itself."
He strongly recommends placing a piece of coriander leave on top of the "sui kow" and dip it into some chili sauce (just a bit will do, so as to prevent the chili taste from over-powering the wholesome taste of the fillings). ENJOY! If you have better way to enjoy sui kow, feel free to comment. We love your feedback.
Now, let me share with you the authentic sui kow recipe (based on my own concortions):
How Many Calories per Serving?
This recipe is only 41 calories per serving.
What to Serve with This Recipe?
Serve this dish with other Malaysian dishes. For a Malaysia meal and easy weeknight dinner, I recommend the following recipes.
For more great recipes like this, sign up for our newsletter. We'll send daily recipes you'll love!
Join
Sign up for our newsletter!
Sui Kow (Dumplings)
Learn how to make sui kow (Chinese dumplings) with this easy step-by-step sui kow (dumplings) recipe. Authentic sui kow recipe that is sure to please.
Ingredients
160

g

shrimps, net weight

80

g

semi-lean pork, minced

3

pieces

water chestnuts

30

g

carrots

2

pieces

dried shitake mushrooms

(木耳it can be substituted with black fungus)

A handful of frozen green peas

1

tablespoon

coriander leaves

(use the leaves only (chopped finely))

25

pieces

dumpling wrappers

Water for boiling

Spring onions

(chopped, for garnishings)
Seasonings:
2

tablespoons

oyster sauce

1

teaspoon

salt

1

teaspoon

sugar

1

teaspoon

sesame oil

1

tablespoon

cooking oil

2

teaspoons

corn starch
Instructions
(A) Filling
For prawns, peel, devein and rinse under a running tap and pat dry with kitchen towel. Divide them into 2 equal portions (technique adapted from my siew mai posting)

- 1st portion – place 1 shrimp on a chopping board and give it a hard smash to flatten it. Repeat the same for all the shrimps. Then chop the shrimps with the back of a chopper till fine and sticky. Knead lightly till a paste is formed.

- 2nd portion – chopped coarsely into small chunks.

For mushrooms, wash and soak in water. When the mushrooms turn soft, drain and squeeze dry.

Chop water chestnuts, carrots & soaked mushrooms into fine cubes.

In a large mixing bowl, combine all ingredients (prawns, pork, water chestnuts, carrots, mushrooms, green peas, coriander leaves) and seasonings. Stir in one direction until well combined. Cover the bowl with cling wrap and refrigerate for at least 1 hour.
(B) Wrapping & Cooking
To prevent the hands from becoming wet, prepare a piece of clean cloth for wiping.

Place the dumpling wrapper on your palm, put 1 tablespoonful of filling in the center of the wrapper. Do not overstuff the dumpling as the wrapper can break easily.

Wet the edge of the wrapper (half circle only), fold it into half and seal by pressing firmly. Transfer it to a tray dusted with flour to avoid them from sticking.

Fill to 2/3 level a large cooking pot with water and bring it to a boil. Divide the dumplings into 2 batches. Put dumpling in one by one. Stir with spatula clockwise to prevent the dumplings from sticking together and also to the bottom of the pot. Bring it to a boil again and immediately reduce the heat to low.

Keep cooking (without lid) with medium heat and bring it to a boil again. Repeat doing till the filling is cooked. This method is to prevent the wrapper from breaking and make the cooked filling tenderer.

When the dumpling is cooked, turn off the heat. Drain cooked dumplings and place them in a serving bowl. Sprinkle sesame oil and pour some broth over the dumplings. Garnish with chopped spring onion and dash of white pepper powder. You can also add some blanched vegetables to the broth. Serve immediately.
Notes
*To determine whether the dumpling is cooked thoroughly, observe for the following:
the dumpling wrapper has become transparent, the dumpling has expanded (slightly), the prawns should look slightly pinkish; and the dumplings are floating on the surface of the water
**For the preparation of the broth, you can refer to either the delicious wonton soup recipe from Rasa Malaysia or soup stock from Kuali Online.
Nutrition

Nutrition Facts

Sui Kow (Dumplings)

Amount Per Serving (15 people)

Calories 41

Calories from Fat 18

% Daily Value*

Fat 2g3%

Cholesterol 17mg6%

Sodium 294mg13%

Carbohydrates 2g1%

Protein 2g4%

* Percent Daily Values are based on a 2000 calorie diet.

Notice: Nutrition is auto-calculated, using Spoonacular, for your convenience. Where relevant, we recommend using your own nutrition calculations.