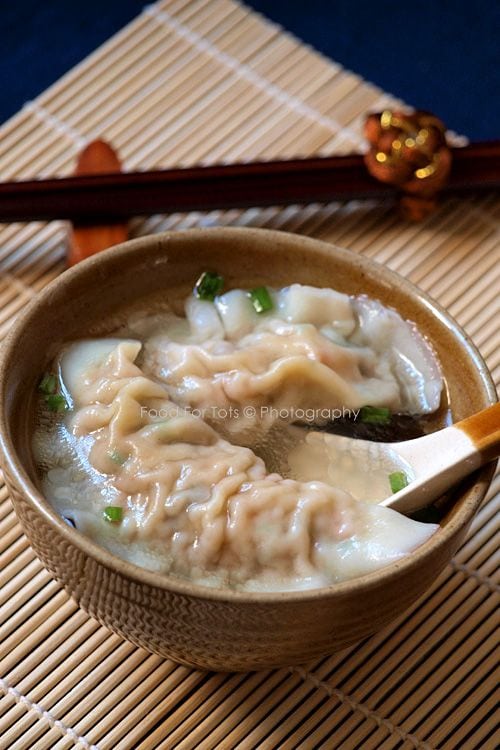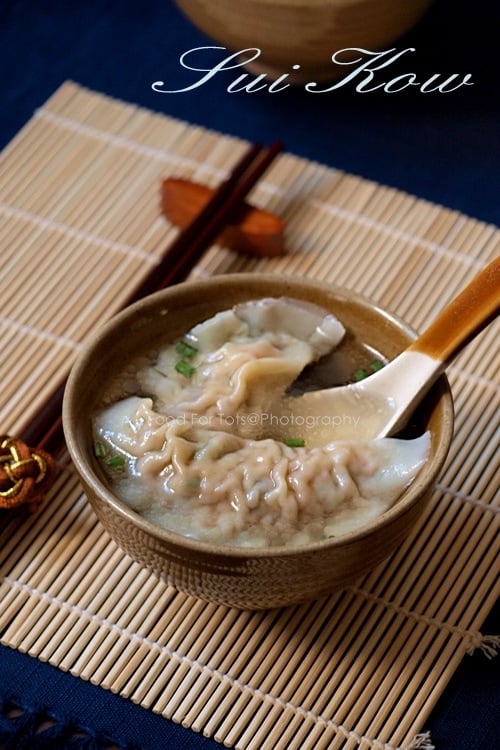 (Chinese recipes, prepare authentic Chinese food now!)
Sui Kow Recipe (Dumplings /水饺)
Guest Writer: Food 4 Tots
I would like to introduce you to a special guest blogger today, Food 4 Tots, who happens to be my high schoolmate in Penang. What a small word!  Food 4 Tots is an awesome food blog with recipes meant for toddlers.
Every time I read the blog, I drool over the homey and delicious dishes and secretly jealous of her 4-year old and wish that I am eating at her dining table every day. Please welcome Food 4 Tots to Rasa Malaysia as she shares her sui kow (Chinese dumplings) recipe with us.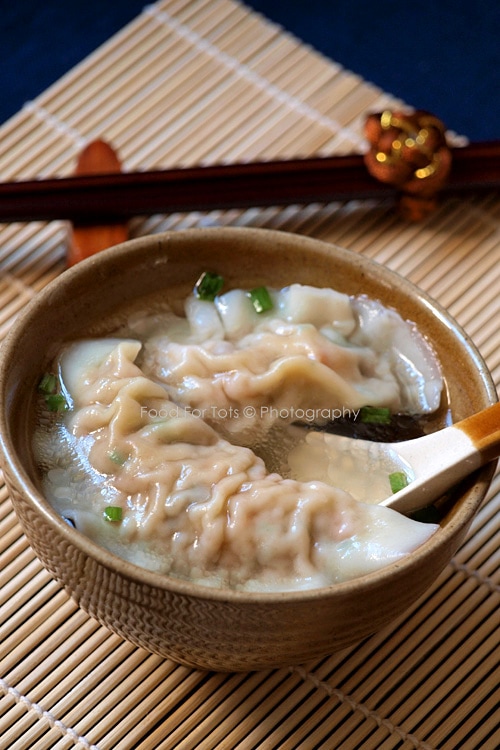 Two year ago, when I was just starting to cook for my family, a friend of mine made a strong recommendation that I visit Rasa Malaysia's food blog for its recipes and cooking ideas.
When I browsed through her blog, I was very amazed by her stunning shots and high level of professionalism in food presentation, not to mention her cooking and baking skills. Since then, I had been following her blog closely and even referred it as my "online cookbook."
I have to say that her featured recipes are getting more and more interesting and impressive now. There are many cooking tips and methods I learnt through reading her posting. Each time I visit her blog, I will be drooling and leaving with a hungry stomach. Her Penang-style cooking also makes me very homesick and I just feel like flying home the next day to satisfy my cravings.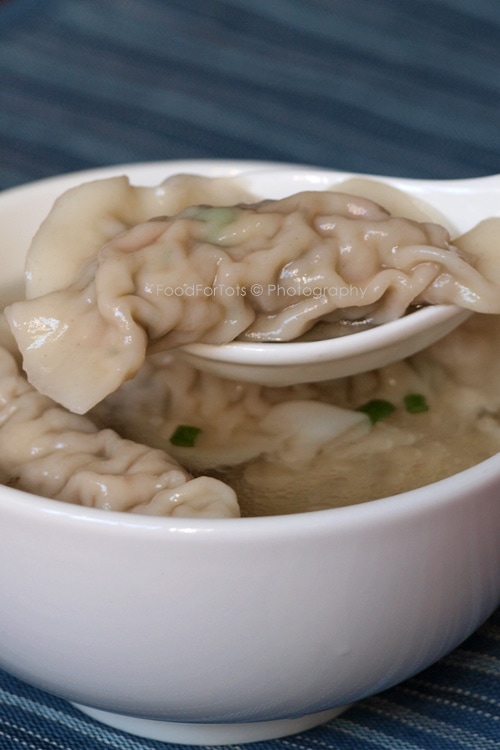 Today, I would like to thank Rasa Malaysia for featuring me as her guest writer. I had chosen sui kow (水饺) as my featured recipe because she loves dumplings. Co-incidentally, it is also my childhood favourite.
I had never gotten bored eating it even until now. Hopefully by sharing this sui kow recipe, you will love sui kow as much as I do.
"Sui kow" (水饺) is a Chinese dumpling which filling is mainly made up of coarsely diced or whole shrimps, minced pork, and other chopped vegetables such water chestnut. Usually, "sui kow" is paired with Chinese wonton noodles. But it can also be served separately in boiled broth.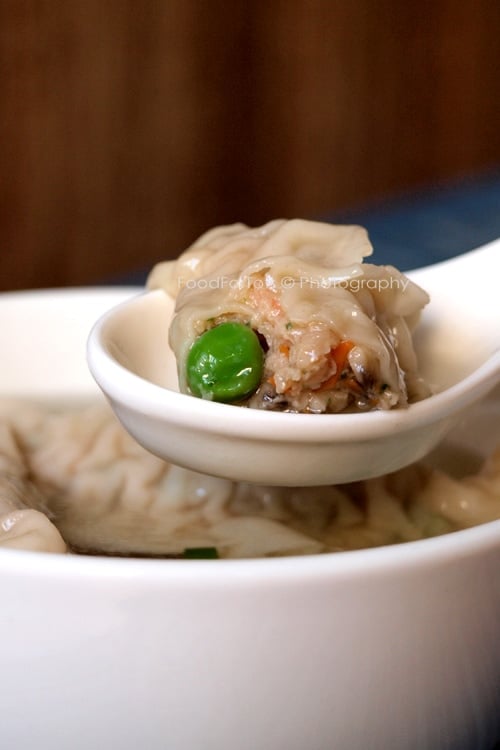 I first learnt about how to make "sui kow" from my mother-in-law. Since then, I always love making sui kow for my family. By serving it with some blanched vegetables and Chinese noodles, it makes a wholesome meal for us. My son (a 4 year-old boy) loves the "sui kow" so much that he can easily wallop 5 sui kows in 1 sitting!
When I told my hubby that I will made "sui kow" to be featured on Rasa Malaysia's blog, he suggested that I should follow his "self-proclaimed" authentic sui kow recipe which he used to eat at a Chinese noodle house in Kuala Lumpur (Malaysia) as a child.
This recipe calls for the inclusion of green peas and finely chopped coriander leaves on top of the common fillings. Although I had neither seen nor tasted this version of sui kow before, my instinct told me that his suggestion is feasible as the green peas will add extra colour and nutrients to the filling whereas the coriander leaves will give more flavour to the sui kow. So I decided to give it a try.
Guess what is the verdict? My hubby's suggestion was proven right! These two extra ingredients did give the sui kow a new twist in its flavour. The green colour of the pea resembles a hidden jade, made the filling more appealing to the eyes.
I must say that it is the best sui kow I had tried so far. The taste and texture are simply AWESOME! Before I had finished my shooting, 8 "sui kows" had disappeared from the serving plate and gone into our stomach! The temptation is so irresitable! Are you as excited as us, too?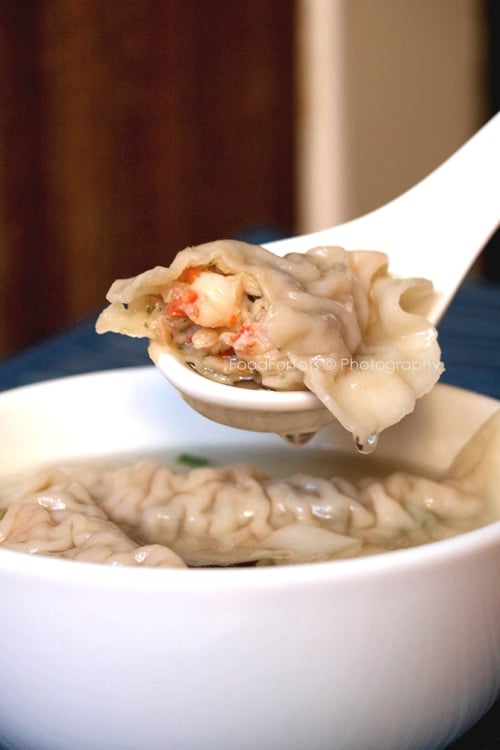 Finally, my hubby said, "If one is to enjoy the full eating of "sui kow", the art of eating it is just as important as the serving itself."
He strongly recommends placing a piece of coriander leave on top of the "sui kow" and dip it into some chili sauce (just a bit will do, so as to prevent the chili taste from over-powering the wholesome taste of the fillings). ENJOY! If you have better way to enjoy sui kow, feel free to comment. We love your feedback.
Now, let me share with you the authentic sui kow recipe (based on my own concortions):
Click Here to Pin This Recipe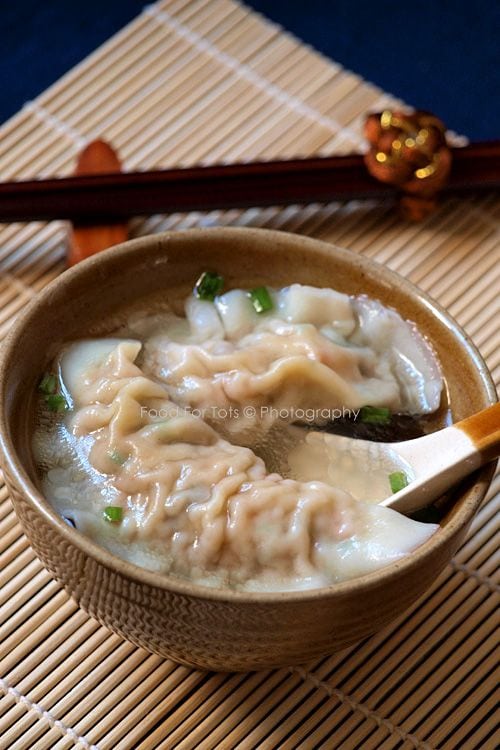 SUBSCRIBE AND NEVER MISS A RECIPE
SUBSCRIBE TO RASA MALAYSIA NEWSLETTER AND GET EASY AND DELICIOUS RECIPES DELIVERED TO YOUR INBOX. If you try my recipe, please use hashtag #rasamalaysia on social media so I can see your creations! Follow me on Facebook | Instagram | Pinterest | Twitter for new recipes, giveaways and more.