Chinese Dumplings - Delicious homemade Chinese Dumplings made from scratch with juicy pork, shrimp and sweet corn filling. This is the most flavorful and authentic Chinese dumpling recipe ever!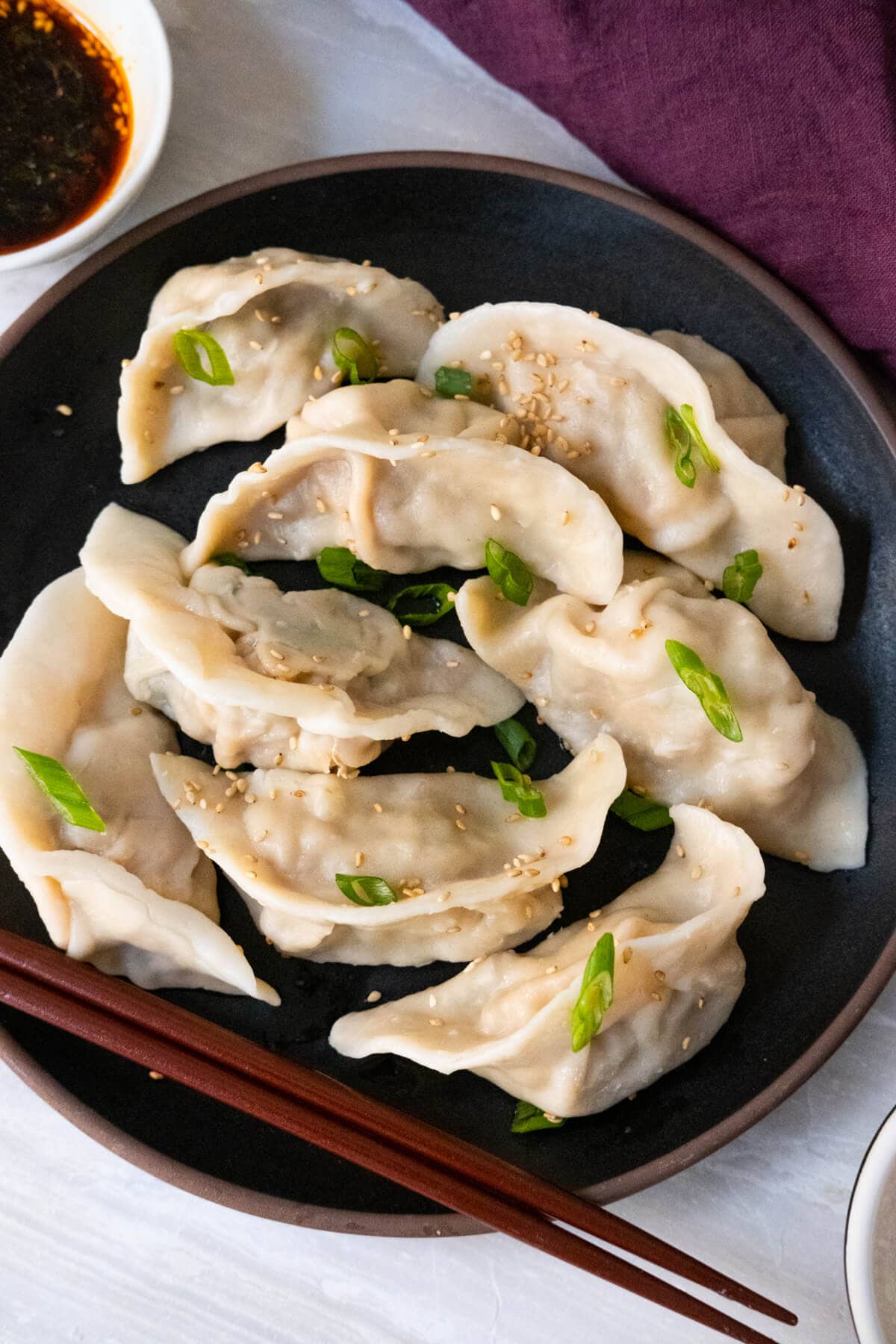 Chinese Dumplings Recipe
Chinese dumplings, "Jiaozi 饺子," are commonly served as a staple for lunch or dinner in mostly the Northern part of China. It is also a tradition to enjoy and share the Chinese dumplings with family and friends during the Chinese New Year, which symbolizes good luck and wealth for the coming year.
Other Recipes You Might Like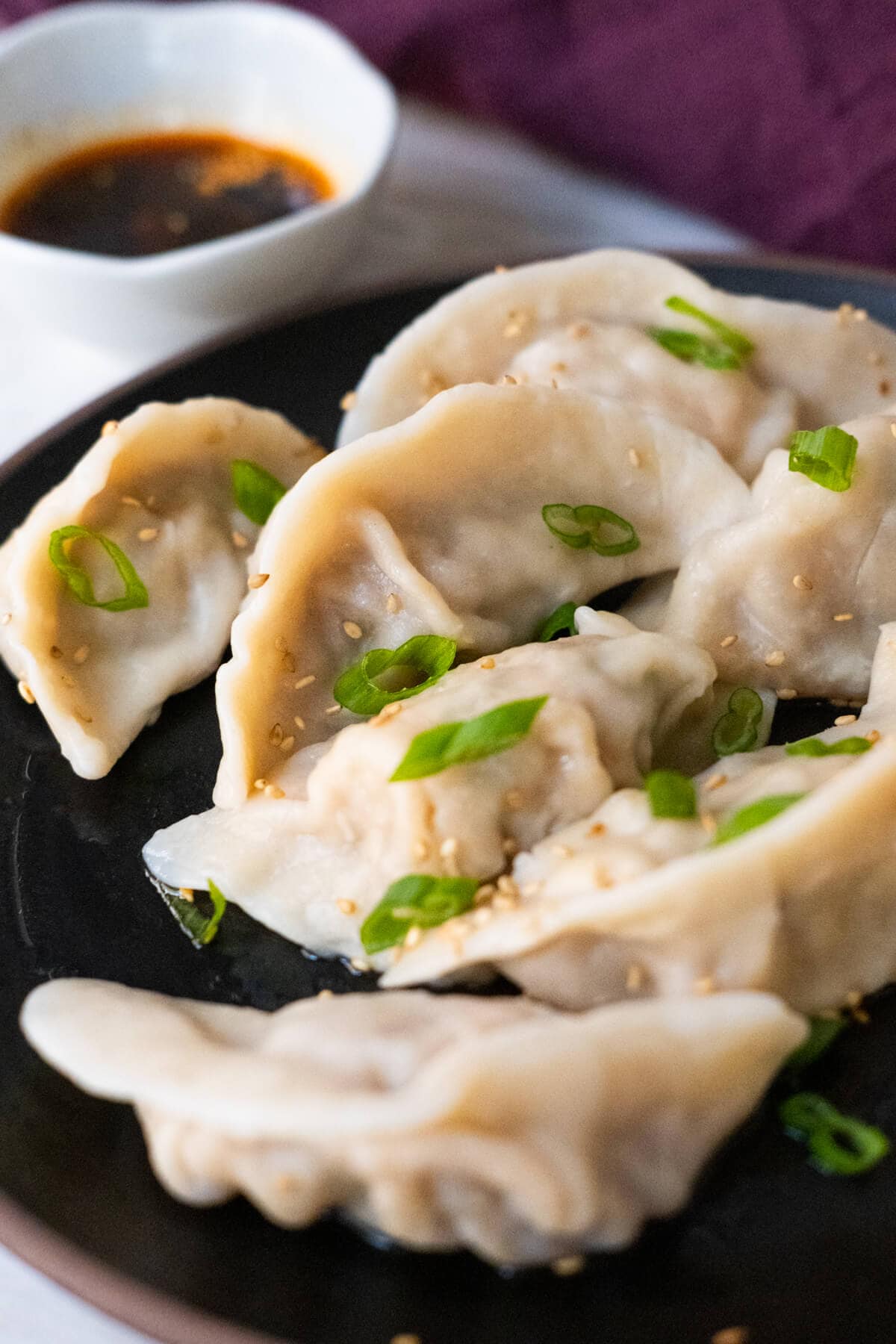 People love to make dumplings at home since it's easy and healthier. You can make delicious fillings by mixing and matching different ingredients as you like. Plus, these homemade dumpling wrappers always taste chewier than the store-bought ones.
These ultimate homemade Chinese dumplings create the best taste with only a few simple ingredients. Add a delightful sour and spicy dipping sauce on the side.
Ingredients for Chinese Dumplings Recipe
The homemade dumpling wrappers call for three simple ingredients:
All-purpose flour
Salt
Warm water
The delicious filling ingredients:
Ground pork
Canned sweet corn
Shrimp
Egg
Garlic
Ginger
Oyster sauce
Soy sauce
Sesame oil
Chinese Shaoxing rice wine, cooking wine
Dipping sauce:
Chinese black vinegar
Chili oil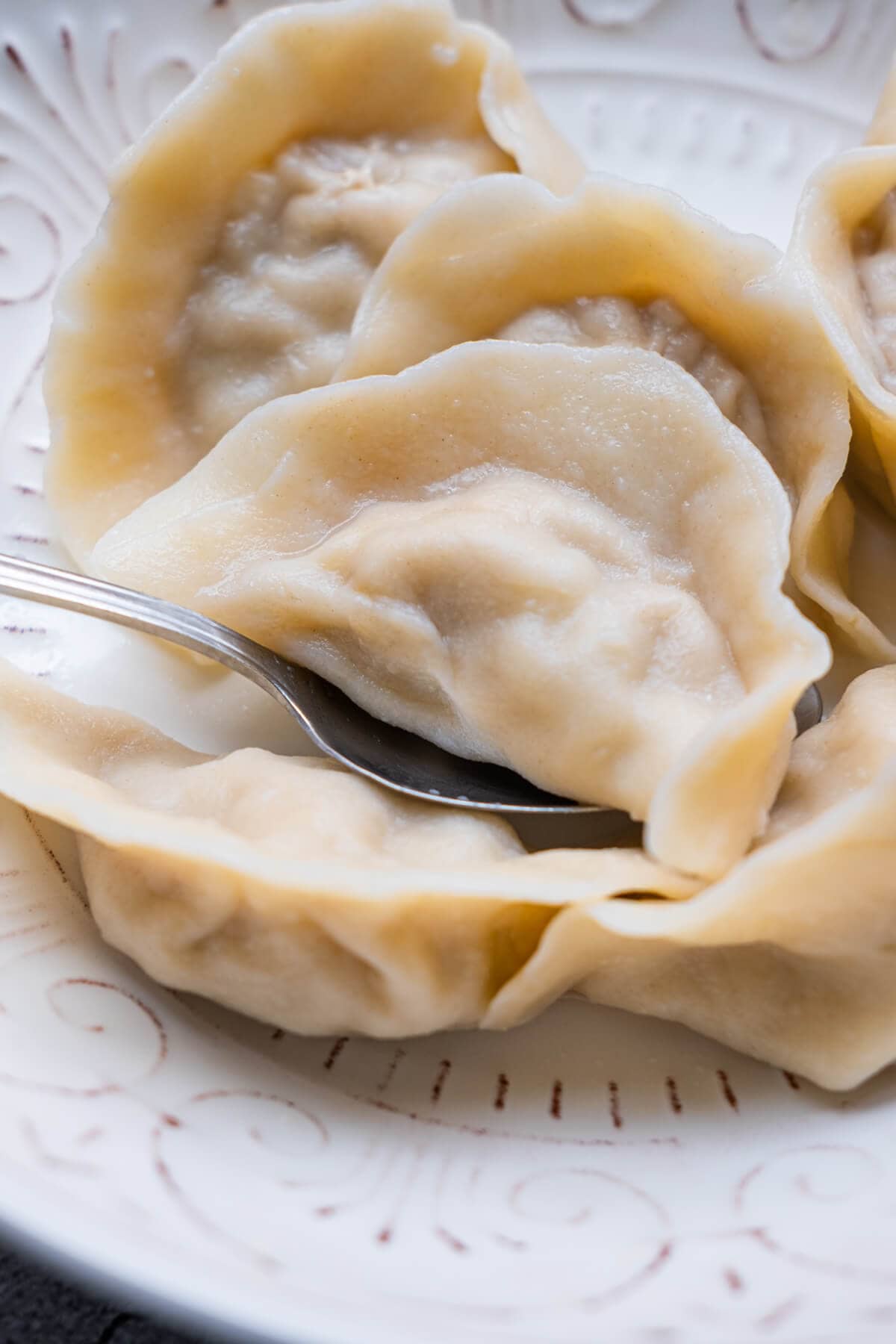 How to Make Chinese Dumplings
How to prepare the dumpling wrappers?
The homemade dumpling wrappers are easy to prepare and only require three simple ingredients. Mix flour, salt, and warm water in a bowl, and combine well with your hand until a rough dough forms. Wrap the dough in a plastic bag and let it rest for 10 minutes at room temperature.
Remove the plastic bag and knead the dough for 5 minutes until smooth. Then, put it back in the plastic bag and rest for 10 minutes.
After 10 minutes of resting, the dough becomes elastic and smooth. In this way, you don't need to spend too much time and effort kneading the dough.
Place the dough on a floured counter and divide it into two equal portions. Roll each of them into cylinders (about 12 inches in length). Cut the dough into 15 equal pieces (about 1/4-inch in length for each). Generously sprinkle flour over the dough, and use a rolling pin to flatten each piece into a round shape about 3 inches in diameter. Set them aside and cover them with plastic wrap.
Delicious filling
This Chinese dumplings recipe mixes ground pork, shrimp, and sweet corn with seasoning ingredients for the filling and is one of the most traditional options served in China.
Assemble the dumplings
Put a small spoonful of filling on the center of the wrapper, and fold it in half. Pinch the top with two fingers, and push two ends to the center to make even pleating on the back. Pinch the seams to seal. Repeat until you use up all the ingredients.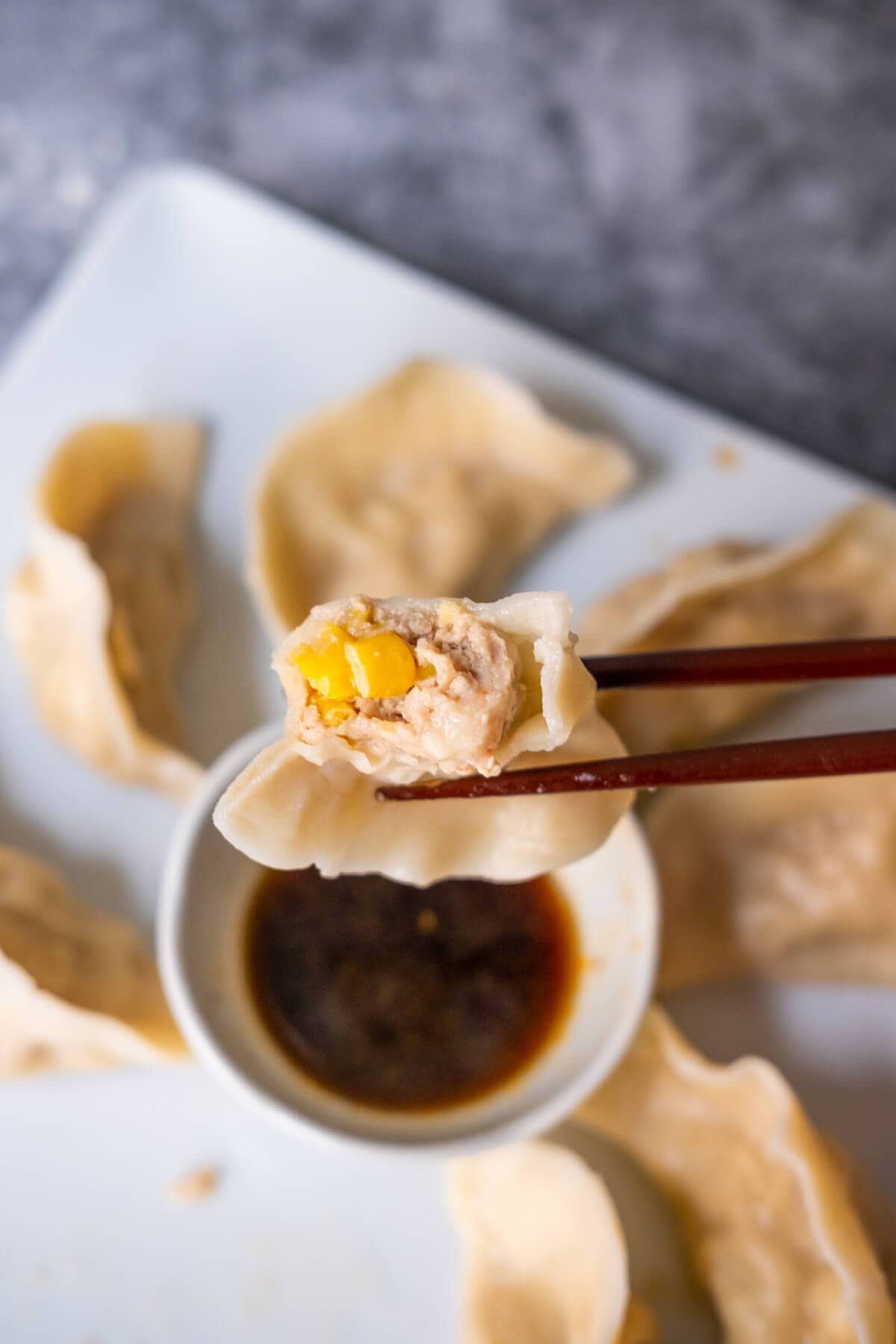 Cook's Tips
For the best result, please follow my tips below:
To ensure the dumpling wrappers stay chewy, we must control the water temperature at 110°F (43°C) when mixing with the flour and salt. Whether the water temperature goes too high or too low will cause less elasticity in the dough.
To make a flavorful filling, there should always be a combination of both protein and vegetables. For example, pork beef, lamb, chicken, and shrimp are great protein options for the filling ingredients.
This recipe makes 30 dumplings.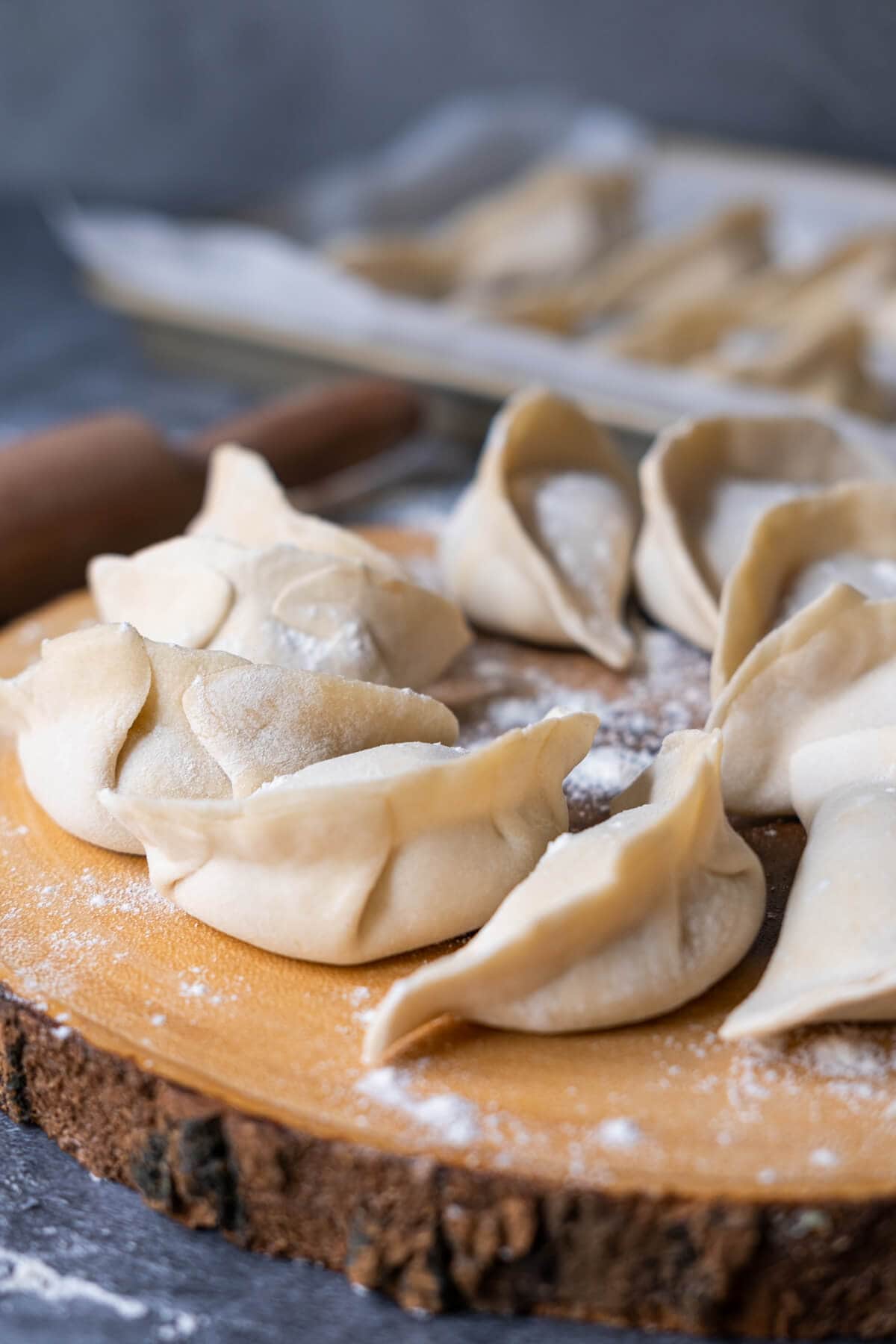 Frequently Asked Questions
How to Store the Chinese Dumplings?
Place the uncooked dumplings on a baking tray 1 inch apart and freeze them for 1 to 2 hours until fully frozen. Pack the frozen dumplings in a plastic bag and store them in the freezer for up to 2 months.
Do I Need to Cook the Filling before Assembling the Dumpling?
No, you don't need to pre-cook the filling. The filling will be cooked while boiling the dumplings.
How Many Calories per Serving?
This recipe is only 565 calories per serving.
What Dishes to Serve with This Recipe?
Serve Chinese dumplings as an appetizer or as part of a multi-course Chinese meal. For a wholesome Chinese meal and easy weeknight dinner, I recommend the following recipes.
5 Secrets to 20 Min Dinners
Get tricks for quick & easy meals!
Yield: 4 People
Chinese Dumplings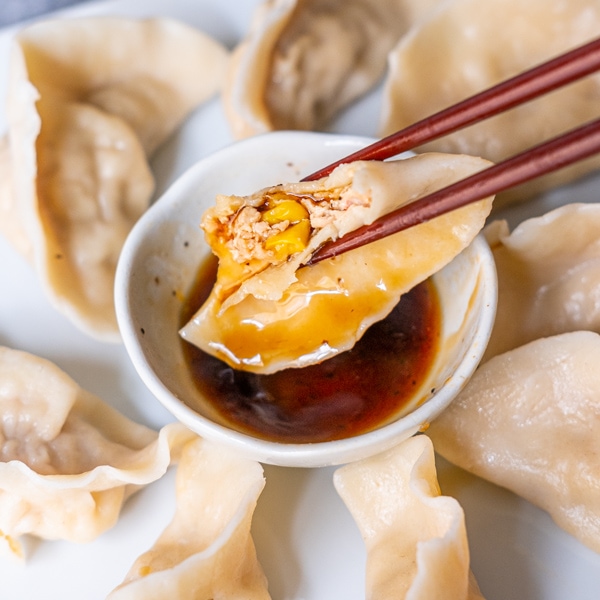 Chinese Dumplings - Delicious homemade Chinese Dumplings made from scratch with juicy pork, shrimp and sweet corn filling. This is the most flavorful and authentic Chinese dumpling recipe ever!
Ingredients
2 cups all-purpose flour
1 pinch salt
3/4 cup warm water (over 43°C/ 110°F)
Filling
1/2 pound (0.25kg) ground pork
1 cup canned sweet corn, drained
6 medium-size shrimp, chopped (6 oz after peeling)
1 egg (2 oz or 60 g without shell)
2 cloves garlic, minced
1 teaspoon ginger, minced
1 tablespoon oyster sauce
1 tablespoon sesame oil
1 tablespoon Chinese ShaoXing rice wine
1 tablespoon soy sauce
Dipping Sauce
Chinese black vinegar
chili oil
Instructions
Prepare the dumpling wrapper. Add flour, salt and water in a mixing bowl, combine well with your hand until a rough dough forms. Wrap the dough in a plastic bag and let it rest for 10 minutes at room temperature.
Remove the plastic bag and knead the dough for 5 minutes until smooth. Then, put it in the plastic bag again and rest for another 10 minutes.
Place the dough on the floured counter and divide it into two equal portions. Roll each of them into cylinders (about 12 inches in length). Cut the dough into 15 equal pieces (about 1/4 inch in length for each).
Generously sprinkle flour over the dough, and use a rolling pin to flatten each of them into a round shape about 3 inches in diameter. Set them aside with plastic wrap covered.
Prepare the filling. Add ground pork, sweet corn, chopped shrimp, egg, garlic, ginger, and filling seasonings in a large bowl. Stir to combine well. Set it aside.
Assemble the dumplings. Put a small spoonful of filling on the center of the wrapper, and fold it in half. Pinch the top with two fingers, and push two ends to the center to make even pleating on the back. Pinch the seams to seal. Repeat until you use up all the ingredients.
Bring a pot of water to boil. Drop the dumplings in the boiling water. And cook the dumplings for 5 minutes without the lid. Once the dumplings start to float, cook for another 2 minutes then remove them using a strainer. Serve them immediately with dipping sauce (Mix 1 tablespoon of Chinese black vinegar and several drops of chili oil in a sauce dish.)
Nutrition Information
Yield
4
Serving Size
People
Amount Per Serving
Calories

565
Total Fat

9.3g
Saturated Fat

2.2g
Cholesterol

414mg
Sodium

852mg
Carbohydrates

56.7g
Fiber

2.6g
Sugar

1.6g
Protein

59.7g