Szechuan or Sichuan Roasted Chicken - Chicken is one of those food that is a must during our reunion dinner because it symbolizes prosperity and wholeness.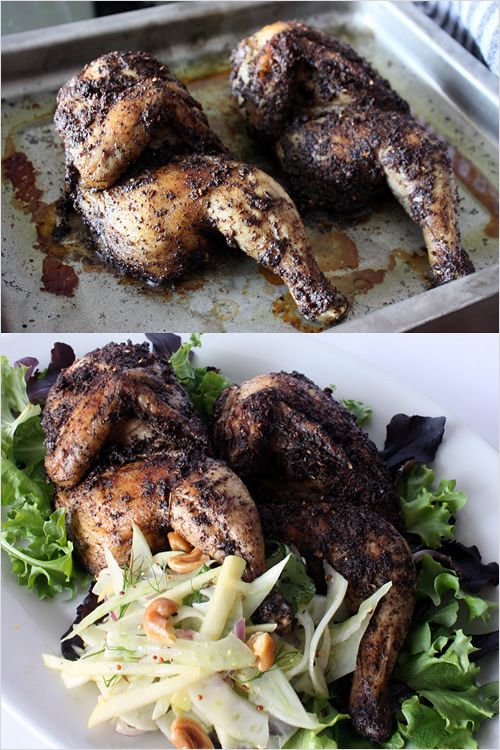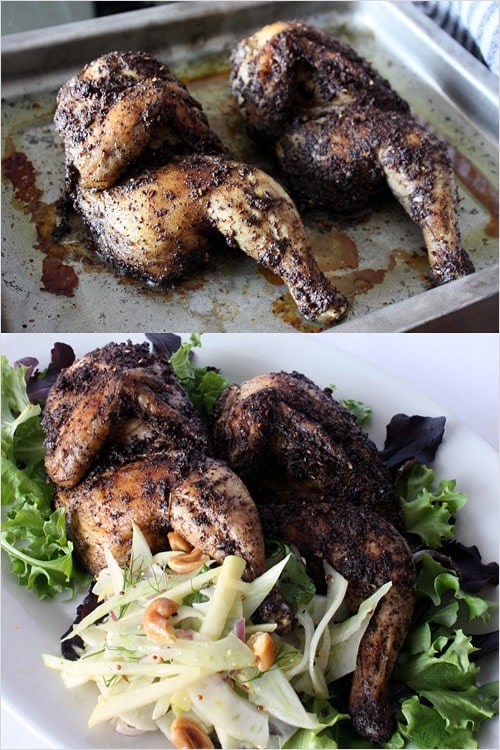 I can't believe it's only four days before Chinese (Lunar) New Year.
I can totally feel the festivities at the Asian stores here, a lot of red decorations. Today, my guest writer is Elaine of Kitchen Experiments, a food blogger and also a proud online entrepreneur at I Heart Vanilla.
Elaine is a fellow Malaysian and spent a lot of her childhood days in Penang. Kitchen Experiments started about the same time as Rasa Malaysia. I love her blog, so check it out and please welcome her to Rasa Malaysia.
Thank you for inviting me to guest post on Rasa Malaysia—I'm extremely honored. And for this invitation, I'm going to share a recipe that brings back a lot of childhood memories for me in Penang. Here's wishing you and your readers a very Happy Chinese New Year!
Every year during Chinese New Year eve, my family would have a feast to celebrate the coming festivities. When I was younger, I remember on the eve of the eve of Chinese New Year is when my late-grandmother is busiest preparing food in her kitchen.
It is one of my fondest memory of her and of my childhood because the kitchen was buzzing with relatives coming together to prepare a feast for all our family members…
Chicken is one of those food that is a must during our reunion dinner because it symbolizes prosperity and wholeness. If it was 20 years ago, my grandmother would probably serve the roast chickens whole with its head and feet still intact.
My version of the reunion dinner chicken is supped up with a Szechuan (Sichuan) pepper and vanilla rub. On the side, I created a tangy fennel and apple pickle with cashew nuts.
You might hesitate at the vanilla part but bear with me, it does not make the chicken smell or taste like cookies. The vanilla gives this roast chicken a very savory taste and helps meld the flavors together.
Here's my Szechuan (Sichuan) Roasted Chicken with Fennel and Apple Pickle for you to try on Chinese New Year eve.
How Many Calories per Serving?
This recipe is only 383 calories per serving.
What Dishes to Serve with This Recipe?
For a wholesome meal and easy weeknight dinner, I recommend the following recipes.
5 Secrets to 20 Min Dinners
Get tricks for quick & easy meals!
Yield: 4 people
Szechuan/Sichuan Roasted Chicken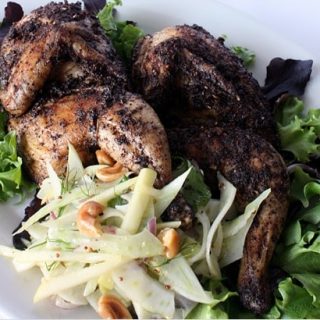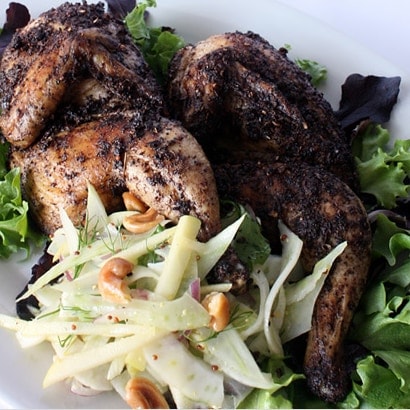 Szechuan/Sichuan Roasted Chicken: Chicken is one of those food that is a must during our reunion dinner because it symbolizes prosperity and wholeness.
Ingredients
1 whole chicken, halved if you want or leave whole
2 tablespoons Szechuan peppercorns
1 teaspoon vanilla powder, optional
1 teaspoon salt
1 teaspoon black pepper
1 tablespoon honey
1 tablespoon soy sauce
2 cloves garlic
4 tablespoons olive oil
Fennel and Apple pickle with Cashew:
1/2 bulb of fennel head, sliced thinly
1 apple, i used Golden Delicious
1/4 cup white vinegar
2 tablespoons sugar
1/4 cup orange juice
1 teaspoon salt
2 tablespoons oil
1 pinch five-spice powder
1/2 cup roasted cashew nuts for topping
Instructions
Clean chicken under cold running water and pat dry with some kitchen towels.
In a mortar and pestle, grind the Szechuan peppercorns, vanilla powder, garlic cloves, black pepper and salt together until finely grounded.
Add soy sauce, honey, olive oil into the dry ingredients and mix well until you get a dark, rich paste.
Rub the paste all over the chicken and let it marinate for about 1 hour.
Preheat oven to 400°F (200°C). After marinating your chicken for 1 hour, transfer it to a roasting dish and roast for 15 minutes and then lower the oven temperature to 350°F (176°C) and continue roasting for another 30 minutes or until the chicken is cook through.
Fennel and Apple pickle with Cashew:
Combine the fennel and apple slices in a bowl.
Heat the vinegar, sugar, orange juice, sugar, salt and a pinch of Chinese five spice powder until the sugar dissolves.
Mix the spiced vinegar solution with oil and then pour it over the fennel and apple slices. Toss to combine and store in fridge until ready to use.
Notes
I put my chicken and spice rub in a large ziplock bag and rub them like that - simple and fuss-free. ;)
To check if your chicken is cooked through, there are two methods:
i. poke the thickest part of the thigh and if liquid runs clear, it's cooked
ii.if the chicken thigh separates itself easily from the body, the chicken's done.
While your chicken is cooking, you can prepare the fennel and apple pickle. This tangy side dish works wonderful with the roast chicken - and it's so simple to make too!
The tangy, spicy, and crispiness of the chicken is the perfect chicken dish for Chinese New Year. I hope you guys would enjoy it as much as I do.
Nutrition Information
Yield
4
Serving Size
4 people
Amount Per Serving
Calories

383
Total Fat

57g
Saturated Fat

17g
Unsaturated Fat

0g
Cholesterol

142mg
Sodium

1567mg
Carbohydrates

29g
Fiber

3g
Sugar

17g
Protein

40g