Thai Shrimp & Pineapple Curry – shrimp & pineapple are the best combos for this amazing and super delish curry. Takes only 15 minutes to make!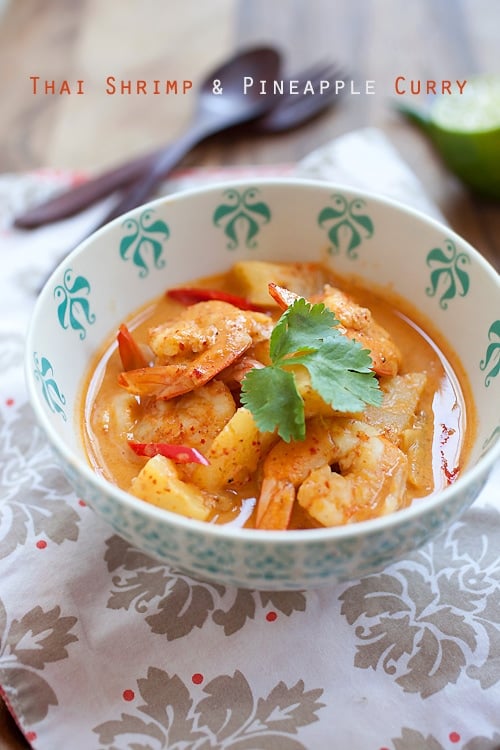 Earlier this week I tested out a recipe with pineapple, for the street food festival at ChoLon Denver on August 22 where I am going to present two dishes for the guests (click here to buy tickets for the event).
I bought a big pineapple and had the leftover.
Whenever I have some leftover pineapple, I'd make pineapple fried rice, or shrimp and pineapple curry.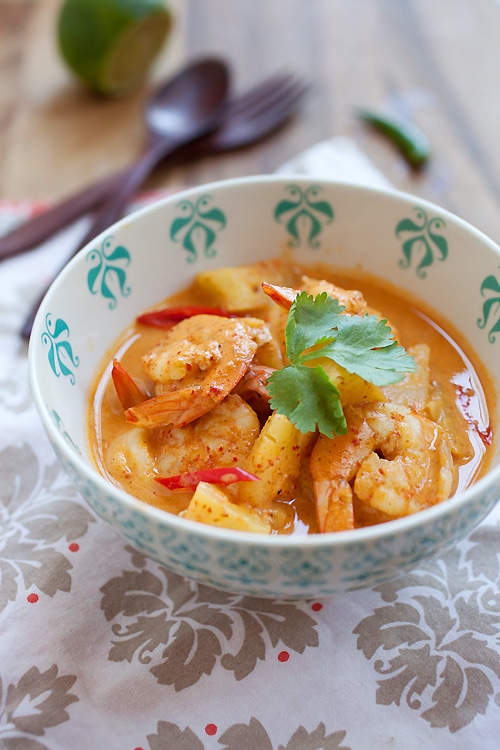 There are two versions of shrimp and pineapple curry I like.
One is the Nyonya version (click here for the recipe) and the other one is Thai shrimp and pineapple curry.
Both of them are utterly scrumptious and appetizing.
The pineapple adds a nice, sweet tang to the overall curry, and the shrimp and coconut milk basically complete the dish.
I can eat two full servings of steamed white rice with this dish.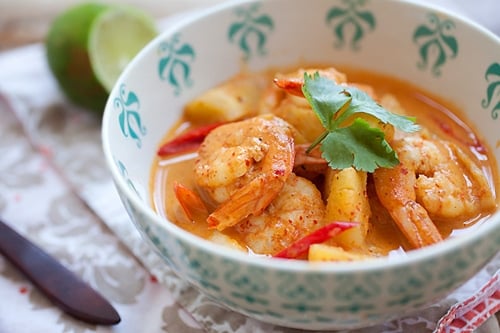 What I love about this Thai shrimp and pineapple curry is that I can just use store-bought red curry paste, so there is no need to make the spice paste from scratch, unlike the Nyonya Udang Lemak Nenas.
You know me, when it comes to cooking, I don't mind all the shortcuts as long as the end result tastes great.
I know most people don't buy fresh pineapple and eat it as a daily "fruit," so you can always opt for canned pineapple.
If are you using canned pineapple, make sure you choose those cut in rings.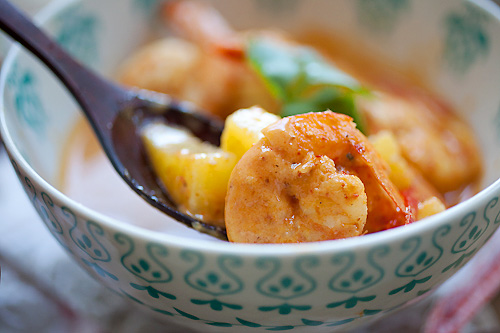 Here you have it, my Thai shrimp and pineapple curry recipe, quite possibly my favorite Thai curry ever!
It's so tasty you will thank me after you try making this yourself.
How Many Calories Per Serving?
This recipe is only 354 calories per serving.
What Dishes To Serve with this Recipe?
For a wholesome meal and easy weeknight dinner, I recommend the following recipes.
5 Secrets to 20 Min Dinners
Get tricks for quick & easy meals!
Yield: 2 people
Thai Shrimp and Pineapple Curry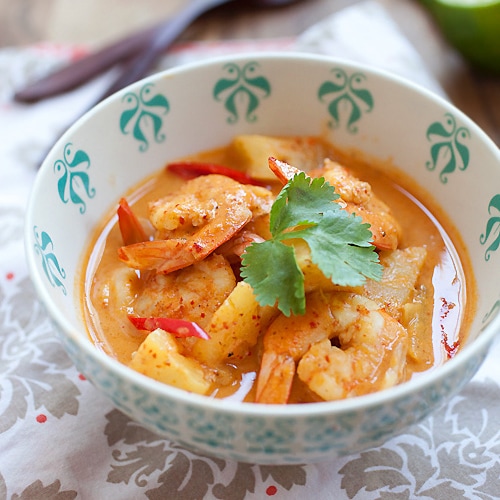 Thai Shrimp & Pineapple Curry - shrimp & pineapple are the best combos for this amazing and super delish curry. Takes 15 minutes to make.
Ingredients
1 1/2 tablespoons oil
2 tablespoons Thai red curry paste, store-bought
1/2 cup coconut milk
1/2 cup water
3 - 4 kaffir lime leaves, slightly bruised, optional
8 oz. (226 g) shelled and deveined shrimp, tail-on
1 cup pineapple cubes
1/2 tablespoon fish sauce
1/2 tablespoon sugar/ palm sugar
1 squirt lime juice
Instructions
Heat up a pot with the cooking oil. When the oil is heated, add the curry paste and stir to release the aroma. Make sure to keep stirring and don't burn the curry paste. Add the coconut milk, water, and kaffir lime leaves and bring the curry to boil. All the prawn and pineapple and let cook for about 5 minutes on medium to low heat. Add the fish sauce, sugar, and lime juice, stir to combine well. Turn off the heat and serve immediately with steamed white rice.
Notes
You can use canned pineapple to make this dish. Choose the pineapple rings and cut into cubes.
Nutrition Information
Yield
2
Serving Size
2 people
Amount Per Serving
Calories

354
Total Fat

24g
Saturated Fat

12g
Unsaturated Fat

0g
Cholesterol

142mg
Sodium

1012mg
Carbohydrates

17g
Fiber

1g
Sugar

11g
Protein

17g