White Boiled Shrimp – A classic Hong Kong recipe where shrimp are boiled and served with a soy ginger sauce.

White Boiled Shrimp
Originally posted on May 29, 2010. Updated with new photos.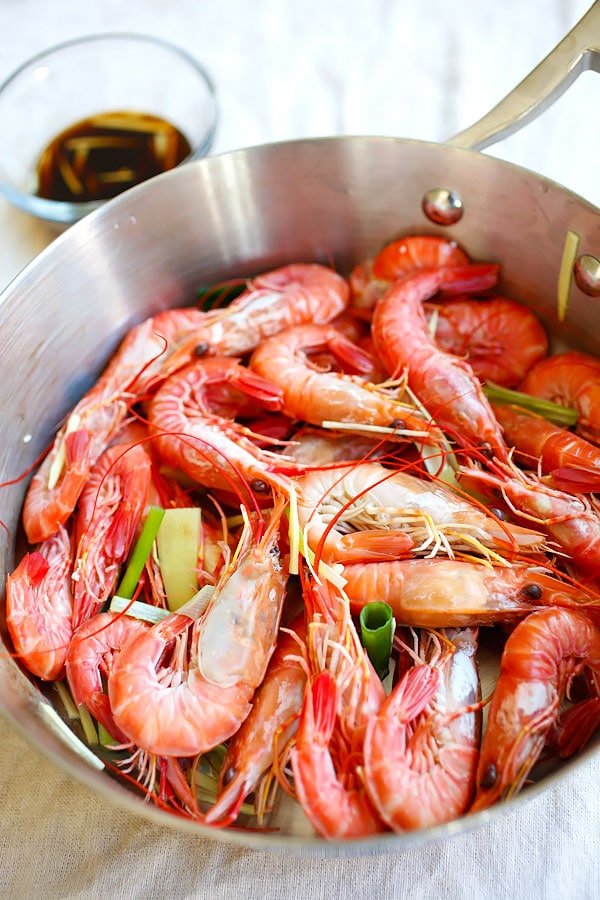 To many Chinese, one of the best ways to prepare live shrimp is to boil (白灼) as boiling retains the natural sweetness and freshness of the shrimp.
All you need is a very simple soy dipping sauce and you are guaranteed to have a great meal. In many Cantonese-style restaurants here in the United States, whenever live shrimp is in season, for example: Santa Barbara spot prawn or sea prawn, you will see loads of patrons ordering white boiled shrimp, or 白灼虾.
Everyone would just dig in as soon as the shrimp is served. I am a huge fan of this classic Cantonese dish but eating out is rather expensive, at an average of $15-$20 per lb.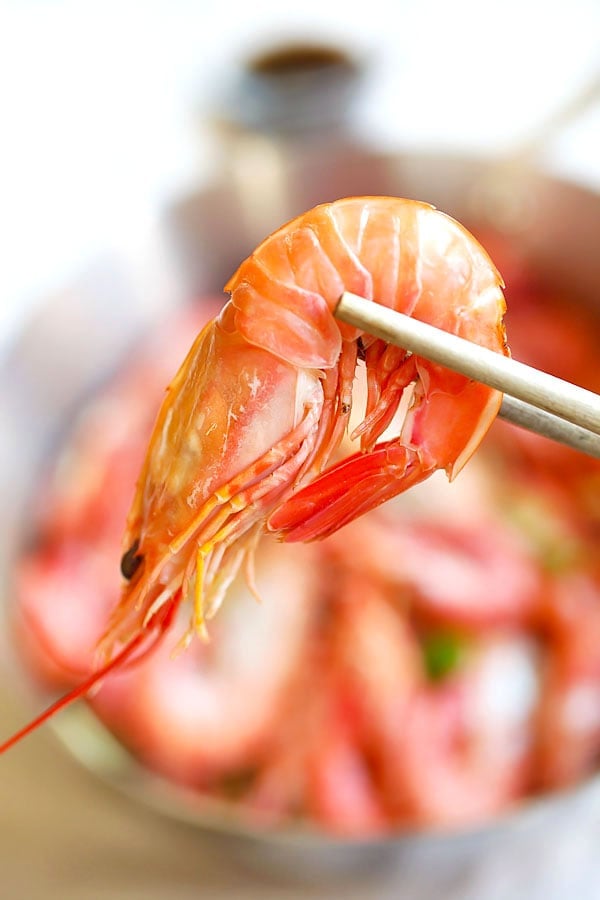 This morning, I went to the Asian market and chanced upon a great sale—fresh live shrimp (竹节虾) for only $3.99 per lb! I got myself a pound of these babies and had a shrimp feast.
What I love most about fresh live shrimp is that the head is filled with egg-like goodness that is so creamy, sweet, and super delicious. What's more, the flesh was so smooth and bouncy because the shrimp was pretty much alive and kicking!
Just peel off the shrimp shell, suck the eggy and juicy head dry, dip the shrimp in the dipping sauce and you will be in shrimp heaven. The sweetest thing of all: the price tag is only $3.99.
Enjoy!
How Many Calories per Serving?
This recipe is only 128 calories per serving.
What Dishes to Serve with This Recipe?
For a wholesome meal and easy weeknight dinner, I recommend the following recipes.
5 Secrets to 20 Min Dinners
Get tricks for quick & easy meals!
Yield: 4 people
White Boiled Shrimp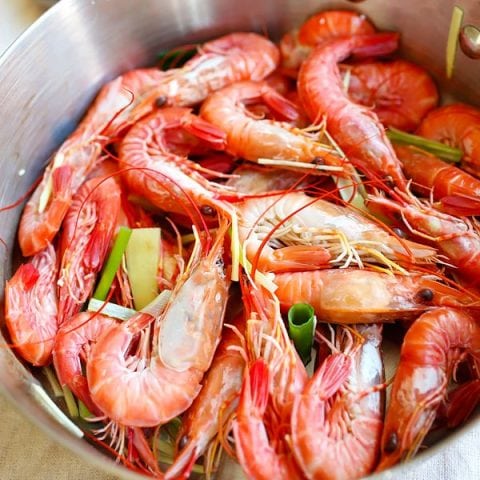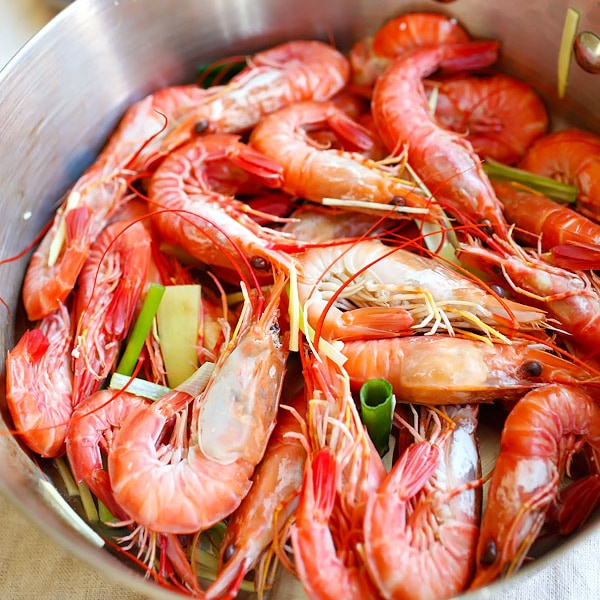 White boiled shrimp – a classic Hong Kong recipe where shrimp are boiled and served with a soy ginger sauce.
Ingredients
1 lb. (0.4 kg) live shrimp
4 cups water, for boiling
2 inch (5 cm) piece ginger, peeled and cut into thin strips
2 stalks scallion, cut into 2-inch lengths (5 cm)
1 tablespoon Chinese Shaoxing wine
Dipping Sauce:
2 tablespoons soy sauce, add 1 teaspoon of hot water to dilute it
1 teaspoon Chinese black vinegar
sliced green chilies, optional
Instructions
Rinse the shrimp thoroughly. Mix the dipping sauce ingredients together. Set aside.
Bring water to boil, add the ginger, scallions and wine. Transfer the shrimp into the water, cover it, and boil the shrimp until cooked, about 2 minutes. Drain the shrimp and transfer to a serving platter.
Serve immediately with the Dipping Sauce.
Nutrition Information
Yield
4
Serving Size
4 people
Amount Per Serving
Calories

128
Total Fat

1g
Unsaturated Fat

0g
Cholesterol

285mg
Sodium

1397mg
Carbohydrates

1g
Protein

24g