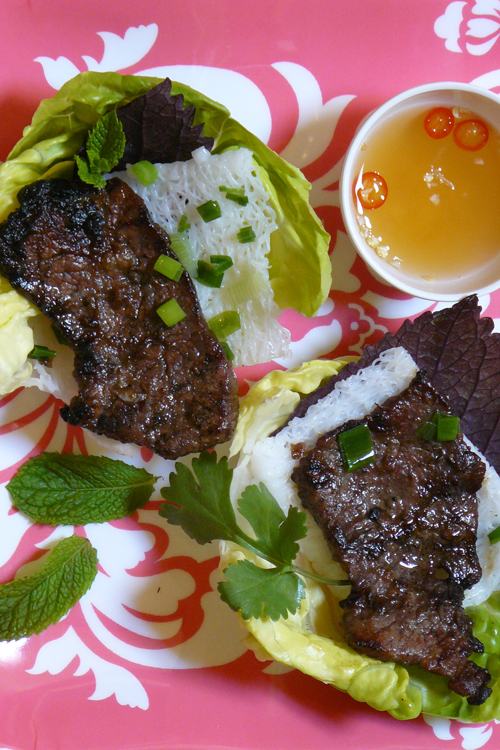 I am a fan of Andrea Nguyen, the award-winning cookbook author/food writer and very talented cooking teacher. I first approached Andrea a few months ago to write a guest post on Rasa Malaysia. Despite her busy schedule–her new cookbook Asian Dumplings will be out in August–Andrea was kind enough to say yes to my invitation. Without a doubt, I feel honored and excited. Please welcome Andrea to Rasa Malaysia as she shares her Banh Hoi or Vietnamese Rice Noodles with Beef recipe with us. To learn more about Andrea and Vietnamese cuisine, please hop over to Viet World Kitchen. You can also check out her impressive bio here.
I was flattered when Bee asked me to guest post on Rasa Malaysia about one of her favorite Vietnamese foods – banh hoi rice noodles. Delicate in flavor with a slight tang, the very thin (think of something finer than Italian angel hair pasta) noodles are a special event Vietnamese food that's often enjoyed at parties and celebrations. They're instantly recognizable as the white noodles are shaped like rectangular mats of thick white cheesecloth. It's best to purchase banh hoi (pronounced "baan hoy") fresh from a Vietnamese market or Chinese barbecue shop in a Vietnamese community where they're typically sold on Styrofoam trays and wrapped in plastic wrap.
Banh hoi are not eaten on their own, but rather as an accompaniment to rich, flavorful morsels, such as slices of this easy-to-prepare grilled beef. Vietnamese people love to bundle up food in lettuce and fresh herbs, which is exactly how this dish is enjoyed. Just grab a piece of lettuce, layer in some herbs, a piece of banh hoi rice noodle and slice of beef. Dip your creation in some nuoc cham dipping sauce and enjoy the intermingling of flavors and texture. It's a lovely one-dish meal for summer's grilling season!