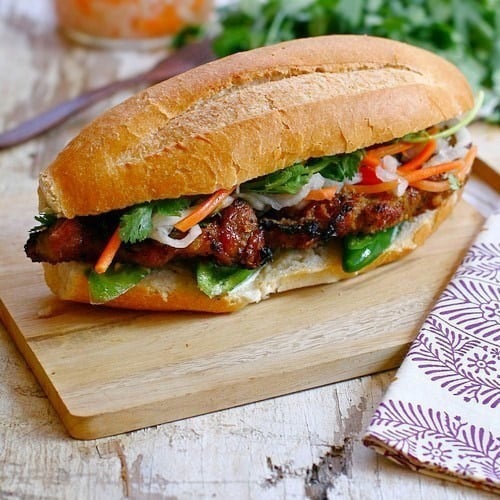 Banh Mi with Lemongrass Pork
Banh Mi is Vietnamese baguette with grilled meat. Easy banh mi recipe with grilled lemongrass pork and baguette to make the perfect banh mi at home.
Prep time:
Cook time:
Total Time:
Ingredients:
2 lbs boneless pork butt (cut into 1/4-inch thick slices, 8-inch length by 2 1/2-inch width)
4-6 8-inch baguette rolls, sliced lengthwise in the center
1/2 bunch cilantro leaves
5 Jalapeno chilies, deseeded and thinly sliced
Pickled carrots and daikon (store-bought or homemade)
Mayonnaise
Lemongrass Pork Marinade:
1/2 cup minced lemongrass
1/2 cup sugar
3 tablespoons fish sauce
1 1/2 tablespoons ground black pepper
5 shallots, peeled and minced
3 cloves garlic, peeled and minced
2 tablespoons roasted sesame oil
2 tablespoons peanut oil/regular cooking oil
2 tablespoons sweet soy sauce
Method:
Lightly pound the pork slices with a mallet/back of the kitchen knife. In a bowl, mix all the Marinade ingredients well. Put in the pork slices and marinade for about 1-2 hours/overnight. Discard excess marinade before use.
Preheat grill until ready to use. Gently arrange marinated pork slices onto the grill. Grill until the pork is nicely charred on both sides and meat is thoroughly cooked. If use indoor broiler oven, broil for 5-7 minutes on each side or until the meat is completely cooked and nicely charred.
Remove lemongrass pork from grill and assemble the baguettes with mayonnaise spread, and then put the sliced Jalapeno chilies, a slice of grilled lemongrass pork, and finish off with a handful of pickled carrots and daikon and cilantro leaves. Serve a whole baguette or cut the baguette into half.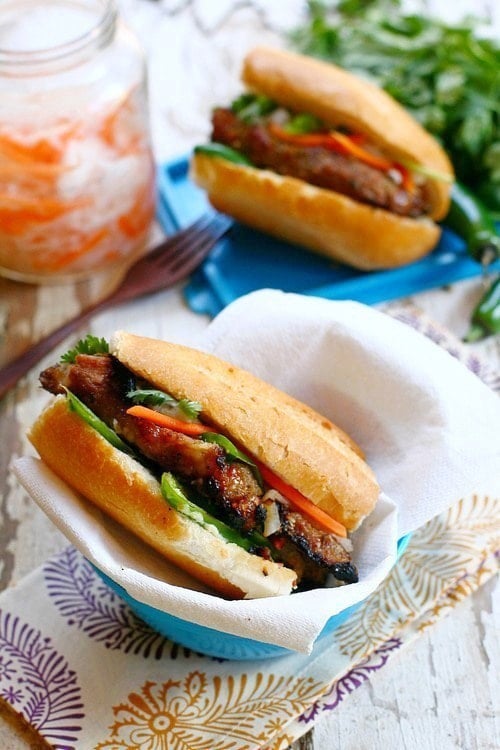 I miss the breakfast breads in Vietnam during my travels, specifically Vietnamese-style baguettes (bánh mì). Here in the States, whenever I need my bánh mì fix, it's a fifteen minutes drive to Little Saigon. Most of the time, there's a line, so it takes even longer to get my fix. That's why I decided to make it at home.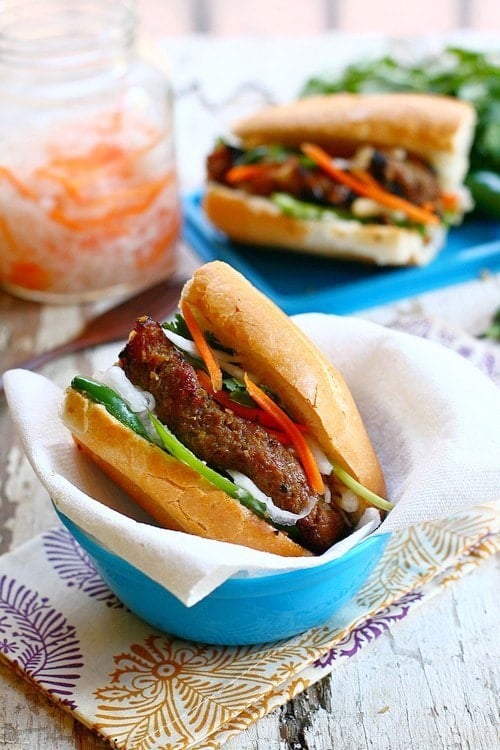 Bánh mì, which is the Vietnamese term for "bread," is actually the baguette that is used to make the popular Vietnamese sandwich. It's found in places with a concentrated Vietnamese population, from France, Canada, United Kingdom to the United States. This popular Vietnamese-style sandwich can be easily found in most restaurants or Vietnamese-owned sandwich shops, and there are a variety of meat choices—from steamed, pan-fried, to grilled options (Thit Nuong, being my all time personal favorite).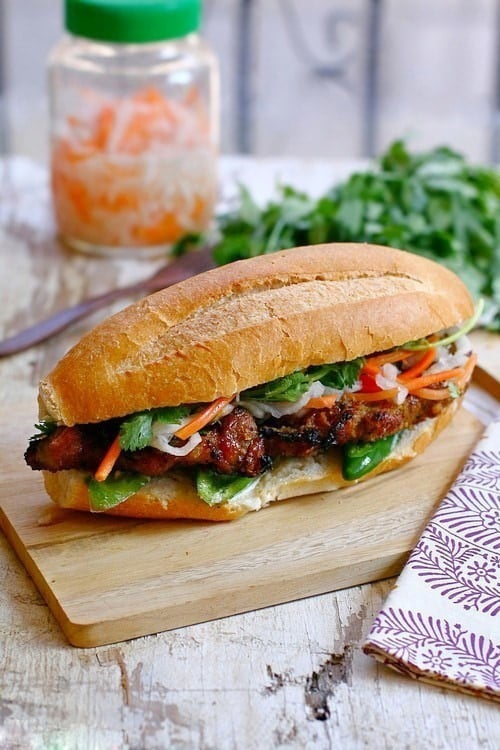 This fresh Vietnamese baguette roll with golden crust is exceedingly crispy and crunchy. As for the Thịt Nướng (grilled meat), I used the intensely flavorful grilled lemongrass pork that was slightly on the fatty side so it turned out nice and tender with charred aromas. Spread the baguette with some mayo or butter and fresh cilantro, jalapeno slices and most importantly, the pickled carrots and daikon, you're on your way to a very substantial meal. This is another great summer recipe to try as the aromas of the grilled lemongrass pork beckons from afar.
Out of all the bánh mì varieties, my personal favorite is Bánh Mì Thit Nuong with grilled lemongrass pork. What's yours?
REMEMBER TO SUBSCRIBE TO RASA MALAYSIA NEWSLETTER AND GET EASY AND DELICIOUS RECIPES DELIVERED TO YOUR INBOX. If you try my recipe, please use hashtag #rasamalaysia on social media so I can see your creations! Follow me on Facebook | Instagram | Pinterest | Twitter for new recipes, giveaways and more.
Rate This
Recipe Name
Banh Mi with Lemongrass Pork
Preparation Time
Cook Time
Total Time
Average Rating

Based on 12 Review(s)