Beef Teriyaki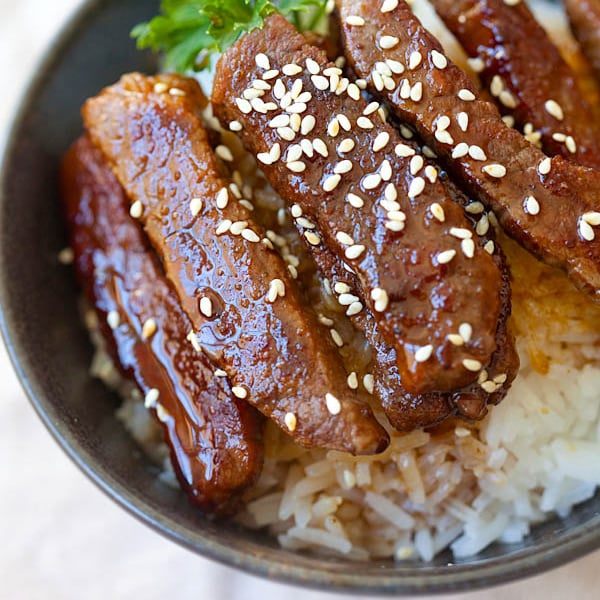 http://rasamalaysia.com/beef-teriyaki-recipe/
Click "Like" to Get New Recipes
and Updates on Facebook Daily!
Beef Teriyaki Recipe
Ingredients:
8 oz beef flap meat
Some oil for pan-frying
Marinade
1/2 tablespoon soy sauce
1/2 tablespoon sake
Teriyaki Sauce (Tare)
2 tablespoons soy sauce
2 tablespoons sake
2 tablespoon sugar
2 tablespoon mirin
1 teaspoon corn starch (mixed with 1 teaspoon water)
Garnishing
White sesame seeds
Some chopped scallions, optional
Method:
Slice the beef into thin pieces, across the grain. Marinate the beef with the Marinade, for about 20 minutes.
Mix all the ingredients in the Teriyaki Sauce. Heat up a small sauce pan and prepare the sauce. As soon as the sauce starts to bubble, remove it from the heat.
Add some oil to your skillet and pan-fry the beef, until slightly charred. Transfer the beef to a serving ware, and add the Teriyaki Sauce on top. Garnish with white sesame seeds and chopped scallions, if used. Serve the beef teriyaki immediately with steamed white rice.
Cook's Note:
I used beef flap meat and sliced them into thin pieces because I was pan-frying. For grilling, please use beef tenderloin. Cut the beef crosswise into strips after grilling, like how they are commonly served in the Japanese restaurants.
The teriyaki sauce recipe is adapted from No Recipes.
Click Images Below for Similar Recipes:
LOVE THE RECIPE & PHOTOS? PLEASE SHARE:
Sign Up for Email Updates
Enter your email for new updates: recipes, giveaways, and more!