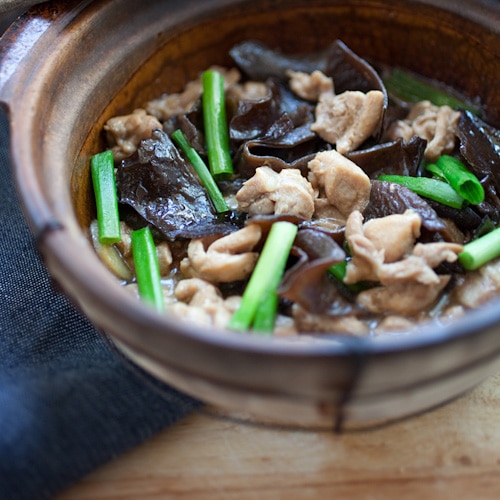 Chinese Chicken Stew with Black Fungus
Chicken stew with black fungus, a classic Chinese/Cantonese dish that anyone can whip up at home.
Prep time:
Cook time:
Total Time:
Makes2
Ingredients:
1 tablespoon oil
1-inch piece ginger, peeled and sliced into thin pieces
8 oz chicken thigh or chicken leg, cut into pieces
2-3 pieces black fungus (cloud ear), soaked in warm water until soft and cut into pieces
2 stalks scallions, cut into 2-inch lengths
Sauce:
1 tablespoon oyster sauce
1 teaspoon soy sauce
5 tablespoons water
1/2 teaspoon Shaoxing wine (optional)
1/2 teaspoon sesame oil
1/4 teaspoon sugar
3 dashes white pepper
1 scant teaspoon cornstarch
Pinch of salt
Method:
Combine all the ingredients in the sauce together, stir to mix well. Set aside.
Heat up the claypot (or wok/skillet) on high heat. Add the oil. When the oil is heated, add the ginger and stir fry until aromatic. Add the chicken and stir continuously until the meat turns opaque, then add the black fungus, stir to combine well. Add the sauce into the claypot, stir to coat well. Turn down the heat to low, cover the pot and simmer on low heat, for about 8 minutes or so, until the chicken is tender. If the sauce dries up, add some water to dilute the sauce. Right before serving, stir in the scallions. Serve warm with steamed rice.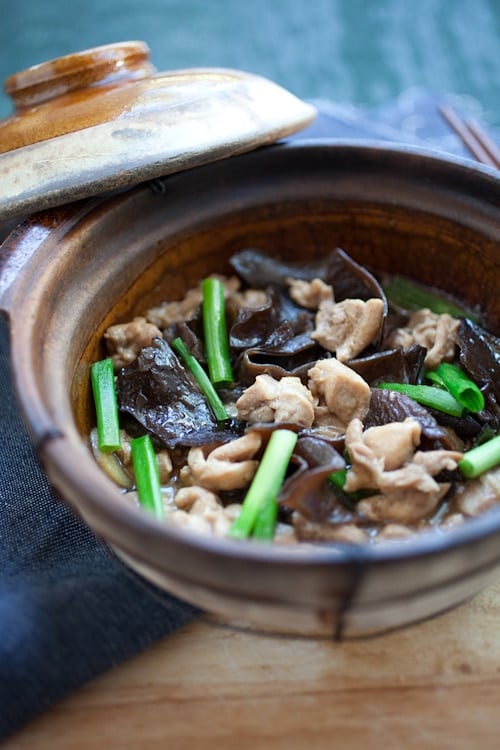 When the temperature dips and the sky gets dark at 4 pm, claypot becomes my favorite friend. I love all sorts of claypot cooking, it produces very hearty, easy, and delicious meals for my family, and it's one of the least expensive utensils to invest in any kitchen.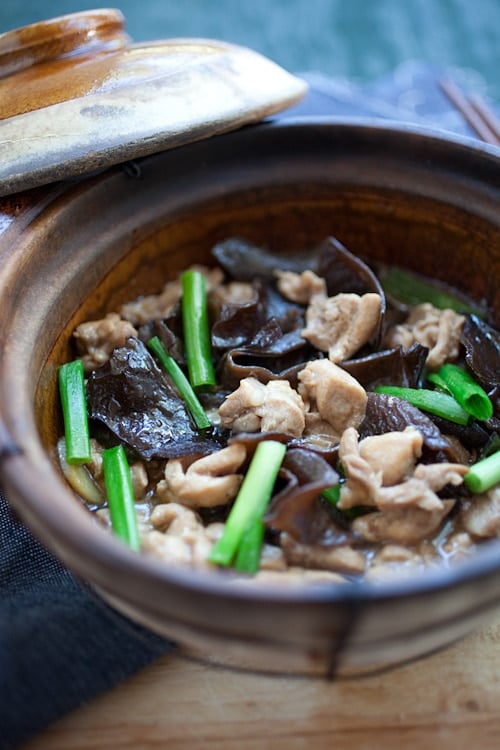 One of the dishes that I would make over and over again during colder months is chicken stew with black fungus, a classic Chinese/Cantonese dish that anyone can whip up at home. It's so easy to make and with claypot, cooking is so effortless because you practically just dump all your ingredients in there, do a few quick stirs, add some liquid, cover the lid and let the claypot does its magic.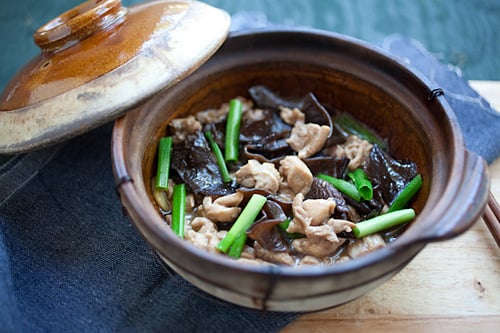 Black fungus is a popular ingredient in Chinese/Cantonese cooking. The word fungus does turn a lot of people off, but it's basically like shiitake mushrooms, except that the texture is thinner but every bite is a snappy crunch. It goes so well with stewed chicken. All you need are some ginger, oyster sauce, a dash of cooking wine and sesame oil, and you will have a scrumptious dish that goes well with steamed rice.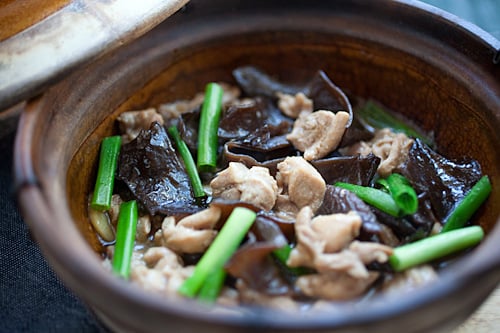 I have so many claypot recipes, you might also want to try my sesame oil chicken, Cantonese beef stew,  Korean spicy chicken stew, claypot yong tow foo, Singaporean crab beehoon or noodles, braised pork belly with soy sauce,  Bak Kut Teh, braised pork ribs with daikon,  and more. There are endless possibilities when it comes to claypot. Enjoy!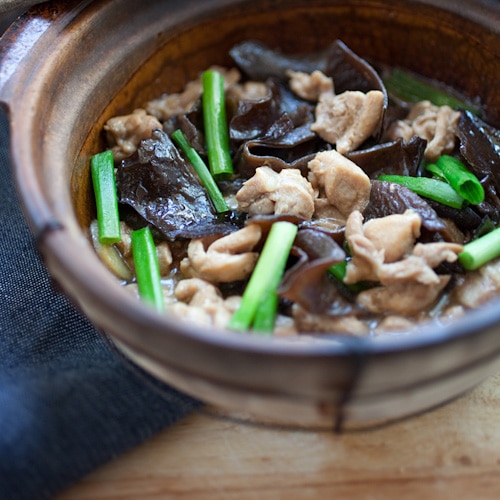 Rate This
Recipe Name
Chinese Chicken Stew with Black Fungus
Preparation Time
Cook Time
Total Time
Average Rating

Based on 3 Review(s)