Chinese Recipes (Chinese Food Recipes)
Chinese recipes and popular Chinese recipes for everyday Chinese cooking. These authentic Chinese food recipes are provided with color photos and simple step-by-step instructions. Click on the pictures and links below to get the Chinese recipes.
CHINESE RECIPES: POPULAR & ALL-TIME FAVORITES
Click "Like" to Get New Recipes
and Updates on Facebook Daily!
CHINESE RECIPES: APPETIZERS
CHINESE RECIPES: CHICKEN, PORK & BEEF
CHINESE RECIPES: SOUPS
. CHINESE RECIPES: RICE & NOODLES
.. CHINESE RECIPES: SEAFOOD
. CHINESE RECIPES: DIM SUM & DUMPLINGS
.. CHINESE RECIPES: VEGETABLES, EGGS & TOFU
.. CHINESE RECIPES: DESSERTS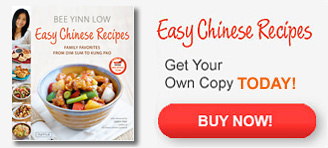 Easy Chinese Recipes This cookbook is a compilation of 80+ easy Chinese recipes: popular Chinese take-outs, classic Chinatown favorites, and Chinese restaurant-style recipes. Every recipe is graced with a color photo with step-by-step picture guide. Easy Chinese Recipes is a cookbook that you want to have in your kitchen. BUY NOW at Amazon! Updated: January, 2014 Created by: The Sophisticated Gourmet & Jason Tong