Sweet and Sour Meatballs - The best tangy meatballs ever with homemade sweet and sour sauce, good for an appetizer or pairing for a great meal!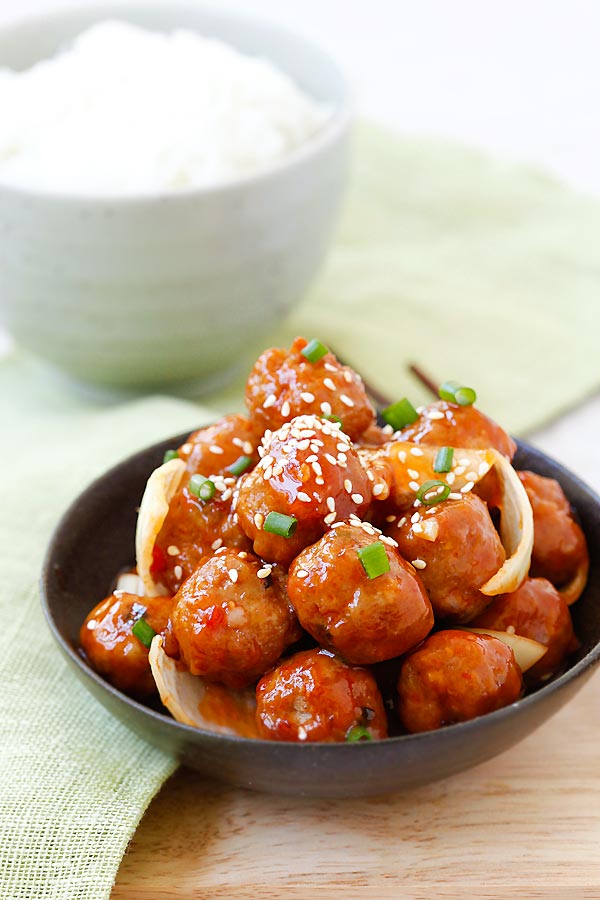 I Love Meatballs!
Come to think about it, I can't think of anyone who doesn't love meatballs.
Ground meat of your choice seasoned with your favorite spices or flavorings, and then slathered in your favorite sauce. What's not to love?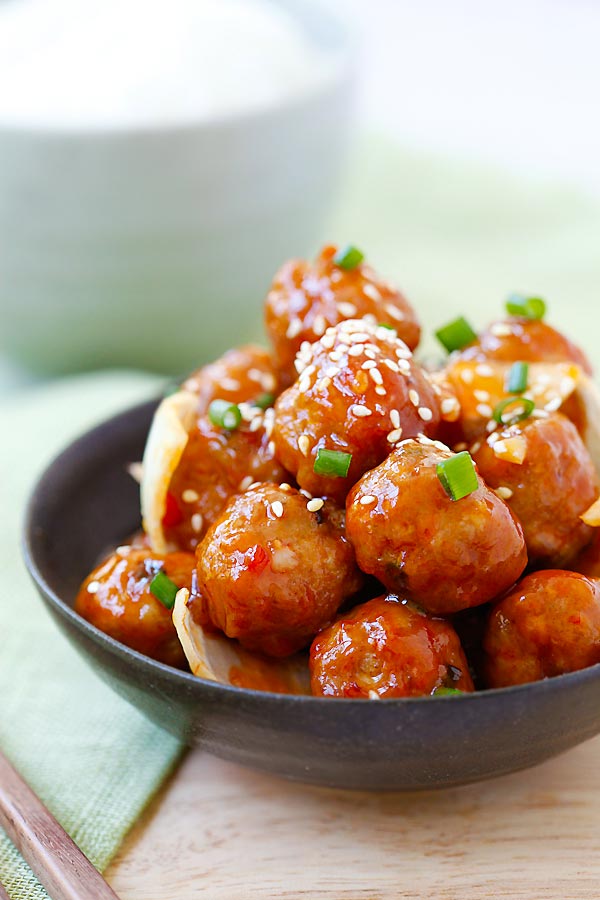 Other Sweet and Sour Recipes:
How to Make Sweet and Sour Meatballs
In my family, our sauce of choice for meatballs is sweet and sour sauce. The meatballs I make is seasoned with five-spice powder and the sweet and sour sauce pretty much escalates the taste to the next level.
Imagine sweet, sour, sticky Chinese sauce that coats every inch of the meatballs, on top of a steaming bowl of white rice…ahhh, the best!!
For the meat, I prefer to use ground pork or ground chicken, but I have to say that ground pork tastes better. Ground chicken is great, too.
If you use skinless and boneless chicken thighs, the meatballs will always be juicy and moist. The sweet and sour source is addictive, made of ketchup, Thai sweet chili sauce, a bit of soy sauce and vinegar to bring out the perfect balance of sweet, sour and savory.
This dish is a winner. Double up on this recipe and make a big batch. Trust me, the meatballs will be gone in no time!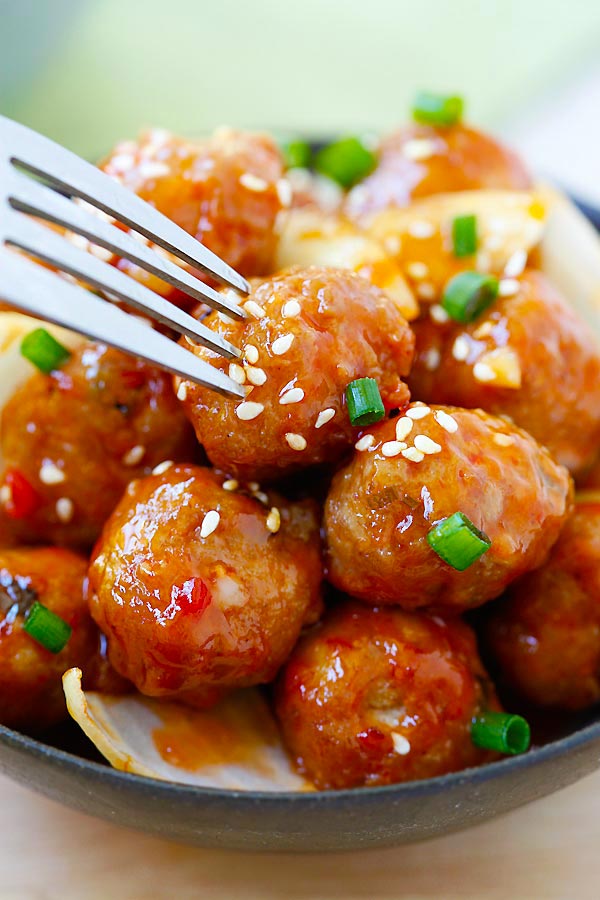 How Many Calories per Serving?
This recipe is only 363 calories per serving.
What Dishes to Serve with This Recipe?
For a wholesome meal and easy weeknight dinner, I recommend the following recipes.
5 Secrets to 20 Min Dinners
Get tricks for quick & easy meals!
Yield: 3 people
Sweet and Sour Meatballs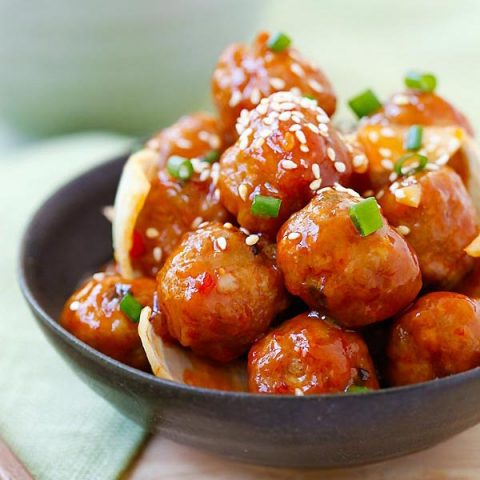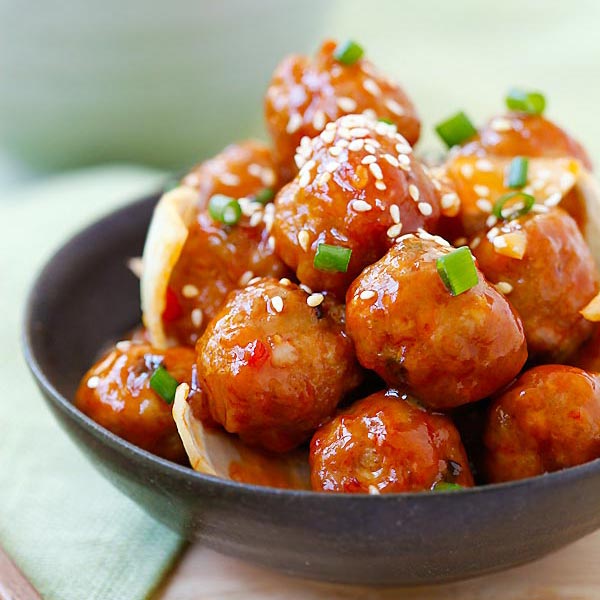 Sweet and Sour Meatballs - the best meatballs ever with sweet and sour sauce. These meatballs are so good you'll want them everyday!
Ingredients
12 oz. (340 g) ground pork or ground chicken
1/2 inch (1 cm) piece peeled ginger, finely minced
2 cloves garlic, finely minced
1/4 teaspoon five-spice powder, optional
1 teaspoon sesame oil
3 dashes ground white pepper
1 pinch salt
oil for pan-frying
1/2 small onion, quartered
Sweet and Sour Sauce:
2 tablespoons ketchup
2 tablespoons Thai sweet chili sauce
1 teaspoon Chinese rice vinegar or apple cider vinegar
1 teaspoon soy sauce
2 tablespoons water
1/2 teaspoon corn starch
Instructions
Combine the ground pork or chicken with ginger, garlic, five-spice powder (if using), sesame oil, pepper and salt. Stir to combine well. Wet both hands with some water and shape into 24 meatballs. Set aside.
Heat up a wok or skillet with some oil, pan-fry the meatballs until they turn light to golden brown. Drained them on a plate lined with paper towels.
Clean the wok or skillet. Heat it up with a little bit oil. Add the onion and do a few quick stirs. Add the sweet and sour sauce and cook it until it's thickened, then add the meatballs. Stir to coat well with the sauce. Dish out and serve immediately.
Nutrition Information
Serving Size
3 people
Amount Per Serving
Calories

363
Total Fat

26g
Saturated Fat

9g
Cholesterol

82mg
Sodium

394mg
Carbohydrates

12g
Fiber

1g
Sugar

8g
Protein

20g