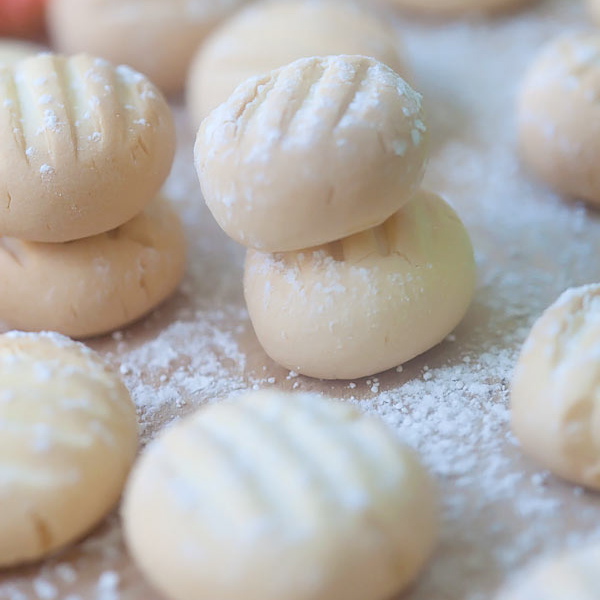 Melting Moments Cookies
Melting Moments Cookies – the most crumbly, buttery, and delicious cookies ever. So easy to make but yields the best melting moments cookies | rasamalaysia.com
Prep time:
Cook time:
Total Time:
Ingredients:
125 g (1/2 cup + 1 tablespoon) salted butter, room temperature
40 g (5 1/4 tablespoons) powdered sugar
1/4 teaspoon pure vanilla extract, optional
125 g (3/4 cup + 1 1/4 tablespoons) potato starch (preferred) or cornstarch
80 g (3/4 cup + 2  1/2 teaspoons) cake flour
Powdered sugar for dusting cookies
Method:
Preheat oven to 350 degree Fahrenheit. Line the baking sheet with parchment paper.
In a mixing bowl, beat butter, powdered sugar until creamy, light and fluffy. Add in the vanilla extract and stir well. Fold in the potato starch, cake flour and mix well until a soft dough is formed.
Divide the dough into 2 rounds. Use your palms to shape them into small balls. To make the pattern on the cookies, use a fork and press gently onto the top of the round cookies. Dip the fork in water after each press to prevent the cookie dough from sticking to the fork.
Place baking sheet in the bottom part of the oven. Bake for about 10 minutes or until the cookies turn very slight brown. Remove from the oven and let cool for about 5 minutes. Dust some powdered sugar over cookies before serving.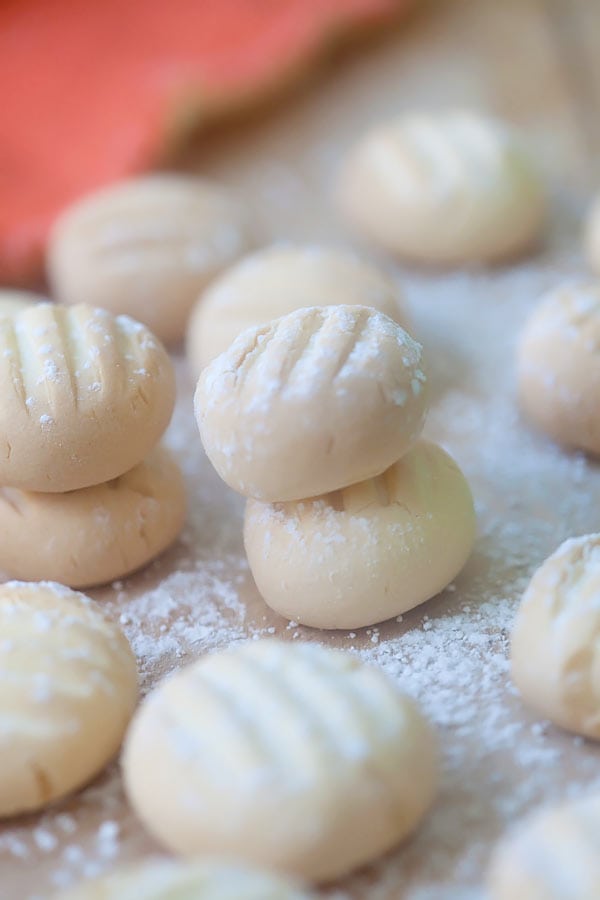 Melting Moments Cookies
Melting Moments Cookies – the most crumbly, buttery, and delicious cookies ever. So easy to make but yields the best melting moments cookies.
Originally published on Feb 21, 2012. Updated with new photos.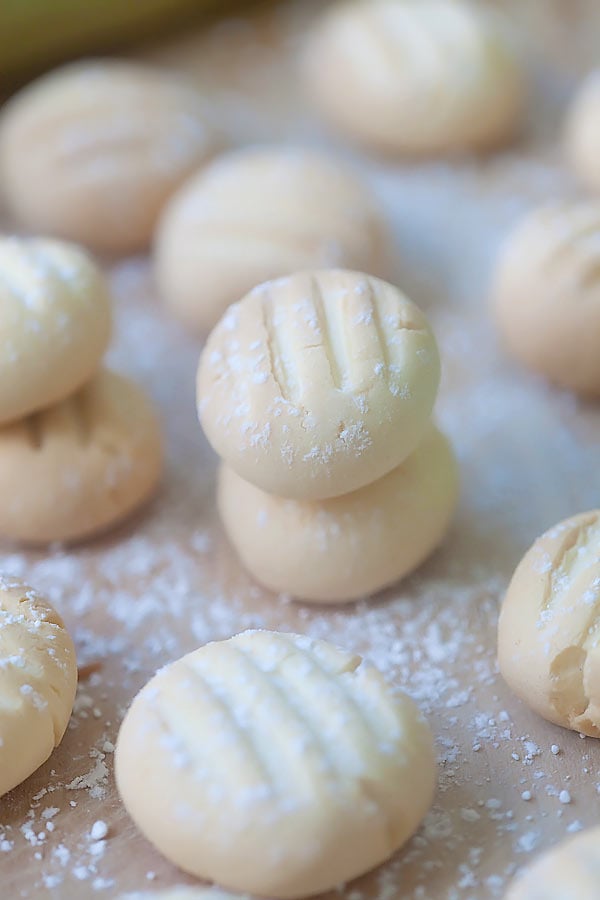 Looking through my baking recipes, I realize that the Spritz cookies that I baked for Christmas was quite the hit. I love all sorts of cookies, particularly those cookies that melt in my mouth cookies, for example: butter cookies. So, I decided to whip up a small batch of my very own Melting Moments cookies to satisfy my cravings. These melting moments cookie came out just the way I liked it.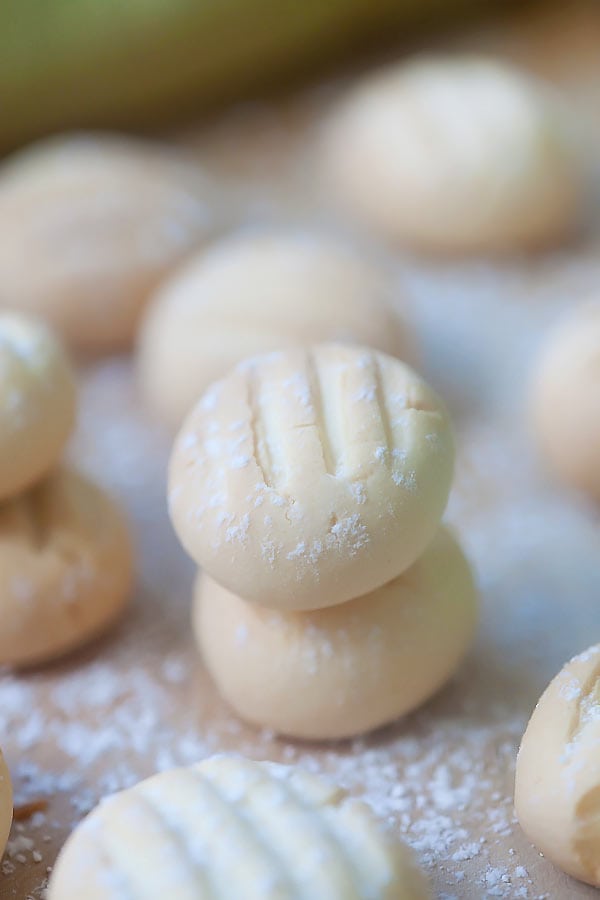 Melting Moments cookies are aptly named for their buttery shortbread and crumbly texture. They literally melt in your mouth as soon as you take a bite. I will let you in on my secret here: for the velvety, smooth, and crumbly cookies, you need to use potato starch instead of cornstarch. Also, use cake flour instead of plain or all-purpose flour for the super smooth texture. For butter, get the best possible butter you can get and you're guaranteed to have the best melting moments cookies.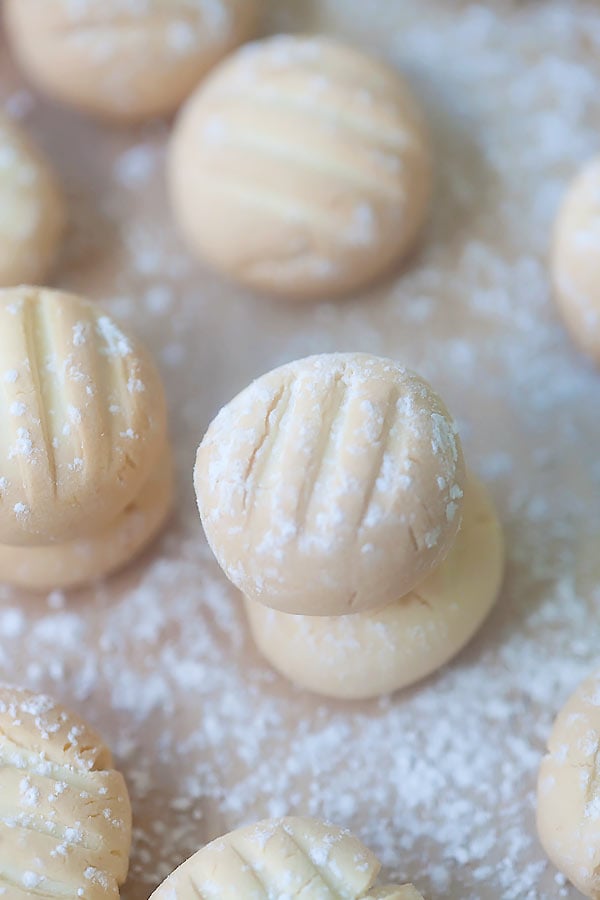 As the holidays are not that far away, get ready to make batches and batches of these cookies. If I were you, I would hide some of them so you can have your personal stash in case they run out. Happy baking!