Phnom Penh Noodle Soup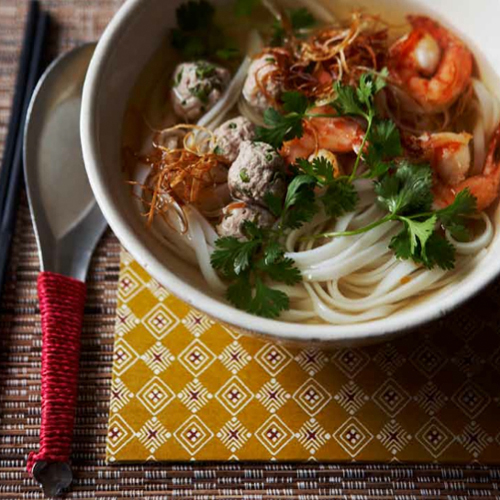 http://rasamalaysia.com/phnom-penh-noodle-soup-recipe/
Many years ago, I visited Cambodia and fell in love with the country, its people, architecture (think Angkor Wat!), the exotic and absolutely delicious cuisine. I am so glad that my Malaysian friend Leemei Tan at My Cooking Hut has recently released a cookbook "Lemongrass and Ginger" and there is a Phnom Penh Noodle Soup recipe in the book. (Phnom Penh is the capital of Cambodia.)
Asian cooking is one of the fastest-growing cookery trends in the world—and from Chinese to Thai, Indian to Malaysian, the diverse tastes, textures and aromas of Asia can be sampled in this beautiful new cookbook.
There are 7 chapters in the book that cover recipes from all over Asia—Japan & Korea, China, Philippines & Indonesia, Malaysia & Singapore, Thailand, Cambodia & Vietnam and India & Sri Lanka. Besides, there are 3 sections in the book that will come in handy. They are "Basic Recipes," "Basic Techniques" and "Glossary."
The cookbook is available now in the US, UK, and Australia. To pick up a copy of the cookbook, click here.
Sign Up for Email Updates
Enter your email for new updates: recipes, giveaways, and more!