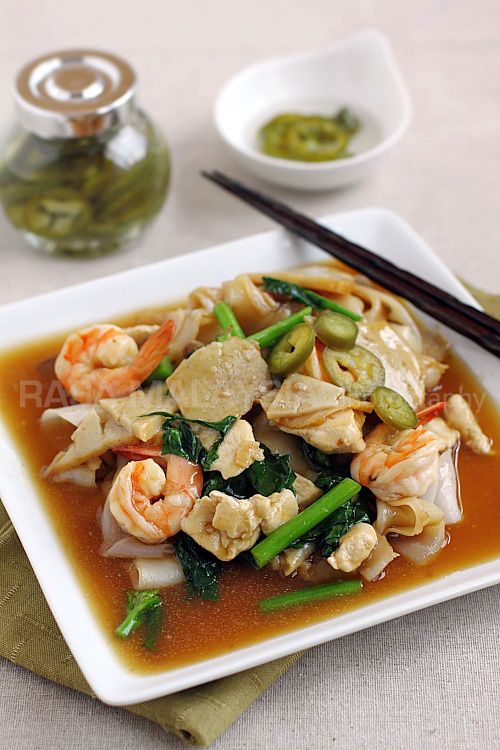 Rad Na (ราดหน้า)
Thai Rad Na, or flat noodles with gravy | rasamalaysia.com
Ingredients:
1 pack fresh wide rice noodles, about 1 1/2 lbs (divide into two portions)
6 to 8 medium-sized shrimp (shelled and deveined, but leave tail intact)
2 oz. chicken (cut into thin slices)
6-10 slices fish cake (optional)
2 garlic (finely minced)
2 oz. Chinese gailan/kailan (cut into 2-inch lengths)
1 teaspoon oil (for frying the noodles)
1/2 tablespoon sweet soy sauce (for frying the noodles)
2 dashes white pepper powder for each serving
Sauce:
2 teaspoons oil
1 1/2 cup water
2 teaspoons taucheo (preserved bean sauce)
2 teaspoons oyster sauce
2 teaspoons sweet soy sauce (Kecap Manis)
2 teaspoons fish sauce
1/2 teaspoon sugar or to taste
1 heaped tablespoon corn starch plus 2 tablespoons water
Method:
Heat up a wok with 1 teaspoon oil. Once the oil is heated, transfer the rice noodles into the wok and do a few quick stirs before adding the sweet soy sauce. Use the spatula to stir the noodles vigorously to spread the sweet soy sauce evenly. Stir-fry for about 3 to 5 minutes or until the noodles somewhat clump together and slightly burned. Transfer and set aside.
Add 2 teaspoons oil into the work and heat it up. Saute the garlic until light brown or aromatic before adding shrimp, fish cake and chicken. Stir-fry the ingredients a few times until half cooked before adding the preserved bean sauce. Stir a few more times before adding the water, seasonings, and vegetables. Bring the sauce to boil and then thickens it with the corn starch water. As soon as the sauce is thick and gooey, turn off the heat.
On a serving plate, place a portion of the fried rice noodles on top and then pour the sauce onto the noodles. (Divide the chicken, fish cake, shrimp and vegetables evenly.) Add a few slices of pickled green chilies and a couple dashes of white pepper powder before serving.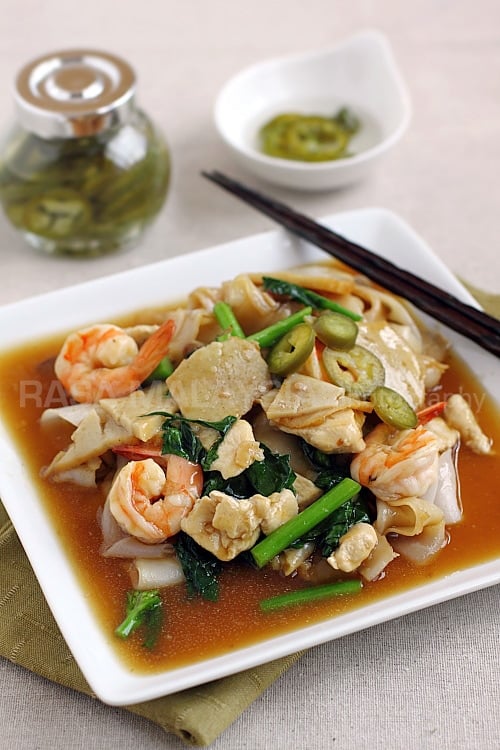 Recently, my good friend S has been tempting me with the best rad na in her neighborhood. All the rad na talks had me craving for it that I had to get my fix. Unfortunately, I haven't yet found a remotely worthy Thai restaurants in Orange County, which is very sad and I have pretty much given up dining out on Thai food because honestly, I make better Thai food than those found at the Thai restaurants around. So, I made rad na, after consulting with Chez Pim about one of the ingredients used. I even made pickled green chilies (recipe coming soon) from scratch, to make sure that I had an authentic serving of rad na.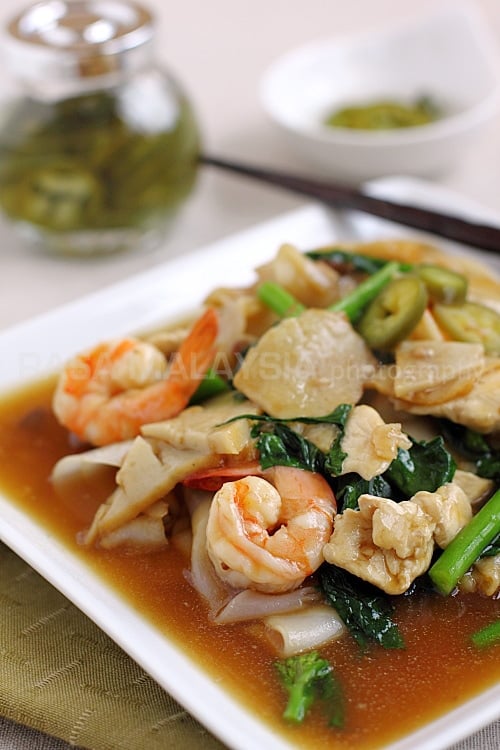 Rad na, or Rad Na Kuay Tiew is a Thai-Chinese noodle dish. Originated in China, this dish is commonly found all over Asia. In Malaysia, our variation is called Char Hor Fun or Wat Tan Hor; in Laos, I believe it's called Lad Na, and I am sure there is a variation of this popular noodle dish in Vietnam, Cambodia, and elsewhere in Southeast Asia. Regardless of its regional variation, it's always delicious and satisfying—fried rice noodles drenched in a savory sauce with seafood, meat, and vegetables…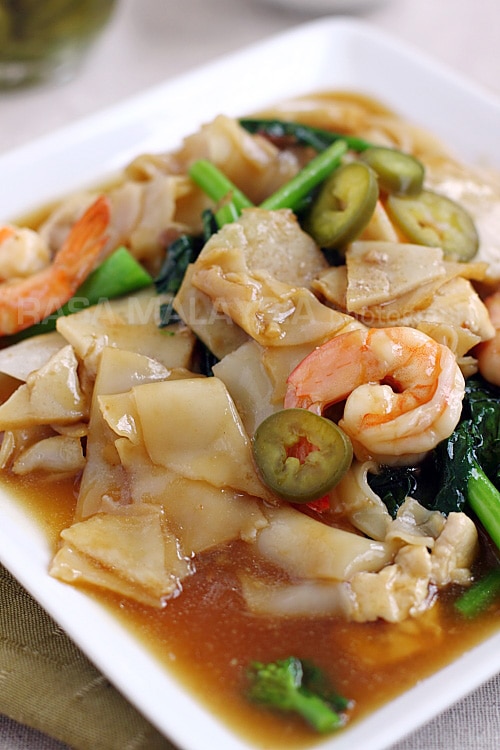 There are two versions of rad na, one made with preserved bean sauce (taucheo) and one without. I prefer the former, which is absent from Malaysian Char Hor Fun or Wat Tan Hor. The preserved bean sauce adds an earthy nuance to the sauce, and balances the somewhat sweetish flavor. Do try out my Rad Na recipe (click on the gallery above for detailed step-by-step cooking process), I personally think that it was a huge success, so much so that I had to make another serving a few days after this initial attempt. :)