Sesame Noodles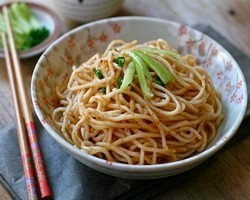 http://rasamalaysia.com/sesame-noodles/
Click "Like" to Get New Recipes
and Updates on Facebook Daily!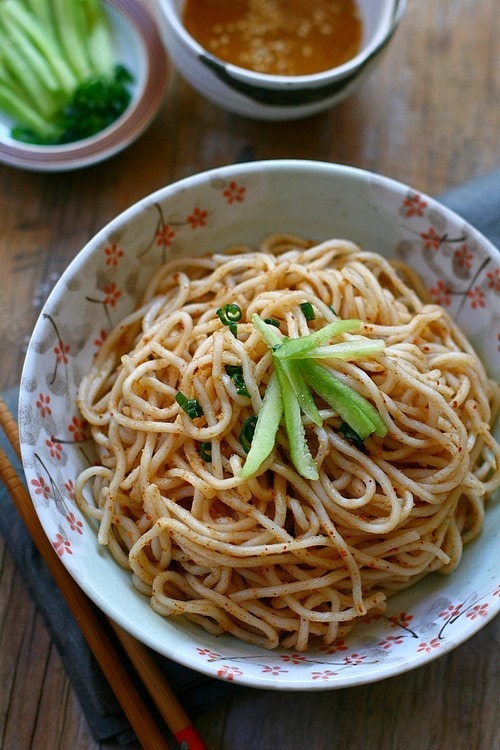 Sesame Noodles Recipe
Ingredients:
8 oz fresh noodles (thin whole-wheat noodles,  regular spaghetti or soba)
2 cups chicken broth (or salted water), for boiling noodles
1 small cucumber, peeled, deseeded, cut into 2-inch length and julienned
1 tablespoon chopped scallions (optional)
Sesame Sauce:
2 1/2 tablespoons sesame paste, lightly heated in microwave under low heat
(or 2 tablespoons tahini paste and  1 tablespoon toasted sesame oil)
1 tablespoon creamy peanut butter
1 1/2 tablespoons sweet soy sauce
1 teaspoon rice vinegar (black or balsamic)
3 tablespoons pure toasted sesame oil
1 tablespoon chili oil
1/2 teaspoon crushed Sichuan peppercorns (optional)
salt and sugar to taste
Method:
1. In a pot of boiling water (with salt) or chicken stock, cook noodles according to packaged instructions. (Here, I used Shanghai thin noodles and cooked for 3 minutes) Dish up and rinse in cold running water. Drain and dry the noodles.
2. Make the Sesame Sauce. Mix well and ready to use. Adjust chili oil or other Sauce ingredients according to your personal taste.
3. In a large mixing bowl, spoon generous amount of Sesame Sauce over the noodles just to get them well coated, toss in some cut cucumbers and mix well. Refrigerate for about 15 minutes to get the noodles well seasoned. Just before serving, toss in more Sesame Sauce, cucumbers,  chopped scallions and drizzle some extra sesame oil if you like.
Click Images Below for Similar Recipes:
LOVE THE RECIPE & PHOTOS? PLEASE SHARE:
Sign Up for Email Updates
Enter your email for new updates: recipes, giveaways, and more!