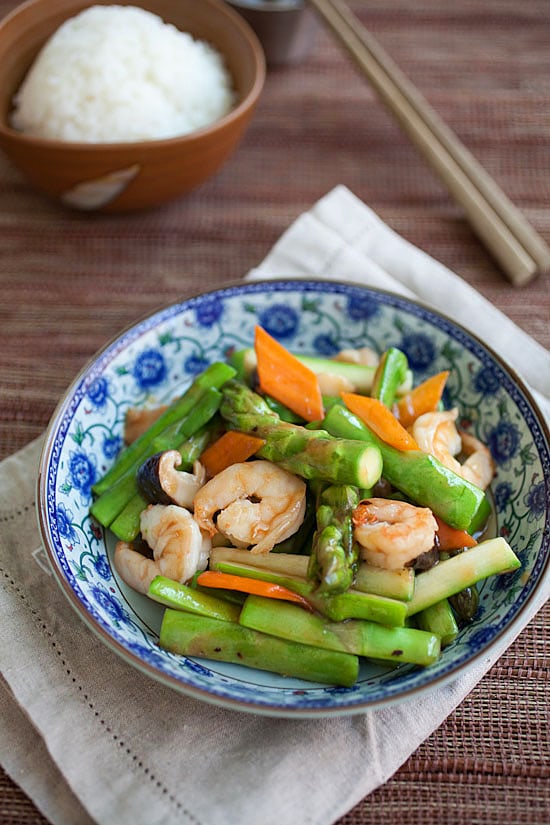 Stir-fry Asparagus with Shrimp
Asparagus with shrimp stir-fry. Easy and healthy Chinese asparagus dish with brown sauce. Make it in less than 30 minutes.
I created and shot this stir-fry asparagus with shrimp recipe more than two months ago. The pictures have been sitting on my computer desktop for months but I hadn't had a chance to post it on Rasa Malaysia because I have lost the recipe!! Sigh. That's basically the story of my life being a recipe developer and food blogger. As I cook the dish, I have to scramble and quickly jot down the quantity of ingredients used, sauces, seasoning, etc., on something—a piece of paper, iPhone Notes, an envelop sitting on my counter top, or even a tear-out of newspaper, catalog, coupon, whatever I can grab a hold of at that particular point in time.
And then, as soon as the Stir-fry Asparagus with Shrimp is done, I dash out to my garage where I keep all of photography props, quickly set up the props and plate the dish, and grab my DSLR hoping that I can still manage to capture the freshness of the dish before it turns "stale" on the photos. After some serious clicking, including climbing up and down a chair for the best top-down shots, I sit down and take a breather, and then I clear out my cluttered and messy kitchen counter top, tossing away all the unused ingredients, AS WELL AS the paper which I jotted down the recipe. Down they go into the trash can, and the recipe that I have been working on for the past hour or so, poof, gone forever.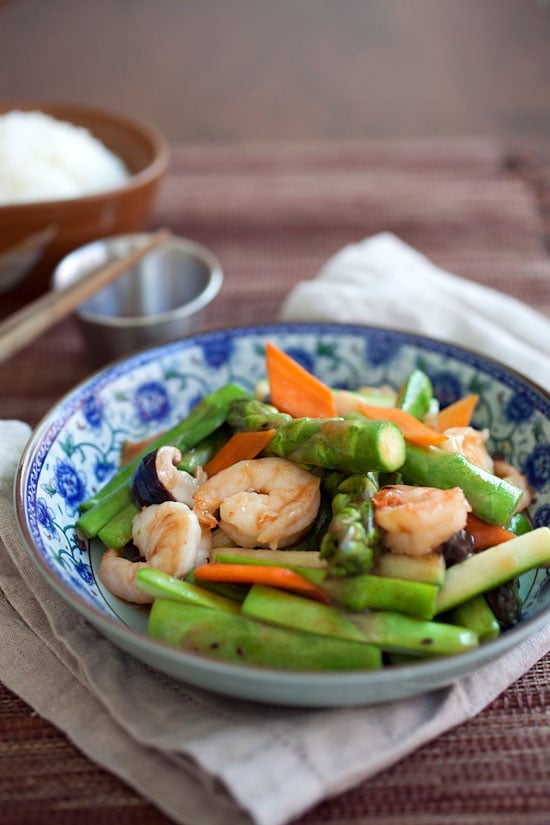 That was what happened to me on this asparagus with shrimp recipe. I had to make the dish again, and then repeat the chores mentioned above, to share the recipe here with you. Tough. Not. Easy. As. You. Think. And I am sure most of you thought that I have it easy…just whip up something in a breeze and then miracle happens and you see the recipes on Rasa Malaysia.
Anyway, stir-fry asparagus is an easy Chinese vegetable dish to make and it goes well with steamed rice and other meat dishes, and a soup. When buying asparagus, always try to choose the most tender ones with thinner stems, which have less fibers. If you have time, peel off the outer skin of the stems using a peeler. Stir-fry with some shrimp, and the classic Chinese brown sauce, and you have a wonderful Chinese vegetable dish that is healthy and delightful!