Wonton Soup Recipe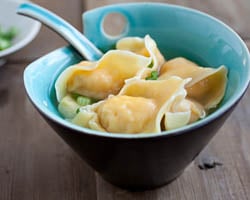 http://rasamalaysia.com/wonton-soup-recipe/
(Chinese recipes, prepare authentic Chinese food now!)
Last week, when I was atAppetite for China, Diana's post about her trip to Hong Kong and her bowl of divine wontop soup had me gawked at my computer and then drooled all over my keyboard. A bowl of sinfully plump shimp wontons swimming in supreme stock, whispering "eat me eat me" in my ears.
I love wonton soup, but there is a problem. For years, I've been searching high and low for a good bowl of wonton soup, but haven't yet found a satisfactory one in Southern California.
I love regular wontons with ground pork and a wee bit of shrimp served at Cantonese noodle joints, but the pure prawny kinds are impossible to find. (The closest thing is the leeks and shrimp jiaozi/dumpling at Dumpling 10053 at El Monte.) To satiate my craving–not to mention virtual hunger–I knew I had to make my own.
So, here is my delicious Cantonese wonton soup. It will never compare to the real wonton soup found in Hong Kong, but at least I got my fix for now. If you live in CA and know where to find a good bowl of wonton soup, please drop me a comment!
Please also note that I used yellow chives in my wonton soup recipe, which is typical Cantonese/Hong Kong style. My recipe also includes a Chinese prime stock (上汤) recipe, which is the core of all Chinese soup dishes.
Related Posts:
Fried Wontons (with wonton wrapping video!)
If you like Chinese food, you might want to check out my Chinese recipes.
Click Images Below for Similar Recipes:
LOVE THE RECIPE & PHOTOS? PLEASE SHARE:
Sign Up for Email Updates
Enter your email for new updates: recipes, giveaways, and more!