Healthy and best blueberry muffins packed full of juicy blueberries. This easy homemade blueberry muffin recipe is perfect for breakfast.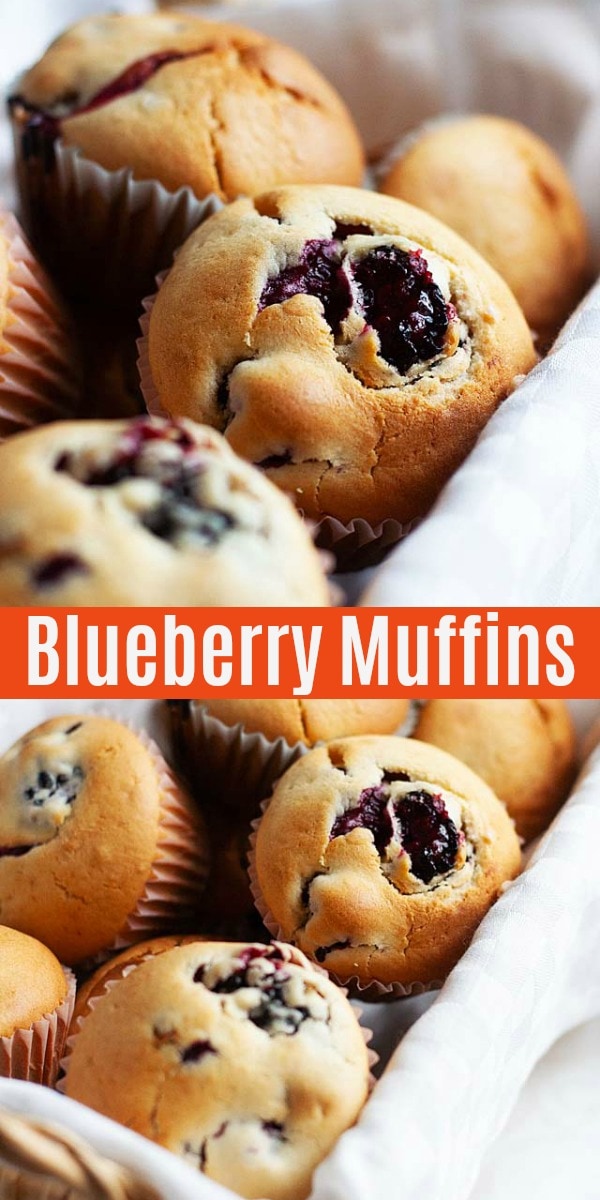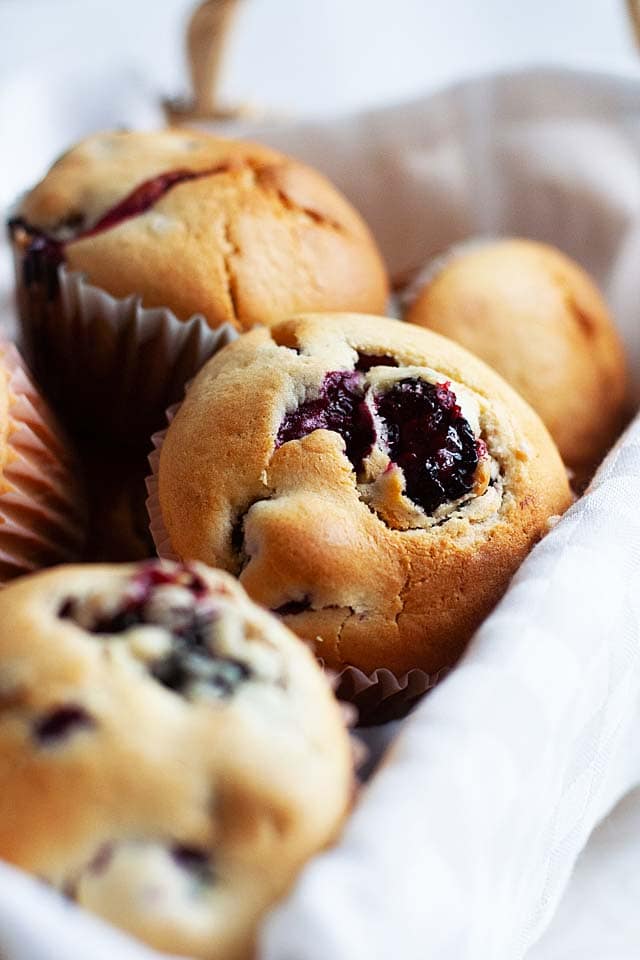 Blueberry Muffin Recipe
Blueberry is one of the super foods that is touted as an immune booster.
There is no better time to make these soft, fluffy, hot-off-the-oven fresh blueberry muffins, to boost our immune system.
This is probably the best blueberry muffin recipe ever, by Jordan Marsh. The recipe is fail proof and easy!
The muffins are packed full of juicy blueberries, they are light, healthy and perfect as breakfast.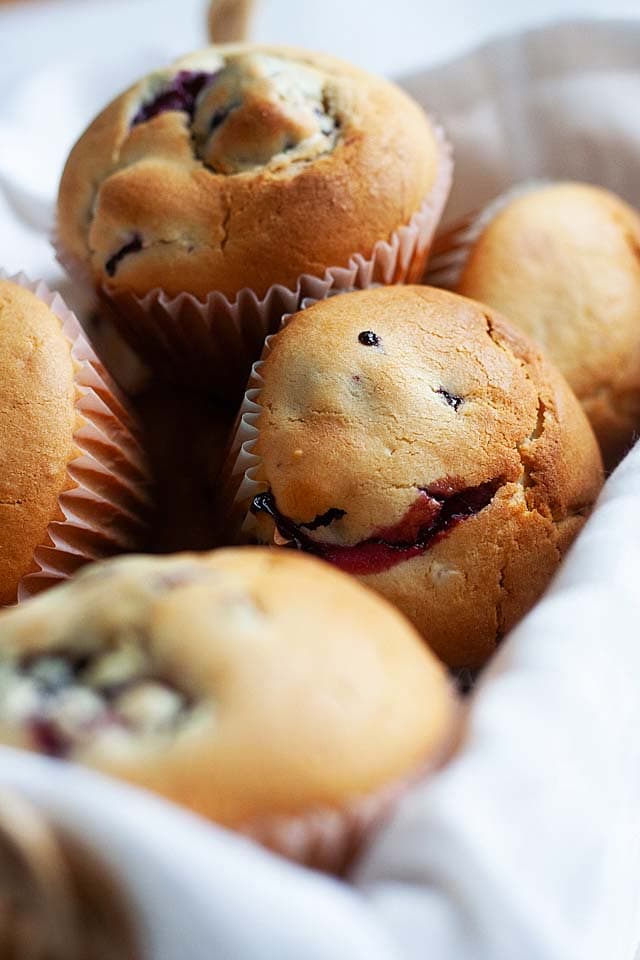 Other Recipes You Might Like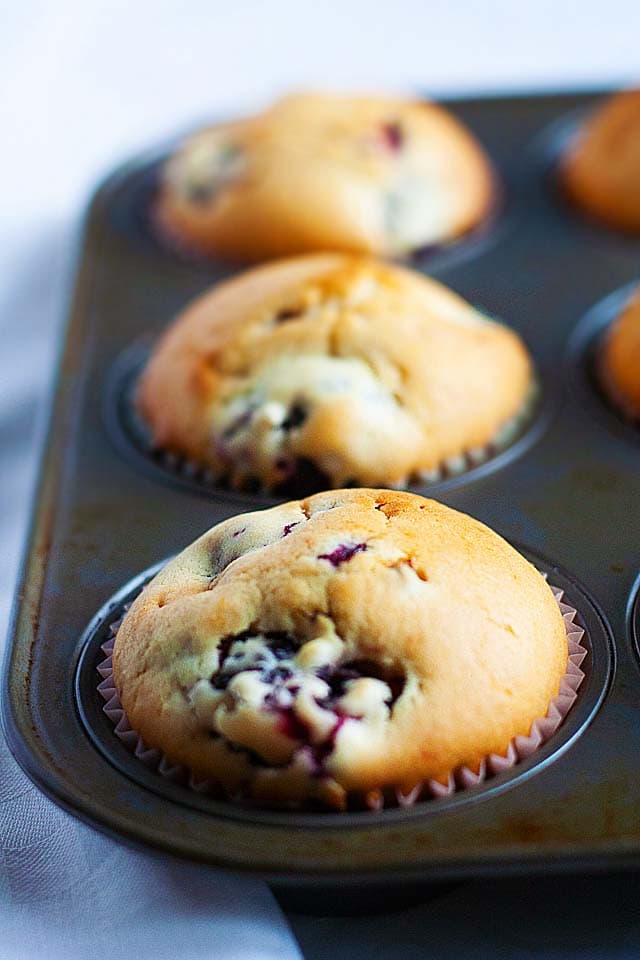 Recipe Ingredients
This blueberry muffins recipe calls for very basic ingredients:
Unsalted butter
Sugar
Eggs
Vanilla extract
All-purpose flour
Salt
Baking powder
Milk
Fresh blueberries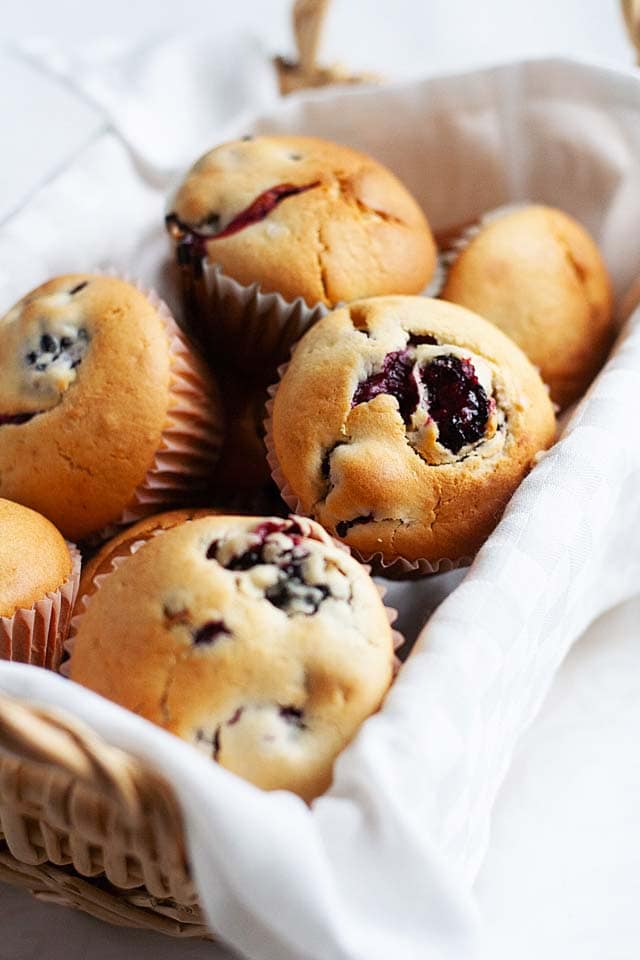 How to Make Blueberry Muffins?
It's very easy to make these muffins.
First, cream the butter and sugar, then add the eggs and vanilla extract.
Sift the flour, salt, baking powder, and add to the butter mixture and milk.
Mix the blueberries into the batter and bake in a muffin tin for 30 minutes at 375F.
Baking Tips for the Best Blueberry Muffins
Here are my tips and techniques for moist and soft muffins every time!
Use fresh blueberries for the best results.
Use both crushed blueberries and whole blueberries so every bite is bursting with the juiciness of the berries.
Toss whole blueberries with flour before adding to the batter. This will avoid sinkage.
Top the muffins batter with sugar before baking. This will add extra sweetness and a sugary crunch to the muffins.
Frequently Asked Questions
How to Prevent Blueberries from Sinking to the Bottom?
To help keep your blueberries from sinking to the bottom, toss the berries in flour before adding them to the batter.
The coating helps suspend them better during baking so they don't sink to the bottom.
Can I Use Frozen Blueberries?
For the best results, please use fresh blueberries.
However, frozen blueberries will work just fine. Thaw the frozen berries to room temperature and pat dry with paper towels before using.
How Many Calories per Serving?
This recipe yields 12 muffins and each muffin is only 261 calories.
What to Serve with This Recipe?
Serve these muffins as breakfast. For a healthy breakfast at home, I recommend the following recipes.

5 Secrets to 20 Min Dinners
Get tricks for quick & easy meals!
Yield: 12 Muffins
Blueberry Muffins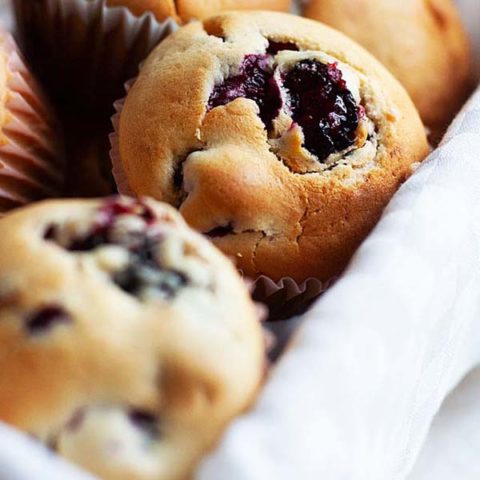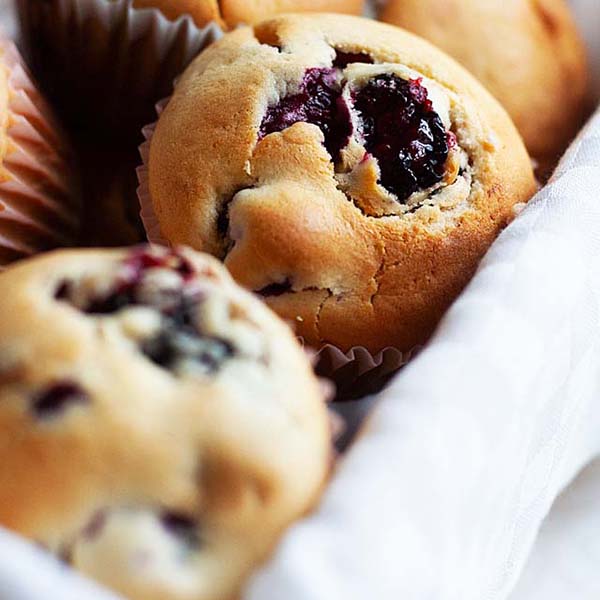 Healthy and best blueberry muffins packed full of juicy blueberries. This easy homemade blueberry muffin recipe is perfect for breakfast.
Ingredients
1/2 cup (4 oz. or 113 g) softened unsalted butter
1 1/4 cups sugar
2 eggs
1 teaspoon vanilla extract
2 cups all-purpose flour
1/2 teaspoon salt
2 teaspoons baking powder
1/2 cup milk
2 cups blueberries, washed, drained and picked over
3 teaspoons sugar
Instructions
Preheat the oven to 375°F (190°C).
Cream the butter and 1 1/4 cups sugar until light. Add the eggs, one at a time, beating well after each addition. Add vanilla extract.
Sift together the flour, salt and baking powder, and add to the creamed mixture alternately with the milk.
Crush 1/2 cup blueberries with a fork, and mix into the batter. Fold in the remaining whole blueberries.
Line a 12 cup standard muffin tin with cupcake liners, and fill with batter. Sprinkle the 3 teaspoons sugar over the tops of the muffins, and bake for about 30-35 minutes.
Remove the blueberry muffins from tin and let cool.
Nutrition Information
Yield
12
Serving Size
1
Amount Per Serving
Calories

261
Total Fat

9g
Saturated Fat

5g
Trans Fat

0g
Unsaturated Fat

3g
Cholesterol

52mg
Sodium

248mg
Carbohydrates

42g
Fiber

1g
Sugar

24g
Protein

4g