Cilantro Lime Shrimp - best shrimp recipe ever made with cilantro, lime & garlic on a sizzling skillet. Crazy delicious recipe that takes 15 mins only!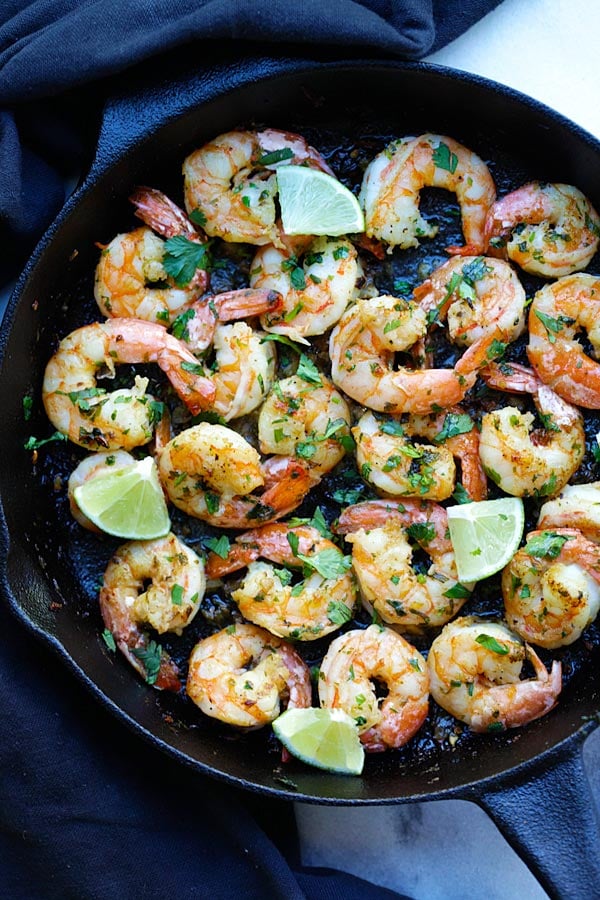 The Best Cilantro Lime Shrimp
I made this sizzling cilantro lime shrimp on a hot cast-iron skillet that looks and tastes like it's straight from the best Mexican restaurant in town. Actually better. Much better and cheaper, too.
I have gone cilantro lime mad. I have a ton of leftover cilantro and lime in my fridge from the cilantro lime chicken I made a few days ago, so what to do?
See the garlic, cilantro, and shrimp goodness that stick to the bottom of the skillet? You will have everyone swooning and begging for more. While you are at it, make some orange-lime margaritas to go with this recipe.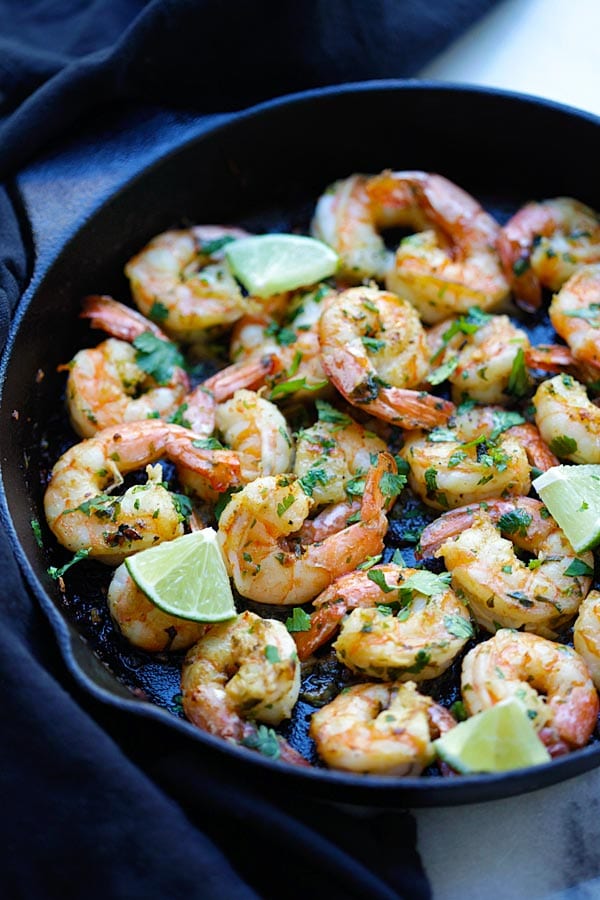 Other Recipes You Might Like
Ingredients for Shrimp Recipe
Jumbo shrimp
Cilantro
Lime
Garlic
Cayenne pepper
Unsalted butter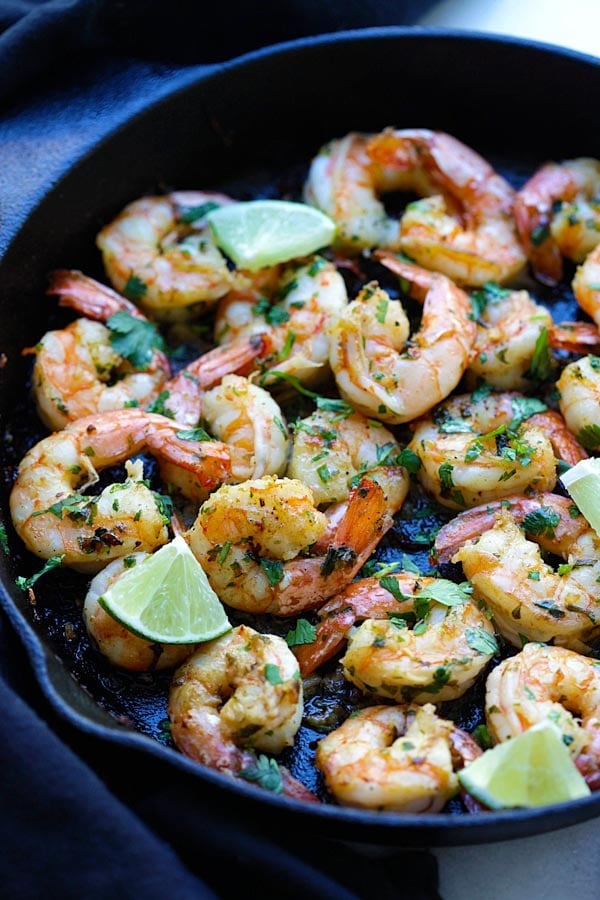 How to Cook Cilantro Lime Shrimp
First of all, to get the perfectly cooked but slightly seared shrimp (we all love the brown bits), it's best to cook with a cast-iron skillet.
Secondly, start off with olive oil to saute the shrimp but in the middle of cooking, add in some butter. Butter makes everything better, it always does.
Add in a load of cilantro (use the stems as they impart the most flavors) and lime juice. Also, give your shrimp an extra kick by seasoning the shrimp with some cayenne pepper.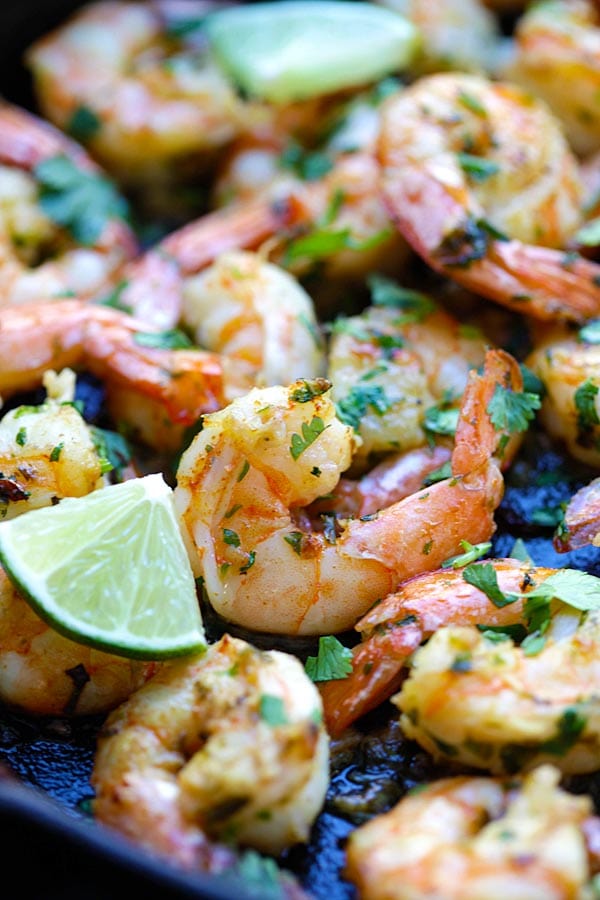 Frequently Asked Questions
How Long Can You Keep Cooked Shrimp in the Fridge before It Goes Bad?
Shrimp lasts in the fridge for 3 to 4 days.
How Do You Not Overcook Shrimp?
To not overcook shrimp, remove them from the heat right when the meat is the same color pink all around (no brown/grey). Perfectly cooked shrimp will be in a loose C shape while tight C shapes usually indicate overcooked shrimp.
How Many Calories?
This recipe has 174 calories per serving.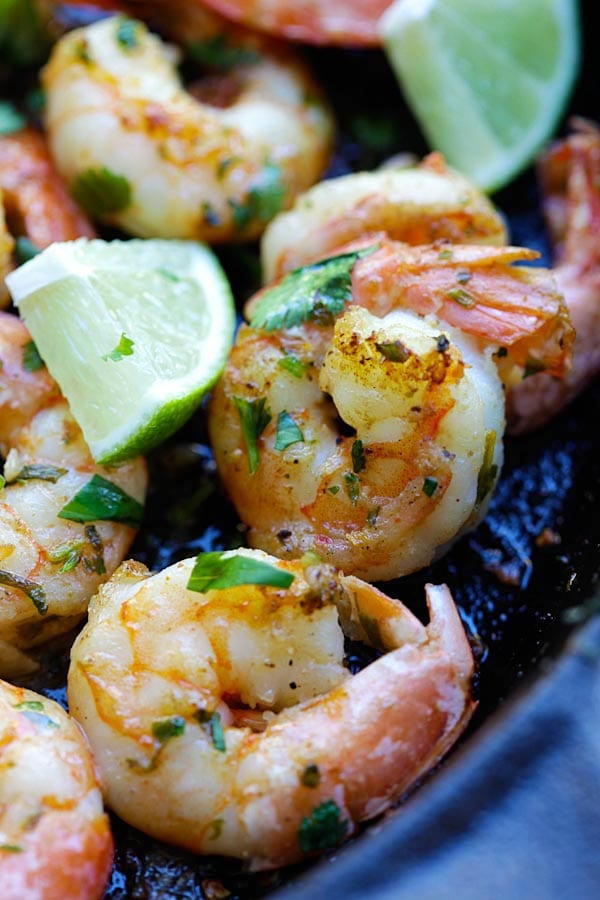 Serve Cilantro Lime Shrimp With:
For a wholesome dinner, make the following dishes.

5 Secrets to 20 Min Dinners
Get tricks for quick & easy meals!
Yield: 4 people
Cilantro Lime Shrimp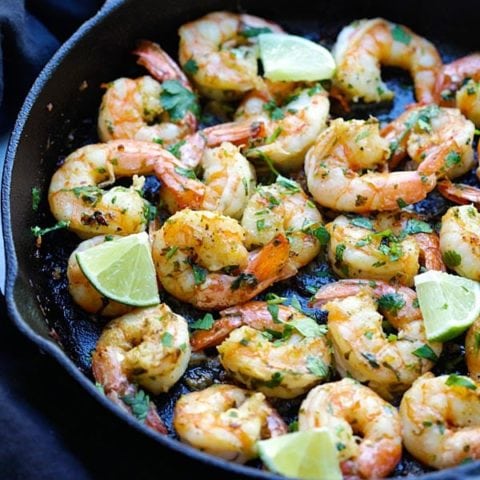 Cilantro Lime Shrimp – best shrimp ever with cilantro, lime & garlic on sizzling skillet. Crazy delicious recipe, takes 15 mins.
Ingredients
1 lb. (0.4 kg) tail-on jumbo shrimp, peeled and deveined
1/4 teaspoon salt or to taste
1 pinch cayenne pepper
2 tablespoons olive oil
4 cloves garlic, minced
3 tablespoons chopped cilantro, stems and leaves
1 tablespoon unsalted butter
2 tablespoons lime juice
fresh lemon wedges
Instructions
Season the shrimp with salt and cayenne pepper.
Heat up a cast-iron skillet, add the olive oil, garlic and lightly saute before adding the shrimp. Stir and cook until the shrimp is half cooked. Add the cilantro, butter, stir to combine well with the shrimp. Add the lime juice and continue to cook the shrimp. Turn off the heat when the lime juice dries up and the shrimp is nicely cooked and slightly charred on the surface. Serve immediately with some fresh lime wedges.
Nutrition Information
Serving Size
4 people
Amount Per Serving
Calories

174
Total Fat

11g
Saturated Fat

3g
Cholesterol

150mg
Sodium

789mg
Carbohydrates

3g
Fiber

1g
Sugar

1g
Protein

16g