Filet Mignon - learn the best and perfect way to cook filet mignon with this homemade easy Filet Mignon recipe. Tender, juicy, buttery steak that rivals the best steak house with much cheaper price!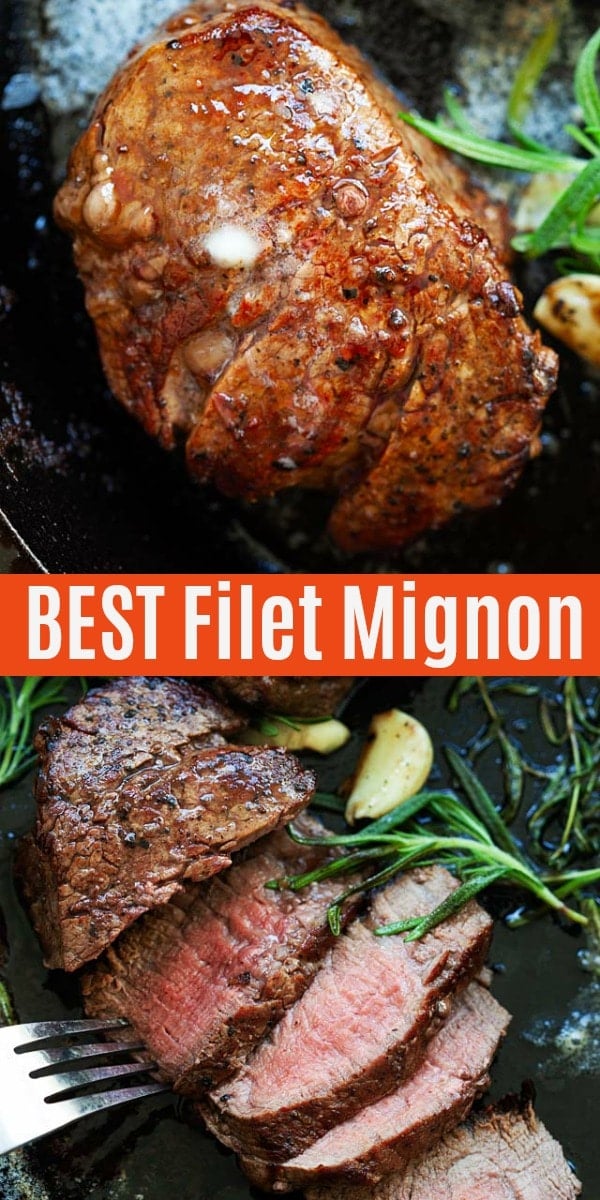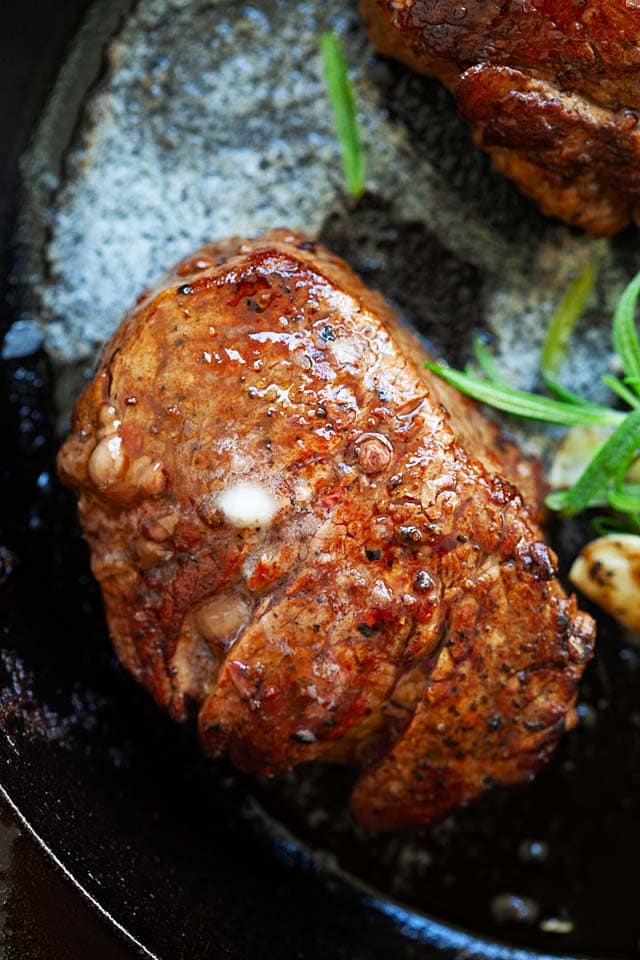 Filet Mignon Recipe
The easiest and best way to cook filet mignon is on stove top, using a cast iron skillet.
This pan seared filet mignon recipe takes a total of 5 minutes to make, with 3 minutes resting time on the cast iron skillet.
This is the best filet mignon steak ever. It is perfect with the most tender, juiciest, buttery medium-well steak that rival the best steak restaurant.
This is quite possibly the most spectacular piece of steak you'll ever make at home, just like Gordon Ramsey!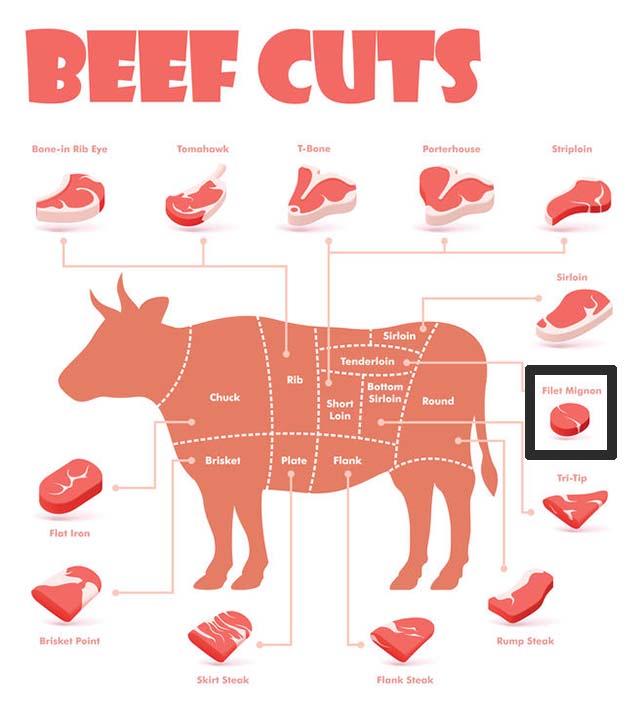 Other Recipes You Might Like
What Is Filet Mignon?
Filet Mignon is the expensive boneless cut of beef from the small end of the tenderloin, as illustrated in the chart above. It's also known as Tenderloin Steak, Beef Loin or Chateaubriand.
This is the most prized beef cut because the meat is tender, lean, succulent, with a buttery texture.
The best cooking methods are pan-searing on skillet, skillet to oven, broil, sous vide or grilling.
To learn all about this primal cut of beef, please check out this website.
Recipe Ingredients
When you have premium grade meat, you only need a few ingredients for seasonings and flavors:
Salt. I used Maldon sea salt flakes.
Freshly ground black pepper.
Garlic.
Rosemary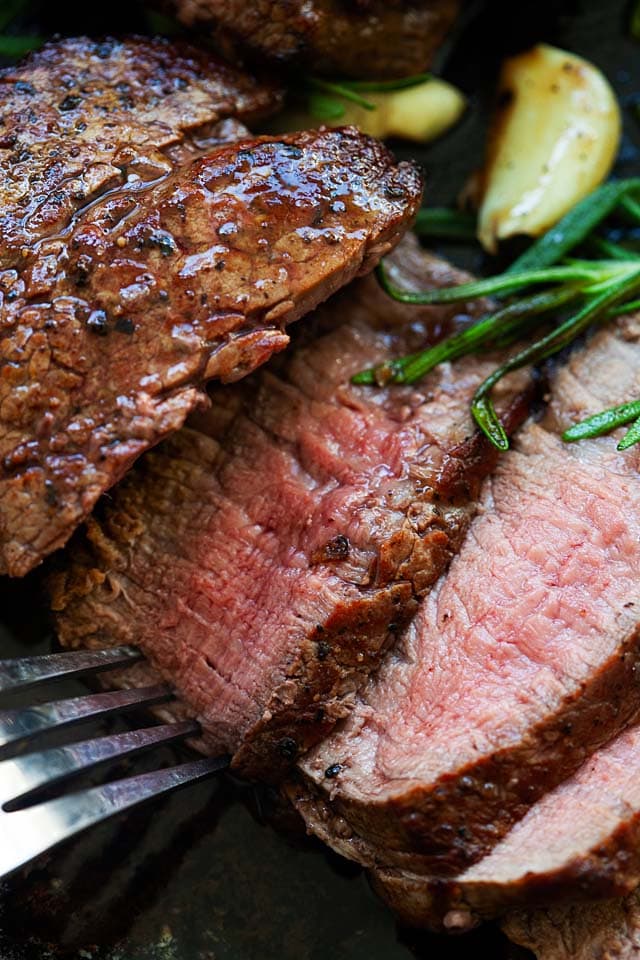 Cook's Tips
For the juiciest, tender and best restaurant quality steak at home, here are the tips and techniques.
Get the highest quality of meat. I got my Wagyu beef mignon from KC Cattle Company. The quality and freshness is top notch.
You don't need to pan sear and then bake in the oven. Oven tends to overcook the steak and make it drier.
Cast-iron skillet is best way to cook filet mignon. A well-seasoned cast-icon skillet with patina delivers the best results.
Use a high quality salt, such as Maldon sea salt flakes. If you don't have it, you can use kosher salt.
Freshly ground black pepper adds peppery aroma. Avoid bottled ground black pepper.
Use unsalted butter to elevate the buttery flavor of filet mignons.
Resting the steak for 3 minutes after cooking. Cover the skillet with a lid will help seal in the juice and flavors.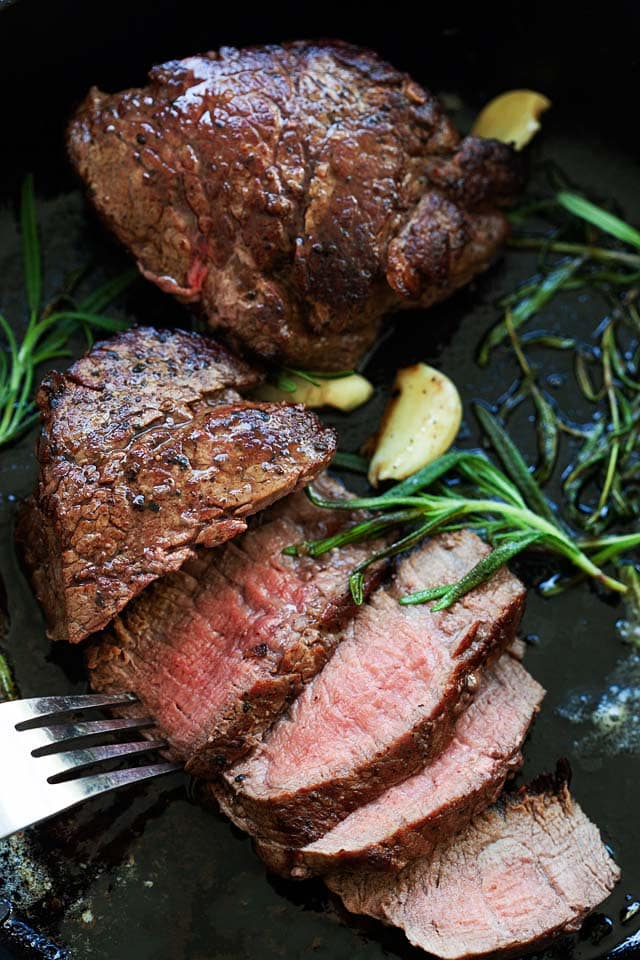 How Many Calories per Serving?
This steak recipe is only 459 calories per serving.
What to Serve with This Recipe?
Serve the steak with side dishes such as roasted potatoes or vegetables. For a healthy meal and easy weeknight dinner, I recommend the following recipes.
How to Cook Filet Mignon?
Please refer to the recipe card below for detailed step-by-step method on cooking filet mignon on stove top with cast iron skillet. This is the best filet mignon recipe ever!
For more great recipes like this, sign up for our newsletter. We'll send daily recipes you'll love!
Join
Sign up for our newsletter!
Filet Mignon
Filet Mignon - best and perfect way to cook filet mignon with this homemade easy Filet Mignon recipe that rivals the best steak house with cheaper price!
Ingredients
12

oz.

filet mignon steak (2 pieces 6 oz. /170 g each)

Maldon sea salt flakes

freshly ground black pepper

1

tablespoon

extra virgin olive oil

4

cloves

garlic

(peeled and lightly pounded)

3

sprigs

rosemary

3

tablespoons

unsalted butter
Instructions
Season the filet mignon steak with sea salt flakes and ground black pepper, set aside.


Heat up a cast-iron skillet on high heat. Add the olive oil when it's fully heated. Add the filet mignon on the skillet and pan sear for 3 minutes. Do not turn over.

Turn over and pan sear the other side for another 2-3 minutes. In the meantime, add 2 tablespoons of butter into the skillet on the empty side of the skillet. Add the garlic and rosemary.

Turn off the heat and cover the cast-iron skillet with a lid. Let rest for about 3 minutes. Serve the fillet mignon immediately with 1 tablespoon of unsalted butter on the top of the steak. Add more sea salt flakes if you like.

Nutrition

Nutrition Facts

Filet Mignon

Amount Per Serving (3 people)

Calories 459

Calories from Fat 369

% Daily Value*

Fat 41g63%

Cholesterol 109mg36%

Sodium 58mg3%

Carbohydrates 1g0%

Protein 21g42%

* Percent Daily Values are based on a 2000 calorie diet.

Notice: Nutrition is auto-calculated, using Spoonacular, for your convenience. Where relevant, we recommend using your own nutrition calculations.