Indian Chicken Curry - Easy Indian chicken curry recipe that anyone can make at home. Make a pot of chicken curry now.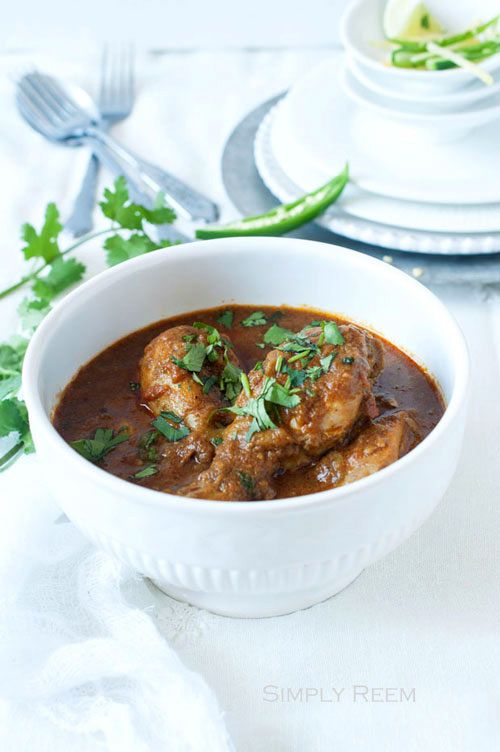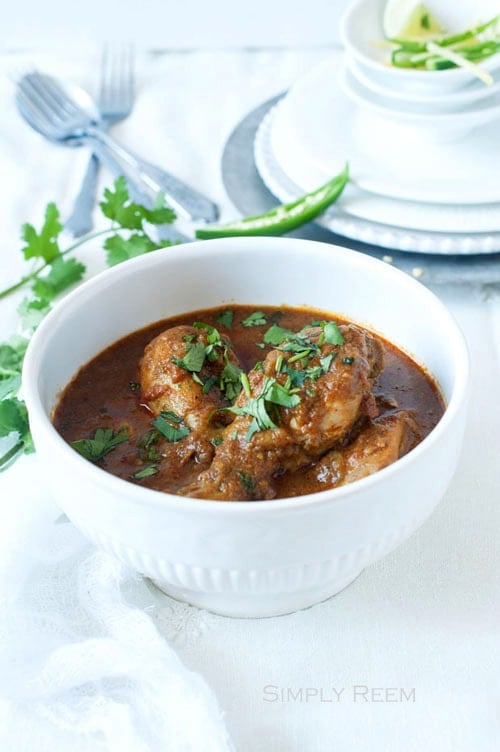 I meet a lot of interesting friends from my blog, especially my friends who live in Irvine, Orange County.
Recently, I connected with Reem of Simply Reem.
After many email exchanges, I finally met her in person. Reem is so sweet; she came to support my cooking demo at Macy's and bought me a nice bouquet of flower.
Simply Reem is a blog about cooking, home/garden and more.
I simply adore Reem's homey recipes on Indian cuisine.
Today, she teaches us how to make Indian chicken curry with dried roasted spices, a family recipe that she learned from her mother.
Enjoy and don't forget to check out Simply Reem.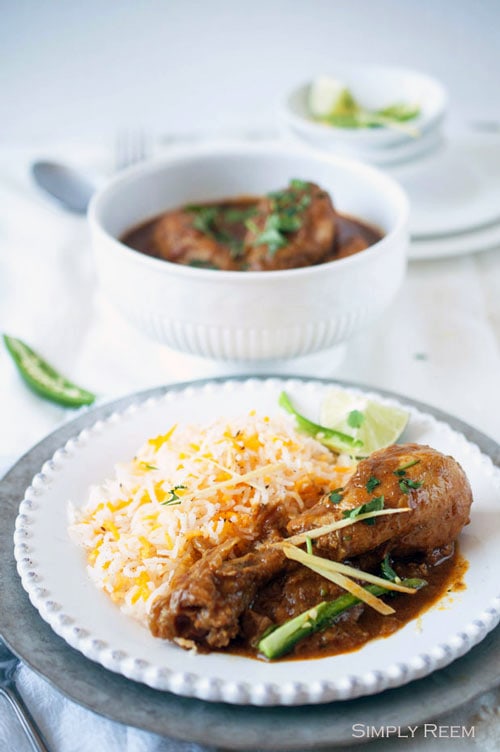 I want to start by thanking Bee for giving me opportunity to share my recipe on Rasa Malaysia.
Rasa Malaysia is an excellent blog which brought Asian food and cooking to a new platform.
I have been a sincere follower and fan of Bee and her beautiful space even before I started my blog.
Every craving of Asian food from Noodles to Laksa bought me here, a place where I could find it all and learn.
It is truly an honor for me to be here today.
Thanks Bee!!
For me there are few things as reassuring as a bowl of hot steamy curry dish with some rice or bread.
I remember no dinner in my parents home was complete without a curry dish; it always faithfully made its way to the dinner table in some form or the other.
Every season has its own version of curry dishes to be enjoyed with your family and friends.
Even though curries are a part of me but for a very long time I feared making one of my own.
It wasn't so much the procedure or precision that kept me from simmering my own curry but rather a fear of not being able to live up to my own expectation.
Finally, after a long wait I did make curry and I have never looked back since.
Before we move on let me tell you that the word curry itself is one of the most misunderstood culinary term.
Curry literary means a "dish with a sauce," curry is not a dish by itself. You add the name of the key ingredient before curry and voila you have the name of the dish…Chicken Curry, Mixed Vegetable Curry, Lamb Curry and so on.
Adding a spoon or two of store bought curry powder to a dish is far from anything authentic.
A true home-style Indian curry is a beautiful symphony of simple flavors and spices.
They are not only delicious but really healthy; nothing like the ones you are usually served at restaurants loaded with fat and spices.
Simmering gently, bringing all the flavors from herbs, spices and vegetable/meat/chicken/fish together in a form of a delightful dish, curries can be a part of any meal; making it more delicious and enjoyable.
Moving on, the recipe of "Indian Chicken Curry with Dry-Roasted Spices" I am sharing today is a delightful and absolutely delicious chicken curry you will find in many Indian kitchens.
It is really easy to make; the addition of roasted spices at the end of the cooking makes it even more delicious and add a wonderful rich color as well as divine aroma to the dish.
So here you go, enjoy!!
Once more Thanks Bee for having me here.
How Many Calories per Serving?
This recipe is only 286 calories per serving.
What Dishes to Serve with This Recipe?
For a wholesome meal and easy weeknight dinner, I recommend the following recipes.
For more great recipes like this, sign up for our newsletter. We'll send daily recipes you'll love!
Join
Sign up for our newsletter!
Indian Chicken Curry
Chicken curry and Indian chicken curry recipe. Easy Indian chicken curry recipe that anyone can make at home. Make a pot of chicken curry now.
Ingredients
2 ½

Chicken

(3 lbs. / 1.3 kg, leg pieces or whole chicken cut into serving pieces.)

2

large size Onion

(finely chopped.)

2

teaspoons

Ginger paste

1

tablespoon

Garlic paste

3-4

Tomato – medium size

(finely chopped)

1

tablespoon

Tomato paste.

½

teaspoon

Turmeric powder

1

tablespoon

Coriander powder

½

teaspoon

Paprika

1

Bay leaf

1

Cinnamon stick

(1-inch)

1

teaspoon

Salt or as per taste.

3-4

tablespoons

Oil vegetable

1

Lime juice

¼

cup

Cilantro – chopped

(for garnish)

1

slices

Jalapeno – for garnish

(optional)

2-3

cups

hot water to be used in cooking at different stages.
Whole Spices for Roasting:
1

teaspoon

Cumin seeds.

½

teaspoon

Coriander seeds.

2

Cardamom pods green

6-8

Black peppercorns

4

Cloves
Instructions
Mix the ginger and garlic paste in a bowl and keep aside. In another bowl mix turmeric powder, coriander powder and paprika with ¼ cup of water to make a spice paste and keep it aside too.

Wash the chicken and thoroughly dry it with paper towel; place it in a large non-reactive bowl. Add 2 tsp of ginger-garlic paste to the chicken and reserve the remaining ginger-garlic paste for later use. Add juice of ½ lime to the chicken and mix everything well, making sure that the chicken is well coated. Cover and let the chicken marinate for minimum 30 minutes in refrigerator or up-to 24 hours.

In a clean skillet add the cumin seeds, coriander seeds, cardamom pods, black peppercorns and cloves. Dry roast the spices over medium-low heat until well browned and fragrant; around 1-2 minutes. Remove from the heat and transfer the spices to a clean, dry bowl immediately; they can burn really fast. Grind them into a coarse powder in a spice grinder and keep aside.

Heat the oil in a large non-stick skillet and add the chopped onions, bay leaf, and cinnamon stick; fry until they start to turn golden brown, about 6-7 minutes. Now add the remaining ginger-garlic paste along with ¼ cup of hot water and stir; keep cooking until all the water has evaporated, and the oil starts to separate on the sides of the onion mixture; around 4-5 minutes.

Add the spice paste to the onion mixture, give it a quick stir; now add the tomato paste. Let everything cook once again until all the liquid has dried out and the oil starts to separate to the sides; about 2-3 minutes. Make sure to cook stirring to avoid the mixture sticking to the bottom of the skillet and getting burned.

Add the chicken pieces and stir about 5-7 minutes to well coat them with the onion-spice mixture and also to get some color on them. Finally, add the chopped tomatoes and salt and cook for another 2-3 minutes, just so the tomatoes start to break down.

Last, add 1 – 1 ¼ cup of hot water, cover the pan and cook over high heat, about 5 minutes. Reduce the heat to medium low and cook until chicken is tender and sauce is thick, for around 20-25 minutes.

Once the chicken is done, add the roasted spice powder, give it a last stir, cover the skillet tightly with the lid and remove it from the heat and let it stand for 5 minutes for all the flavors to blend.

When ready to serve sprinkle the curry with lime juice, add the chopped cilantro and serve hot. Enjoy!!!
Nutrition

Nutrition Facts

Indian Chicken Curry

Amount Per Serving (4 people)

Calories 286

Calories from Fat 747

% Daily Value*

Fat 83g128%

Cholesterol 357mg119%

Sodium 964mg42%

Carbohydrates 15g5%

Protein 91g182%

* Percent Daily Values are based on a 2000 calorie diet.

Notice: Nutrition is auto-calculated, using Spoonacular, for your convenience. Where relevant, we recommend using your own nutrition calculations.