Juicy and fall-off-the-bone chicken thighs with brown sugar garlic sauce, pressure cooked in an Instant Pot for 8 mins. Instant Pot chicken dinner is so easy!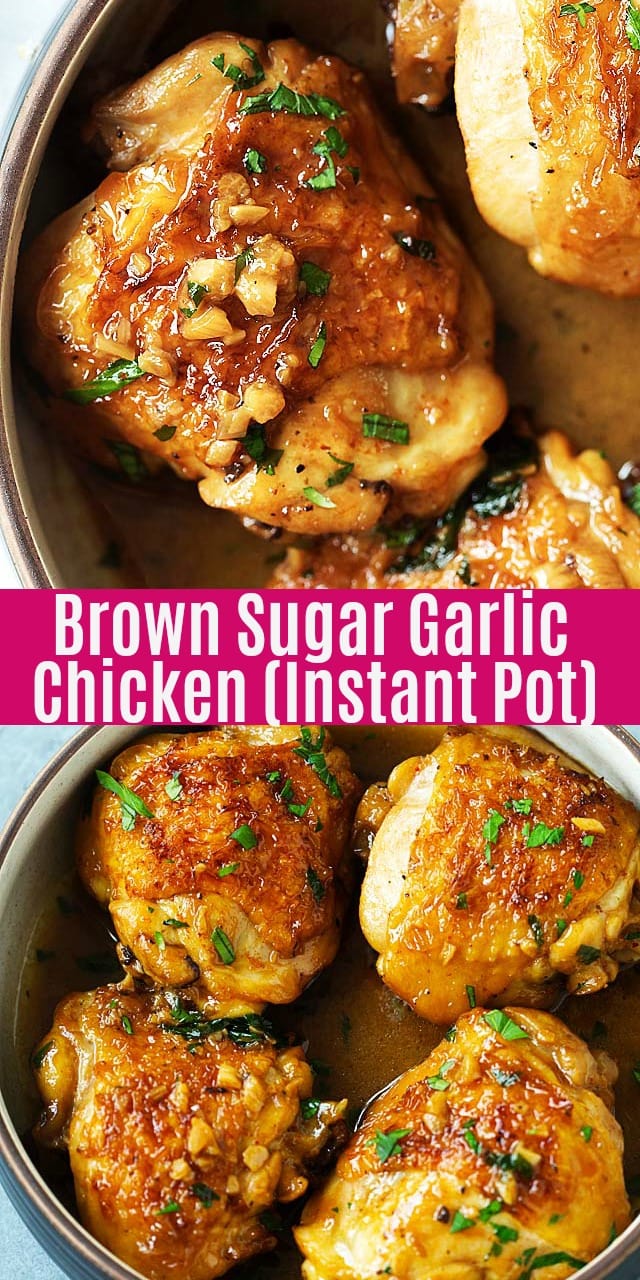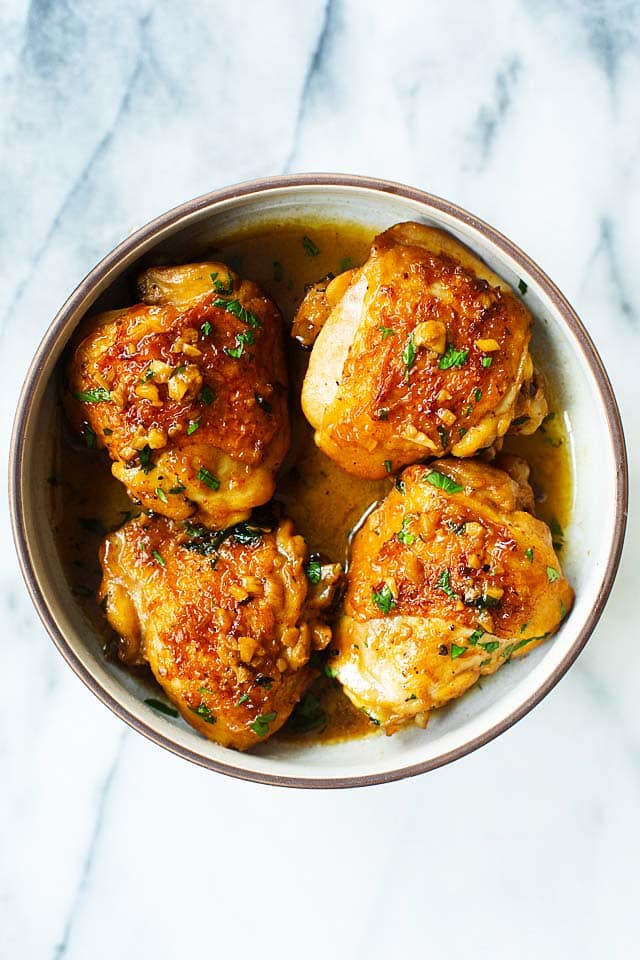 Instant Pot Chicken Thighs
How to cook chicken thighs in an Instant Pot? This brown sugar garlic chicken is the perfect recipe to make chicken thighs in an Instant Pot.
The pressure cooking of Instant Pot ensures that the chicken thighs are perfectly cooked, stay juicy, moist and tender.
The combinations of garlic and brown sugar work like magic with chicken, making it one of the easiest instant pot chicken recipes you can make for the entire family.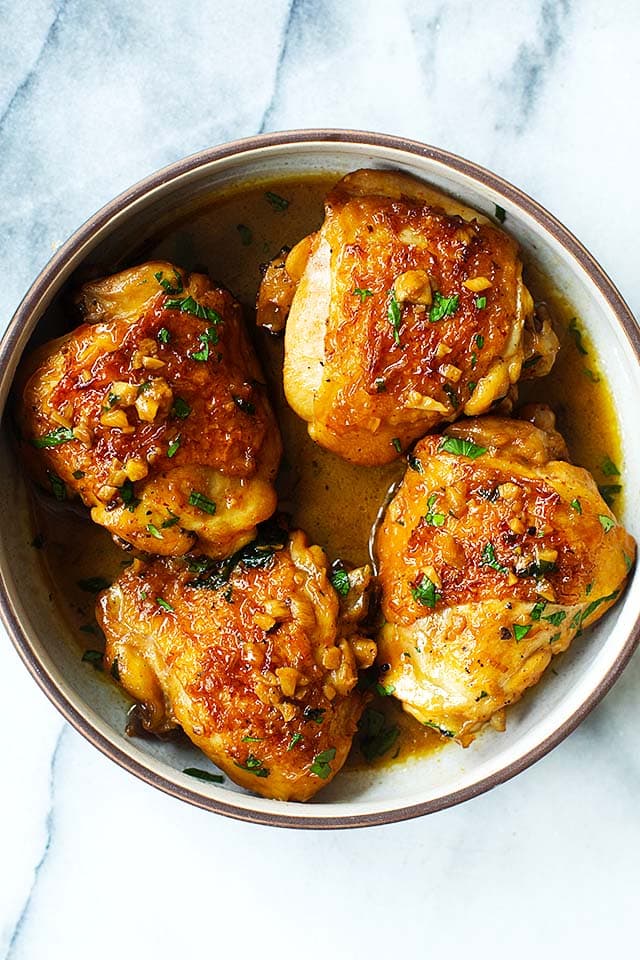 Other Recipes You Might Like
How Long Does It Take to Cook Instant Pot Chicken?
It takes about 5 -10 minutes to cook chicken in an Instant Pot, depending on the chicken parts used in the recipe.
Below are the general guidelines on the time for cooking chicken in an Instant Pot, based on my past experiences: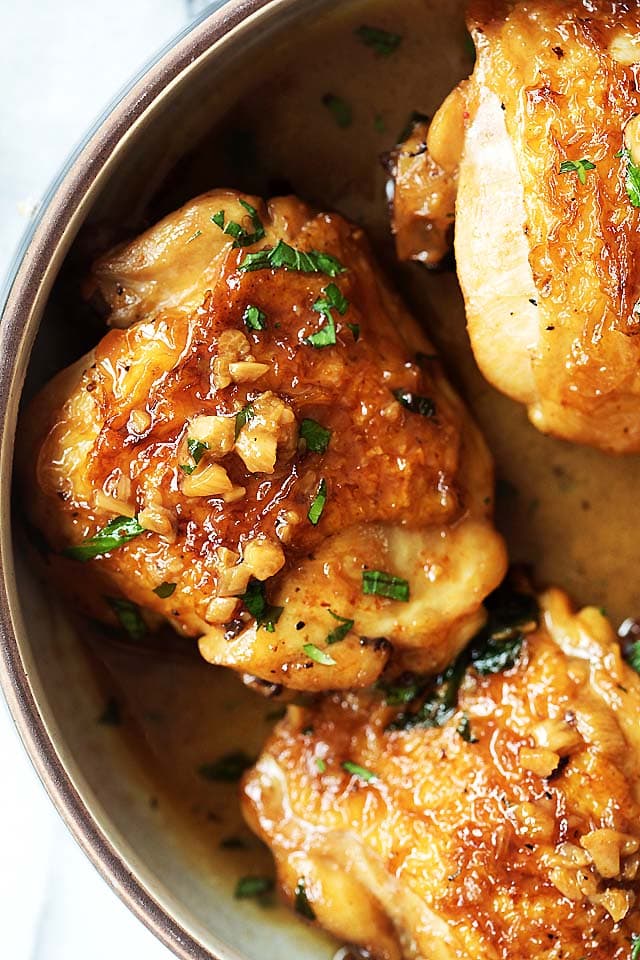 Wingettes and drumettes – 5 minutes
Whole chicken wings – 6 minutes
Chicken drumsticks and chicken thighs – 8 minutes
Chicken breasts – 10 minutes
Can you cook frozen chicken in an Instant Pot? Yes, you can cook frozen chicken thighs, chicken breasts, wings and legs in an Instant Pot.
Just add 2 minutes to the time above if you use frozen chicken from the refrigerator.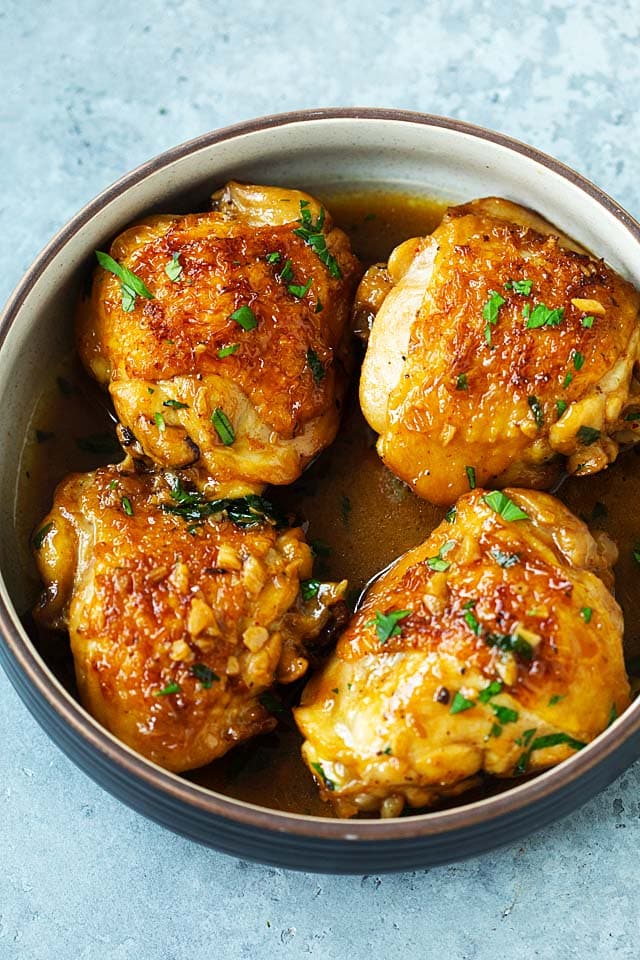 How Do You Pressure Cook Chicken in an Instant Pot?
You need at least 1/2 cup of liquid in an Instant Pot to pressure cook chicken. You may also use up to 1 cup of liquid but 1/2 cup is enough to cook chicken.
1 cup is too much liquid as the process of pressure cooking doesn't vaporize the liquid, instead, it forces the moisture of the chicken out of the meat, creating more liquid in the Instant Pot.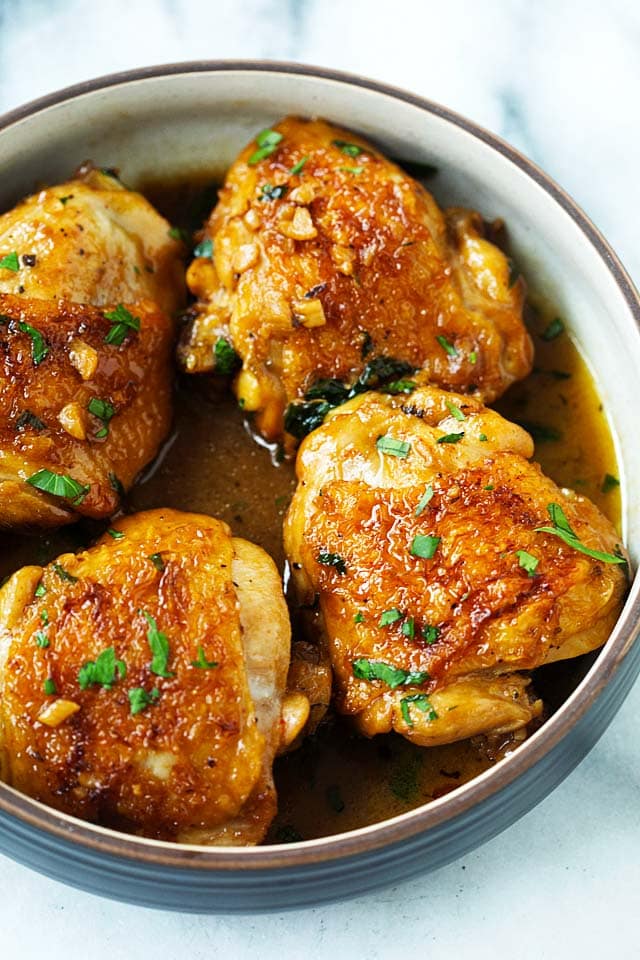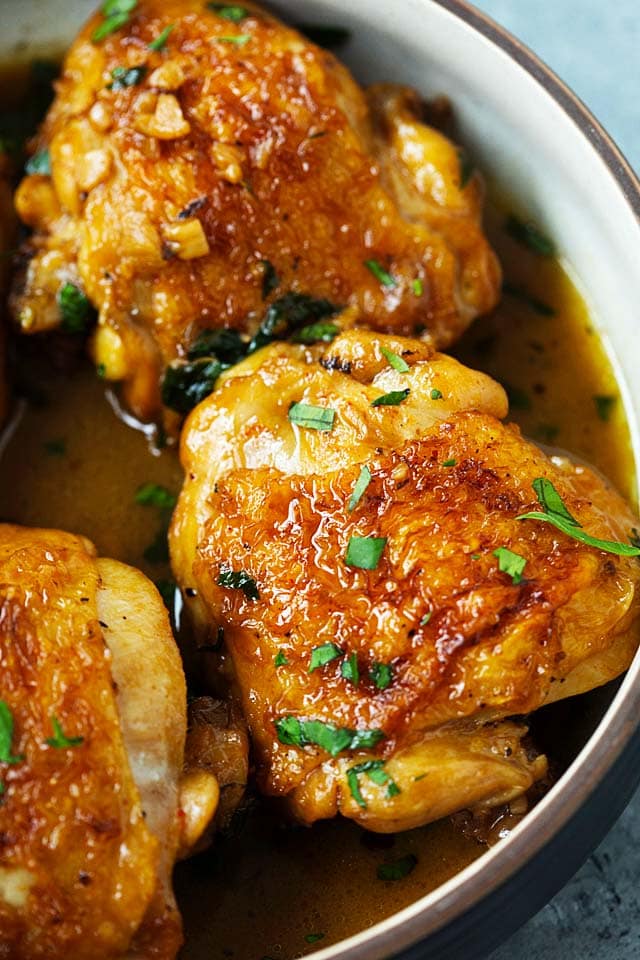 How Many Calories per Serving?
This recipe is only 477 calories per serving.
What Dishes to Serve with This Recipe?
For a wholesome meal and easy weeknight dinner, I recommend the following recipes.
5 Secrets to 20 Min Dinners
Get tricks for quick & easy meals!
Yield: 4 people
Instant Pot Brown Sugar Garlic Chicken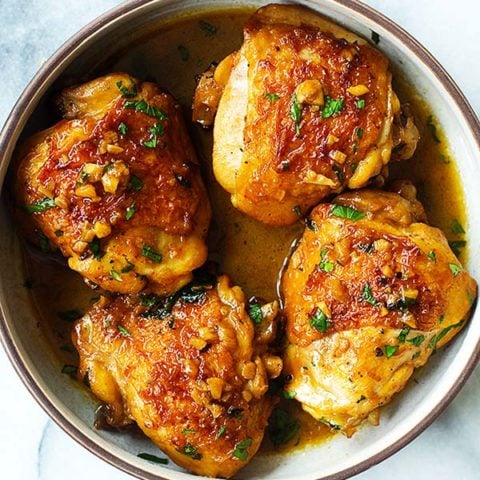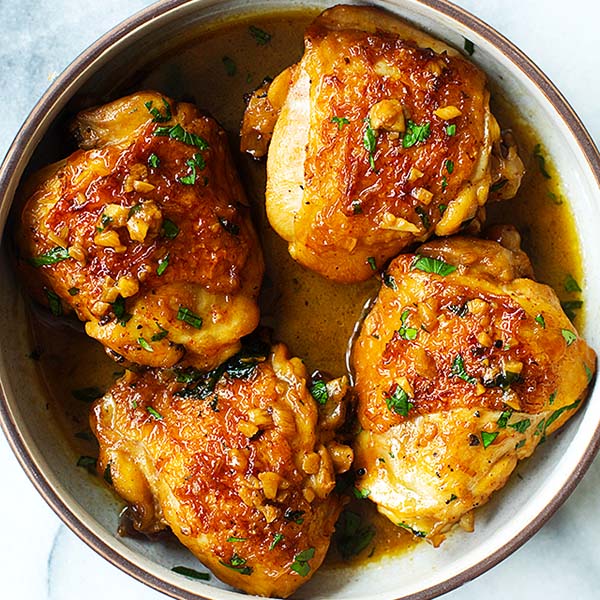 Juicy and fall-off-the-bone chicken thighs with brown sugar garlic sauce, pressure cooked in an Instant Pot for 8 mins. Instant Pot chicken dinner is so easy!
Ingredients
1 1/2 - 2 lbs. (0.4 kg-1 kg) bone-in skin-on chicken thighs
salt
ground black pepper
2 tablespoons olive oil
4 cloves garlic, minced
1/2 - 3/4 cup chicken broth
3 tablespoons brown sugar
1/2 teaspoon apple cider vinegar
3 dashes cayenne pepper
1/4 teaspoon salt or more to taste
1 tablespoon chopped parsley
Instructions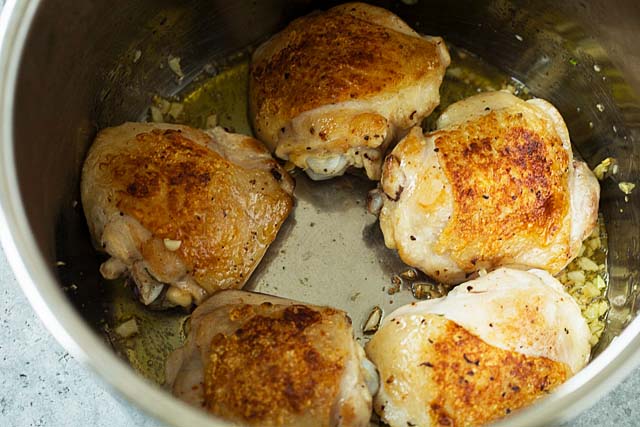 Season the chicken thighs with salt and ground black pepper on both sides of the chicken. Turn on the Saute mode on your Instant Pot. As soon as the pot is fully heated and hot, add the olive oil. Pan sear the chicken thighs (skin side down first) until both sides turn nicely brown. You can also pan-sear the chicken in a skillet and then transfer them over to the Instant Pot.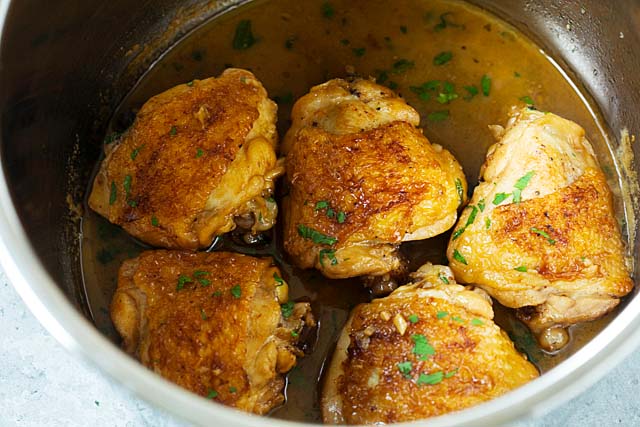 Add the minced garlic and saute until light brown. Add the chicken broth, brown sugar, apple cider vinegar, cayenne pepper and salt. Cover the pot and select Manual and set to High pressure for 8 minutes.

When it beeps, turn to Quick Release. When the valve drops, remove the lid carefully and turn to Saute mode to reduce the sauce if it's too watery. Add the chopped parsley and serve immediately.
Notes
Watch the cooking video on this page for step-by-step guide.
I used a 6-quart Instant Pot. If you don't have an Instant Pot, you can make this recipe in a slow cooker, or on your stove top. If you use a slow cooker, Use high heat and cook for 3 hours. For stove top, just pan-fry the chicken and then add in all the ingredients of the sauce. Simmer on low heat and cook until the chicken meat is tender.

I used organic chicken thighs, so they are very small. If you use regular chicken thighs, you can increase the pressure cooking time to 10 minutes for tender meat.
Nutrition Information
Serving Size
4 people
Amount Per Serving
Calories

477
Total Fat

35g
Saturated Fat

8g
Cholesterol

166mg
Sodium

387mg
Carbohydrates

10g
Sugar

8g
Protein

28g