Japanese Fried Chicken Bento - With steamed rice and sesame seeds, pickled cucumbers, salad and Gyoza.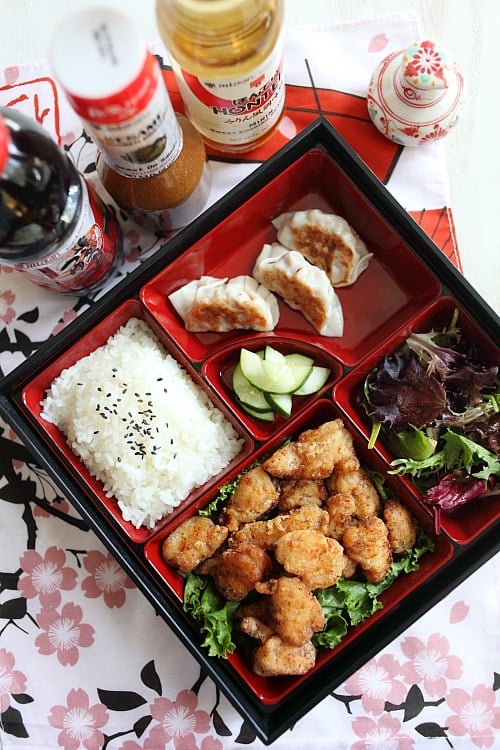 One of my favorite bento is chicken karaage, or Japanese fried chicken bento.
In the United States, chicken kaarage is also referred to as sesame fried chicken in many Japanese restaurants.
Other than chicken teriyaki, chicken karaage is probably one of the most popular combinations when it comes to Japanese bento.
If you have had Japanese food or lunch box, I am sure you have tried the crispy and flavorful Japanese fried chicken.
I simply can't resist the good taste.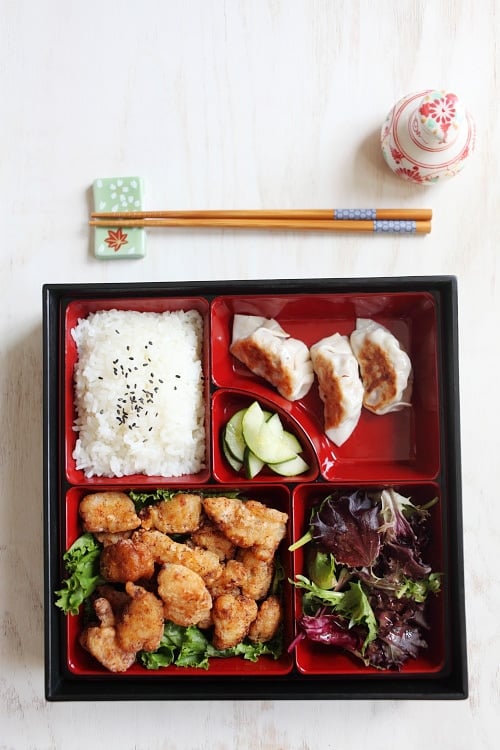 Making restaurant-style bento is actually easier than you think, and the whole process of assembling the different dishes into the bento box is actually quite fun.
When I started making bento at home, I got myself a 5-compartment bento box, which is widely used in many Japanese restaurants.
Please take note that there are a wide variety of bento boxes available: plastic, wood, lacquer ware, 2-tier, single compartment, 2 compartments, up to 7 or 8 compartments, and the list goes on.
When it comes to choosing the size and type of bento box, it's really a personal preference and what works best for you and your needs.
If you are a working professional, you should probably start with a simple 2 to 3-compartment bento box.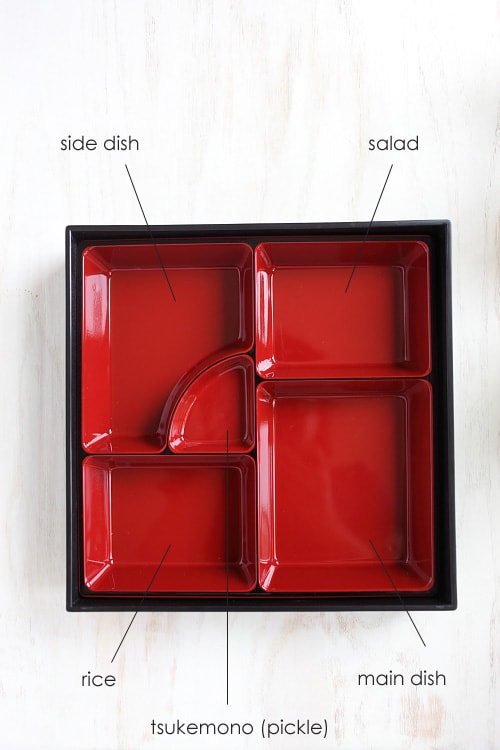 Everyone can make a bento of your choice. If you are a beginner, here are some pointers for packing mouthwatering bento:
Use short-grain rice for the steamed rice and always cook the rice ahead of time to allow for cooling before assembling.
Sprinkle some black sesame seeds on top of the steamed rice to enhance the presentation. You can also add some green peas to the rice. The key to a great bento is to make plain looking food looks interesting and hence pleasing to both the eyes and taste buds.
Sauces such as dipping sauce and salad dressing should be packed in separate sauce containers to avoid spillover and ensure freshness, especially if the bento is meant to be taken out or consumed later.
Avoid raw fish or sashimi (especially in warmer weather) unless the bento is served immediately.
Avoid soupy or watery dishes as they don't pack well in a bento box.
Traditionally (regardless of the size or type of the bento box), the perfect ratio of a healthy bento is 3 parts carb (rice, noodles), 1 part protein (meat or fish), 2 parts vegetables/fruits.

However, this is a guideline and not rules.

If you are a vegetarian or vegan, you can still pack a bento!
This is my Japanese fried chicken bento.
Other than the main dish of chicken karaage, there are steamed rice, gyoza, pickled cucumber and mixed green salad.
Here is my empty bento box with the different compartments and how I pack my bento.
A typical restaurant-style bento usually consists of steamed rice, main entree, side dish, tsukemono (Japanese pickle), and salad.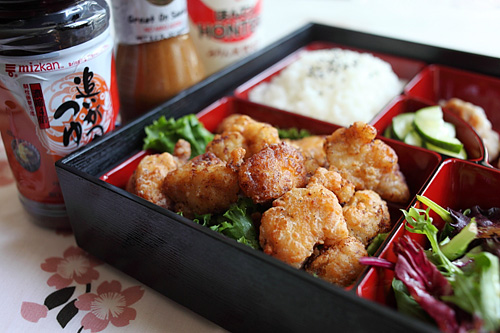 For the Japanese fried chicken, I marinated the chicken meat with Mizkan (Bonito Flavored) Soup Base, consists mostly of soy sauce and dashi.
I also added some Mizkan HONTERI® Mirin for a tint of sweetness.
For the tsukemono, Mizkan rice vinegar comes in handy as a little dash goes a long way in the simple cucumber pickle.
To balance off the taste of the bento, I chose Mizkan Sesame Dressing for my salad.
The end result was a beautiful bento packed with all my favorite Japanese dishes that I just couldn't stop eating!
How Many Calories per Serving?
This recipe is only 684 calories per serving.
What Dishes to Serve with This Recipe?
For a wholesome meal and easy weeknight dinner, I recommend the following recipes.
For more great recipes like this, sign up for our newsletter. We'll send daily recipes you'll love!
Join
Sign up for our newsletter!
Japanese Fried Chicken Bento
Japanese Fried Chicken Bento with steamed rice and sesame seeds, pickled cucumbers, salad and Gyoza.
Ingredients
8

oz.

skinless and boneless chicken, chicken breast or thigh (preferred)

1

tablespoon

ginger juice

(extracted from 2-inch piece ginger)

1 1/2

tablespoons

Mizkan Bonito Flavored Soup Base

1

tablespoon

Mizkan HONTERI® Mirin

3/4

cup

corn starch or potato starch

Oil

(for deep-frying)

Steamed rice

Sesame seeds

Cucumber Pickle

Salad

Gyoza
Cucumber Pickle (Tsukemono)
4

oz.

cucumber

1/2

teaspoon

salt

1

teaspoon

sugar

1

teaspoon

Mizkan Rice Vinegar
Salad
Mixed green or fresh herb salad

Mizkan Sesame Dressing
Instructions
Cut the chicken into bite-sized pieces/cubes. Use paper towels to pat dry the chicken and transfer to a bowl. Grate the ginger and extract the juice by squeezing with your hand, you should get about 1 tablespoon ginger juice.

Add the Mizkan (Bonito Flavored) Soup Base, Mizkan HONTERI® Mirin, and ginger juice to the chicken and marinate for 30 minutes. Transfer the chicken out of the marinade and coat them evenly with the corn starch or potato starch. Shake off the excess.

Heat 2 to 3 inches (4 cm-6 cm) of oil in a pan or small stockpot to 350°F (176°C) for deep-frying. Gently drop the chicken pieces into the oil and deep-fry until golden brown. Dish out with a strainer or slotted spoon, draining the excess oil by laying the chicken on a dish lined with paper towels.
Cucumber Pickle (Tsukemono)
Cut the cucumber lengthwise and then slice into small pieces. Transfer the cucumber to a small bowl and add the salt, sugar, Mizkan Rice Vinegar and mix well. Chill in the refrigerator for 30 minutes.
Salad
Arrange the salad in the salad compartment of the bento box. Drizzle some Mizkan Sesame Dressing on top of the salad.
Assembling the Japanese Fried Chicken Bento
Lay a piece of lettuce leaf on the main dish compartment. Arrange the fried chicken on top of it.

Add a bowl of steamed rice in the rice compartment and top with some black sesame seeds.

Add 3-4 gyoza in the side dish compartment.

Add the chilled cucumber pickle in the tsukemono compartment.

The bento is now done and ready to be served.
Nutrition

Nutrition Facts

Japanese Fried Chicken Bento

Amount Per Serving (1 people)

Calories 684

Calories from Fat 54

% Daily Value*

Fat 6g9%

Cholesterol 145mg48%

Sodium 1570mg68%

Carbohydrates 101g34%

Protein 49g98%

* Percent Daily Values are based on a 2000 calorie diet.

Notice: Nutrition is auto-calculated, using Spoonacular, for your convenience. Where relevant, we recommend using your own nutrition calculations.