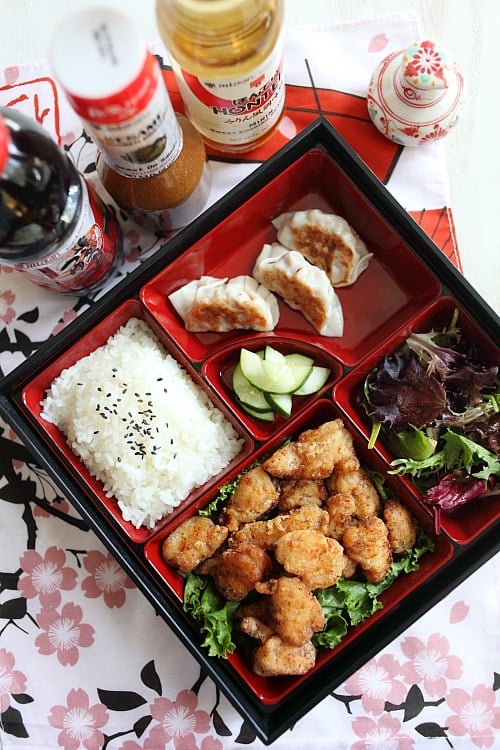 One of my favorite bento is chicken karaage, or Japanese fried chicken bento.
In the United States, chicken kaarage is also referred to as sesame fried chicken in many Japanese restaurants.
Other than chicken teriyaki, chicken karaage is probably one of the most popular combinations when it comes to Japanese bento.
If you have had Japanese food or lunch box, I am sure you have tried the crispy and flavorful Japanese fried chicken.
I simply can't resist the good taste.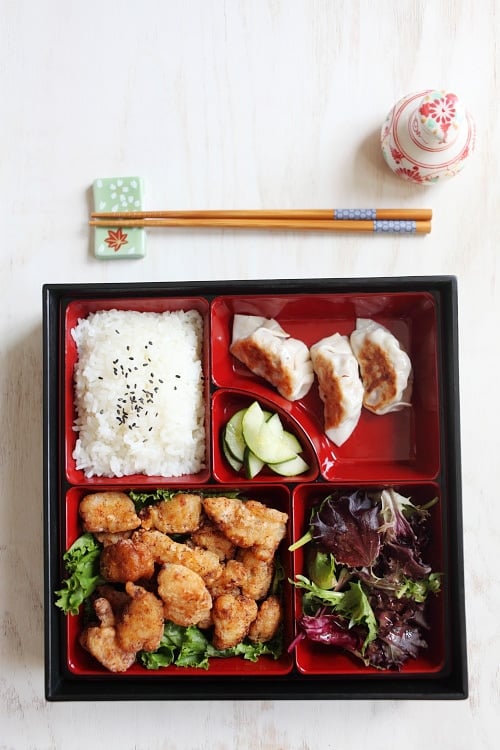 Making restaurant-style bento is actually easier than you think, and the whole process of assembling the different dishes into the bento box is actually quite fun.
When I started making bento at home, I got myself a 5-compartment bento box, which is widely used in many Japanese restaurants.
Please take note that there are a wide variety of bento boxes available: plastic, wood, lacquer ware, 2-tier, single compartment, 2 compartments, up to 7 or 8 compartments, and the list goes on.
When it comes to choosing the size and type of bento box, it's really a personal preference and what works best for you and your needs.
If you are a working professional, you should probably start with a simple 2 to 3-compartment bento box.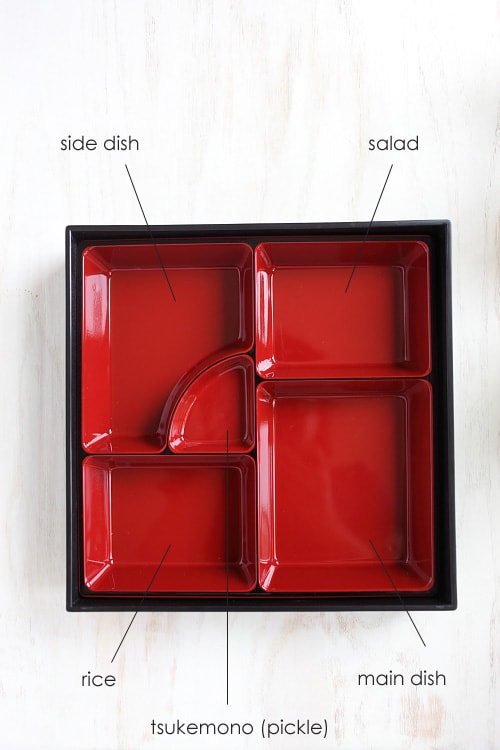 Everyone can make a bento of your choice. If you are a beginner, here are some pointers for packing mouthwatering bento:
Use short-grain rice for the steamed rice and always cook the rice ahead of time to allow for cooling before assembling.
Sprinkle some black sesame seeds on top of the steamed rice to enhance the presentation. You can also add some green peas to the rice. The key to a great bento is to make plain looking food looks interesting and hence pleasing to both the eyes and taste buds.
Sauces such as dipping sauce and salad dressing should be packed in separate sauce containers to avoid spillover and ensure freshness, especially if the bento is meant to be taken out or consumed later.
Avoid raw fish or sashimi (especially in warmer weather) unless the bento is served immediately.
Avoid soupy or watery dishes as they don't pack well in a bento box.
Traditionally (regardless of the size or type of the bento box), the perfect ratio of a healthy bento is 3 parts carb (rice, noodles), 1 part protein (meat or fish), 2 parts vegetables/fruits.

However, this is a guideline and not rules.

If you are a vegetarian or vegan, you can still pack a bento!
This is my Japanese fried chicken bento.
Other than the main dish of chicken karaage,  there are steamed rice, gyoza, pickled cucumber and mixed green salad.
Here is my empty bento box with the different compartments and how I pack my bento.
A typical restaurant-style bento usually consists of steamed rice, main entree, side dish, tsukemono (Japanese pickle), and salad.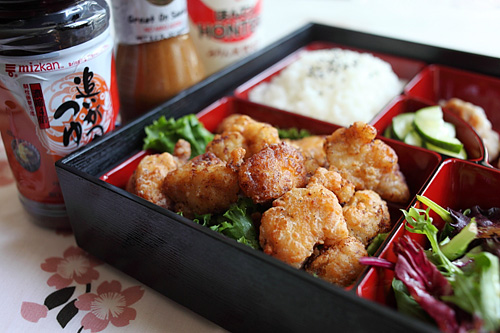 For the Japanese fried chicken, I marinated the chicken meat with Mizkan (Bonito Flavored) Soup Base, consists mostly of soy sauce and dashi.
I also added some Mizkan HONTERI® Mirin for a tint of sweetness.
For the tsukemono, Mizkan rice vinegar comes in handy as a little dash goes a long way in the simple cucumber pickle.
To balance off the taste of the bento, I chose Mizkan Sesame Dressing for my salad.
The end result was a beautiful bento packed with all my favorite Japanese dishes that I just couldn't stop eating!
Click Here to Pin This Recipe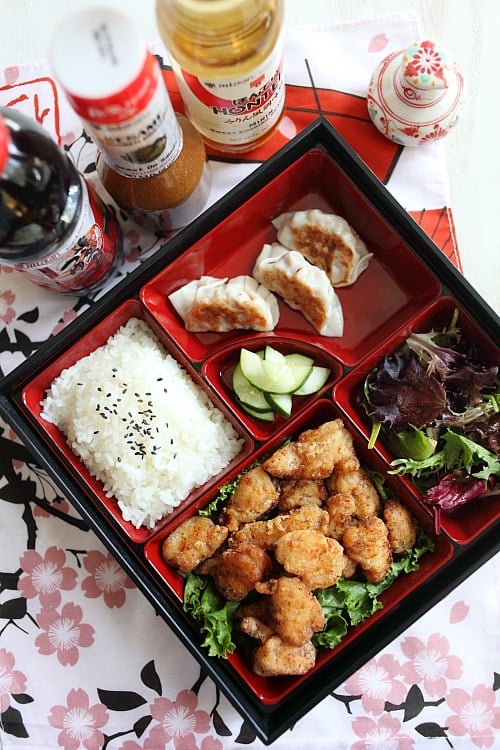 SUBSCRIBE AND NEVER MISS A RECIPE
SUBSCRIBE TO RASA MALAYSIA NEWSLETTER AND GET EASY AND DELICIOUS RECIPES DELIVERED TO YOUR INBOX. If you try my recipe, please use hashtag #rasamalaysia on social media so I can see your creations! Follow me on Facebook | Instagram | Pinterest | Twitter for new recipes, giveaways and more.