Lemon Herb Roasted Potatoes - the BEST roasted potatoes you'll ever make loaded with butter, lemon, garlic, honey, and herb. Just 15 minutes!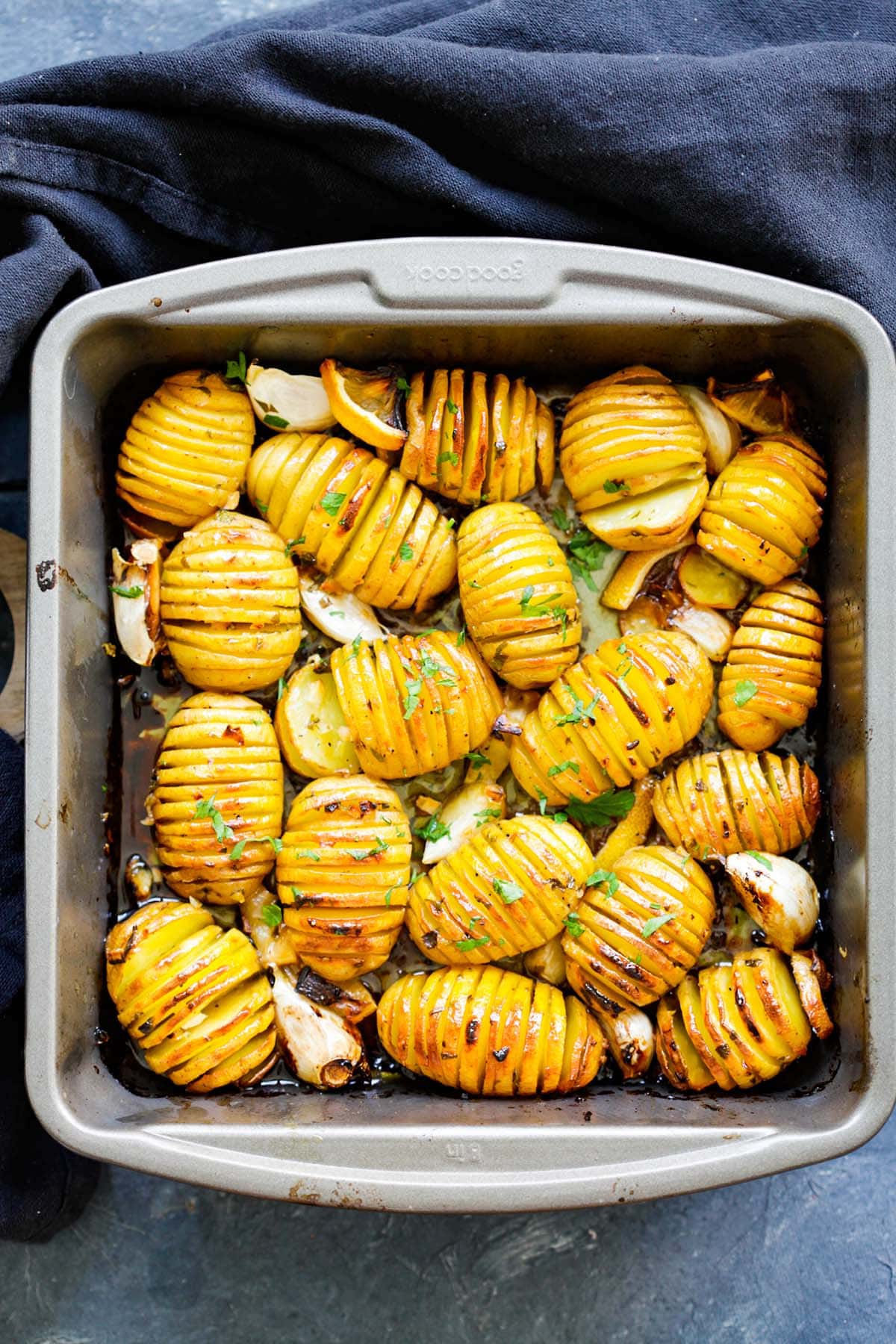 The Best Roasted Potatoes
These lemon herb roasted potatoes are absolutely delightful, made with olive oil, melted butter, garlic, lemon juice, herb and honey.
Adding a bit of honey really makes the potatoes so much more delicious as the bottom part of these roasted potatoes became caramelized, ahhh, heavenly.
To make sure that your roasted potatoes get the amazing flavors of the herb and lemon, slice each potato horizontally like hasselback potatoes, but without cutting through.
Every slice is coated with the buttery, garlicky flavor. Active time to make this dish is only 15 minutes! The rest is baking time.
Just look at these golden-hued and glossy looking roasted potatoes, they might well be the best roasted potatoes recipe you've ever attempted at home!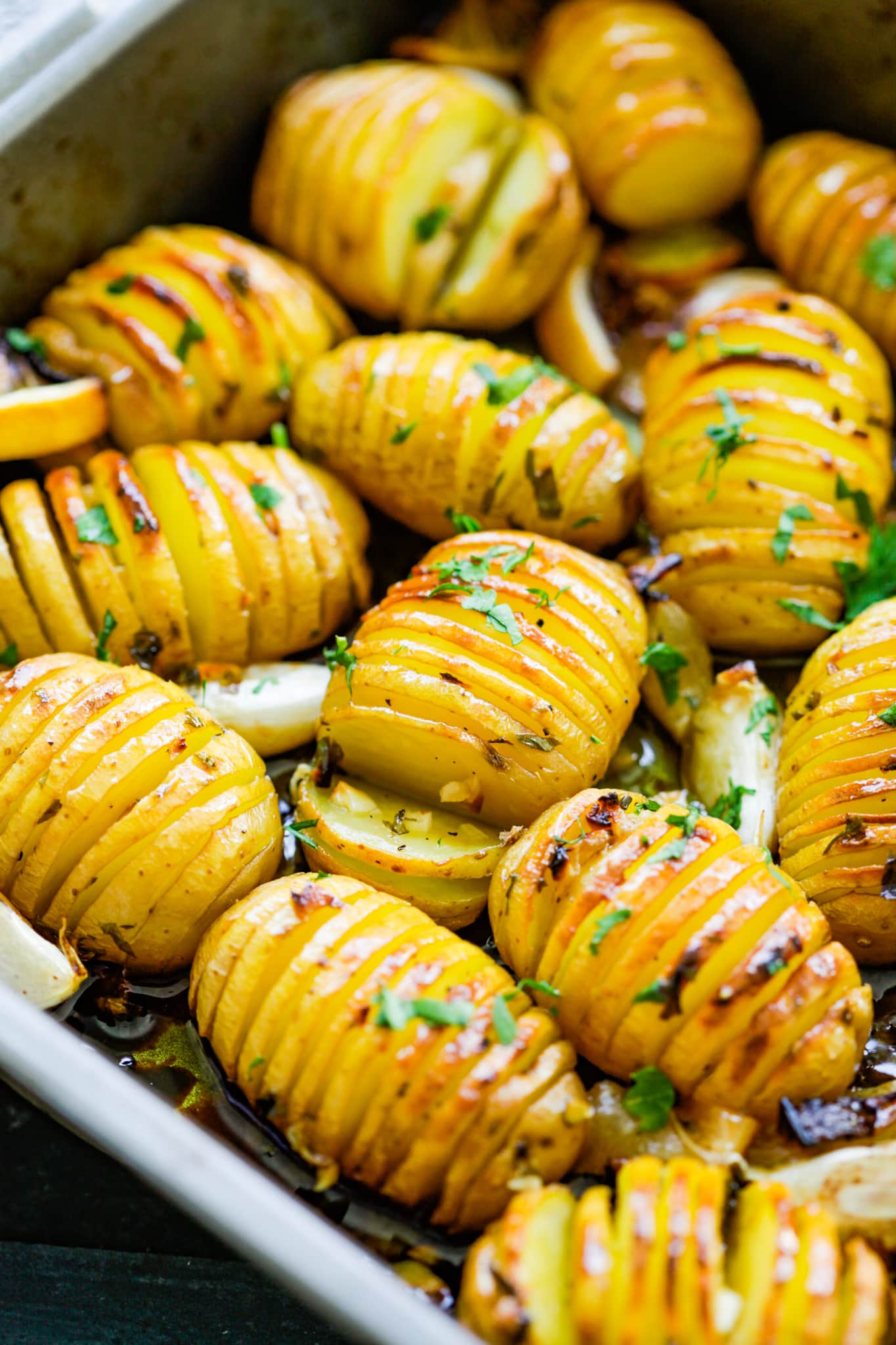 Other Recipes You Might Like
Ingredients for Herb Roasted Potatoes
Potatoes
Olive oil
Melted butter
Garlic
Parsley
Lemon juice
Honey
Black pepper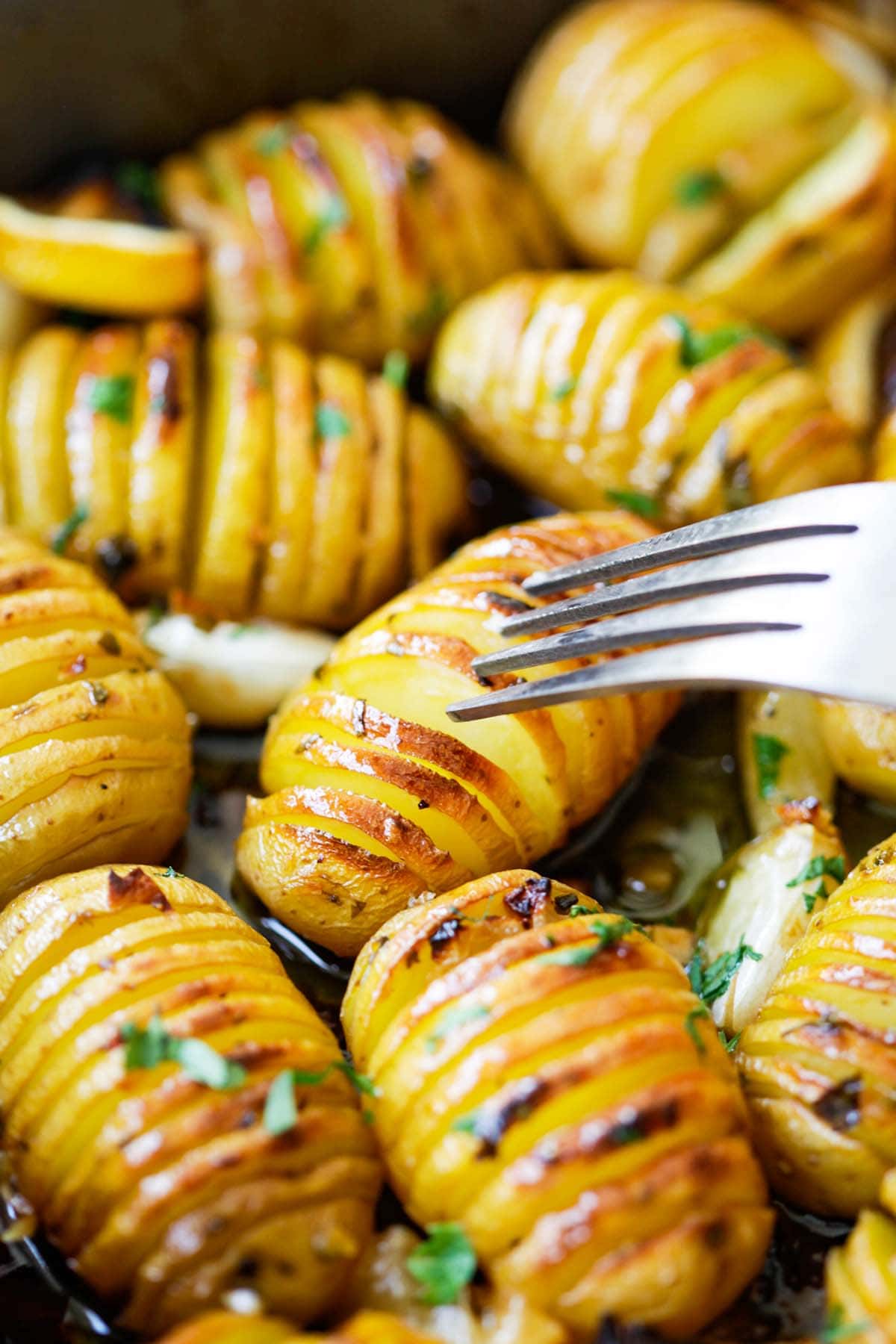 Cook's Tips
As a trick to cut these potatoes perfectly, line up two chopsticks horizontally on each side of the potato. Then, use a knife to cut vertically. This will help you not cut all the way through the potatoes.
Then, butter up the potatoes in the spices, making sure to get it in between each potato slice.
Your potatoes will be roasted to perfection, soaking in every flavor!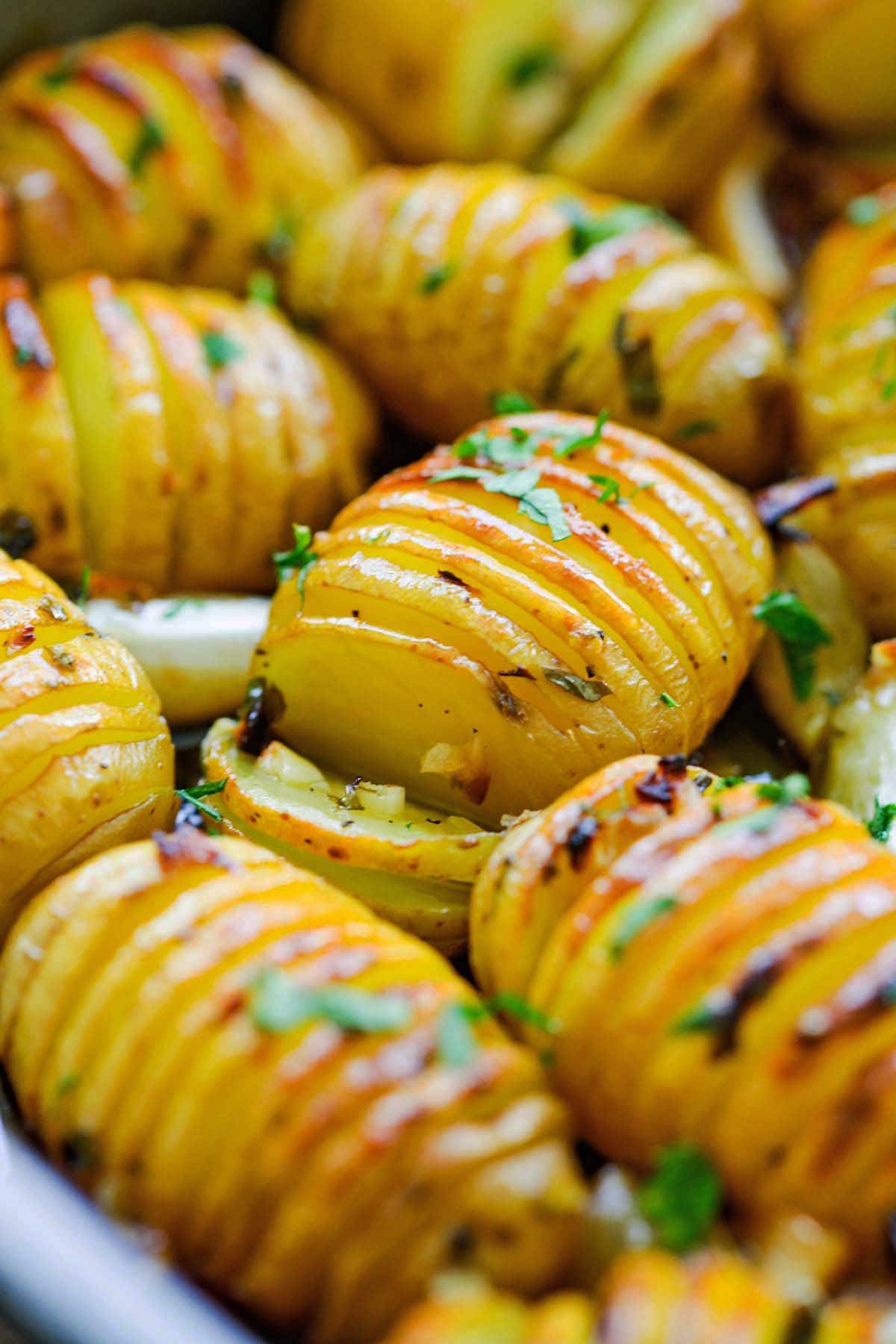 Frequently Asked Questions
How Do You Reheat Hasselback Potatoes?
For best results, place them back in the oven for a few minutes.
How Many Calories?
This recipe has 327 calories per serving.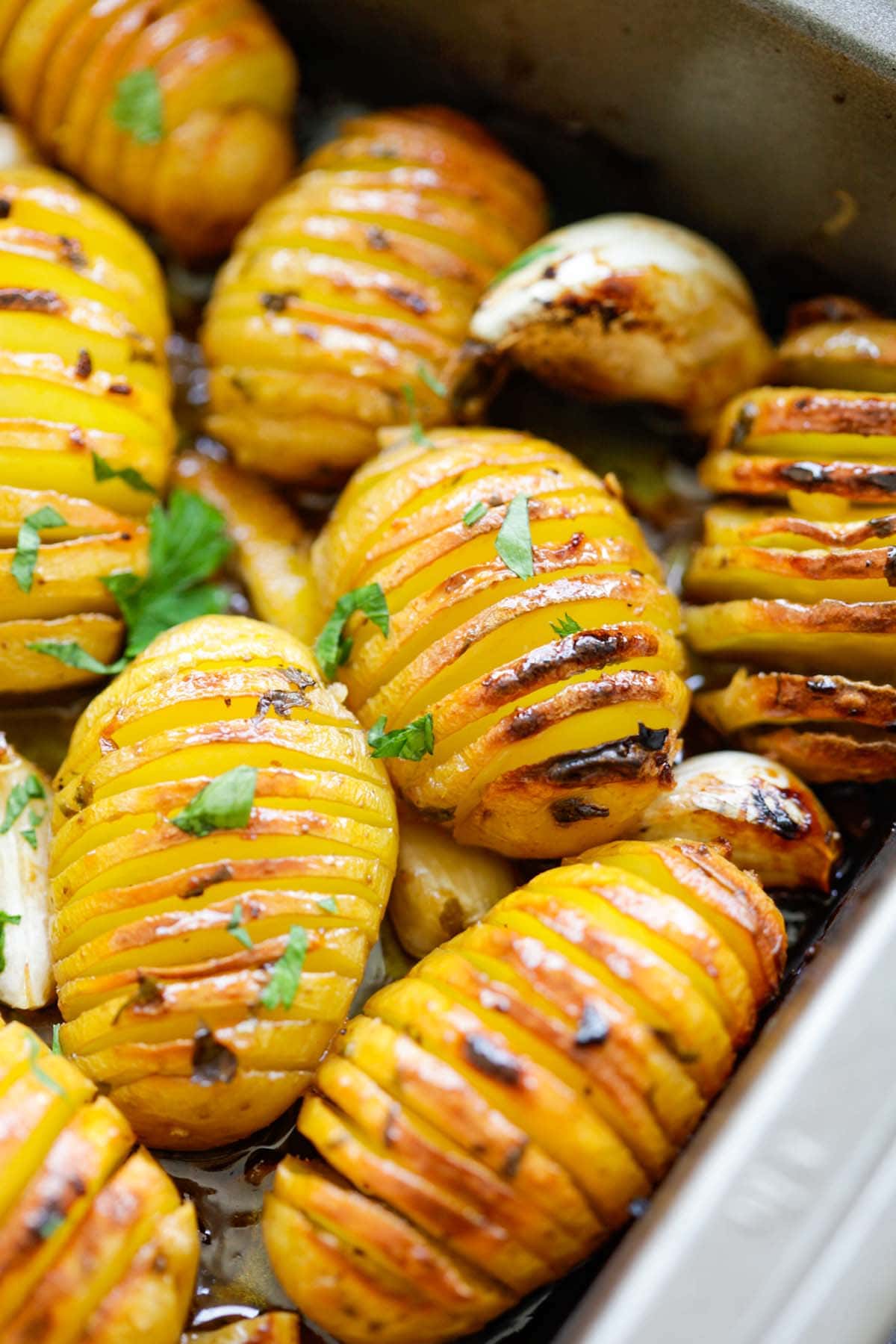 What Dishes to Serve with This Recipe?
This meal is best served as a side dish. For a wholesome meal and easy weeknight dinner, I recommend the following recipes.

5 Secrets to 20 Min Dinners
Get tricks for quick & easy meals!
Yield: 3 people
Lemon Herb Roasted Potatoes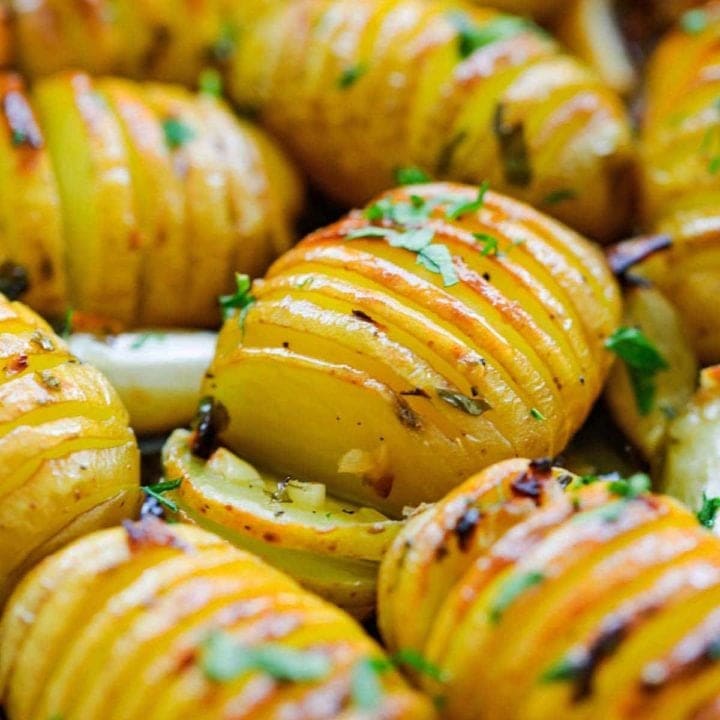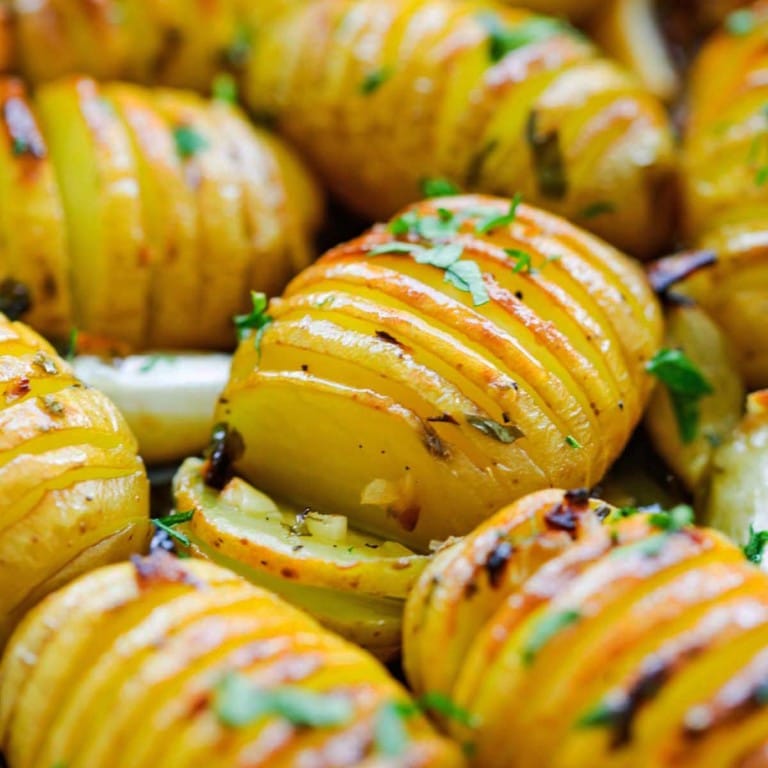 Lemon Herb Roasted Potatoes – BEST roasted potatoes you'll ever make, loaded with butter, lemon, garlic and herb. 15 mins active time!
Total Time
1 hour
15 minutes
Ingredients
1 lb. (0.4 kg) baby potatoes
Oil Mixture:
1/4 cup olive oil
2 tablespoons melted butter
3 cloves garlic, minced
1 tablespoon chopped Italian parsley leaves
1 tablespoon lemon juice
1 tablespoon honey
1/4 teaspoon salt
3 dashes ground black pepper
Instructions
Preheat oven to 350°F (176°C). Cut slits on the potatoes, do not cut through. Mix all ingredients in the Oil Mixture together.
Place the potatoes in a roasting pan and brush with the Oil Mixture. Make sure to brush inside the slits of the potatoes. Save some for basting.
Roast the potato for 1 hour, basting the oil mixture at 30 minute interval using the remaining Oil Mixture. Serve immediately after roasting.


Nutrition Information
Serving Size
3 people
Amount Per Serving
Calories

327
Total Fat

24.7g
Saturated Fat

7.3g
Cholesterol

20mg
Sodium

266mg
Carbohydrates

25.8g
Fiber

3.9g
Sugar

5.9g
Protein

4.3g