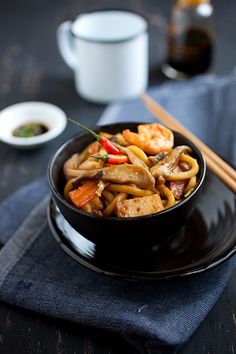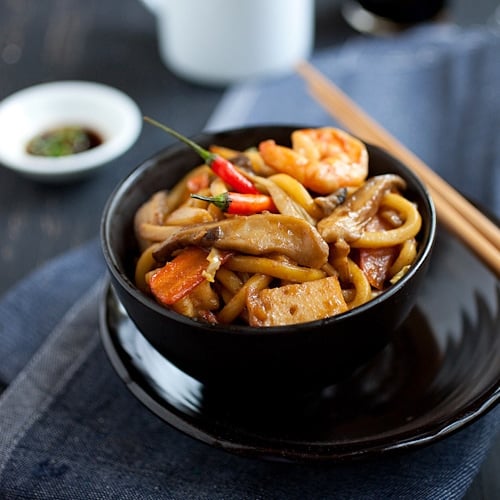 Malaysian-style Fried Udon
Fried udon recipe, Malaysian style. Cabbage, shrimp, fish cake in a dark brown sauce. Serve with cut chilies and soy sauce. Easy fried udon recipe.
Prep time:
Cook time:
Total Time: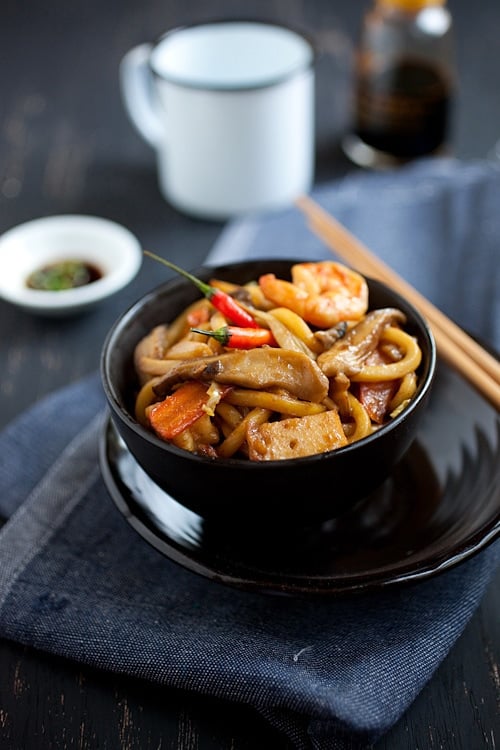 Noodles are popular all over Asia, so it's no surprise that noodle is a staple of many Malaysians. Walk down any streets where there are street vendors or hawkers, you will see that most of the foods sold are noodle dishes. Everyone loves and could always use a noodle dish, regardless of our ethnicity: Chinese, Malays, Indians, or Eurasians. Even the foreign expatriates who live in Malaysia fall in love with local noodles dishes.
Udon is Japanese, but the Malaysian-style udon can be found at restaurants in Malaysia. In my recipe, I used fish cakes, which is a popular ingredient in many Malaysian noodle dishes. With some shredded cabbage, shrimp, mushroom, carrot, and the generous use of sweet soy sauce, this humble Malaysian-style fried udon takes me back to Malaysia. And the condiment of cut bird's eye chilies gave me just the right amount of heat and extra flavors. It was extremely delicious and absolutely satisfactory. I love Japanese-style fried udon, which is cleaner in taste. But give me a choice, I'd always opt for this sinful version.
Malaysian-style Fried Udon Recipe
Serves 1 | Prep Time: 10 Minutes | Cook Time: 10 Minutes
Ingredients:
1 pack fresh udon (7 oz)
2 garlic, minced
2 tablespoon oil, lard preferred
3-5 shrimp, shelled and deveined
6-8 slices fish cakes
4-5 fresh shiitake mushrooms, oyster mushrooms or king trumpet mushrooms, sliced into pieces
2 mini carrots, peeled and sliced into thin pieces
1/3 cups shredded cabbage or Napa cabbage
A few bird's eye chilies, cut
Soy Sauce
Sauce:
4 tablespoons water
1 teaspoon oyster sauce
2 teaspoons sweet soy sauce (kecap manis)
1/2 teaspoon sugar
1 teaspoon soy sauce
1/4 teaspoon sesame oil
3 dashes white pepper
Method:
Rinse the udon with cold running water, drained and set aside. Mix all the ingredients in the Sauce in a small bowl, stir to blend well. Set aside.
Prepare the soy sauce and cut chilies condiments in a small saucer. Just add some soy sauce to the cut chilies.
Heat up a wok and add the oil (or lard). When the hot is fully heated, add the garlic and stir fry until aromatic. Add the shrimp and fish cake and stir-fry until the shrimp is half cooked. Add the mushroom, carrot and napa cabbage and stir for a few times. Add the udon noodles into the wok, follow by the Sauce. Stir continuously to combine all the ingredients in the wok. Let cook for a little bit, stir a few times and make sure the udon noodles are cooked through. Dish out and serve immediately with the cut chilies and soy sauce condiment.
Cook's Note:
The dish should be a little wet as the sauce should cling to every strand of the udon noodles. It shouldn't be dried. Add a little water if it's become dry.
If you can't find fresh udon, use dried udon. Cook it according to package instructions, about 80% cooked through before stir-frying.

Most-Pinned Recipes
Ginger Garlic Baked Chicken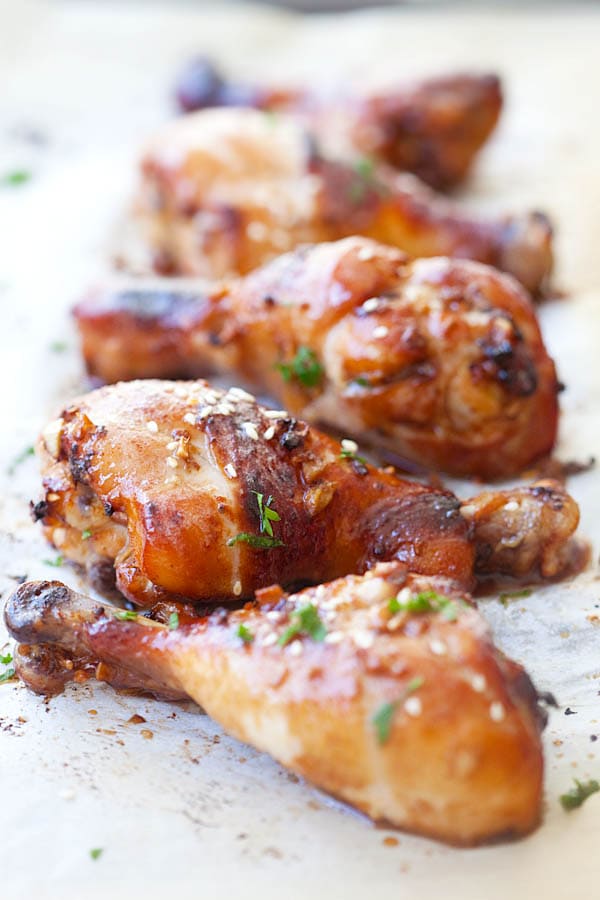 Crab Rangoon (Cream Cheese Wontons)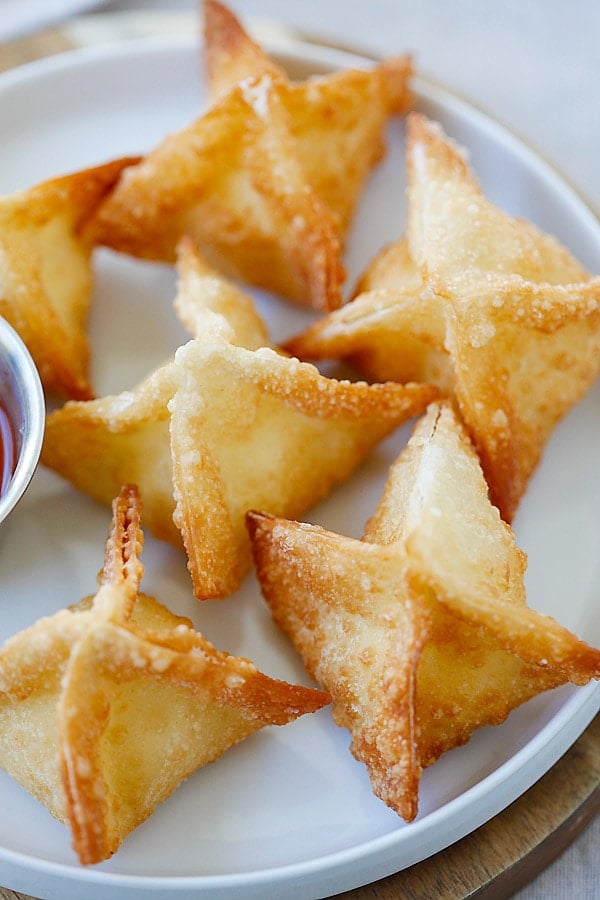 Chicken Wontons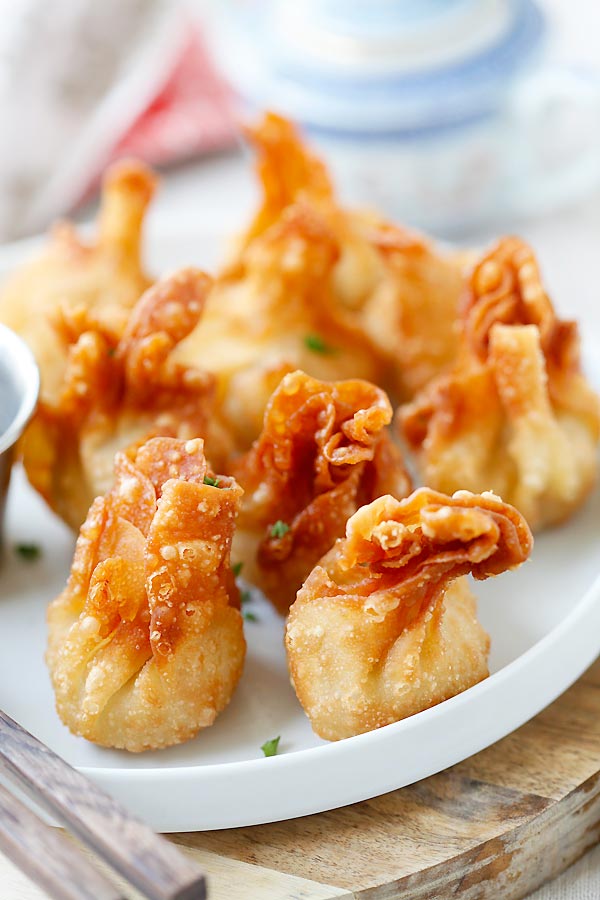 Onion Scallion Beef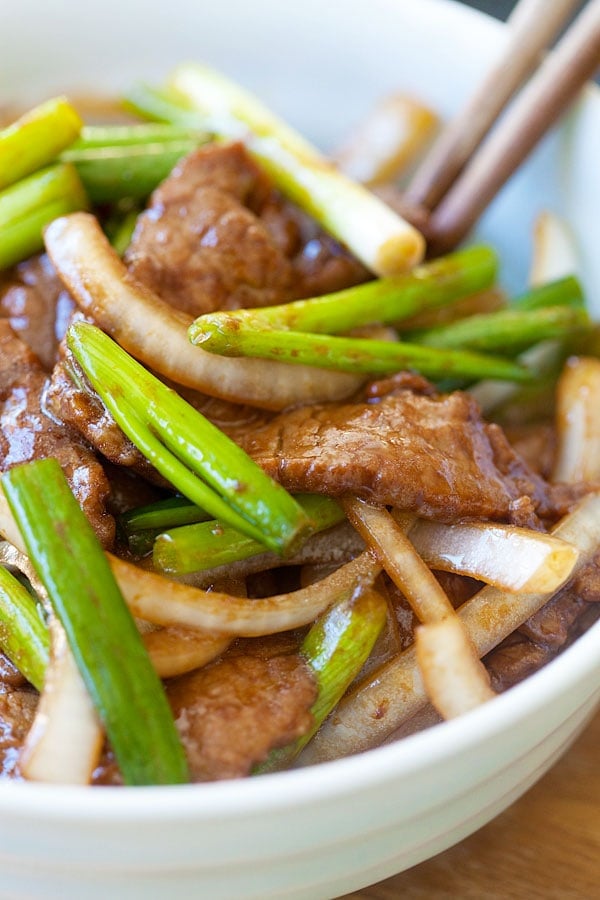 Thai Chicken Sate with Peanut Sauce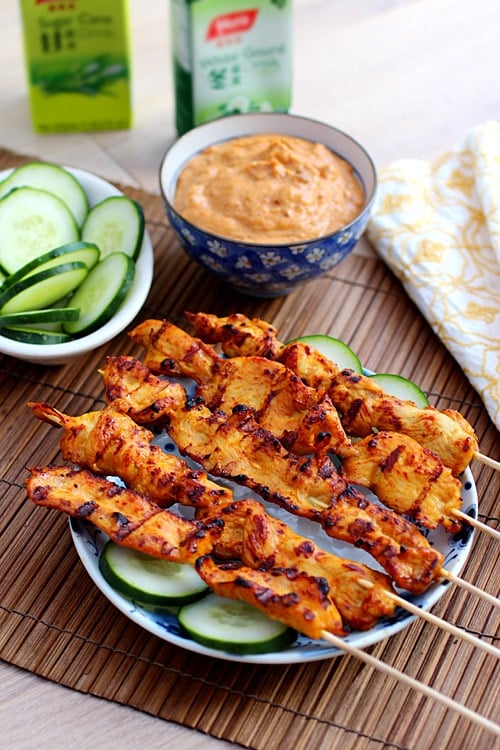 Thai Peanut Sauce