Lemon butter sauteed scallops is one of the best scallop recipes, with lemon butter sauce, garlic and bay scallops. Learn how to cook scallops with this easy 10 minutes recipe on skillet.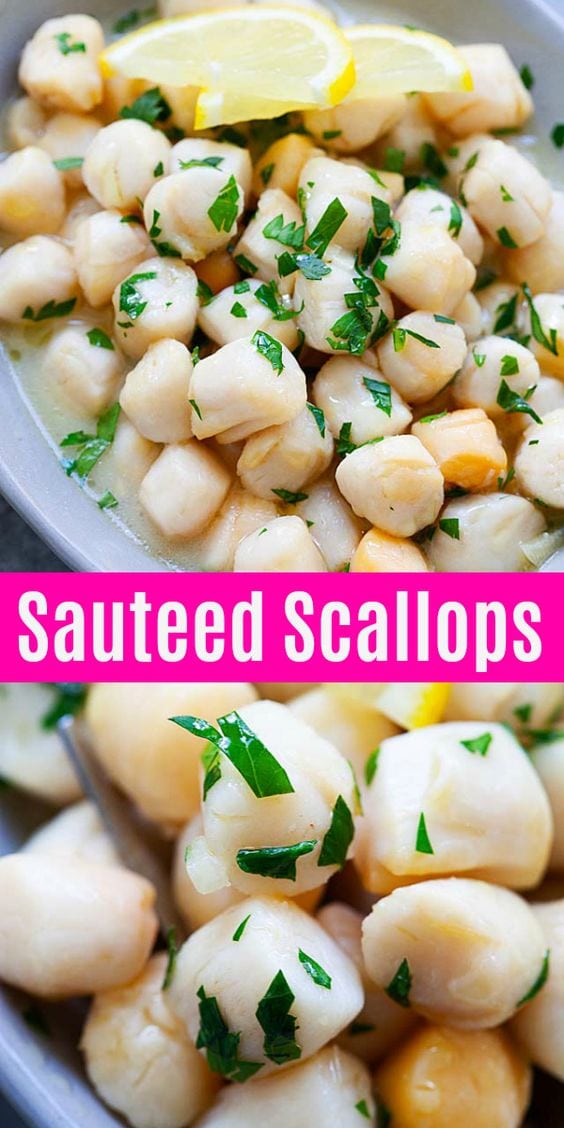 Scallop Recipes
I love scallops and have many scallop recipes on my site. This sauteed scallops with lemon butter sauce and garlic is the best way to cook scallops. For this recipe, I used bay scallops.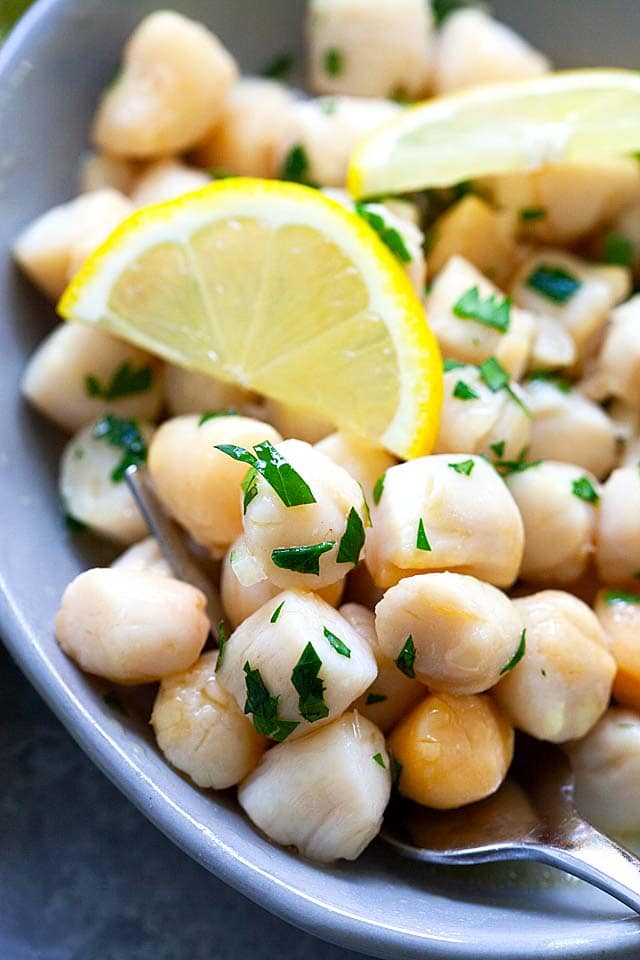 Other Scallop Recipes You Might Like
How to Cook Scallops?
Cooking scallops is very easy, especially a quick saute with a bit of fat such as olive oil and/or butter on a pan or skillet.
You can use a non-stick, stainless or cast-iron skillet to cook scallops, both sea scallops and bay scallops. The technique and method are the same, however the cooking time differs based on the type of scallops used and how big they are.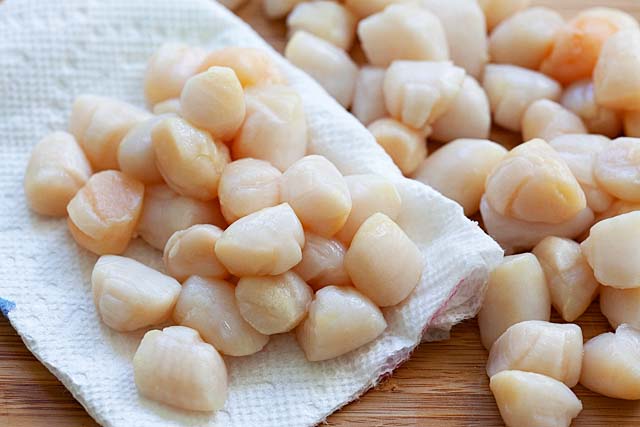 Bay Scallops vs. Sea Scallops
Bay scallops are found from the coasts of North Carolina to Massachusetts in north America. They are also called Cape Cod or Long Island Scallops. Bay scallops are commonly sold in the seafood department of grocery stores, fresh or frozen.
They are smaller in size compared to sea scallops, and the color ranges from creamy ivory color to light pink. Some has a slight yellow tint. Bay scallops are very sweet and very tender.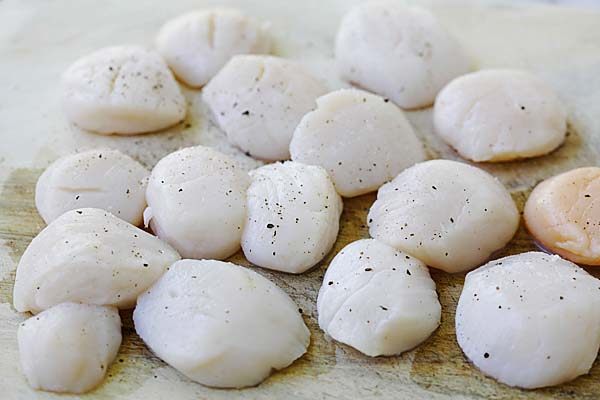 Sea scallops are also called diver scallops and they are commonly served in restaurants. They are found from the Gulf of Mexico to North Carolina. Some are farm raised and imported. Sea scallops are bigger in size but the taste is not as sweet as bay scallops.
Both types of scallops are great for broiling, sauteing, grilling and poaching.
Ingredients for Sauteed Scallops
This sauteed scallops recipe calls for the following ingredients:
Scallops
Garlic
Olive oil/butter
Lemon juice
White wine. Optional
Salt and ground black pepper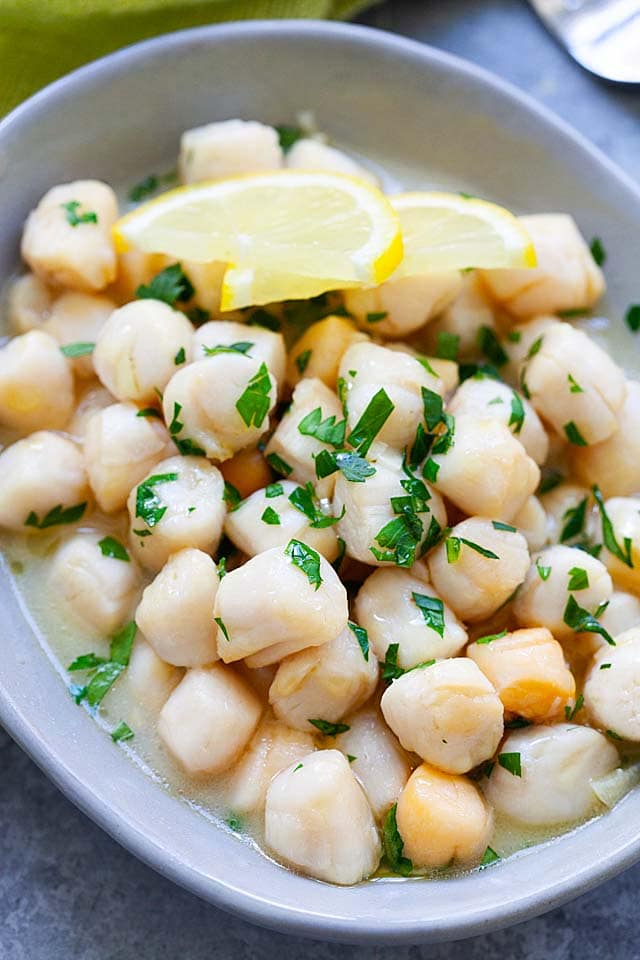 Cook's Tips
Buy natural scallops. Ask your fishmonger or look for the description on the label if you buy frozen scallops.
Rinse the scallops with water and pat dry with paper towels. This will make sure that the sauteed scallops won't turn overly watery after cooking.
Bay scallops cook very fast, as soon as they turn opaque and milky water starts to seep out from them, they are cooked. Turn off the heat so they are not overcooked.
Frequently Asked Questions
Are Scallops Healthy?
Yes, scallops are absolutely healthy as they are almost fat free and cholesterol free. They are rich in minerals such as magnesium and potassium. Also, more than 80% of scallops are protein.
How Many Calories Per Serving?
This bay scallops recipe is only 266 calories per serving.
What Dishes to Serve with this Recipe?
This dish is best served with a main dish of pasta or bread. For a healthy meal and easy weeknight dinner, I recommend the following recipes.

Pairs well with: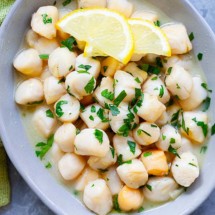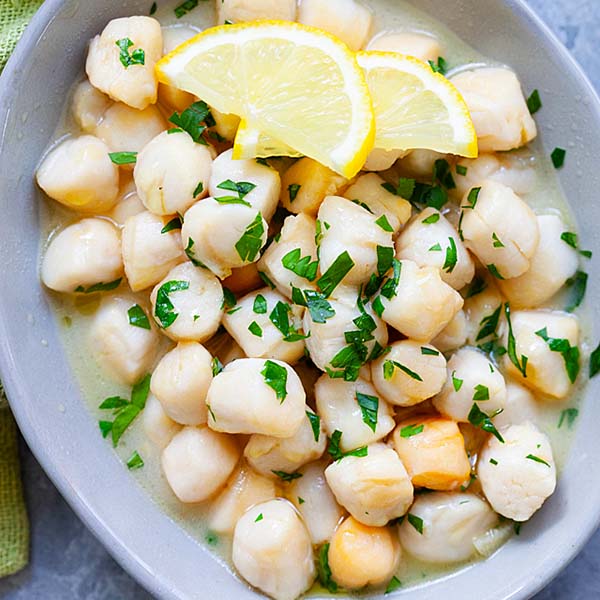 Lemon Butter Sauteed Scallops
Ingredients
1

lb.

frozen bay scallops, thawed, rinsed and pat dry with paper towels

2

tablespoons

unsalted butter, melted

2

cloves

garlic, minced

1

teaspoon

lemon juice

1

pinch

salt

3

dashes

ground black pepper

1

teaspoon

chopped parsley
Click Here for Conversion Tool
Directions
Heat up a skillet with the melted butter. Saute the garlic by stirring with spatula a few times. Add the bay scallops, stir and saute. Add the lemon juice, salt and pepper.

As soon as the surface of the scallops turn opaque and water starts to seep out from the scallops, turn off the heat. Dish out and garnish with parsley. Serve immediately.
Nutrition Facts
Lemon Butter Sauteed Scallops
Amount Per Serving (2 people)
Calories 266
Calories from Fat 117
% Daily Value*
Fat 13g20%
Cholesterol 85mg28%
Sodium 891mg39%
Potassium 485mg14%
Carbohydrates 9g3%
Protein 28g56%
Vitamin A 350IU7%
Vitamin C 1.9mg2%
Calcium 26mg3%
Iron 1mg6%
* Percent Daily Values are based on a 2000 calorie diet.