Garlic Herb Seared Scallops - Easy scallops recipe with a cream sauce infused with garlic and herb. So good and restaurant-quality!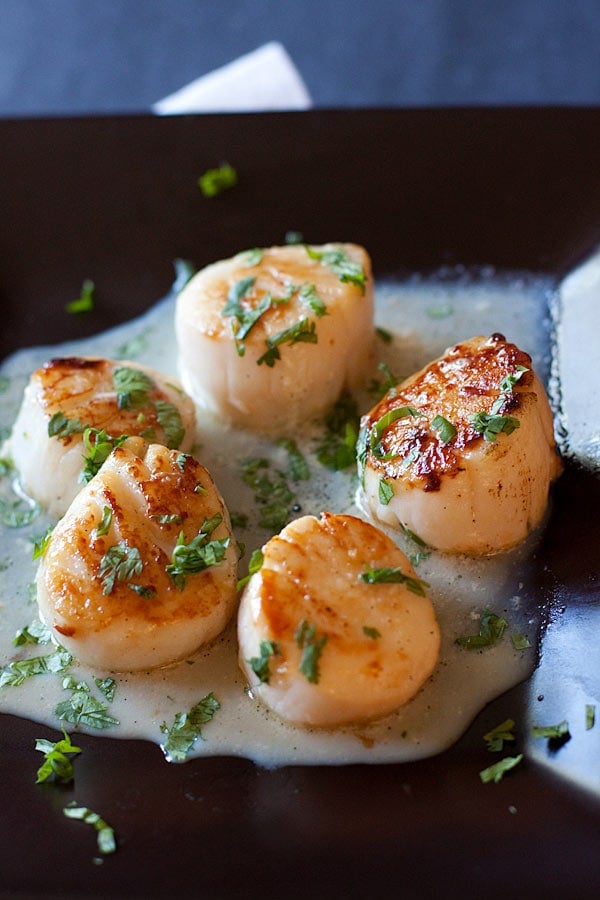 Originally published on Sep 20, 2009. Updated with new photos.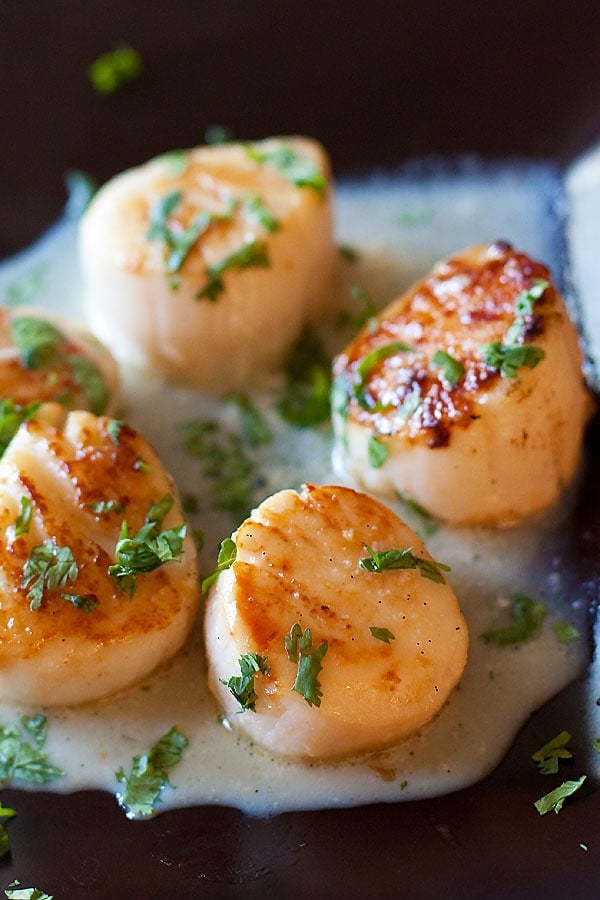 Other Recipes You Might Like
I love scallops, they are one of my favorite seafood and I try to make them as much as I can at home. One of the easiest way to cook scallops is to pan sear them.
The natural briny flavor of scallops shine through in pan-searing, and all you need are a pinch of salt and black pepper.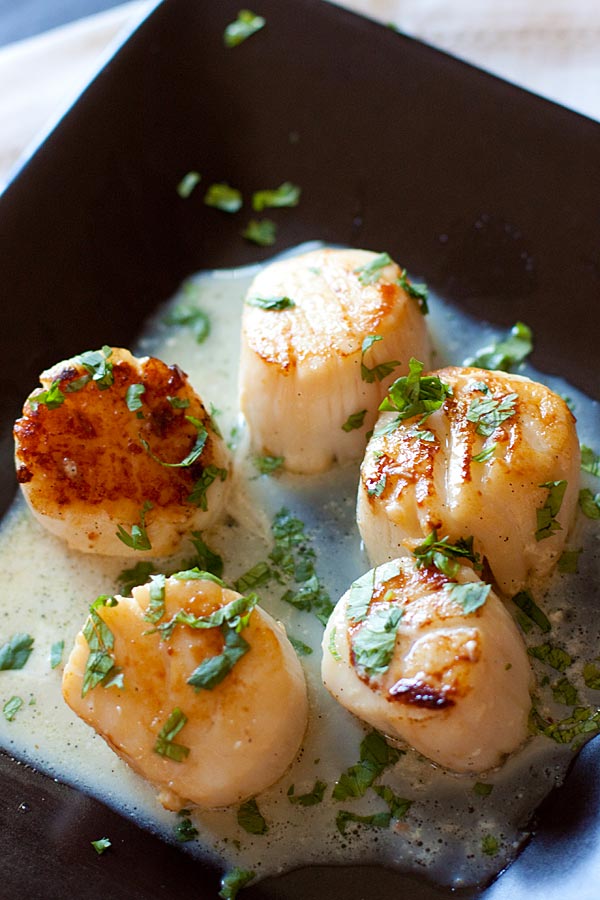 One of my favorite sauce is a simple creamy garlic herb sauce, infused with the wonderful aroma of the garlic and the fresh herb, plus a little bit of white wine.
The taste is simply intoxicating and restaurant quality, right at your own home and at a fraction of the cost.
Pair the scallops with some chardonnay and you might well think that you are actually dining in a fine dining restaurant.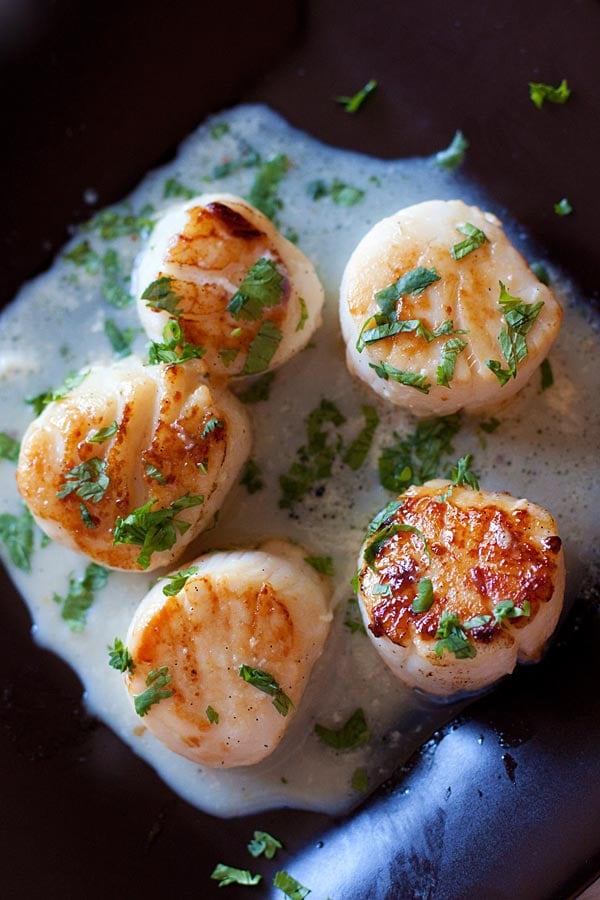 Please bear in mind that there are two kinds of scallops available in the market, one is natural and the other is treated with water. When buying scallops, always get the natural untreated scallops as they taste absolutely divine.
They look opaque (instead of translucent) and milky white in color. The ones treated with water have up to 30% water content and the flavor is a far cry from the "real" scallops.
Costco is a great place to buy scallops, always fresh, big, succulent and untreated. It's expensive but they are well worth the money spent.
How Many Calories per Serving?
This recipe is only 398 calories per serving.
What Dishes to Serve with This Recipe?
For a wholesome meal and easy weeknight dinner, I recommend the following recipes.
5 Secrets to 20 Min Dinners
Get tricks for quick & easy meals!
Yield: 2 people
Garlic Herb Seared Scallops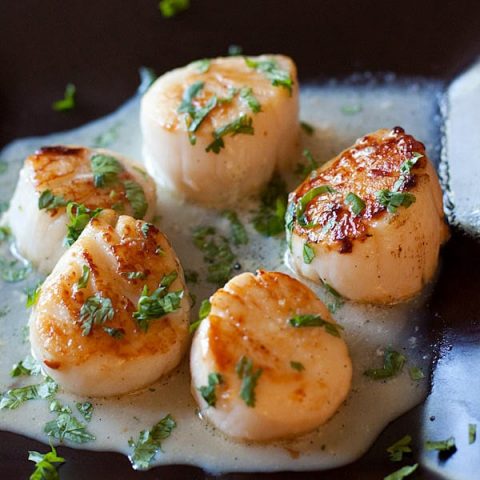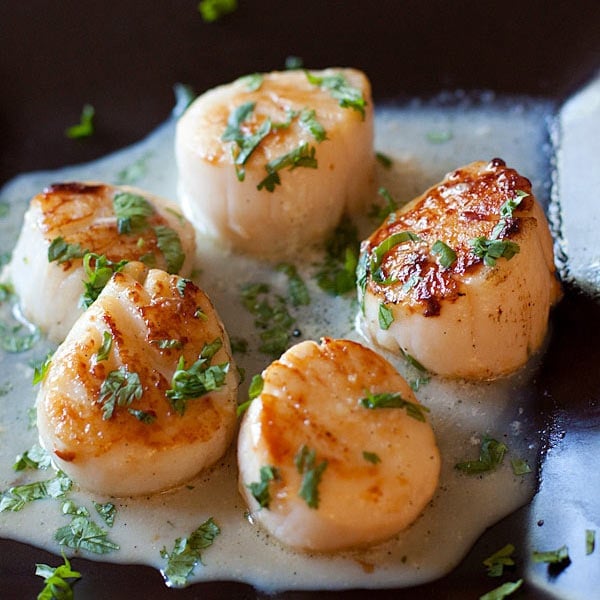 Garlic Herb Seared Scallops - Easy scallops recipe with a cream sauce infused with garlic and herb. So good and restaurant-quality!
Ingredients
1 lb. (0.4 kg) scallops
1 Pinch salt
Freshly cracked black pepper
1 tablespoon olive oil
1 tablespoon chopped flat leaf parsley leaves, for garnishing
Sauce:
1 tablespoon butter, room temperature
1 clove garlic, minced
1/4 cup heavy whipping cream
1/4 cup white wine
1 Pinch salt
Instructions
In a sauce pan, heat the butter and add the garlic, saute until aromatic before adding the heavy cream and white wine. Simmer on low heat until it reduces. Add salt and turn off the heat.
Season the scallops with salt and pepper. Heat up a skillet on medium heat, add the olive oil. Pan-sear the scallops for 1-2 minutes on each side until nicely browned and inside cooked through.
Transfer the scallops on a serving platter, spoon over the sauce and garnish with the parsley. Serve immediately.
Nutrition Information
Yield
2
Serving Size
2 people
Amount Per Serving
Calories

398
Total Fat

24g
Saturated Fat

11g
Unsaturated Fat

0g
Cholesterol

110mg
Sodium

992mg
Carbohydrates

9g
Protein

28g