Har Gow (虾饺 ) is a popular Cantonese dim sum. The shrimp dumpling is made of shrimp and wrapped with a translucent wrapper. This recipe is homemade, easy and delicious!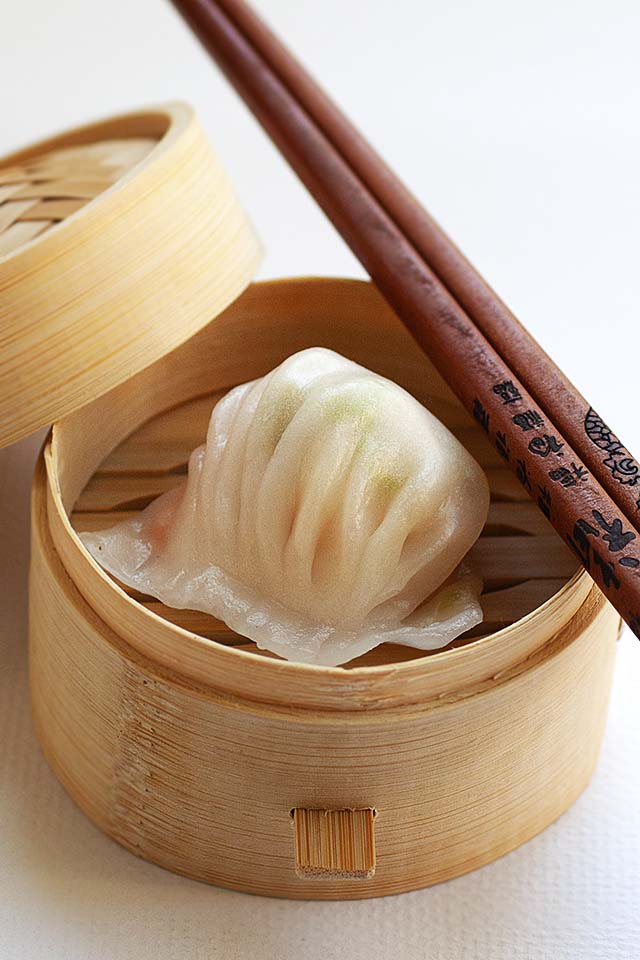 Har Gow
Har gow is one of the most popular Cantonese dim sum.
There is nothing not to love about these translucent skin shrimp dumplings, with plump and juicy shrimp wrapped inside the clear dumpling skin.
Originated from Guangzhou, China, these dainty shrimp dumplings have won the world over and become a staple Chinese food in Chinatown.
Har gau dumpling can also be found in many Chinese-Cantonese dim sum restaurants in Hong Kong, Vancouver, Toronto, Singapore, Malaysia, Sydney, London and more!
Without har gow, a dim sum meal is incomplete, no matter how many char siu bao or shu mai you have.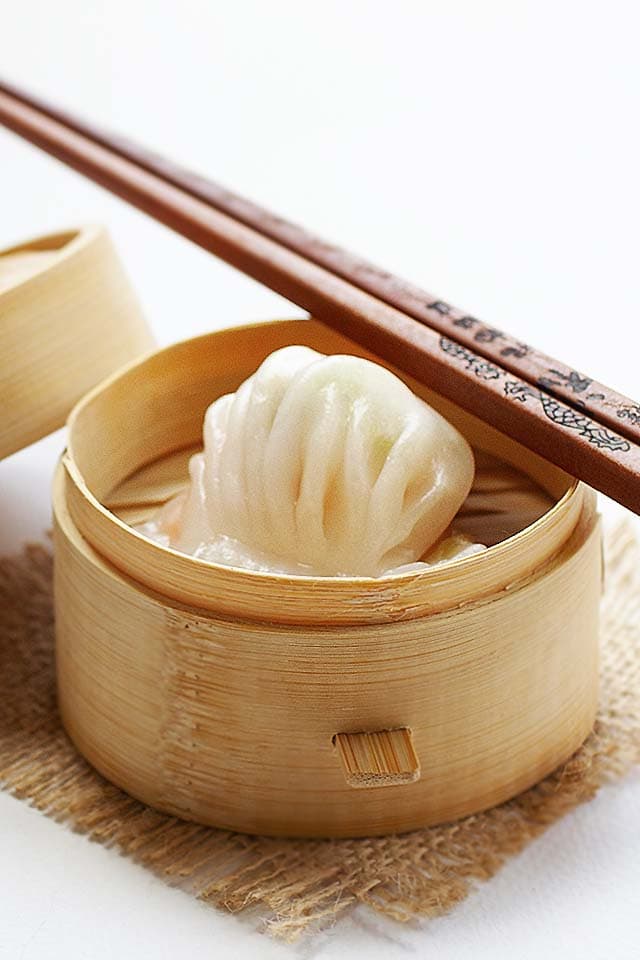 Other Shrimp Dumpling Recipes You Might Like
Har Gow Recipe
It's very easy to make this Cantonese delicacy at home and I have the best har gow recipe for you.
This recipe is homemade. I learn how to make har gao by watching legendary Cantonese dim sum chefs making these shrimp dumplings from scratch.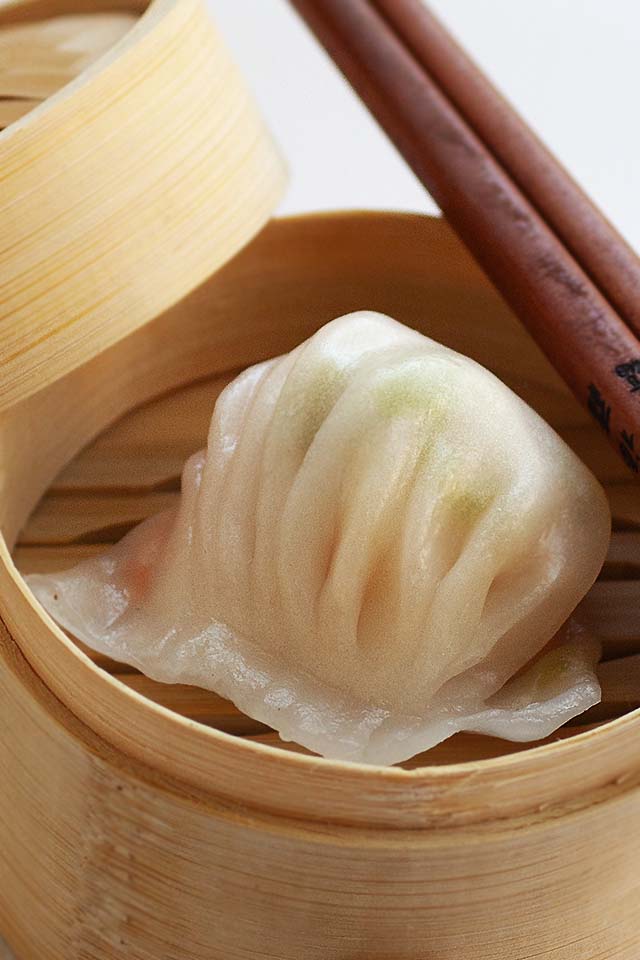 Fillings of Har Gow Shrimp Dumplings
For authentic Cantonese har gow, there are two types of shrimp fillings:
A lump of shrimp, cut into pieces, with mince-size pieces of bamboo shoots.
A lump of shrimp, mince-size pieces of pork fat, bamboo shoots, and sometimes with sliced gailan stems.
The first filling is the most common and the ingredients are halal, so even Muslims can enjoy them.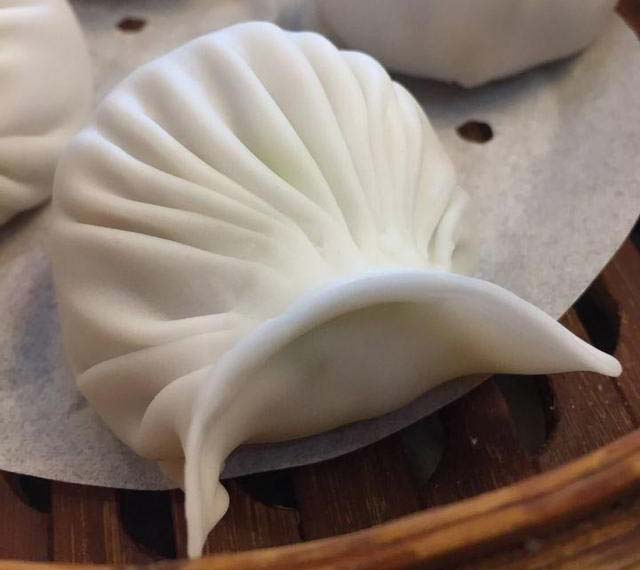 Cook's Tips
For the best results, please follow the tips below:
Use a traditional bamboo steamer to steam the har gow dumplings.
If you don't have a bamboo steamer, you may use a regular steamer. Just line the steamer with a plate, a piece of parchment paper, or a leave of napa cabbage.
For the best shrimp texture that is both crunchy and crisp, check out "How to Make Shrimp Crunchy" before making the shrimp filling.
Steam the dumplings on demand, or whenever you want to serve or eat them. These shrimp dumplings are best served hot-off-the-steamer.
Frequently Asked Questions
Is Har Gau Halal?
This recipe is halal but other recipes might have pork lard in it.
Can I Freeze the Dumplings?
You may make the dumplings ahead of time and freeze them in the refrigerator.
Just make sure that you place the dumplings on a single layer in a plastic bag before freezing.
To cook, just thaw the dumplings at room temperature and steam for 8 minutes before serving.
How Many Calories per Serving?
This recipe is only 172 calories per serving.
What to Serve with This Recipe?
Serve this shrimp dim sum with other Cantonese recipes such as wonton soup or Chinese roast pork.
For an authentic Cantonese dim sum meal at home, I recommend the following recipes.

For more great recipes like this, sign up for our newsletter. We'll send daily recipes you'll love!
Join
Sign up for our newsletter!
Shrimp Dumplings (Har Gow)
Har Gow (虾饺 ) is a popular Cantonese dim sum. The shrimp dumpling is made of shrimp and wrapped with a translucent wrapper. This recipe is easy and the best!
Ingredients
Dumpling Wrapper:
1 ½

cups

wheat starch

(plus extra for kneading)

2

tablespoon

tapioca starch

1

cup

boiling water

1

tablespoon

oil
Instructions
Shrimp Filling:
Mix the shrimp and the rest of the ingredients together. Stir to combine well or until the filling becomes sticky. Chill in the refrigerator.
Dumpling Wrapper:
On a clean, dry and flat working surface, combine the wheat starch and the tapioca starch together. Make a well in the center and add the hot water.

Add the oil and knead until you get a smooth dough. You may dust some wheat starch on the working surface while kneading.

Divide the dough into 3 portions and form each into a cylinder, about 1-inch diameter. Cover it with a damp towel, let it rest for 15 minutes.

Cut the cylinder into rounds, about a quarter inch thick each. Roll each round out using a rolling pin to form a round dumpling wrapper. (You may make the wrapper 1 hour in advance. Just remember to cover them with a damp towel.)

To wrap the dumplings, place 1 teaspoon of the Shrimp Filling on the center of the wrapper. Fold up to form a half moon shape and start pleating and folding the dumpling from one end. Traditionally, har gow should have at least seven pleats on each dumpling but preferably they will have ten or more pleats.

Press and seal tight by pinching with your fingers. You may also use a bit of water to seal the dumpling. Repeat the steps above until all dumplings are wrapped.

To steam the dumplings, line the bamboo steamer or regular steamer with parchment paper. Place the dumplings on the lined steamer and steam for 8 minutes.
Notes
Instead of making the dumpling wrapper from scratch, you may use Har Gow wrapper flour. You can find it at Chinese food stores.
Nutrition

Nutrition Facts

Shrimp Dumplings (Har Gow)

Amount Per Serving (1 g)

Calories 172

Calories from Fat 63

% Daily Value*

Fat 7g11%

Cholesterol 143mg48%

Sodium 1056mg46%

Carbohydrates 10g3%

Protein 16g32%

* Percent Daily Values are based on a 2000 calorie diet.

Notice: Nutrition is auto-calculated, using Spoonacular, for your convenience. Where relevant, we recommend using your own nutrition calculations.