Shrimp dumplings - Popular Chinese/Cantonese dim sum (har gow) made with shrimp and wrapped with a translucent skin, super yummy and easy to make.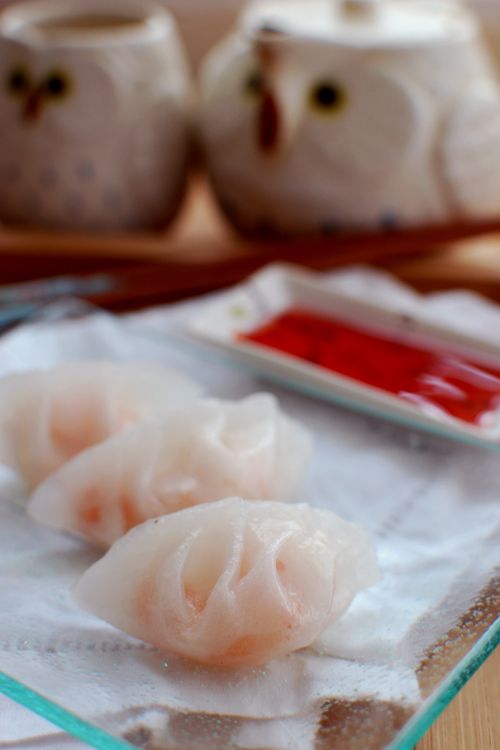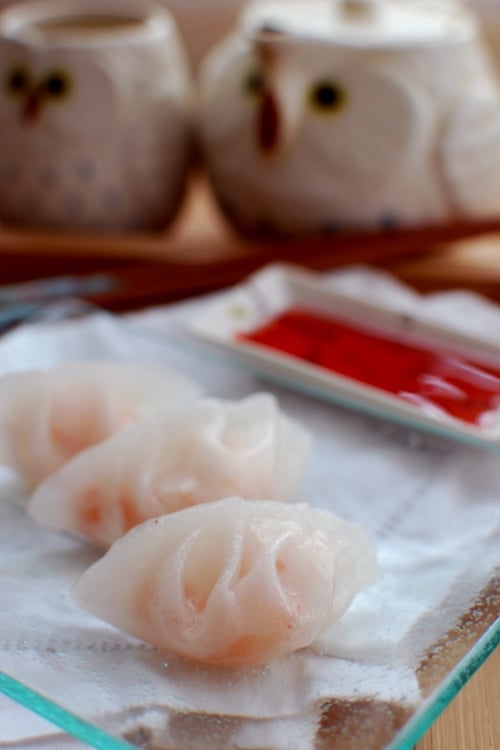 If there was ever an official mascot for dim sum, "har gow" would definitely be a strong contender. What's not to love about? Pump and juicy shrimp just barely visible through its clear dumpling skin, what a tease to the senses.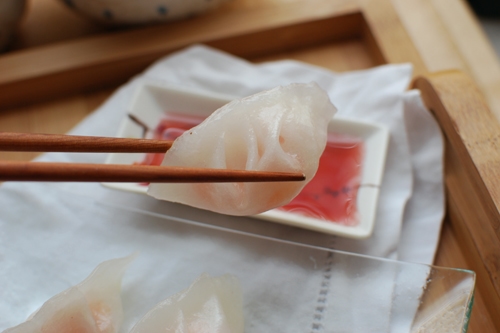 A dim sum meal without it would not be complete for me. Growing up I was lucky enough to live within walking distance to many Chinese restaurants in Philadelphia, and most of my Sunday afternoons were spent eating dim sum. With all my years of eating har gow, I never tried making it until early this year.
This recipe is a combination from what I have learned from watching how my mom and dad makes it, and how my uncle makes it.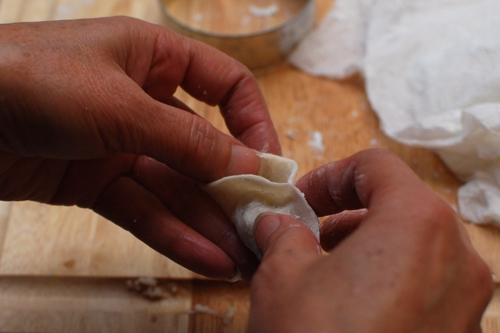 Different Shrimp Dumplings
There are usually two types of filling you would find in har gow.
Number one: A lump of shrimp meat usually with mince size pieces of bamboo.
Number two: Minced shrimp combined with either bamboo or water chestnut.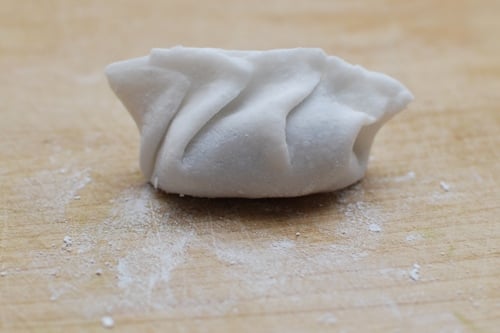 Cook's Tips
I prefer filling number two. When you bite into it, the elasticity of the minced shrimp mixture is a nice contrast against the transparent skin.
Don't worry about getting a bamboo steamer if you don't have one. Simply line a regular steamer or a plate with either napa cabbage or thin slices of carrots.
How Many Calories Per Serving?
This recipe is only 407 calories per serving.
Pairs well with: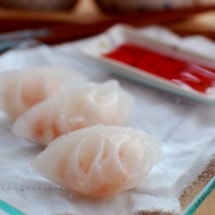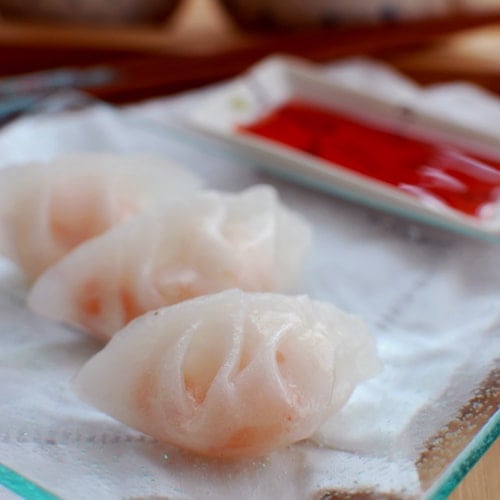 Shrimp Dumplings Recipe (Har Gow/虾饺)
Shrimp dumplings/har gow/虾饺 is a popular Chinese/Cantonese dim sum. Made with shrimp and wrapped with a translucent skin, shrimp dumplings/har gow is yummy.
Ingredients
The Filling:
1

lb

peeled and deveined shrimp

2

tablespoons

minced bamboo shoots

1

tablespoon

minced scallion, white part only

1

tablespoon

finely grated ginger

2

tablespoons

minced pork fat

3

teaspoons

soy sauce

2

tablespoons

Shaoxing wine

or dry sherry

2

teaspoons

sugar

½

teaspoon

salt

2

teaspoons

sesame oil

4

teaspoons

tapioca starch, potato starch, or corn starch

3

dashes

white pepper
The Wrapper:
1 ½

cups

wheat starch, plus extra for kneading

2

tablespoon

tapioca starch

1

cup

boiling water

1

tablespoon

lard, If you don't want to use lard, you can add oil

OR

A bag of Har Gow wrapper flour
Click Here for Conversion Tool
Directions
For the filling:
Finely mince the shrimp and add in all the ingredients for the filling.

Mix until everything is incorporated and the mixture almost has an elastic feel to it. One trick my mom taught me is to mix it in one direction. Set aside and place in the refrigerator for 2 hours.
For the wrappers:
There is no shame in buying a bag of Har Gow wrapper flour. You still have to do the work of kneading and rolling it out and they taste perfectly good. You should be able to find Har Gow wrapper flour in most Asian grocery stores.

If you want to make your own, here are the instructions:

In a large bowl combined the wheat starch and the tapioca starch together.

Make a hole in the circle of the bowl and pour the hot water in.

Add the lard and combine until a ball of dough starts to form.

Transfer the dough into a floured surface and knead until the dough is smooth.

Divide the dough into 3 pieces and form it into a cylinder shape. Cover it with a damp towel or napkin and let it rest for about 15 minutes.

After 15 minutes cut the cylinder into 1 inch diameter and about a quarter inch thick pieces.

Roll the dough out into round pieces.

You can make the wrappers 1hrs or 2hrs before you need it. Just remember to cover it with a damp towel or napkin.
Wrapping the dumplings:
There really is no easy way to wrap these dumplings. It took me a few times before I got the hang of it and I'm still not as good and lighting fast as my mom. Just remember to try to evenly pleat your pleats and make sure each dumpling has an equal amount of filling. Traditionally there are about 7 pleats per dumpling, but I've only mastered 4 and sometimes 5 if it's my lucky day.

Start by taking your filling and place it in the middle.

Pleat the front side of the dumpling. Bring the back side forward and seal it with the front. Use water to seal your dumpling.
Cooking and freezing the dumplings:
Before you steam your dumpling, line your steamer or plate with either nappa cabbage or thinly slice pieces of carrots.

If you are using nappa cabbage, briefly cook the cabbage in water so that it would lay flat on the steamer.

Place the dumplings on the lined steamer and cook for about 10 minutes.

If you are freezing the dumplings, flour a baking sheet and carefully place the dumplings on it.

Place that in the freezer. Once the dumplings are hard and frozen, you can transfer it into a ziploc bag.
Nutrition Facts
Shrimp Dumplings Recipe (Har Gow/虾饺)
Amount Per Serving (4 people)
Calories 407
Calories from Fat 90
% Daily Value*
Fat 10g15%
Cholesterol 292mg97%
Sodium 1429mg62%
Potassium 150mg4%
Carbohydrates 45g15%
Protein 29g58%
Vitamin A 200IU4%
Vitamin C 6.3mg8%
Calcium 180mg18%
Iron 4.9mg27%
* Percent Daily Values are based on a 2000 calorie diet.