Scallion Oil Noodles - 3-ingredient noodles with aromatic scallion oil. So easy, delicious and takes only 15 minutes.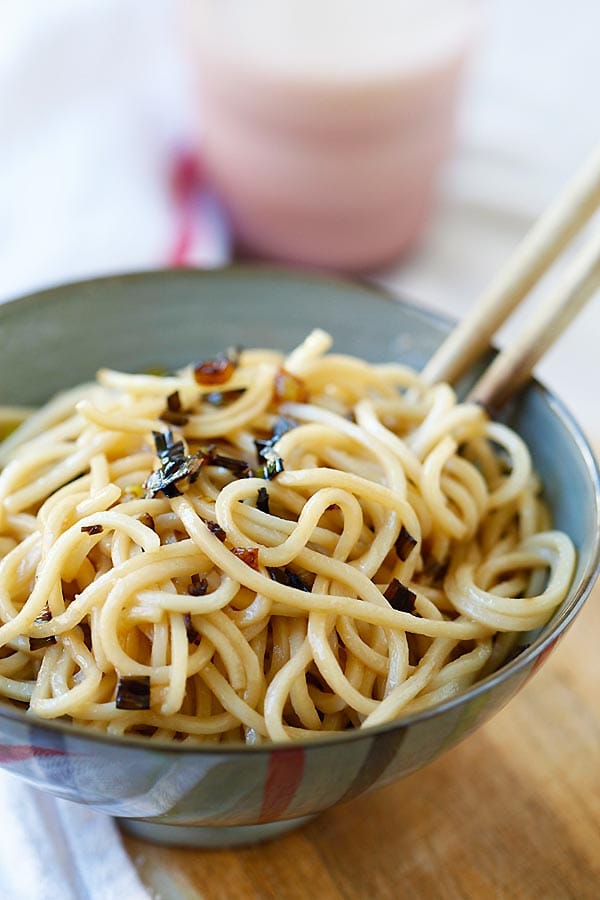 Originally published on Jan 3, 2011, updated with new photos.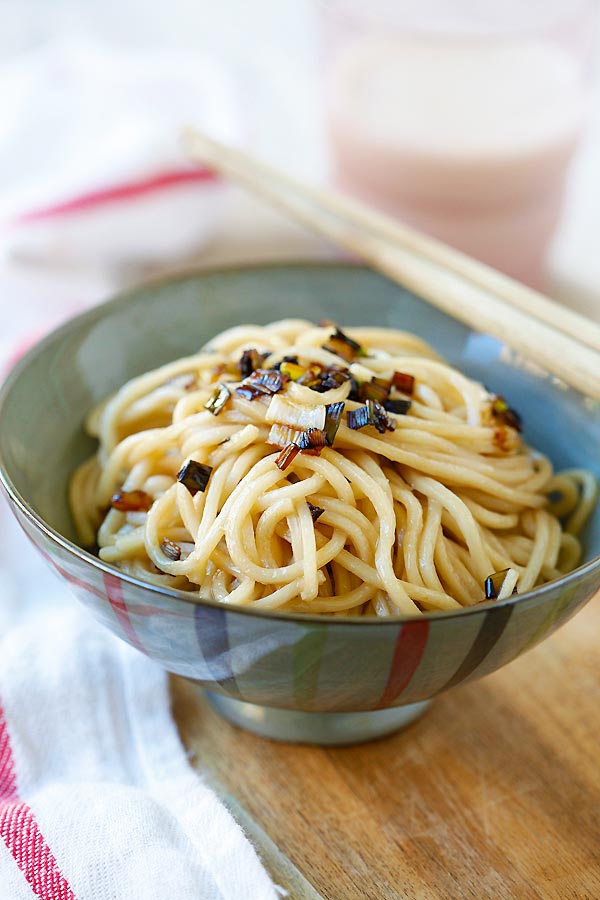 Living in Southern California, in the city of Irvine where lots of Taiwanese expatriates congregate, I'm spoiled by the many great Taiwanese restaurants and eateries.
One of my favorite things to eat during the weekend is Taiwanese-style breakfast/brunch where simple fare such as soy bean milk, fried you tiao (Chinese crullers), scallion pancake, and noodles are served. Taiwanese food is humble and homey, but the taste is utterly delicious and satisfying.
Now that it's winter time, nothing beats a serving of warm soy bean milk, some noodles, and other Taiwanese-style appetizers such as salt and pepper chicken.
Other Recipes You Might Like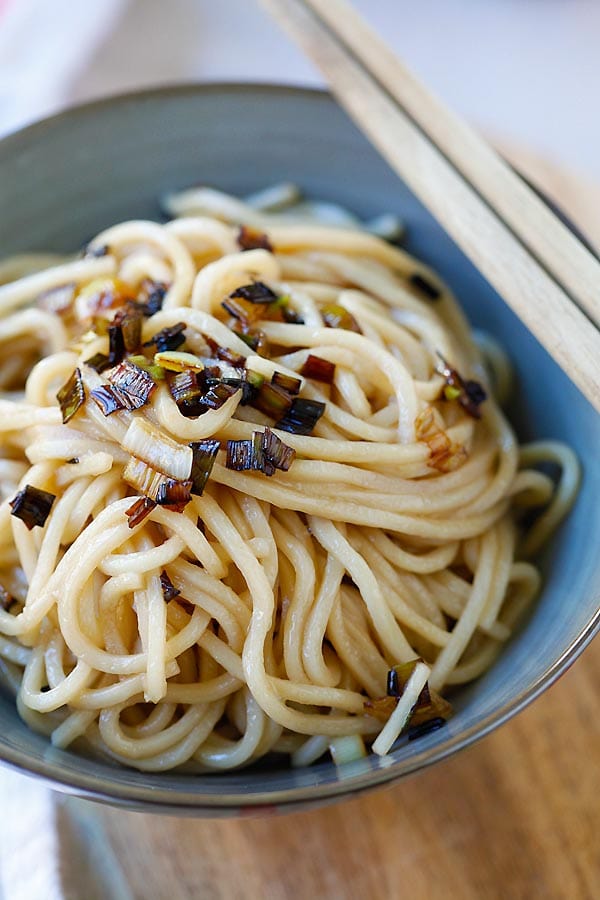 One of the noodles that I particularly enjoy is 葱油拌面, or noodles tossed with scallion oil. Using the most basic ingredients of noodles, scallion, oil, this is a delicious dish infused with the mouthwatering aroma and flavor of scallion oil (葱油) and the savory flavor of the seasoning sauces.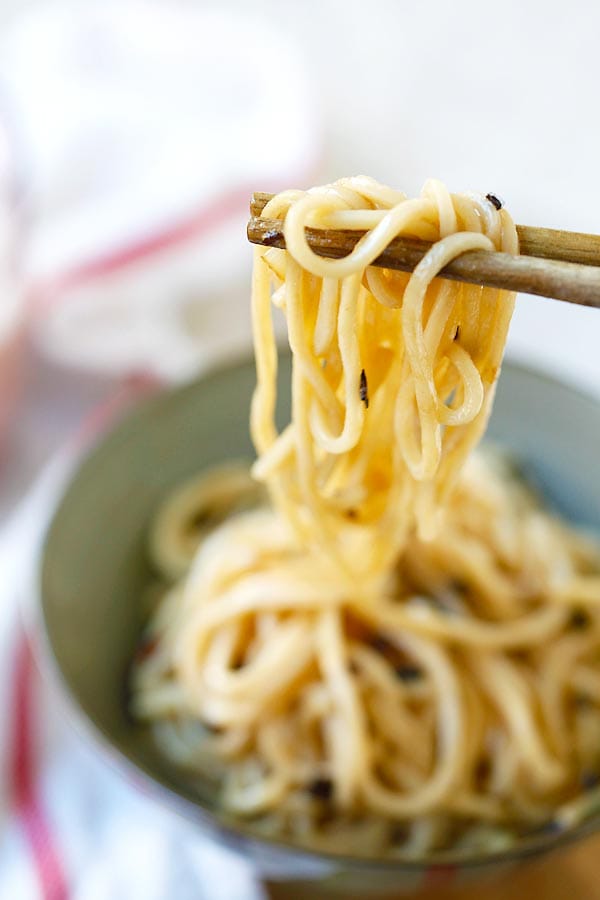 Recreating the recipe at home is really easy and takes 15 minutes. I love eating scallion oil noodles with braised soy-sauce eggs, and down it with soy bean milk—a nutritious lunch combo especially suited for those who are busy.
Enjoy this Taiwanese scallion noodle!
How Many Calories Per Serving?
This recipe is only 380 calories per serving.
5 Secrets to 20 Min Dinners
Get tricks for quick & easy meals!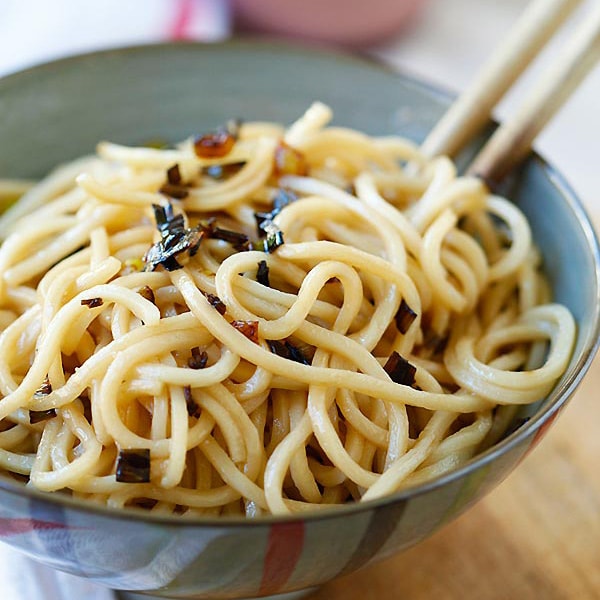 Taiwanese Scallion Oil Noodles Recipe (葱油拌面)
Scallion Oil Noodles - 3-ingredient noodles with aromatic scallion oil. So easy, delicious and takes only 15 mins.;
Click Here for Conversion Tool
Directions
Heat up a wok with the cooking oil until it begins to smoke. Add the scallion and stir continuously with the spatula until the scallion is aromatic and becomes moderately burned. (This process will release the full fragrance of the scallion and infuses the scallion oil with the intense aroma.) Set aside the scallion oil.

Heat up a pot of water until it boils. Cook the fresh noodles al dente. The noodles should be cooked through but still somewhat firm and springy. Drain the noodles and transfer into a serving bowl.

Add the scallion oil, oyster sauce, and soy sauce into the noodles. Using a pair of chopsticks, toss the noodles to blend well with the scallion oil and seasoning sauces. Serve immediately.
Recipe Notes
I used Taiwanese fresh noodles. It's labeled as Fresh Shanghai Noodles or Fresh Noodles. In Chinese, it's called "阳春面."
If you're health-conscious, use less oil (2 - 2 1/2 tablespoons). The noodle tastes the best with 3 tablespoons scallion oil.
Nutrition Facts
Taiwanese Scallion Oil Noodles Recipe (葱油拌面)
Amount Per Serving (1 people)
Calories 380
Calories from Fat 693
% Daily Value*
Fat 77g118%
Sodium 5448mg237%
Potassium 472mg13%
Carbohydrates 147g49%
Protein 25g50%
Vitamin A 240IU5%
Vitamin C 4.5mg5%
Calcium 83mg8%
Iron 9.5mg53%
* Percent Daily Values are based on a 2000 calorie diet.