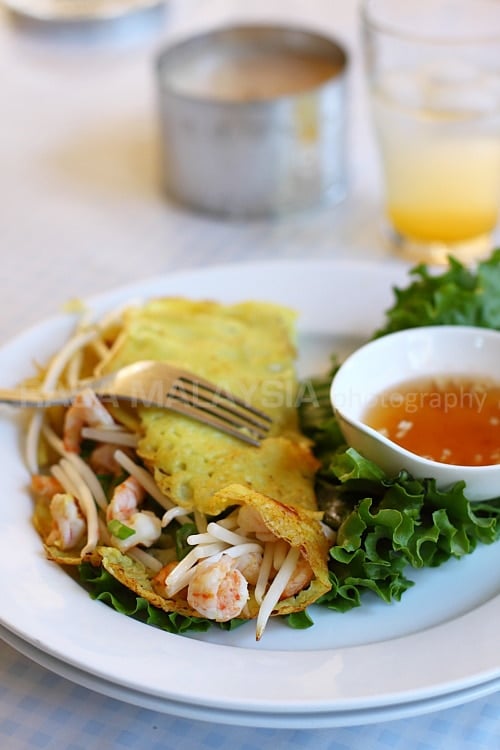 Banh Xeo Recipe (Vietnames Coconut Crepes with Pork, Shrimp, and Bean Sprouts)
Adapted from Southeast Asian Flavors
Makes 6 ten-inch crepes
Ingredients:
Rice Batter:
2 cups rice flour
1/4 teaspoon turmeric powder
1/2 teaspoon salt
1 1/2 cup water
3/4 cup canned coconut milk
3 scallions, thinly sliced on extreme angle, about 1/4 inch thick
Fillings:
1 cup lard or vegetable oil
1/4 lb. pork shoulder, cut into thin slices
1/4 lb. small shrimp, peeled and deveined, slices in halves lengthwise
1/4 teaspoon salt
1/2 cup sliced yellow onions, about 1/8 inch thick
1 to 2 medium long red chilies, sliced thinly into rings, about 1/8 inch thick
3/4 cups sliced mushrooms, 1/8 inch slices
2 cups bean sprouts (trimmed preferred)
Method:
In a large bowl whisk together the rice flour, turmeric powder and salt. Add water and coconut milk and whisk until mixture is smooth. Strain through sieve if there are lumps. Set batter to rest for 30 minutes.
Heat up a 10-inch non-stick saute pan or skillet over high heat. Add 1 tablespoon lard/oil and then add one portion of pork, shrimp, onions, scallions, and mushrooms. Stir fry until pork and shrimp are half done, and ladle 1/2 cup of batter into pan. Swirl pan to coat bottom evenly. Add bean sprouts over half the crepe (on the right). Drizzle another 1 tablespoon of lard/oil around outer edge of crepe and lower heat to medium.
Cover pan and cook for 1 minute. Remove cover and continue to cook until edges begin to brown. Loosen crepe from bottom of pan with a soft silicon spatula (hard spatula would break the crepe). When bottom turns light brown and crispy, fold crepe to encase bean sprouts.
Places pieces of cooked banh xeo inside a lettuce leaf, dip in nuoc cham and eat immediately.
Nuoc Cham Recipe
Ingredients:
1/4 cup sugar
1/2 cup warm water
3 tablespoon lime juice
1/4 cup fish sauce
1-2 bird's eye chilies, cut into very fine rings
1 clove garlic, minced finely (optional)
Method:
Add fish sauce, water, sugar and lime juice into a small bowl and mix well until sugar is completely dissolved.
Add garlic and chilies and stir.
Use as tableside condiment as desired.
Most-Pinned Recipes
Ginger Garlic Baked Chicken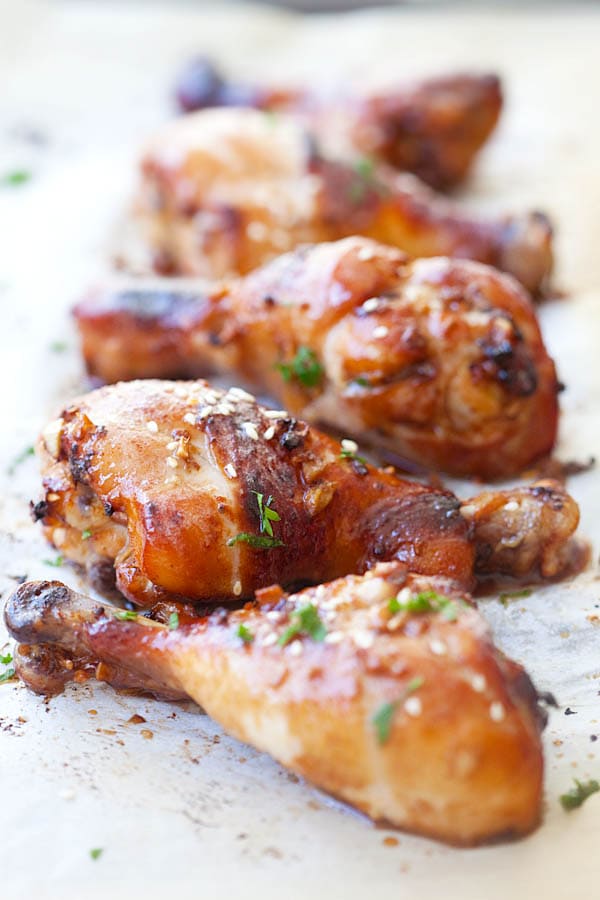 Crab Rangoon (Cream Cheese Wontons)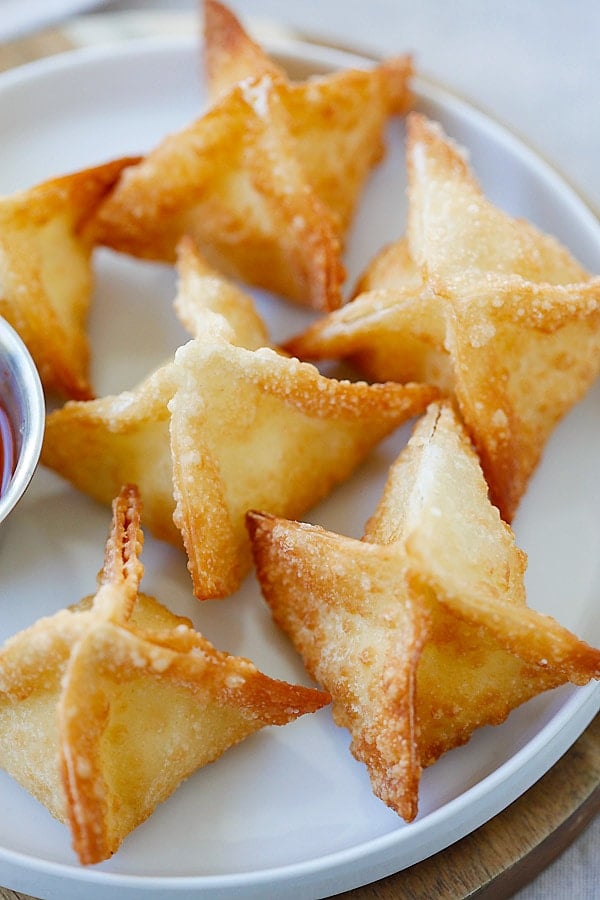 Chicken Wontons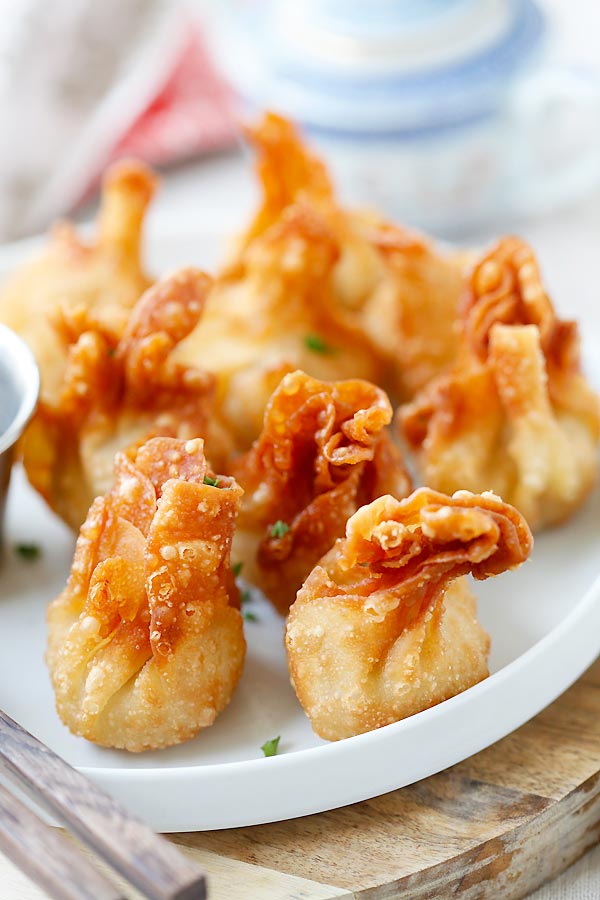 Onion Scallion Beef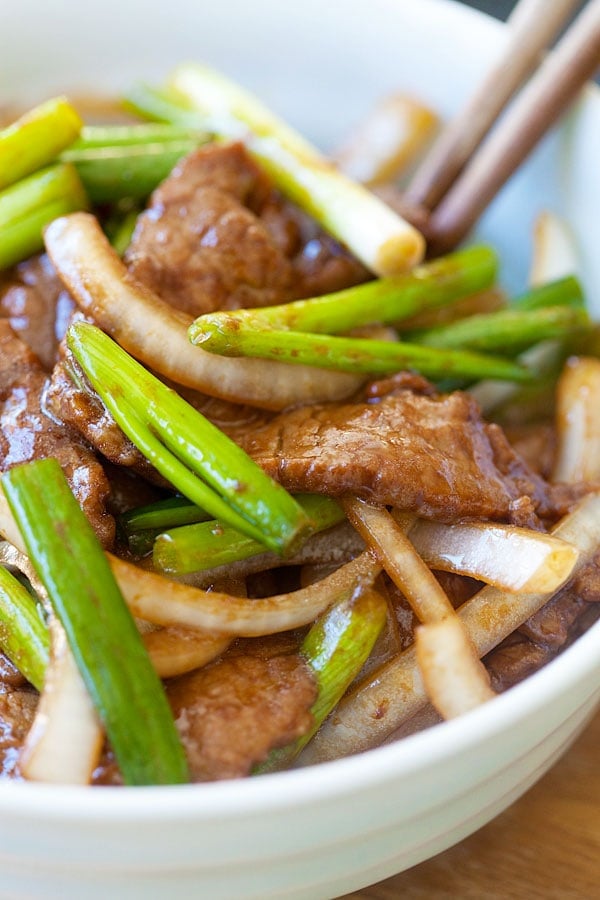 Thai Chicken Sate with Peanut Sauce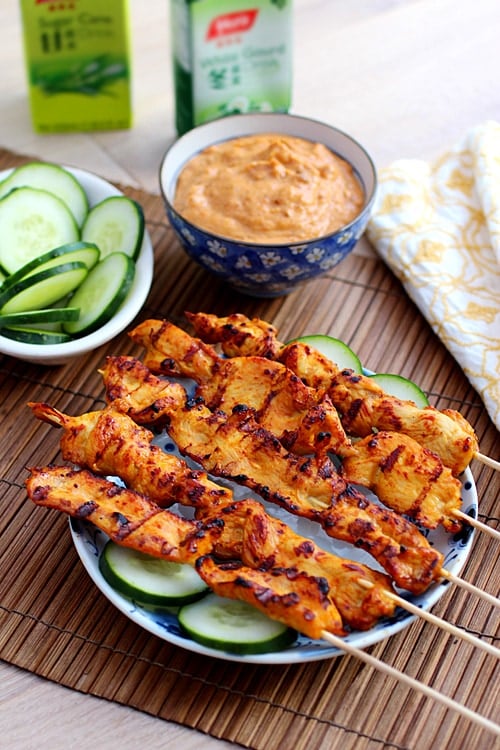 Thai Peanut Sauce