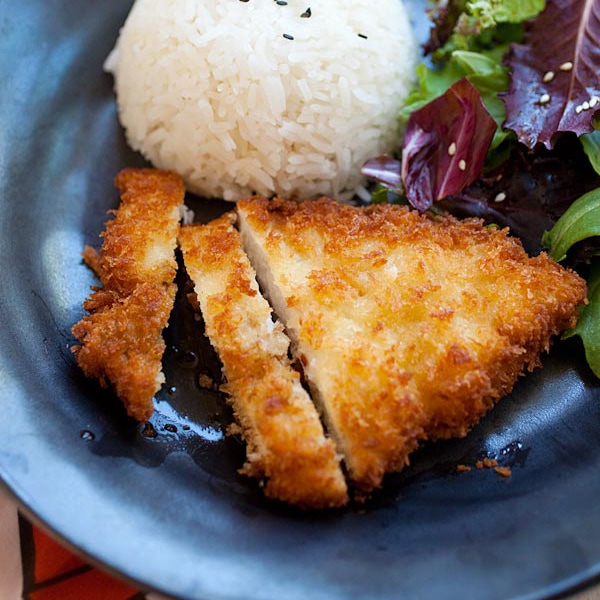 Chicken Katsu (Fried Chicken Cutlet)
Chicken Katsu is Japanese fried chicken cutlet with bread crumbs/panko. Easy chicken katsu recipe, served with Tonkatsu sauce
Prep time:
Cook time:
Total Time:
Ingredients:
10 oz (300g) boneless and skinless chicken breast
1/2 teaspoon salt
3 dashes black pepper
1 large egg, lightly beaten
1 1/2 cups Japanese bread crumbs/panko
Oil for deep-frying
Method:
1.  Slice the chicken breast horizontally into two slices. Cut each slice into 2 equal-sized pieces. Season with the salt and black pepper. Leave to stand for 10 minutes.
2.  Heat up a pot of cooking oil for deep-frying. Ideal temperature is about 350°F/180°C.
3.  Dip each piece of the chicken into the beaten egg, then immediately coat it with the panko. Shake off the excess.
4.  Dip the chicken into the egg again, and then coat with the panko for the second time. Make sure that the chicken is evenly coated with a thick layer of panko. Repeat the same for the other piece of chicken.
5.  Once the oil is fully heated, gently drop each piece of the chicken into the pot and deep fry until both sides turn golden brown.
6.  Dish out the chicken onto a plate lined with paper towels. Cut the chicken into strips, and serve immediately with steamed rice and tonkatsu sauce.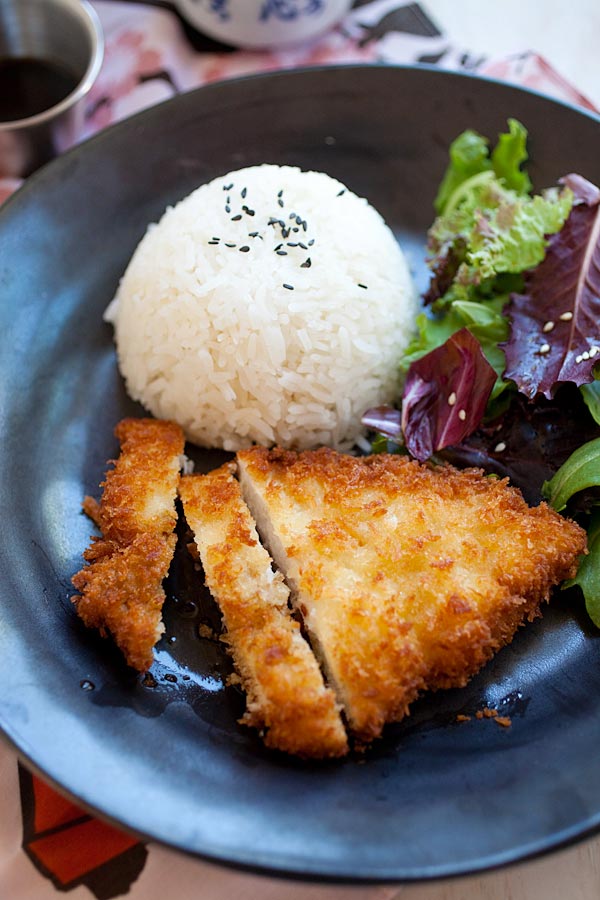 Chicken Katsu
Chicken Katsu is Japanese fried chicken cutlet with bread crumbs/panko. Easy chicken katsu recipe, served with Tonkatsu sauce.
In the United States, when people think of Japanese food, a few items spring to the minds: sushi, sashmi, chicken teriyaki, ramen, and tonkatsu. I believe not everyone loves sushi, sashimi, or ramen, but I think most people like the idea of fried meat. While many people love tonkatsu, or Japanese fried pork cutlet, many people don't eat pork. So, today, I am sharing with you a friendly recipe, chicken katsu (Japanese fried chicken cutlet) that is sure to please. I can assure you that even the pickiest eaters, including toddlers, love a piece of crispy, light, delicious fried chicken coated with a generous layer of panko.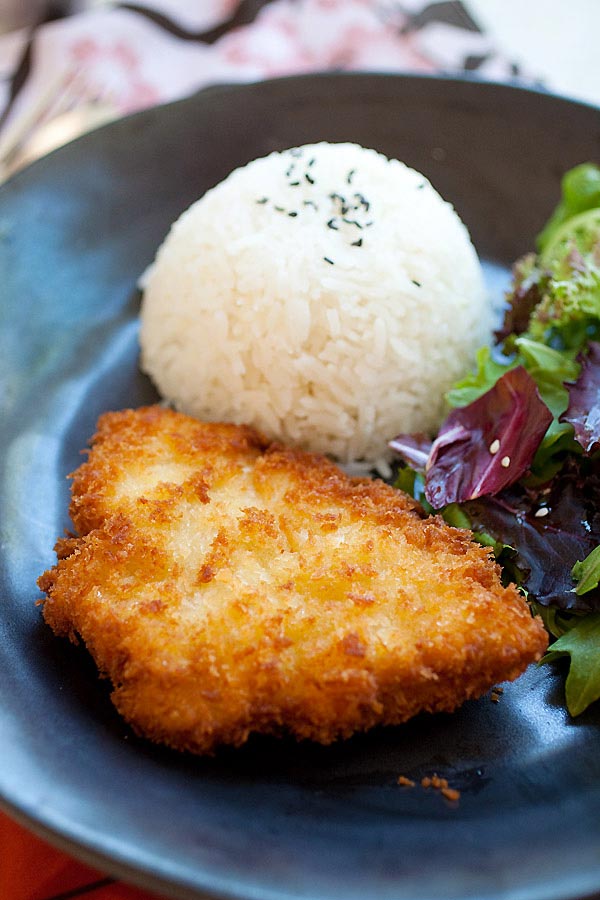 Much like its close cousin tonkatsu (pork), chicken katsu is basically fried chicken cutlet coated with crispy Japanese panko (bread crumbs), served with a tonkatsu dipping sauce, which you can purchase from Japanese or Asian food stores. Traditionally, you coat the meat with flour, and then dip with beaten eggs before coating with panko. For me, I don't like the flour coating because I think it separates the panko crust from the meat after deep-frying, so I improvised my recipe. To make my chicken katsu extra crispy, I coat the chicken with two layers of panko. You can't go wrong with this trick as the end result is a piece of fried chicken cutlet with shattering crispiness. I also don't like the tonkatsu sauce on top of the meat, so I always have the sauce on the side and dip the chicken as I eat to avoid the chicken being soggy.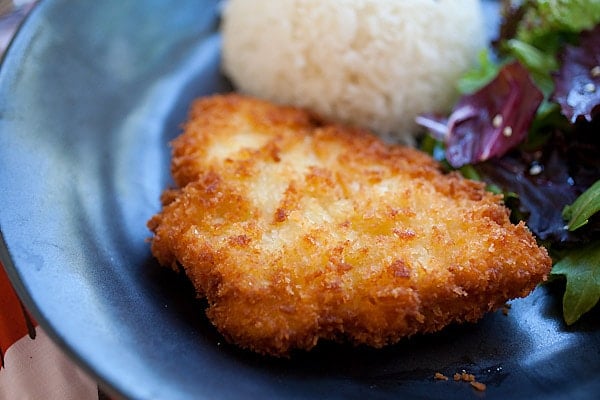 I shared this Chicken Katsu recipe a while ago on a website that I contributed to and thought my readers here on Rasa Malaysia would love it. Since I am making this for my son tonight, I shot some new pictures above and share it here. You can serve chicken katsu with steamed rice and some salad, enjoy!