Fried Wontons Recipe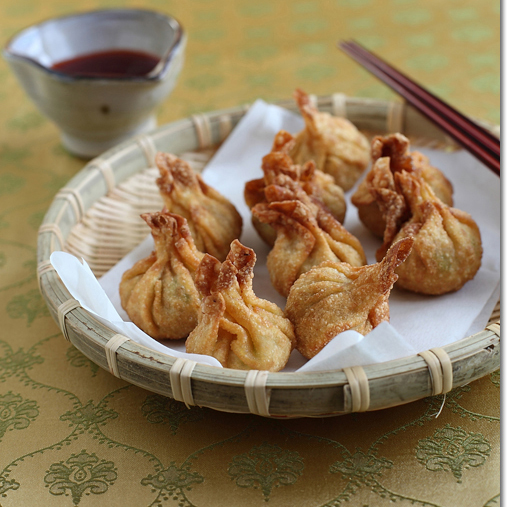 http://rasamalaysia.com/chinese-recipe-fried-wontons/
Fried Wontons Recipe
Ingredients:
1/2 lb ground pork (chicken or turkey)
1/4 lb shrimp (chopped into small pieces)
1 pack wonton wrappers
3 water chestnuts (peeled and chopped into tiny pieces)
1 egg (lightly beaten)
2 sprigs of cilantro (chopped)
1/2 teaspoon sesame oil
1/2 teaspoon cornstarch
1/2 teaspoon fish sauce
3 dashes white pepper powder
Salt to taste
Oil for deep frying
Method:
In a bowl, mix the ground pork, shrimp, water chestnuts, chopped cilantro, and cornstarch. Add in half the beaten egg (save the other half for wrapping the wontons). Mix the ingredients well and season with the fish sauce, salt, and the white pepper. Set aside.
Wrap the wontons with the wonton wrappers. First lay a piece of the wonton wrapper on your palm and add 1/2 tablespoon of the filling in the middle of the wrapper. Dip your index finger into the beaten egg and trace it on the outer edges of the wonton wrapper. Pinch the edges of the wonton wrapper and seal the wonton tight. Heat up some cooking oil in a wok and deep fry the wontons until golden brown. Serve hot with chili sauce or eat plain.
Sign Up for Email Updates
Enter your email for new updates: recipes, giveaways, and more!