Orange Chicken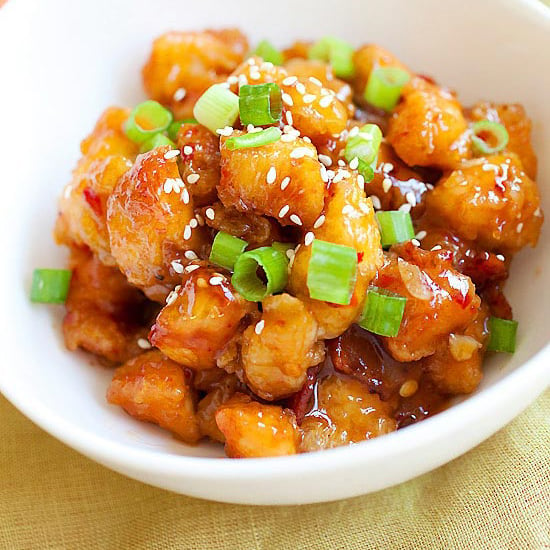 http://rasamalaysia.com/orange-chicken-recipe/
Click "Like" to Get New Recipes
and Updates on Facebook Daily!
Orange Chicken Recipe
Serves 2 | Prep Time: 20 Minutes | Cook Time: 10 Minutes
Ingredients:
8 oz boneless chicken breast, cut into bite-sized cubes
2 teaspoons cooking oil
1-2 tablespoon dried, crushed red chili pepper flakes
2 cloves garlic, minced
1 inch ginger, minced
Orange Sauce
Oil for deep-frying
Salt and sugar, to taste
Orange slice and orange rinds, for garnishing
Marinade:
1 teapoon orange marmalade
1/4 teaspoon salt
1/4 teaspoon cornstarch
A dash of ground white pepper
Frying Batter:
1 egg
1/4 cup all-purpose flour, sifted
2 tablespoon cornstarch
1/2 teaspoon baking powder
1/4 cup water, ice cold
1/2 tablespoon cooking oil
Dash of salt
Orange Sauce:
1/4 cup orange juice
1 teaspoon orange zest, minced
1 tablespoon chili sauce (optional), such as sweet chili sauce, hot sauce of your choice
3 tablespoons chicken broth, or water
1 tablespoon soy sauce
5 teaspoons sugar (3 parts brown, 2 parts white)
1/2 teaspoon sesame oil
1 teaspoon Apple cider vinegar, red wine or Chinese white vinegar
2 teaspoons Chinese rice wine or dry sherry
1 teaspoon corn starch
Method:
Marinate chicken with the Marinade ingredients, set aside for 5-10 minutes.
In a bowl, mix in all the Orange Sauce ingredients. Set aside until further use.
Make the Frying Batter. In a large bowl, whisk eggs and mix in the rest of the Frying Batter ingredients until batter is smooth. Drop in the chicken cubes, mix well, covered and refrigerate for at least 30 minutes to 1 hour.
Heat up a wok with deep-frying oil. Gently drop in the battered chicken cubes, one by one, making sure it is spread out to prevent sticking and over crowding the wok. Deep-fry until color changes to golden brown and completely cooked. Dish out and drain on paper towels.
Heat up wok over medium-high heat with 2 teaspoons of cooking oil. Stir-fry the crushed chili pepper flakes, garlic and ginger until fragrant. Gently pour in the Orange Sauce mixture, stir, and bring it to a light simmer. You may adjust additional seasoning to taste, ie. water (if sauce is too thick, cornstarch solution to thicken sauce), salt, sugar, chili sauce, etc.
Toss in the deep-fried chicken, stir well until sauces all absorbed and lightly thickened up. Dish out and ready to serve with hot steamed white rice.
You Might Also Like These Recipes Below:
LOVE THE RECIPE & PHOTOS? PLEASE SHARE:
Sign Up for Email Updates
Enter your email for new updates: recipes, giveaways, and more!