Taiwanese Scallion Oil Noodles (葱油拌面)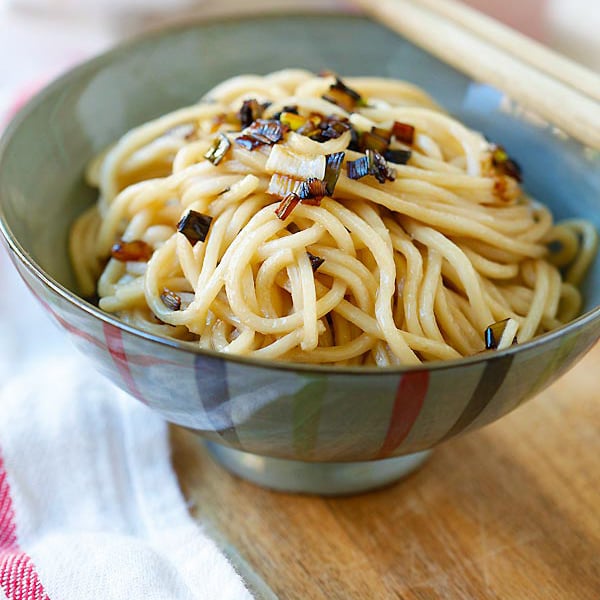 http://rasamalaysia.com/taiwanese-scallion-oil-noodles-recipe/
Taiwanese Scallion Oil Noodles (葱油拌面)
Living in Southern California, in the city of Irvine where lots of Taiwanese expatriates congregate, I'm spoiled by the many great Taiwanese restaurants and eateries. One of my favorite things to eat during the weekend is Taiwanese-style breakfast/brunch where simple fare such as soy bean milk, fried you tiao (Chinese crullers), scallion pancake, and noodles are served. Taiwanese food is humble and homey, but the taste is utterly delicious and satisfying. Now that it's winter time, nothing beats a serving of warm soy bean milk, some noodles, and other Taiwanese-style appetizers…
One of the noodles that I particularly enjoy is 葱油拌面, or noodles tossed in scallion oil. Using the most basic ingredients of noodles, scallion, oil, this is a delicious dish infused with the mouthwatering aroma and flavor of scallion oil (葱油) and the savory flavor of the seasoning sauces.
Recreating the recipe at home is really easy and takes no more than 20 minutes. I love eating scallion oil noodles with braised soy-sauce eggs, or 滷蛋, and down it with soy bean milk (as pictured above)—a nutritious lunch combo especially suited for those who are busy. Enjoy this Taiwanese scallion noodle and I'll follow up with the soy-sauce eggs recipe next.
Click Images Below for Similar Recipes:
LOVE THE RECIPE & PHOTOS? PLEASE SHARE:
Sign Up for Email Updates
Enter your email for new updates: recipes, giveaways, and more!