Steamed Mussels with Lemongrass, Thai Basil, Chilies, and Coconut Juice - This recipe is so easy to make, SO delicious and yummy!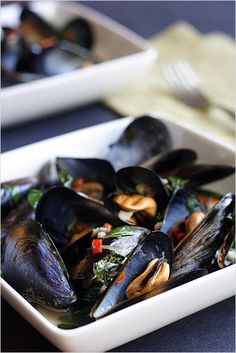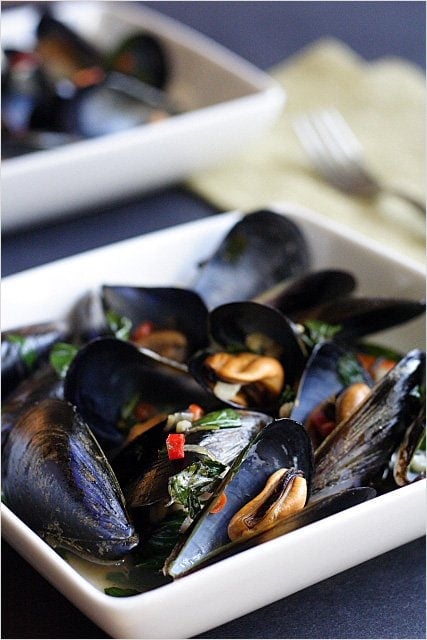 There is an "inner celebrity chef" in me.
I always daydream about my "celebrity chef" moments–giving speeches about my cooking and recipes to applauding fans; authoring a series of Rasa "fill-in-the-country-name" cookbooks (starting with Rasa Malaysia, of course).
Hosting glitzy food schmooze fests attended only by the crème de la crème; looking-and-cooking pretty in the highest rating lifestyle and food show; and the list goes on. All these are fantasies, but I indulge in them whenever possible.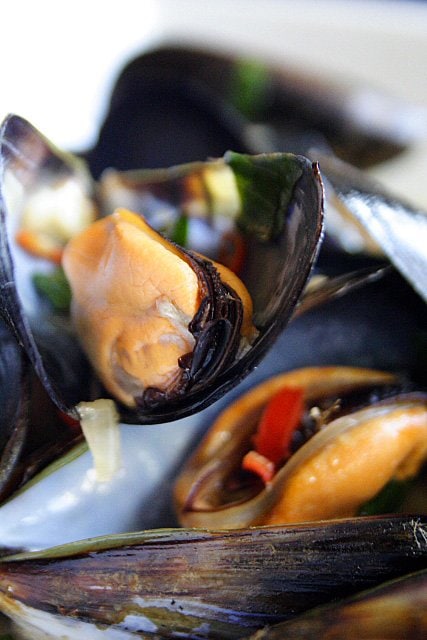 This past weekend, instead of just dreaming, I actually made a celebrity chef dish. Thanks to the abundant celeb chef-authored cookbooks out in the market, now everyone can cook like one in your home kitchen…
Since I bought the acclaimed "Asian Flavors of Jean-Georges" cookbook, I have been wanting to try out his steamed mussels recipe.
The picture on the cookbook was practically calling my name, and it's no secret that I am partial to shellfish. It was a great choice as Jean-Georges's steamed mussels recipe is exquisite–the flavor delivered was simply "ambrosial."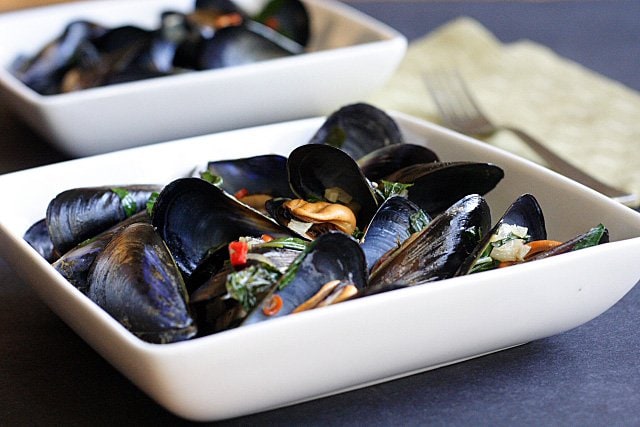 The most interesting ingredient used in Jean-Georges's steamed mussels recipe is coconut juice–the soul of this dish and the base of the highly addictive broth.
While I have tried coconut juice steamed herbal chicken in Malaysia, I have never thought about the possibility of using it with shellfish. What a brilliant idea! The refreshing taste of coconut juice infuses the steamed mussels with just the right tint of natural sweetness, while it brings out and complements the complex flavors of lemongrass, bird's eye chilies, galangal, and Thai basil.
The steamed mussels were delicious and I kept not a single drop of the broth to waste. When food is that good, it's a satisfaction. My stomach and taste buds were thoroughly fulfilled.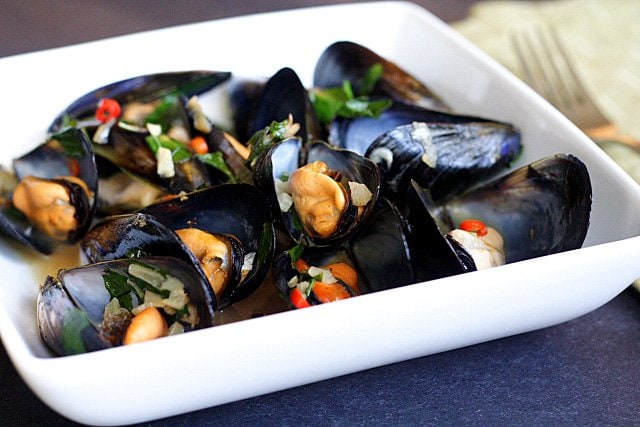 Jean-Georges's steamed mussels is a 5-star recipe and it's Rasa Malaysia certified.
To get a copy of Asian Flavors of Jean-Georges, please click here.
To see my recommendations of "Must-Have Cookbooks," please click here.
P.S.: Previously, I tried to be Nobu Matsuhisa and here is the recipe of Nobu's famed Black Cod with Miso.
How Many Calories per Serving?
This recipe is only 318 calories per serving.
What to Serve with This Recipe?
Serve this dish with other Malaysian dishes. For a Malaysia meal and easy weeknight dinner, I recommend the following recipes.
5 Secrets to 20 Min Dinners
Get tricks for quick & easy meals!
Yield: 4 people
Steamed Mussels with Lemongrass, Thai Basil, Chilies, and Coconut Juice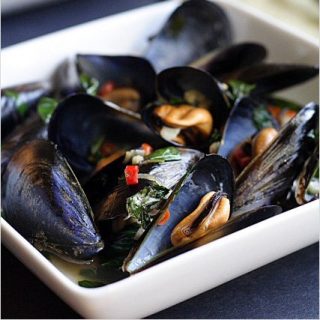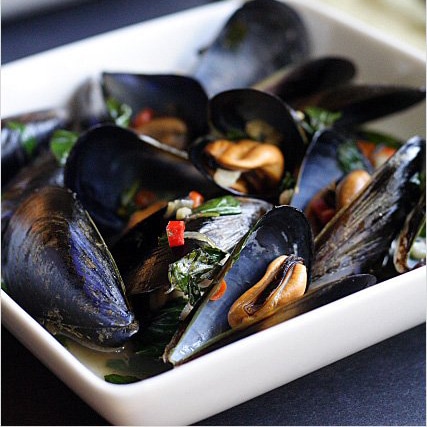 Steamed Mussels with Lemongrass, Thai Basil, Chilies, and Coconut Juice.
Ingredients
1 lb. (0.2 kg) mussels, washed and bearded
6 stems of Thai basil leaves, use only the leaves
1 clove garlic, minced
1 clove shallot, minced
3 bird's eye chilies, finely chopped
1 1/2 tablespoons cooking oil
For the broth:
3 cups Juice of 2 small coconuts
1/2 inch (1cm) galangal/ginger, lightly pounded
1 stalk lemongrass, trimmed, smashed, and chopped
3 bird's eye chilies, smashed
1/2 teaspoon grated fresh lemon zest
1 tablespoon lemon juice
salt to taste
Instructions
Bring the coconut juice, galangal/ginger, lemongrass, and smashed bird's eyes chilies to boil over high heat. Add the lemon zest and simmer for 10 minutes. Add the lemon juice and salt to taste. Remove from the stove, strain the broth and set aside. Discard the aromatics.
Heat up the cooking oil in a wok or deep saucepan that can later be covered. Add the minced garlic and shallots and cook until lightly browned. Stir-in the chopped bird's eye chilies, then add the mussels and the broth. Add the basil leaves, cover and cook until all mussels are open. Add salt to taste, dish out and serve hot with steamed rice.
Nutrition Information
Yield
4
Serving Size
4 people
Amount Per Serving
Calories

318
Total Fat

26g
Saturated Fat

18g
Unsaturated Fat

0g
Cholesterol

16mg
Sodium

178mg
Carbohydrates

13g
Fiber

5g
Sugar

4g
Protein

9g