The most delicious Crispy
Potato Stacks
you'll ever make! These potatoes are buttery with the crispiest tops and bottoms while the center are soft and tender. This is the perfect side dish for everyday meal, holidays or special occasions, just like
Crispy Leaf Potatoes
.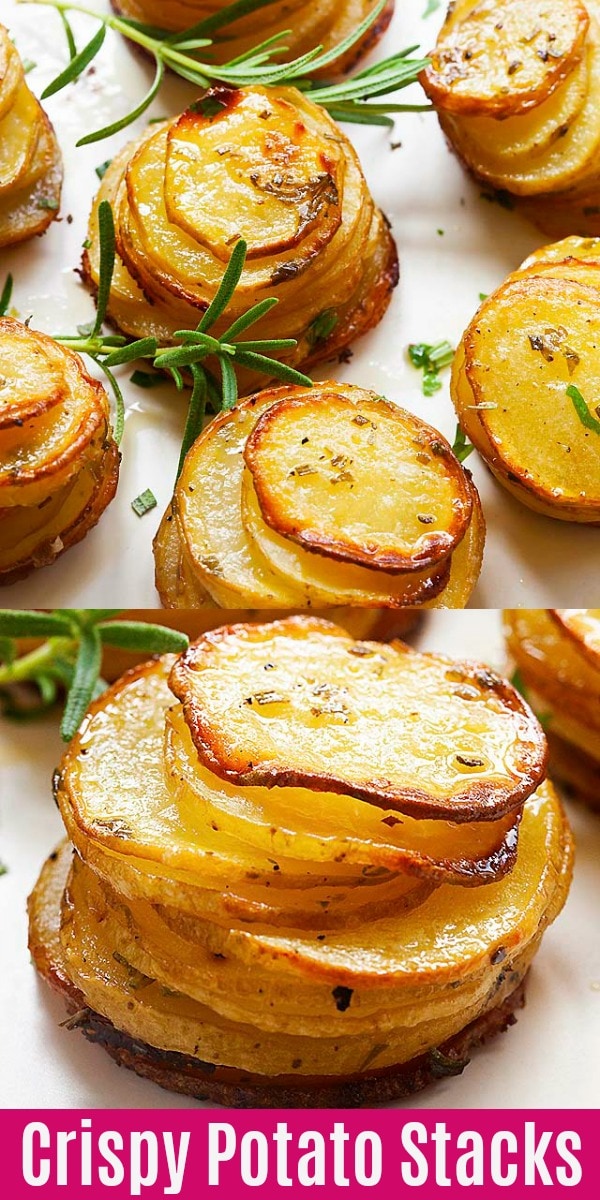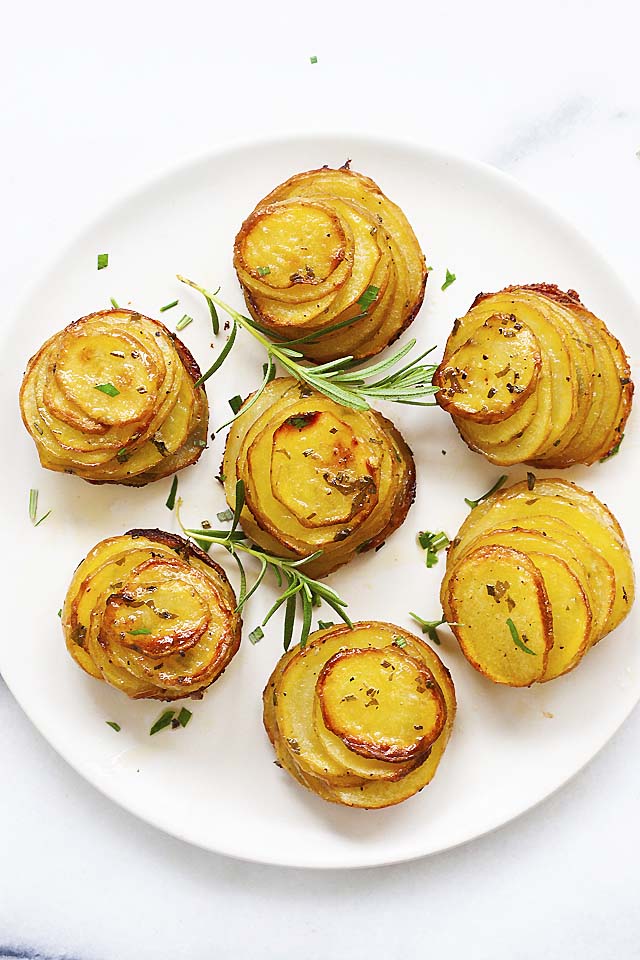 What Is a Potato Stack?
Potato stacks are roasted potatoes stacked up vertically, usually in a muffin tin. The potatoes are sliced thinly, arranged and stacked one over another to form a stack.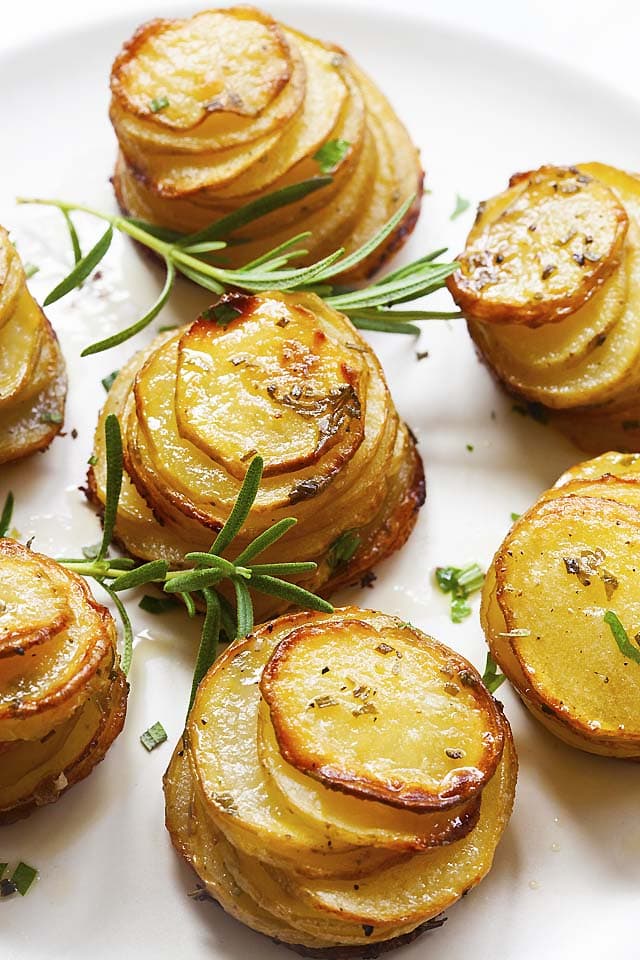 This Crispy Potato Stacks recipe is absolutely delicious, rivaling the crispy leaf potatoes recipe, except that they come in individual stacks, crispy tops and bottoms, and is probably my new favorite side dish now.
After baking and roasting in the oven, every layer of the potato stack has golden brown and crispy edges and bottoms. They are basically the best homemade potato chips baked in a muffin pan!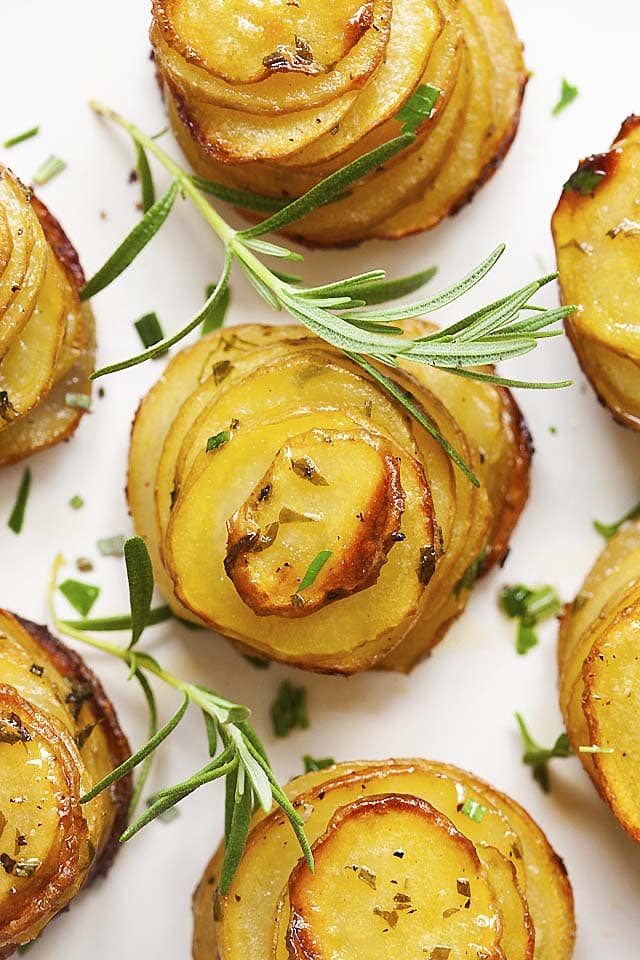 Other Recipes You Might Like
How to Make Potato Stacks?
Potato stacks are very easy to make at home with very simple ingredients. The basic steps are:
Slice the potatoes into thin slices of 1/16-inch-thick.
Season the sliced potatoes with unsalted butter, olive oil, salt and herbs.
Stacking up the potatoes in a muffin pan.
Bake and roast in the oven.
It's a fun recipe to make and the end results are absolutely delicious and gorgeous in presentations.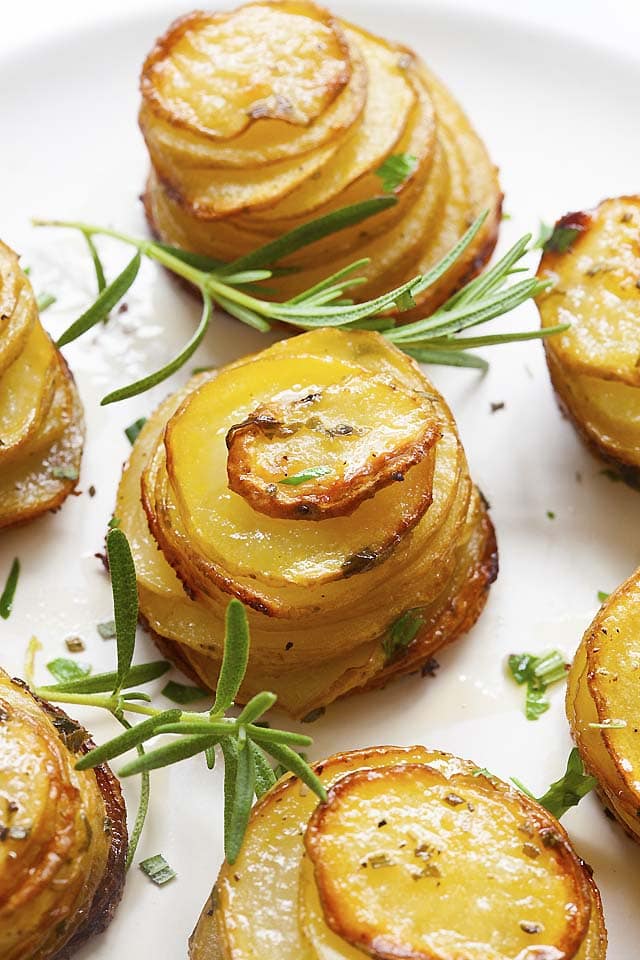 Tips on How to Cook Potato Stacks?
I am sure you ask "Do I need a mandolin slicer?" The answer is no. Here are my tips and techniques:
Use Yukon gold potatoes with a diameter of about 2 1/2 inches in the center. This will make sure that the sliced potatoes fit well into a standard muffin pan.
Do not peel the skin of the potatoes. After roasting, the skin becomes crispy.
Slice the potatoes with a shark knife evenly. This will make sure that the potatoes cook evenly.
You don't need a mandolin slicer, unless you have a blade that slice to 1/16-inch in thickness.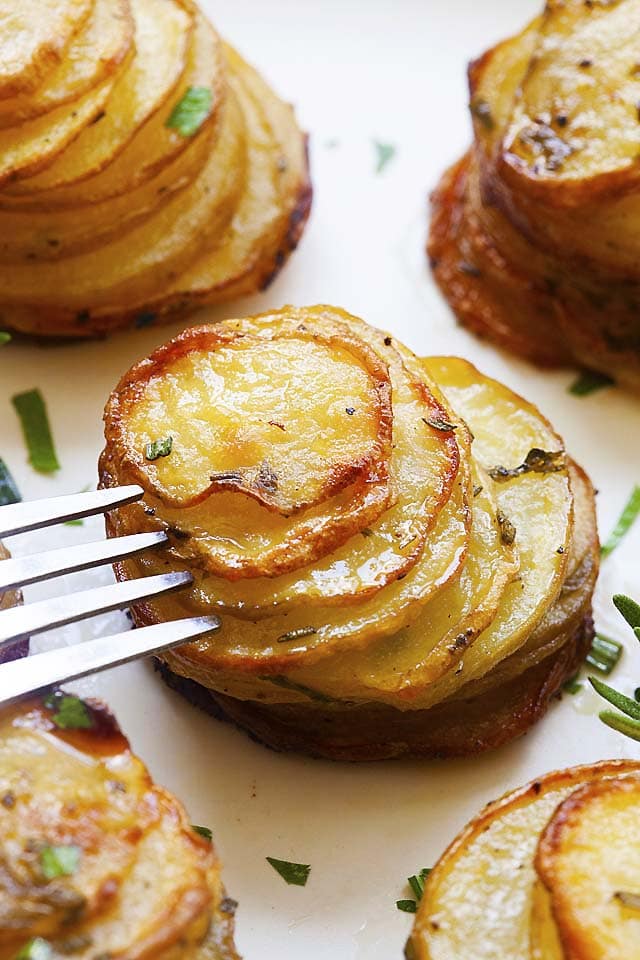 What Herbs Do I Need?
For herbed potato stacks, I used rosemary and Italian parsley, infusing every slice of the potato with earthy and herb aromas.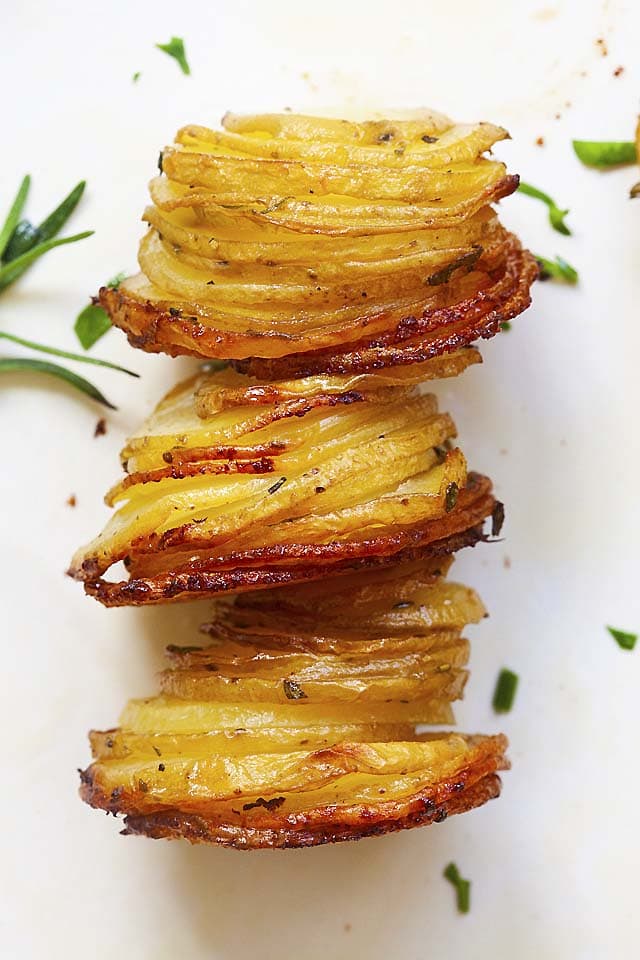 This recipe is a winner and yields the most delicious potatoes you'll ever make in your kitchen. They have the crispiest tops and bottoms, buttery and very tasty. Try my recipe and you will love it.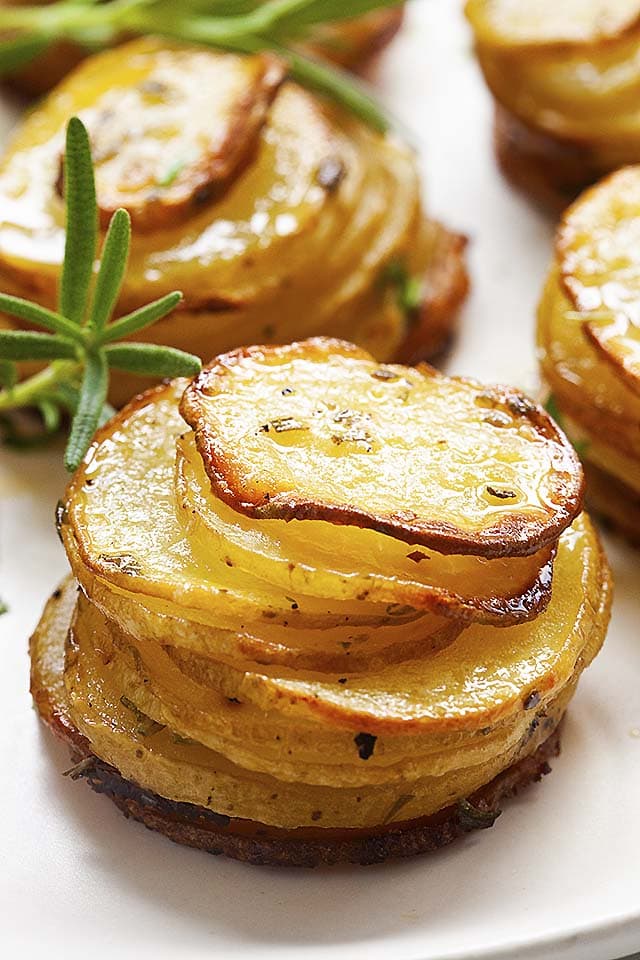 How Many Calories per Serving?
This recipe is only 325 calories per serving.
What Dishes to Serve with This Recipe?
For a wholesome meal and easy weeknight dinner, I recommend the following recipes.
Yield: 3 people
Crispy Potato Stacks Recipe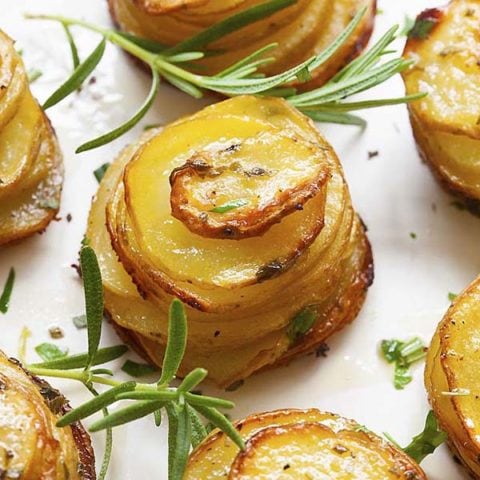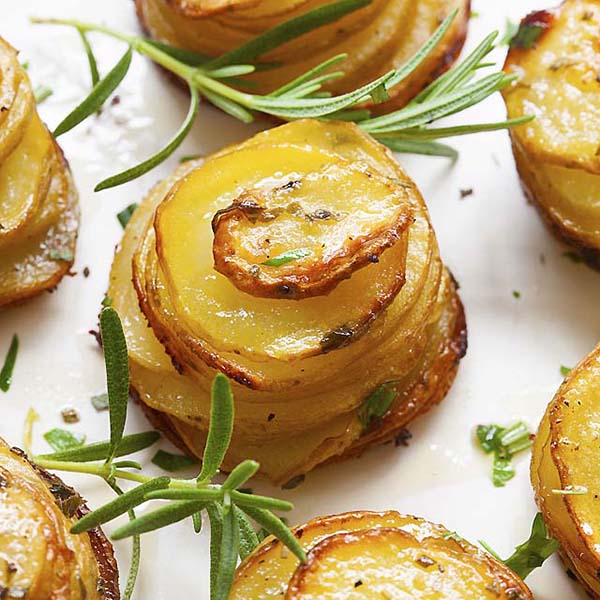 The most delicious Crispy Potato Stacks you'll ever make! The potatoes are buttery with the crispiest tops and bottoms while the center are soft and tender.
Ingredients
2 lbs. (1 kg) yukon gold potatoes
2 tablespoons unsalted butter, melted
2 tablespoons olive oil
1 teaspoon chopped rosemary
1 teaspoon chopped parsley
1 teaspoon kosher salt
1/8 teaspoon ground black pepper
cooking spray
Instructions
Preheat oven to 375°F (190°C). Prepare the potatoes. Leave the skin on. Slice the potatoes into 1/8-inch-thick slices using a Mandoline slicer.

Add the butter, olive oil, rosemary, parsley, salt and pepper to the potatoes. Stir to combine well.

Spray some cooking spray to a standard muffin pan. You will need 10 tins. Arrange the potatoes into each tin, starting with the bigger sliced potatoes at the bottom and smaller ones towards the top. Fill the 10 cups.

Baked the potato stacks for 45-50 minutes or until the edges and tops turn golden brown. Remove the potato stacks from the oven, remove them from the muffin tin and serve immediately.
Nutrition Information
Serving Size
3 people
Amount Per Serving
Calories

325
Total Fat

17g
Saturated Fat

6g
Cholesterol

20mg
Sodium

806mg
Carbohydrates

37g
Fiber

7g
Sugar

0g
Protein

7g
5 Secrets to 20 Min Dinners
Get tricks for quick & easy meals!