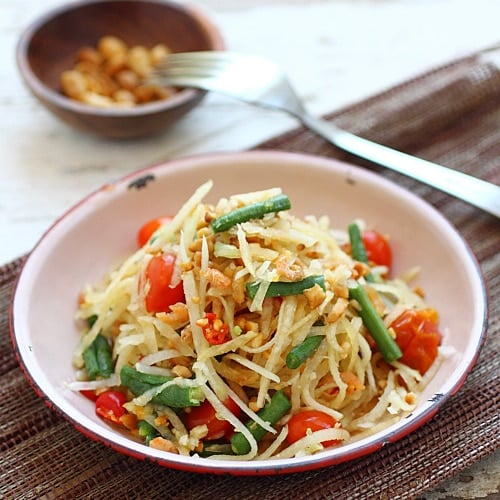 Green Papaya Salad
Thai green papaya salad – the best salad ever with shredded green papaya, long beans and tomatoes. So yummy
Prep time:
Total Time: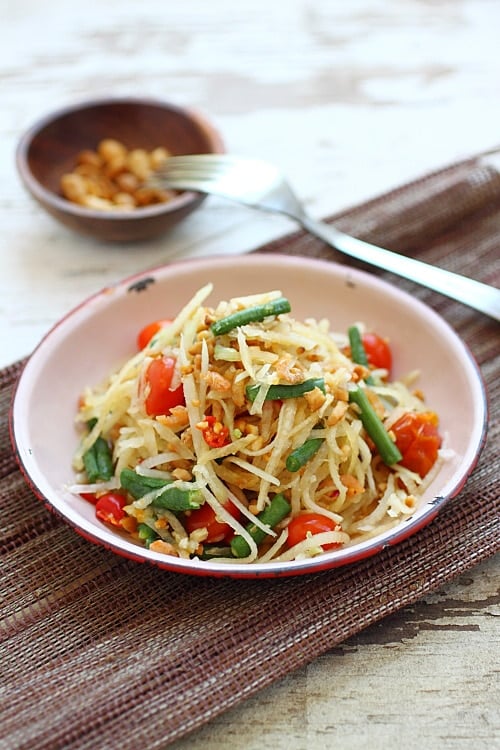 Green Papaya Salad
Green Papaya Salad (Som Tum) is a healthy Thai salad with shredded green papaya, long beans, peanuts and tomatoes. It's light, delicious and low in calories!
Green Papaya Salad or Som Tum (sometimes spelled as Som Tam) is a classic Thai salad. I had the first authentic taste of it in Hat Yai in Thailand. The salad was old by an old lady with a mobile cart, equipped only with her mortar and pestle plus the ingredients. At first bite, I fell immediately in love. Som Tum is the epitome of Thai cuisine: perfect blends of hot, sour, salty, and sweet.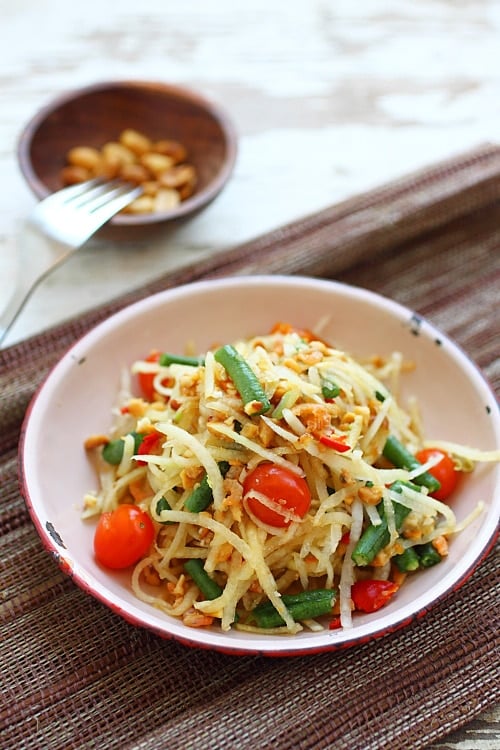 Green Papaya Salad (Som Tum) Recipe
Adapted from: She Simmers
Serves 2 | Prep Time: 10 Minutes | Mix Time: 5 Minutes
Ingredients: 
1 clove garlic
1 or 2 red Thai bird's eye chilies
2 tablespoons dried shrimp
Thai palm sugar, to taste
1/4 cup roasted peanuts
6 oz green papaya strands
6 cherry tomatoes (I used grape tomatoes)
1/3 cup long green beans, cut into 1-inch lengths
Fresh lime juice to taste
Fish sauce, to taste
Method:
Pound the garlic and bird's eye chilies until they form a smooth paste.
Add the dried shrimp and pound until the pieces are broken up, but not completely pulverized.
Add the palm sugar (cut into small pieces), maybe 2-3 teaspoons at first. More more to taste later.
Add the peanuts and lightly pound until they are broken into tiny pieces, but not to the point where they form a thick paste.
Add the green beans and crush them with the mortar until they're splitting and lightly bruised.
Add the papaya and tomatoes and pound on them to bruise them. You want to crush the tomatoes so they release their juices and give their flavor and color.
Add a couple of teaspoons of fish sauce and a couple of teaspoons of lime juice to the mix.
Have in one hand a large spoon to help flip things over in and scrape down the sides of the mortar while your other hand pounds away with the pestle.
Keep pounding and flipping for a few seconds, add more fish sauce, lime juice, or palm sugar as needed.
Dish out and serve immediately.
Most-Pinned Recipes
Ginger Garlic Baked Chicken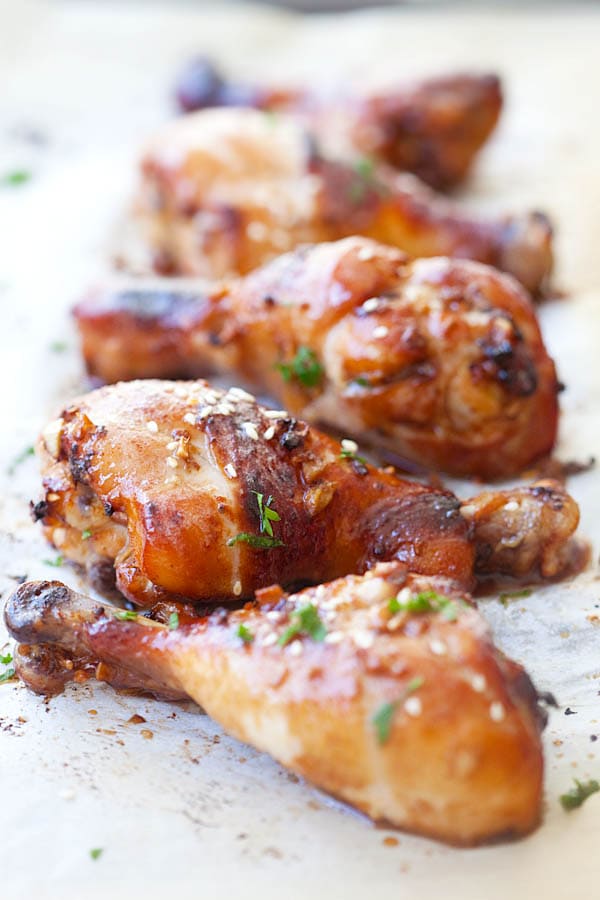 Crab Rangoon (Cream Cheese Wontons)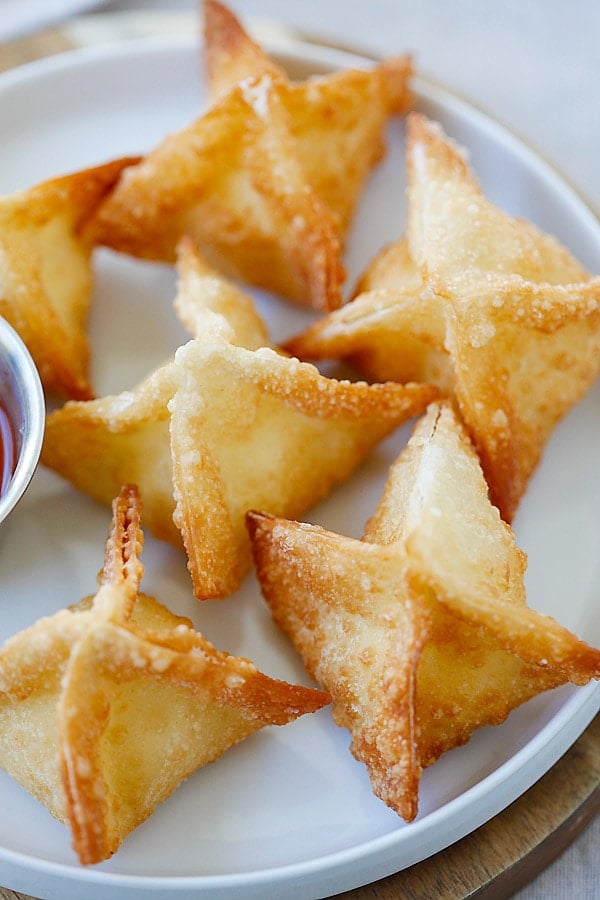 Chicken Wontons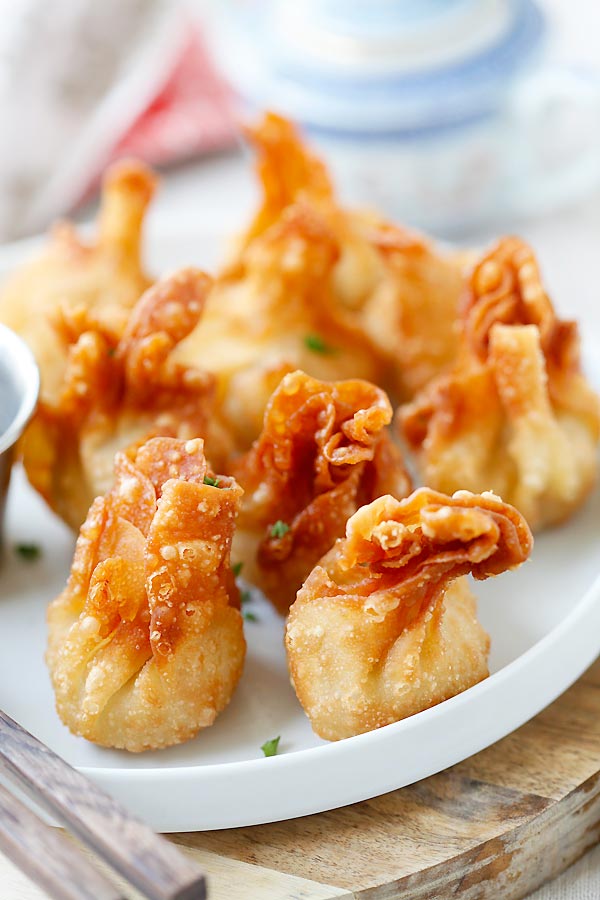 Onion Scallion Beef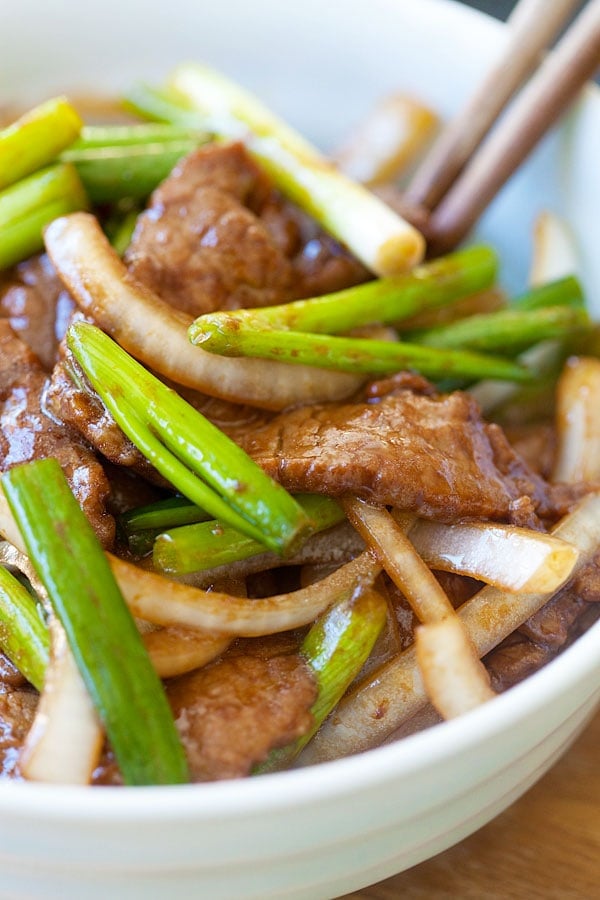 Thai Chicken Sate with Peanut Sauce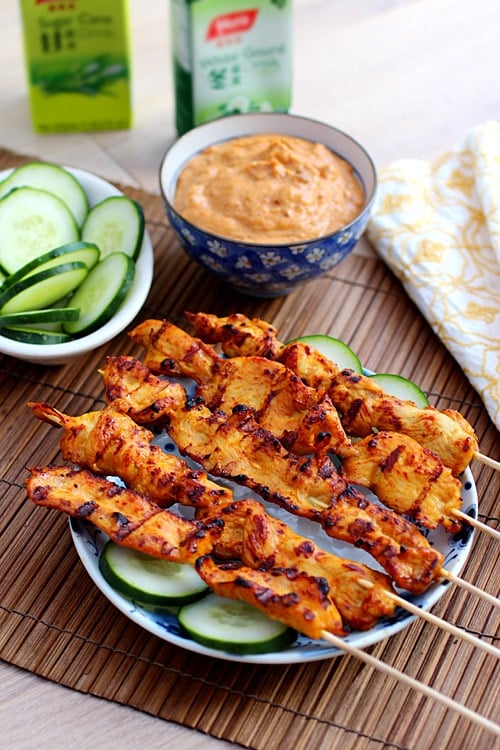 Thai Peanut Sauce