Honey Balsamic Chicken - the easiest skillet chicken recipe with sweet and savory honey balsamic sauce. A homemade chicken dinner has never been so easy!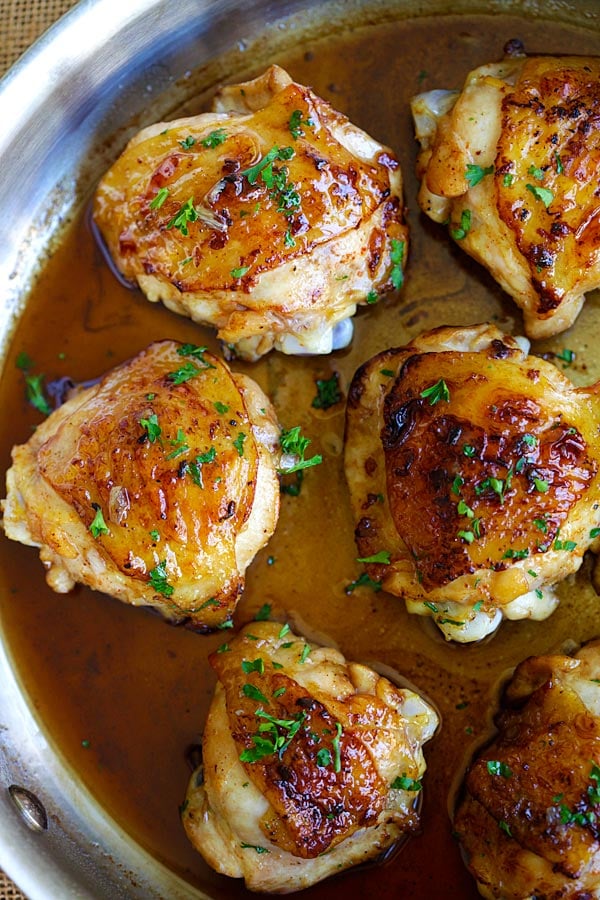 How to Make Honey Balsamic Chicken
To make delicious honey balsamic chicken, I first season some chicken thighs with some salt and black pepper. Then, I slowly pan-fry the chicken on a skillet until both sides of the chicken are gorgeously browned, with a crackly crispy skin and the meat part is nice and crunchy.
Then, I add the honey and balsamic vinegar, and reduce and simmer the chicken until the sauce becomes sticky. Voila, it is so good!
As the name suggests, it's honey balsamic chicken, so you certainly don't want to skim on the honey. Honey makes everything better, just like butter.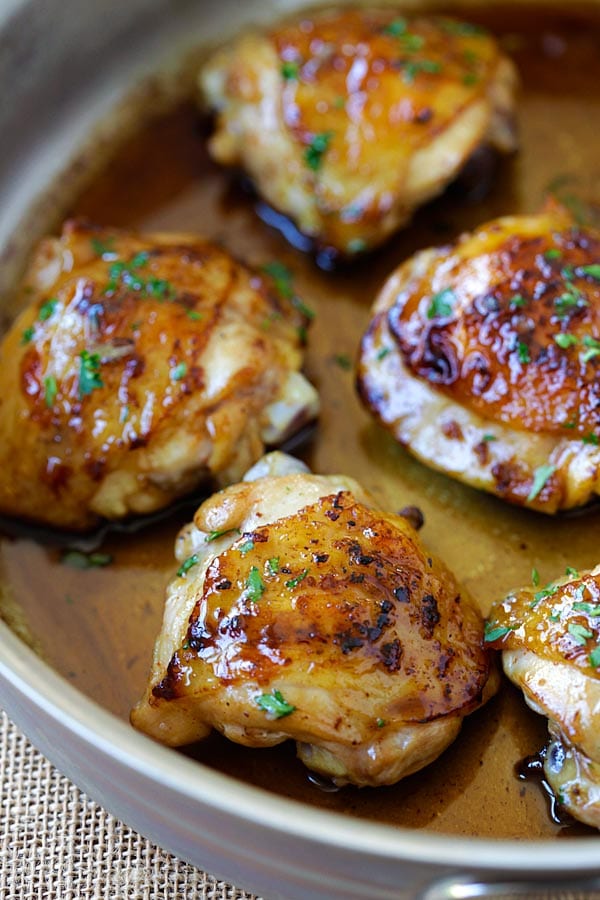 Other Recipes You Might Like
Ingredients for Balsamic Chicken Marinade
Garlic
Butter
Honey
Balsamic vinegar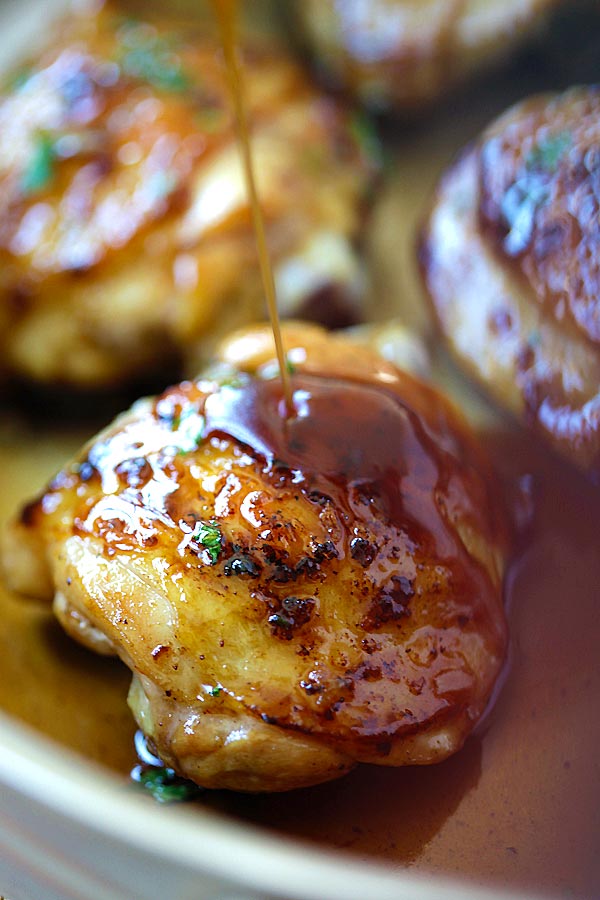 Frequently Asked Questions
How Do You Use Balsamic Vinegar?
Balsamic vinegar is great for cooking because it has a spicy kick while balancing the rich flavor of protein. It is also great for vegetables.
Should You Refrigerate Balsamic Vinegar after Opening?
Make sure to close it tightly after each use and store it properly. It does not need to be refrigerated.
How Many Calories?
This recipe has 435 calories per serving.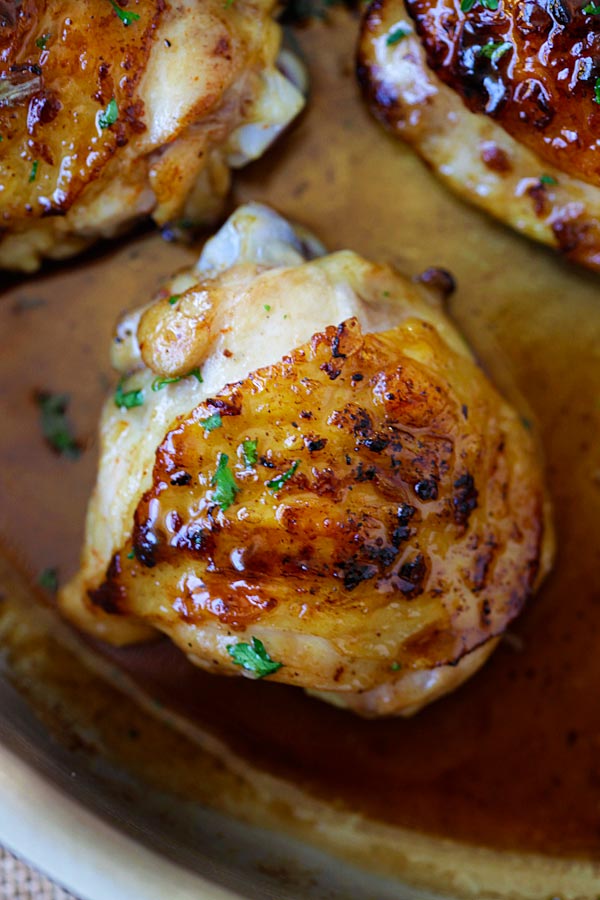 Serve Honey Balsamic Chicken With:
For a wholesome dinner, make the following dishes.

5 Secrets to 20 Min Dinners
Get tricks for quick & easy meals!
Yield: 3 people
Honey Balsamic Chicken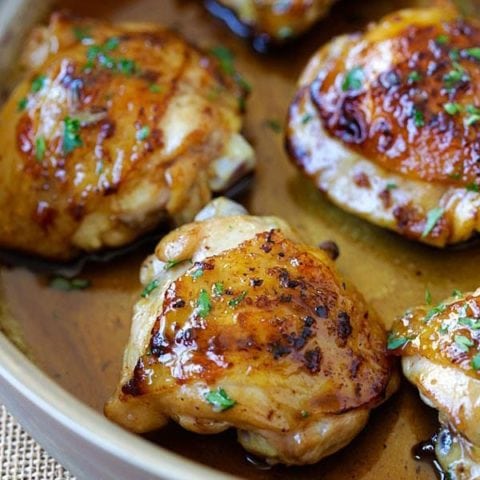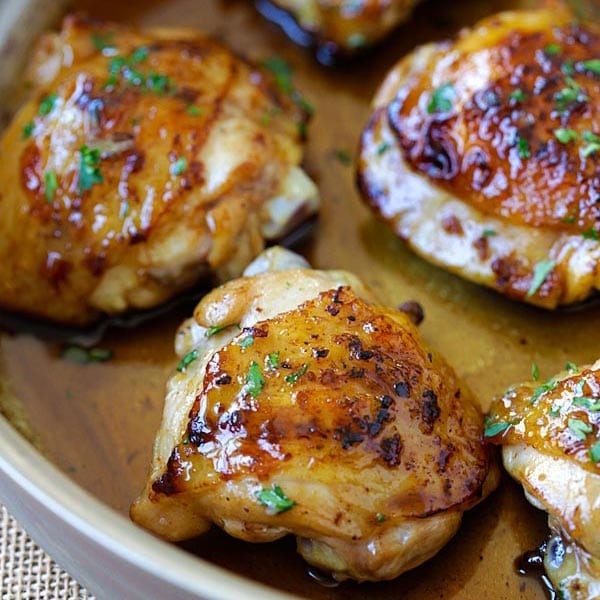 Honey Balsamic Chicken – the easiest skillet chicken with sweet and savory honey balsamic sauce. Homemade chicken dinner is so good with this recipe.
Ingredients
1 1/2 lbs. (0.6 kg) chicken thighs
1/2 teaspoon salt
3 dashes ground black pepper
2 cloves garlic, minced
1 tablespoon olive oil
1 tablespoon butter
2 1/2 tablespoons honey
1 tablespoon balsamic vinegar
2 tablespoons water
chopped parsley for garnishing
Instructions
Season the chicken with the salt and ground black pepper.
Heat up a skillet on medium heat and slowly pan-fry the chicken, skin side down first, until both sides of the chicken become nicely browned and crispy. Remove the chicken and discard the chicken fat.
Add the olive oil and butter to the skillet, saute the garlic until slightly browned, follow by the honey, balsamic vinegar and water. Add the chicken back into the skillet, lower the heat to simmer and reduce the sauce until slightly thickened and that the chicken is completely cooked, about 2 minutes.
Remove from heat, garnish with the parsley and serve immediately.
Nutrition Information
Serving Size
3 people
Amount Per Serving
Calories

435
Total Fat

46g
Saturated Fat

13g
Cholesterol

232mg
Sodium

599mg
Carbohydrates

17g
Fiber

1g
Sugar

15g
Protein

37g