One of the best Instant Pot recipes made of chicken and honey garlic sauce. Moist, tender chicken thighs with mouthwatering, savory and sweet sauce. This chicken recipe is so easy and delicious!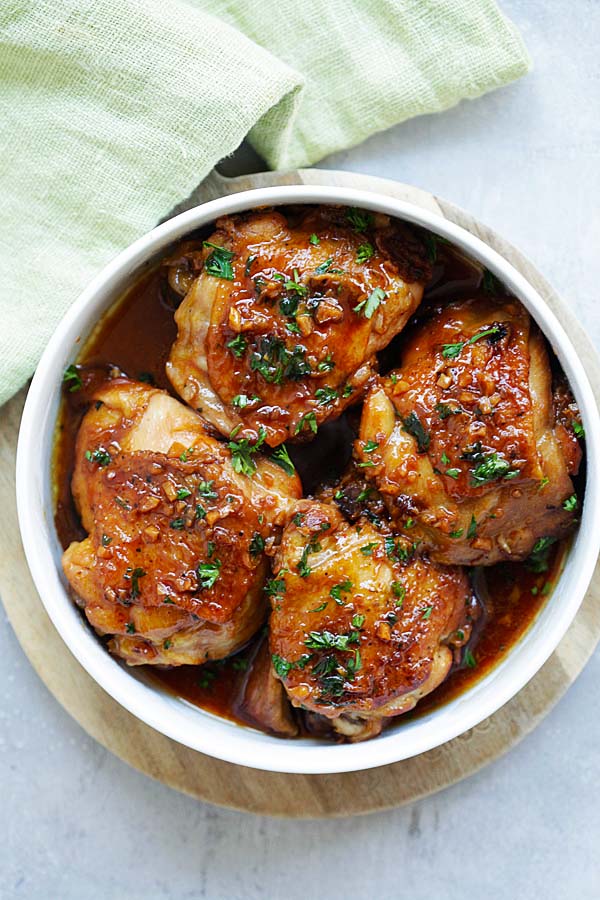 Instant Pot Chicken Recipes
I love chicken and all kinds of chicken recipes.
Chicken thigh is my favorite part of chicken; it has tender and juicy meat, with some fat and the perfect texture for cooking in an Instant Pot.
I made the chicken thighs with Honey Garlic Sauce as Honey Garlic Chicken is an easy and delicious recipe.
The combination of honey, garlic and soy sauce always guarantees mouthwatering results, especially with chicken.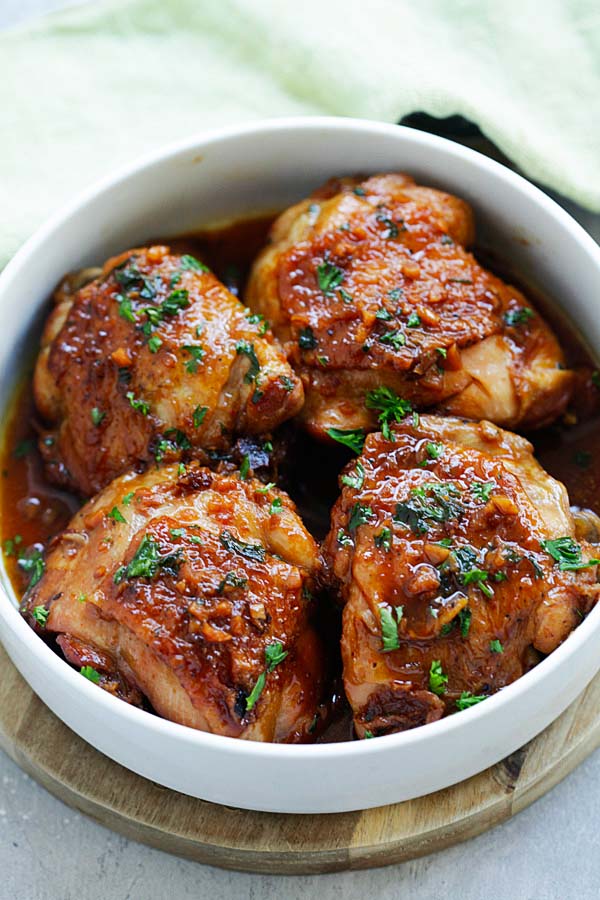 Instant Pot is an amazing kitchen appliance as it pressure cooks the chicken to tender, juicy, moist perfection, and the meat just fall off the bones. Watch the video here and learn how to make this recipe.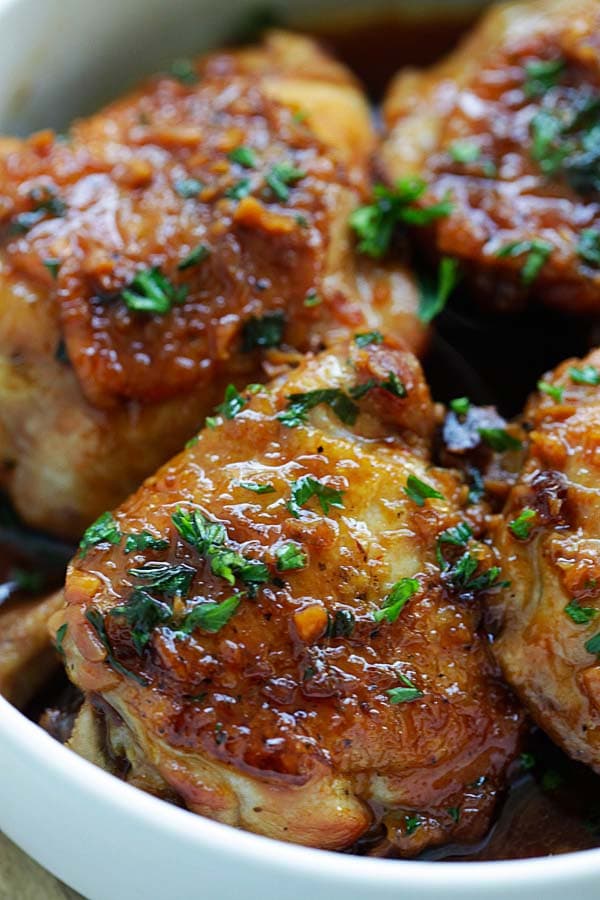 Can You Brown Chicken in Instant Pot?
Yes, Instant Pot is perfect for browning meat such as chicken. To pan-fry and brown chicken meat, turn on the Saute mode.
You can brown the chicken thigh until the skin turns brown on both sides.
Cook's Tips on How to Cook Chicken in Instant Pot
To brown chicken or meat in an Instant Pot, make sure the pot is nicely greased. Add at least 1 tablespoon of cooking oil and make sure that it coats the entire surface of the pot.
Turn on the Saute mode and heat up the pot. Make sure it's fully heated and the cooking oil becomes more liquidy before adding the chicken.
If you have skin-on chicken, for example: chicken thighs or chicken breasts, always brown and cook the chicken with the skin side down first. This will prevent the chicken from sticking to the pot.
Brown, pan-fry and saute the chicken uninterrupted, for about 3 minutes on each side before flipping over. This will avoid the chicken from sticking to the bottom of the pot.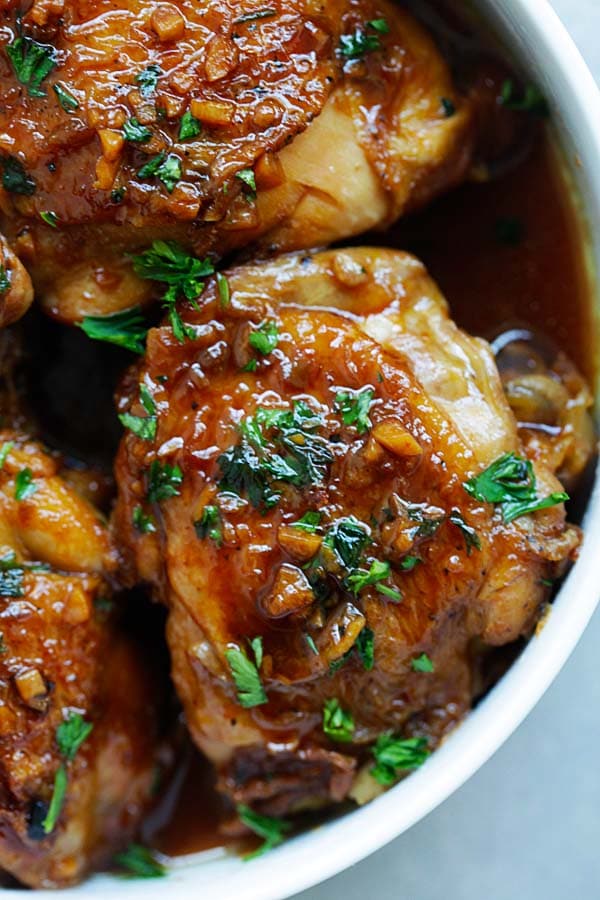 Can You Cook Frozen Chicken in an Instant Pot?
Yes, you can cook frozen chicken right out of freezer in an Instant Pot. Just pressure cook for an extra 5-10 minutes.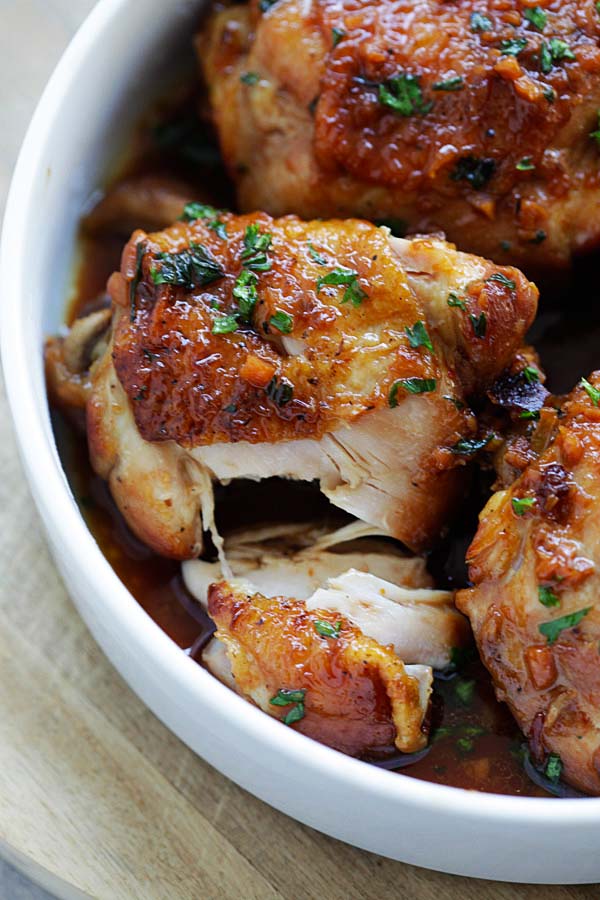 What Dishes to Serve with this Recipe?
This meal is best served with rice or pasta. For a wholesome meal and easy weeknight dinner, I recommend the following recipes.
How Many Calories Per Serving?
This recipe is only 268 calories per serving.
Pairs well with: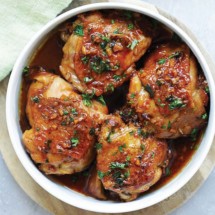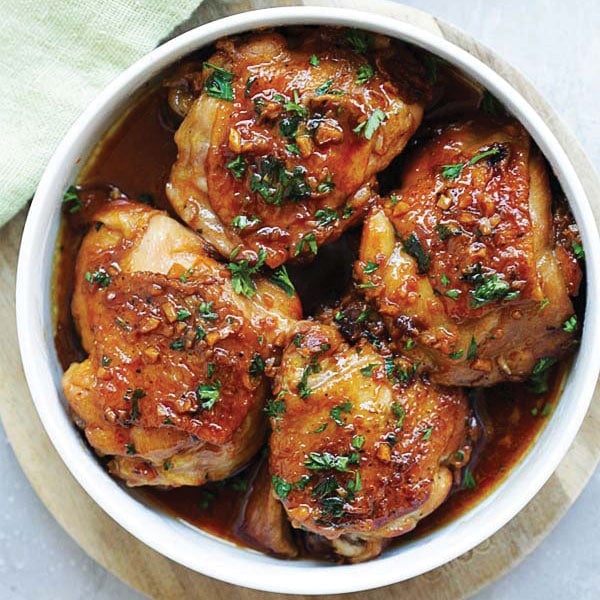 Honey Garlic Chicken (Instant Pot) Recipe
Honey Garlic Chicken - moist, tender, fall-off-the-bone chicken thighs in savory and sweet honey garlic sauce and made in an Instant Pot, so delicious.
Ingredients
Ingredients:
salt

ground black pepper

1

tablespoon

cooking oil

1 1/2

lbs

chicken thighs

(4 chicken thighs)

4

cloves

garlic, minced

chopped parsley, (optional)
Sauce:
3

tablespoons

honey

1

teaspoon

sugar or brown sugar

2

tablespoons

soy sauce

3

tablespoons

water or chicken broth, preferred

3

dashes

cayenne pepper
Click Here for Conversion Tool
Directions
Wash and rinse the chicken thighs with cold water. Pat dry with paper towels. Season the chicken thighs with salt and pepper. Set aside. Mix all the ingredients in the Sauce together, stir to mix well. Make sure the honey and sugar are completely dissolved. Set aside.

Turn on the Saute mode on your Instant Pot. As soon as the pot is heated, add 1/2 tablespoon of the cooking oil. Pan sear the chicken thighs (skin side down first) until both sides turn nicely brown. Add the remaining cooking oil and saute the garlic a little bit. Pour in the sauce and cover the lid. Cover the pot and select Manual and set to High pressure for 10 minutes.

When it beeps, turn to Quick Release. When the valve drops, remove the lid carefully, add the chopped parsley and serve immediately.
Recipe Notes
I used a 6-quart Instant Pot. The Sauce in the recipe equals to 8 tablespoons of liquid content, which is 1/2 cup, the min amount of liquid for Instant Pot. If you don't have an Instant Pot, you can make this honey garlic chicken in a slow cooker, or on your stove top. If you use a slow cooker, make sure not to overcook it. Use high heat and cook for 3 hours. For stove top, just pan-fry the chicken and then add in the Sauce. Simmer on low heat and cook until the chicken meat is tender.
Nutrition Facts
Honey Garlic Chicken (Instant Pot) Recipe
Amount Per Serving (4 people)
Calories 268
Calories from Fat 288
% Daily Value*
Fat 32g49%
Cholesterol 167mg56%
Sodium 676mg29%
Potassium 404mg12%
Carbohydrates 16g5%
Protein 29g58%
Vitamin A 445IU9%
Vitamin C 2.3mg3%
Calcium 19mg2%
Iron 1.5mg8%
* Percent Daily Values are based on a 2000 calorie diet.