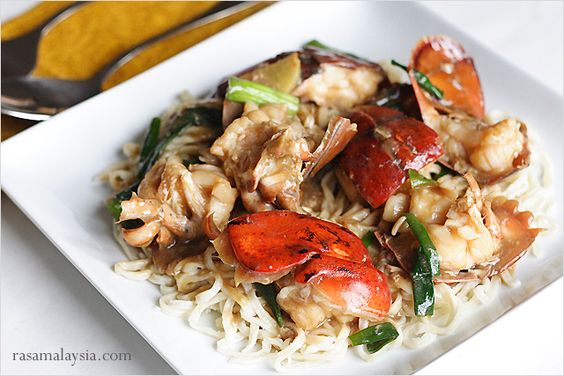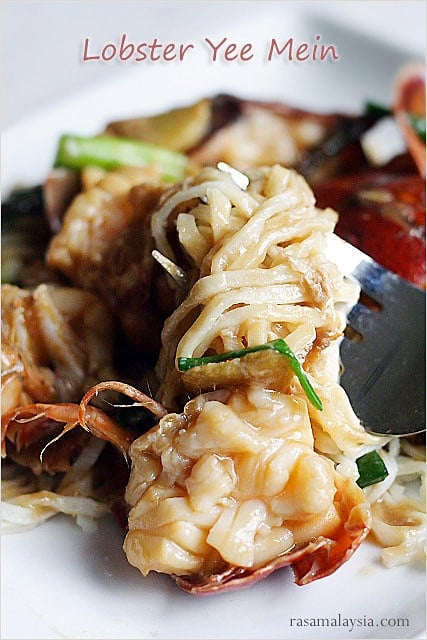 (Chinese recipes, prepare authentic Chinese food now!)
Recently, my neighborhood Asian grocery store had a lobster sale. At $6.99/lb, it was a steal that I couldn't pass up, so I got myself a 3-lb Boston lobster.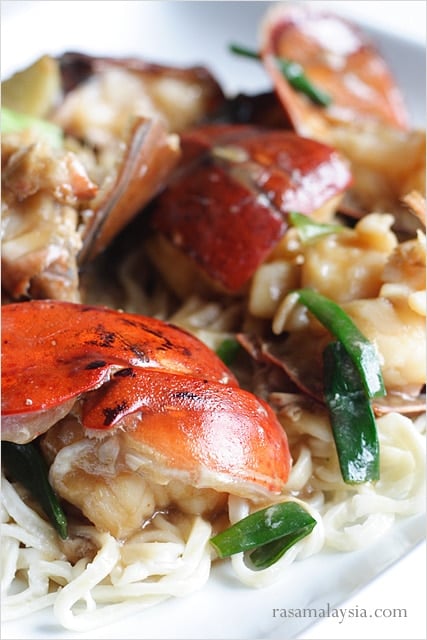 When it comes to lobsters, there aren't that many recipes that I know of. (Previously, I had stir-fried and baked lobster with cheese and butter and also a mango and lobster salad.) In my opinion, lobster is one of those ingredients that is very delicious but not very versatile…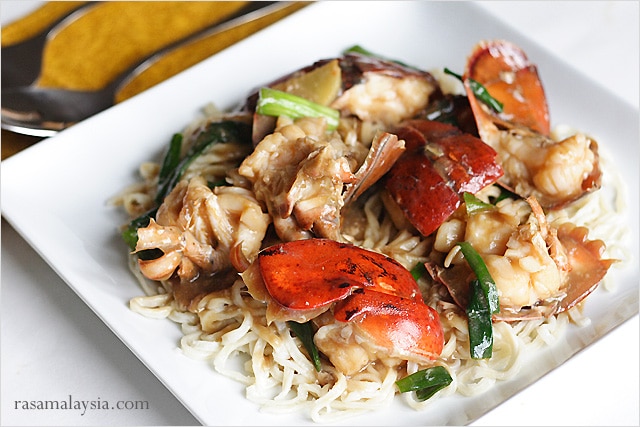 In the Chinese restaurants in the United States, lobsters are often served with Yee Mein (or "E-Fu" noodles). First, the lobster is stir-fried with ginger and scallion, and then poured over a bed of boiled Yee Mein. Lobster Yee Mein is a celebrated dish that graces wedding dinners, birthday banquets or casual dining. And that was exactly what I made.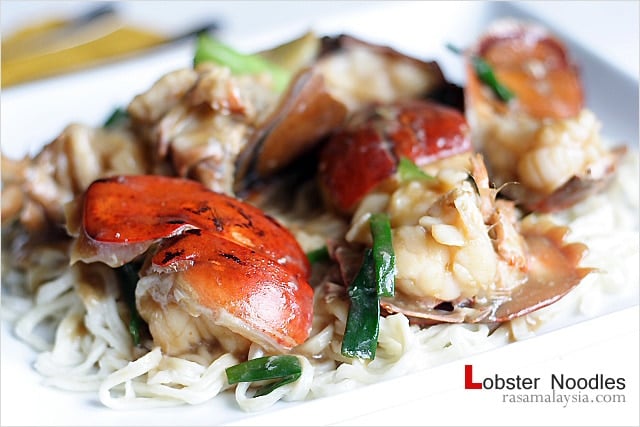 The lobster yee mein was very yummy and the taste was close to restaurant quality, but it lacked wok hei (the "breath of wok"). Cooking a big lobster at home was challenging–the wok could hardly contain the giant claws, but I managed.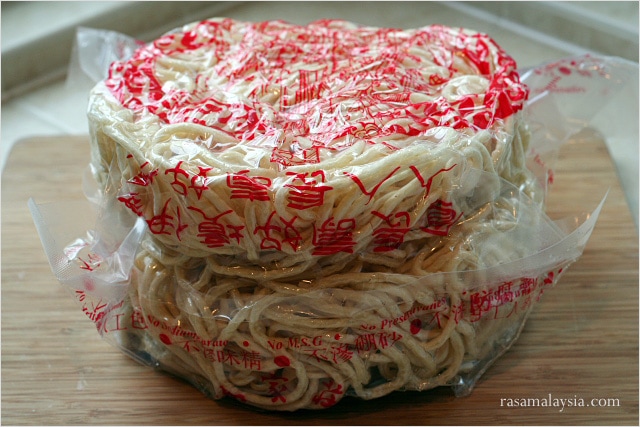 This coming holidays, why don't you try out my lobster noodles recipe?
Enjoy!
How Many Calories Per Serving?
This recipe is only 244 calories per serving.
5 Secrets to 20 Min Dinners
Get tricks for quick & easy meals!
Yield: 4 people
Lobster Yee Mein (Lobster Noodles)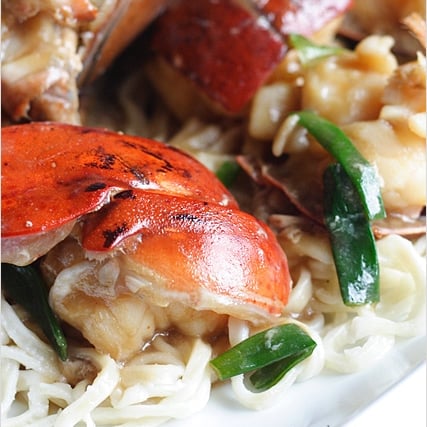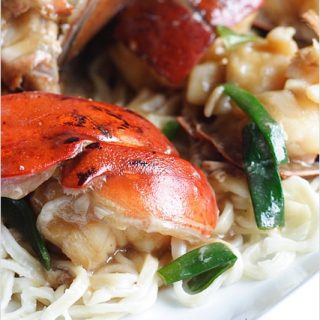 Lobster Yee Mein (Lobster Noodles) recipe and pictures. Lobster Yee Mein is a celebrated Chinese recipe that is great for Chinese dinners and banquet.
Ingredients
1 lobster, about 2.5 - 3 lbs. (1 kg - 1.5 kg)
4 oz. (113 g) yee mien or e-fu noodles
1 1/2 cup water + 1 tablespoon corn starch, use more corn starch if you like thicker sauce
2 stalks scallions, cut into 2-inch length (5 cm)
10-12 slices peeled ginger
3 tablespoons cooking oil
extra cooking oil for frying
Sauce:
Instructions
Clean the lobster and chop into pieces. (I always ask the store to chop it up for me). Lightly crack the lobster claws in advance. Blot the lobster dry with paper towels.
Heat up a pot of boiling water and boil the Yee Mein according to the packing instructions. Make sure not to over boil the Yee Mein. Drain and set aside on a big plate/bowl.
In a big wok or deep skillet, heat up 3 tablespoons of cooking oil. Stir-fry the ginger until aromatic and drop in the lobster. Stir continuously until they start turning red, then add in the sauce, follow by the water. Continue to stir and coat the sauce nicely, then cover the wok/skillet with its lid and wait for a couple minutes or until the lobster pieces are cooked through. (Do not over cook the lobter as it will turn rubbery in texture!)
Remove the lid and add the chopped scallions into the lobster. Add salt to taste if needed. Transfer the lobster out and pour onto the bed of yee mein. Serve immediately.
Nutrition Information
Yield
4
Serving Size
4 people
Amount Per Serving
Calories

244
Total Fat

11g
Unsaturated Fat

0g
Cholesterol

40mg
Sodium

639mg
Carbohydrates

25g
Sugar

1g
Protein

10g