Mini Blueberry Cake. Everything tastes so much better when they are mini-me size. This yummy blueberry cake is perfect anytime of the day!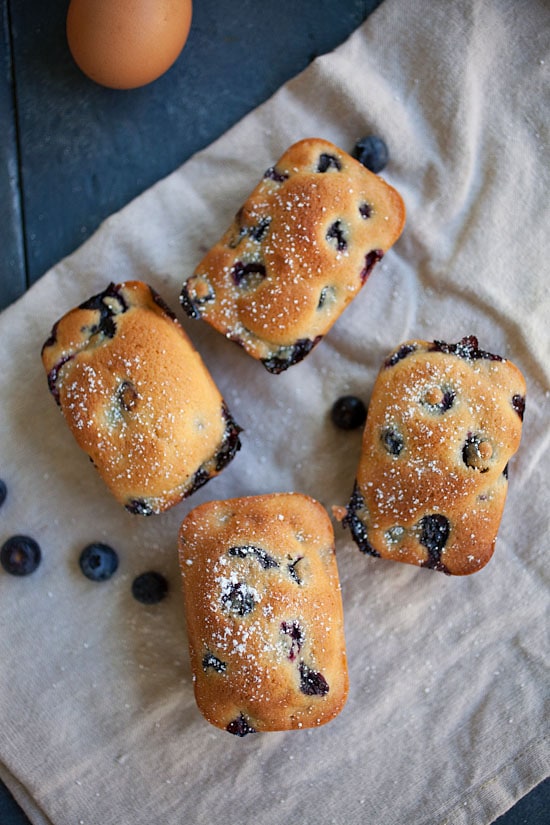 I am not sure about you, but Spring means berries to me, lots of berries.
I love berries of all sorts but my favorite has got to be blueberries.
I am not sure why but there is just something about those little, cute, dark blue color berries.
I love blueberries, and everyone in my family loves them.
Another plus, blueberries are always available in a smaller package, which means that I don't have any chance of wasting them because we would always finish them in no time.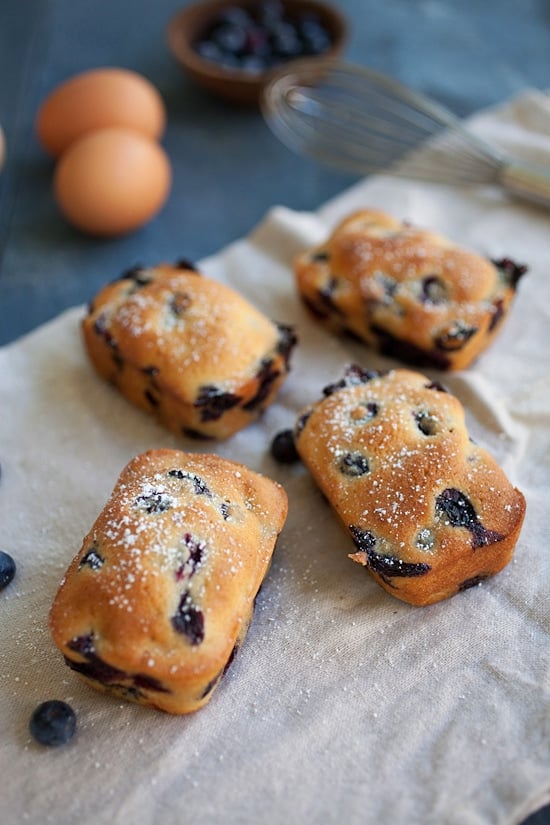 Spring also means baking to me.
The idea of baking in springtime, with lots of berries seems like such a great idea.
And hence, I made these cute mini blueberry cakes for our tea time a couple of weeks ago.
I was searching for a good blueberry bundt cake recipe and decided to try this recipe.
I thought I had some mini bundt pans and I wanted to make mini blueberry bundt cake, but after I had the cake batter ready, I couldn't find my mini bundt pans!
Luckily, I found my mini loaf pans so I used them to make these mini blueberry cake instead.
The tiny and dainty mini blueberry cakes makes a perfect tea time cake, with a cup of tea or coffee.
Ahh, spring is in the air, and you can enjoy a great afternoon of lovely spring weather with this wonderful cake.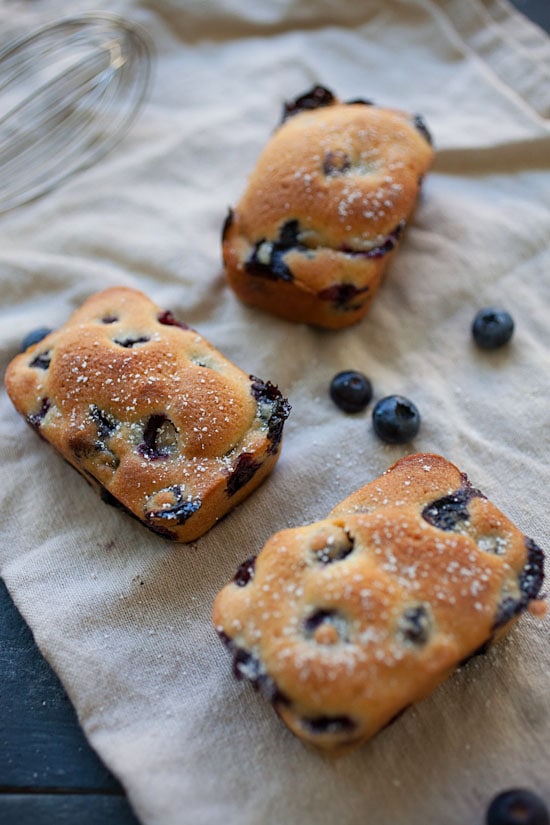 I don't likes cakes that are too sweet and this mini blueberry cake is not overly sweet.
With the slightly tangy taste of the blueberries, these mini blueberry cakes are absolutely delightful—fruity, moist, soft, and simply wonderful.
I really enjoyed them.
Blueberries are in abundant supply in spring so load them up when you go shopping and make this mini blueberry cake!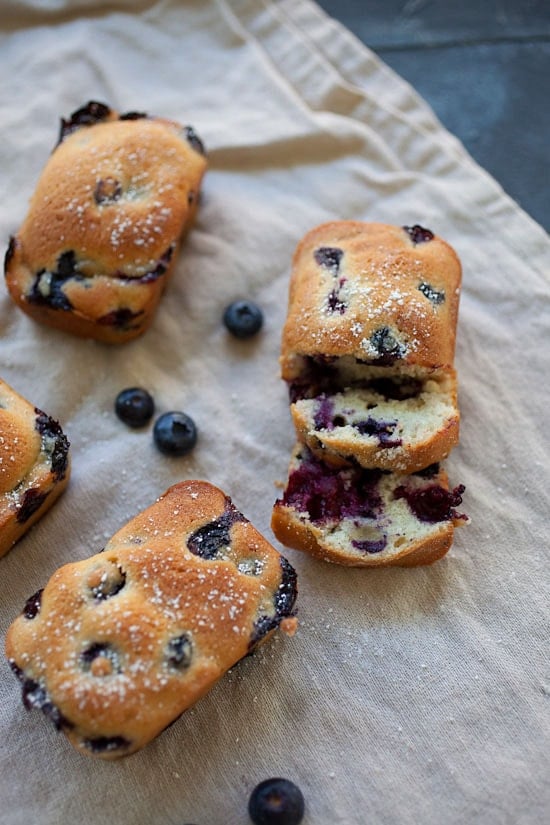 How Many Calories Per Serving?
This recipe is only 368 calories per serving.
Pairs well with: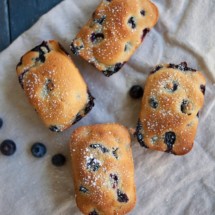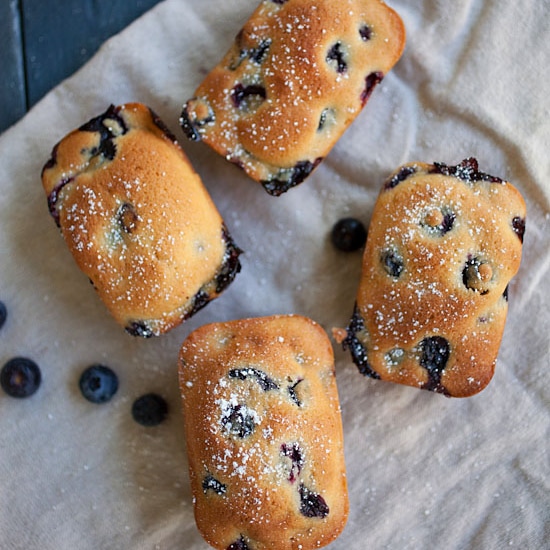 Mini Blueberry Cakes Recipe
Mini Blueberry Cake. Everything tastes so much better when they are mini-me size. This yummy blueberry cake is perfect anytime of the day!
Ingredients
1/4

cup

butter, softened

1/2

cup

sugar

1

egg

1/4

cup

milk

1/2

teaspoon

vanilla extract

1

cup

all-purpose flour

1

teaspoon

baking powder

1/4

teaspoon

salt

1 1/2

cups

fresh or frozen blueberries
Click Here for Conversion Tool
Directions
Special equipment: 4 mini loaf pans.

Preheat the oven 350 degrees F.

Put Butter, Sugar, Egg, Milk and Vanilla extract in a bowl. Whisking for 2 minutes. Combine the Flour, Baking powder and Salt, stir into creamed mixture. Fold in Blueberries.

Pour into loaf pans coated with cooking spray. Bake for 30 minutes. Cool for 10 minutes, dust with confectioners or powdered sugar if desired.
Nutrition Facts
Mini Blueberry Cakes Recipe
Amount Per Serving (4 mini loafs)
Calories 368
Calories from Fat 117
% Daily Value*
Fat 13g20%
Cholesterol 72mg24%
Sodium 271mg12%
Potassium 214mg6%
Carbohydrates 58g19%
Protein 5g10%
Vitamin A 475IU10%
Vitamin C 5.4mg7%
Calcium 79mg8%
Iron 1.9mg11%
* Percent Daily Values are based on a 2000 calorie diet.