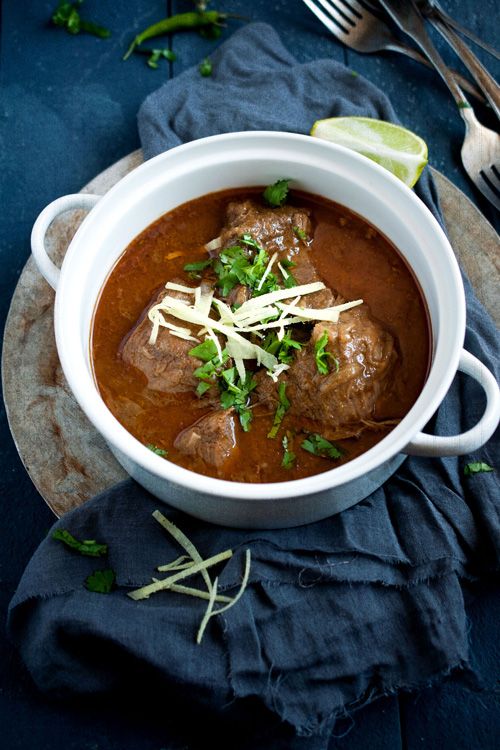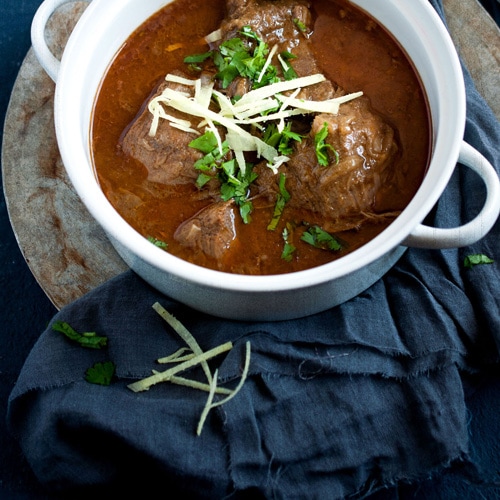 Nihari (Indian Beef Stew)
Nihari is a beef stew popular in northern India, Pakistan and Bangladesh. Nihari is a hearty beef stew that is great for fall/winter months.
Prep time:
Cook time:
Total Time:
Ingredients:
2 lbs Beef shank (or 1 ½ lb boneless beef)
1 bay leaf
2 one-inch cinnamon sticks
1 ½ teaspoons + 1 ½ teaspoons ginger paste
1 ½ teaspoons + 2 teaspoons garlic paste
1 large onion, thinly sliced
1 teaspoon red chili powder
2 1/2 teaspoons Nihari Masala
1 teaspoon salt
2 tablespoons whole-wheat flour
One 1-inch piece fresh ginger, julienned
¼ cup chopped cilantro
1 lemon, sliced
Nihari Masala:
2 tablespoons fennel seeds
2 tablespoons cumin seeds
4 green cardamom pods
1 black cardamom pods
8 cloves
15 whole black peppercorns
1 teaspoon ground ginger
¼ teaspoon nutmeg powder
¼ teaspoon cinnamon powder
1 bay leaf
Method:
Preparing Nihari Masala:
Add all the ingredients in a spice grinder and grind to fine powder form.
Sift the powder through a fine sieve to remove any rough pieces and store in an airtight container in the refrigerator.
You can keep this for about a month.
Boiling the Shanks:
In a large pot add the beef shanks along with 1 ½ teaspoon of ginger paste, 1 ½ teaspoon of garlic paste, bay leaf, 1 cinnamon stick, 1 teaspoon of salt and 5 cups of water.
Boil the shanks on low-medium heat till the meat is tender and well done, about 2-3 hours.
(Make sure to add little more water if the water starts to dry out too fast; there should be enough water in the pot to cover the meat).
Once the meat is done, use a slotted spoon to carefully remove the meat from the liquid and keep aside.
Measure the stock (liquid) and add water if needed to make it 4 cups, reserve.
Discard the bay leaf and cinnamon.
You can do this step up to 2 days in advance.
Let the meat and stock stay together while you store them in refrigerator, remove the meat from the stock just before you start to put the stew together.
Stew (Nihari):
In a non-stick saucepan or a pot, heat oil over medium heat.
When the oil gets hot, add the sliced onions and stir-fry constantly until they turn golden-brown in color.
Don't over fry or the onions will burn.
Add the remaining 1½ teaspoon of ginger paste and 2 teaspoons of garlic paste and do a quick stir.
Add 1 cup of the reserved stock to the pan, cover the pan and let everything cook on low heat for 5-6 minutes until the liquid starts to dry out and the onions turn very soft.
Add the beef shanks to the pan along with the chili powder and Nihari Masala.
Sauté gently for 2-3 minutes, and try to avoid the meat from breaking down.
Add 3 cups of remaining stock (if the stock is less than 3 cups add water).
Give everything a gentle stir and cover the pan.
Let it simmer on low heat for 10 minutes.
In the meantime, in a small bowl, combine the flour with ½ cup of water.
Stir well.
After the stew has simmered for 10 minutes, add the flour mixture to the pan, stirring gently.
Cover the pan and let it simmer for another 10-15 minutes on low heat.
Check it once or twice to make sure the gravy is not drying out.
Remove the pan from the heat and let it stand for 10 minutes with its lid on before serving.
When ready to serve, add salt to taste and garnish the stew with the ginger, cilantro and lemon juice and serve hot with pita, naan or any bread of your choice.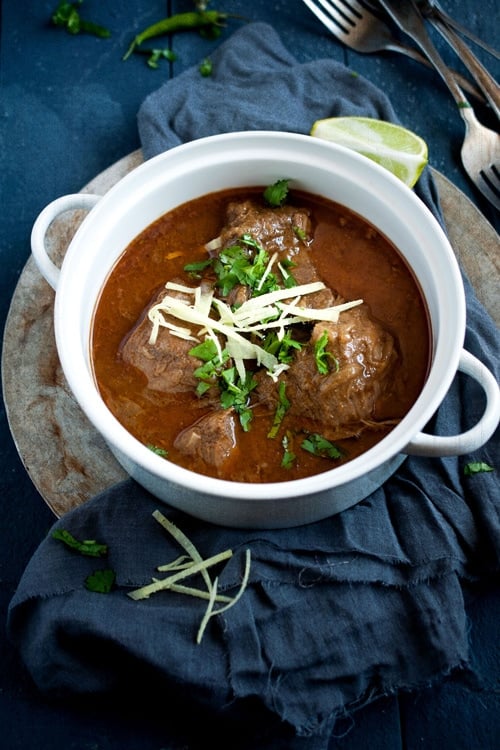 Fall is the season for hearty stews so I invited my friend Reem at Simply Reem back for a fabulous beef stew recipe.
Nihari is a beef stew popular in the northern region of India, Pakistan, and Bangladesh.
Nothing tastes better than aromatic and spice-laden beef stew where the meat is so tender it falls off the bone.
If you love spices in your cooking, hop over to Simply Reem for more delicious recipes.
You can also check out her Indian chicken curry recipe.
Thank you Bee, for giving me an opportunity once again to share a recipe on your wonderful blog.
I know you liked this Nihari, or beef shank stew and hopefully the readers on Rasa Malaysia will like it too.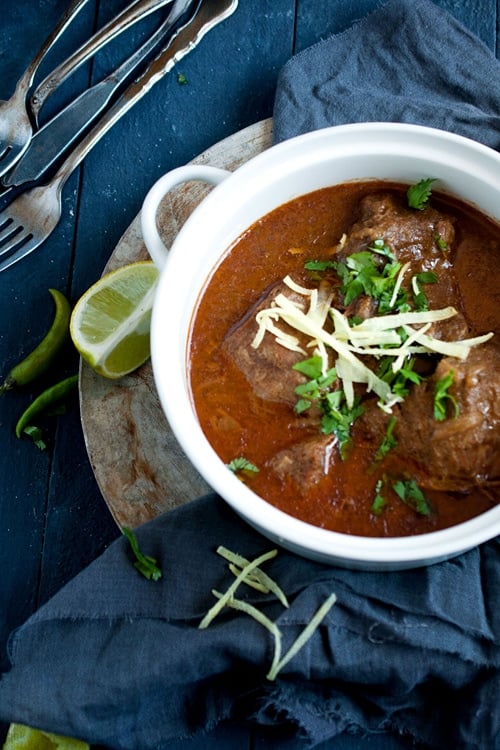 The best way to celebrate and welcome Fall/Winter is with a bowl of hot slow cooked beef stew, comforting and assuring in the chilly evenings or a fleeting sun-kissed fall afternoon.
Although in the current fast-paced lifestyle, slow cooking is not something we look forward to, but fall is the season to enjoy the pleasure of warmth and fill the home with the aromas of wonderful spices.
Today I am sharing with you all a very delicious and traditional slow cooked Beef Shank Stew, also known as Nihari.
Traditionally this beef stew is cooked slowly over night and eaten as breakfast in early chilly mornings but you can enjoy it over lunch or dinner.
This is a spicy stew with wonderful flavors and aromas of different spices, which give the much needed warmth in cold season.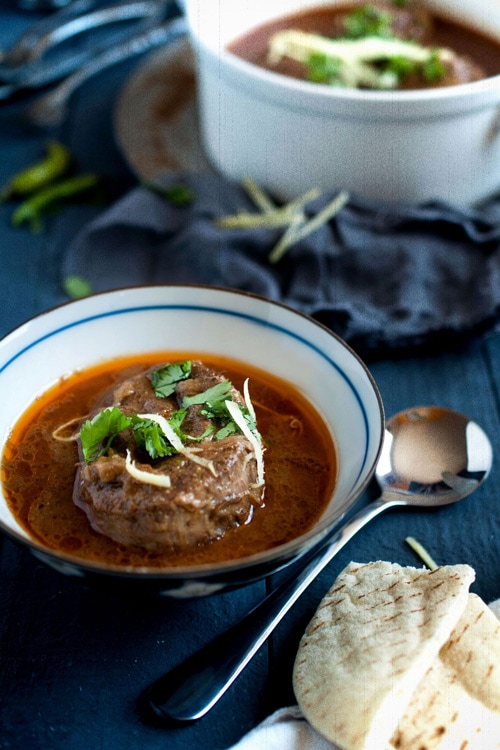 The best part about Nihari is that it is not at all difficult to prepare and makes a perfect cook-ahead item as the flavors develop with time.
You may also choose to make it with lamb, chicken or even other cut of beef; just adjust the cooking time according to your preference.
Try this Nihari recipe and enjoy fall (and soon winter) with a healthy and warming stew on your dinner table.
Click Here to Pin This Recipe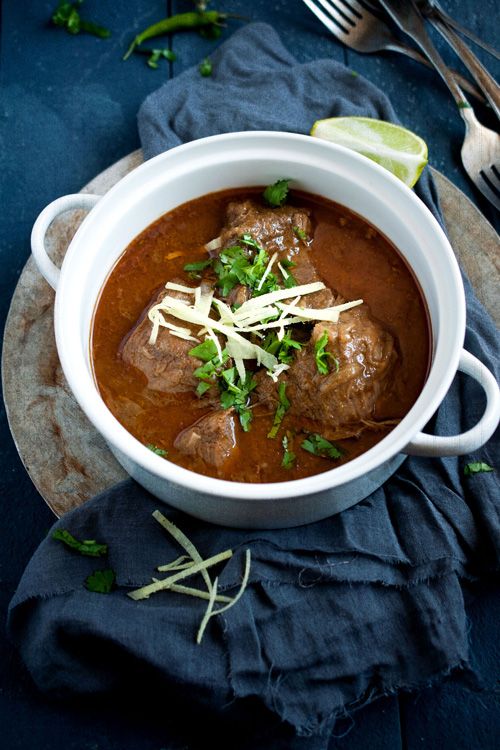 SUBSCRIBE AND NEVER MISS A RECIPE
SUBSCRIBE TO RASA MALAYSIA NEWSLETTER AND GET EASY AND DELICIOUS RECIPES DELIVERED TO YOUR INBOX. If you try my recipe, please use hashtag #rasamalaysia on social media so I can see your creations! Follow me on Facebook | Instagram | Pinterest | Twitter for new recipes, giveaways and more.