Ginger and Scallion Chicken - Easy Chinese chicken dish made with ginger, scallion and chicken. Easy ginger and scallion chicken recipe.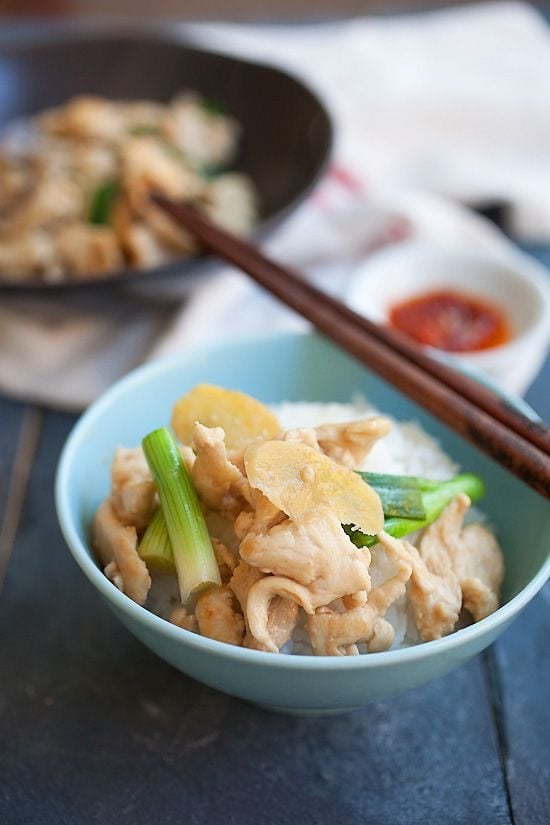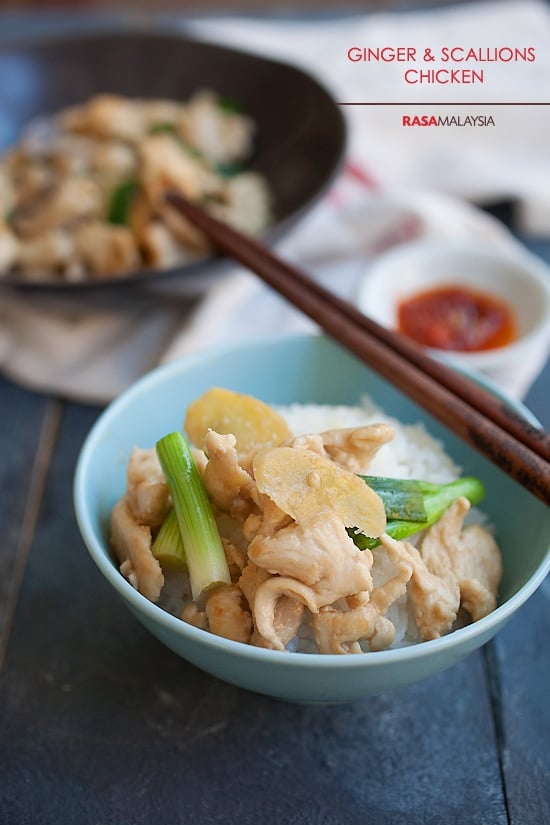 Ginger and scallion chicken (姜葱鸡) is a traditional Chinese recipe.
As simple as the ingredients sound, this is not an easy dish to cook well. This dish needs a lot of wok skills.
Hence, this ginger-and-scallion style of cooking is often my taste test when I go to a new Chinese or Cantonese-style restaurant.
If a chef can make a mighty wok hei-infused ginger-and-scallion dish—be it chicken, beef, ginger and scallion crab, or lobster—it's a sure fire sign that the food will be great.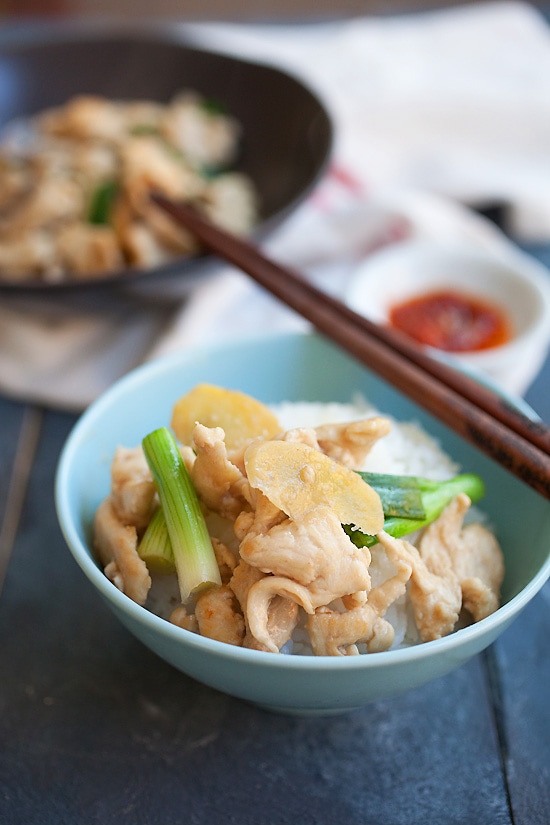 At home, I like cooking this dish when I want something quick and simple with my steamed rice (aka 30-minute meal) .
I always marinate the chicken meat with potato flour (生粉) or corn starch. (This is one of the many secrets of Chinese cooking; this process will make the meat extra tender and smooth.)
I once asked a master Chinese chef and he told me that potato flour is preferred as a tenderizing agent due to the gelatinous texture.
He also told me that a wee bit of baking soda will do even more wonders to tenderize the meat, which you can learn all about it on my cashew chicken recipe post.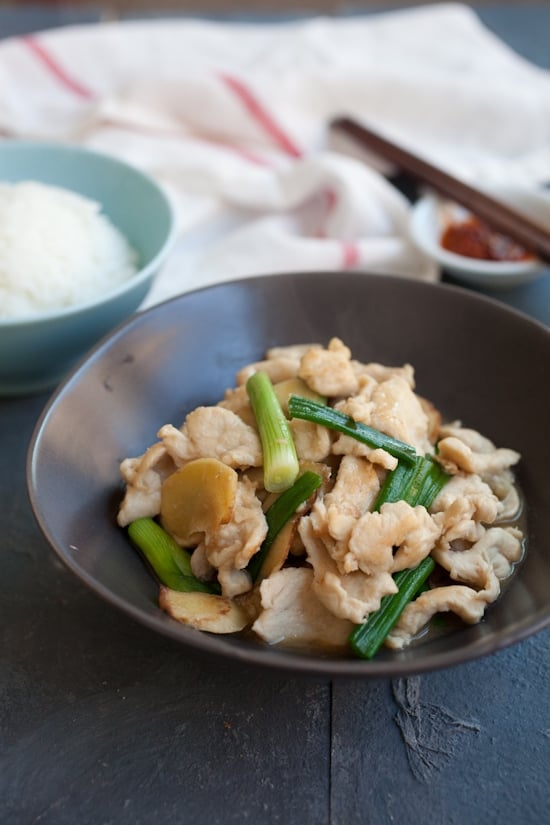 Ginger and scallion chicken and steamed rice is my ideal and homey meal. Try this ginger and scallion recipe at home and it will become your dinner table staple.
How Many Calories per Serving?
This recipe is only 360 calories per serving.
What Dishes to Serve with This Recipe?
For a wholesome meal and easy weeknight dinner, I recommend the following recipes.
5 Secrets to 20 Min Dinners
Get tricks for quick & easy meals!
Yield: 2 people
Ginger and Scallion Chicken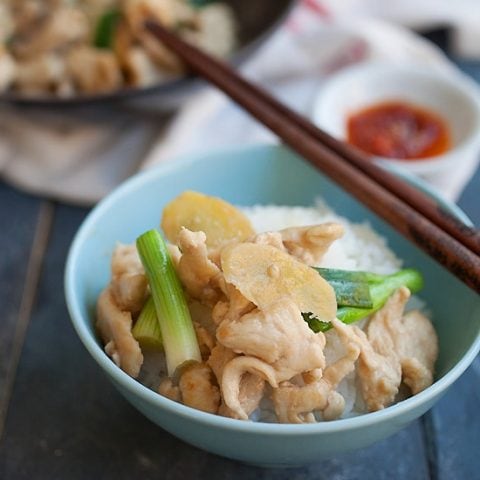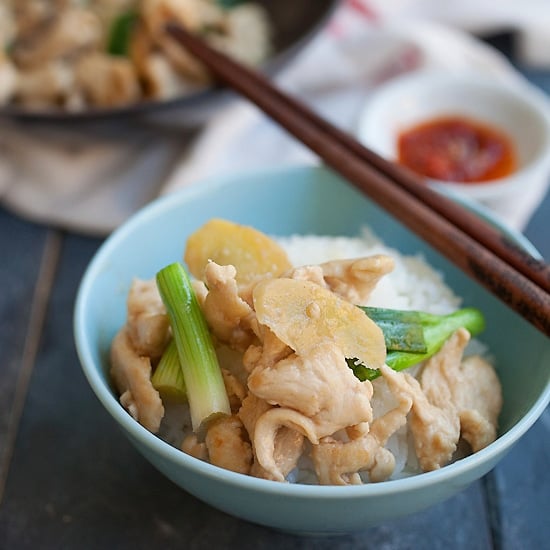 Ginger and scallion chicken is an easy Chinese chicken dish made with ginger, scallion and chicken. Easy ginger and scallion chicken recipe.
Ingredients
1 chicken breast, deboned, skinned and cut into thin pieces
4 stalks scallions, cut into 2-inch (5 cm) lengths
2 inches (5 cm) fresh ginger, peeled and sliced into pieces
3 tablespoons cooking oil, one tablespoon for marinating chicken
1/2 tablespoon potato flour or cornstarch
2 tablespoons oyster sauce
1/4 teaspoon sesame oil
1/2 tablespoon Shaoxing cooking wine
1/4 teaspoon sugar
3 dashes white pepper
salt to taste
Instructions
Marinate the chicken with potato flour or cornstarch and add one tablespoon of oil to seal in the juice of the chicken. Set aside for 10 minutes.
Heat up your wok and add the remaining cooking oil into the wok. When the wok gets very hot and begins to smoke, add in the ginger and stir for a few seconds, then add the white part of the scallions and stir a few times. Add in the chicken and continue to stir well. Just when the chicken starts to cook through, add in the oyster sauce, sesame oil, cooking wine, white pepper, sugar, and toss the wok a few times. Add salt to taste, if it's not salty enough. Add in the green part of the scallion, stir quickly and remove from heat and serve immediately with steamed white rice.
Nutrition Information
Yield
2
Serving Size
2 people
Amount Per Serving
Calories

360
Total Fat

25g
Saturated Fat

2g
Unsaturated Fat

0g
Cholesterol

72mg
Sodium

628mg
Carbohydrates

9g
Fiber

1g
Sugar

1g
Protein

25g