Delicious Sesame Shrimp is made with deep-fried shrimp and coated in a sweet and savory sauce. This easy recipe takes less than 20 minutes and much better than Chinese takeout restaurants!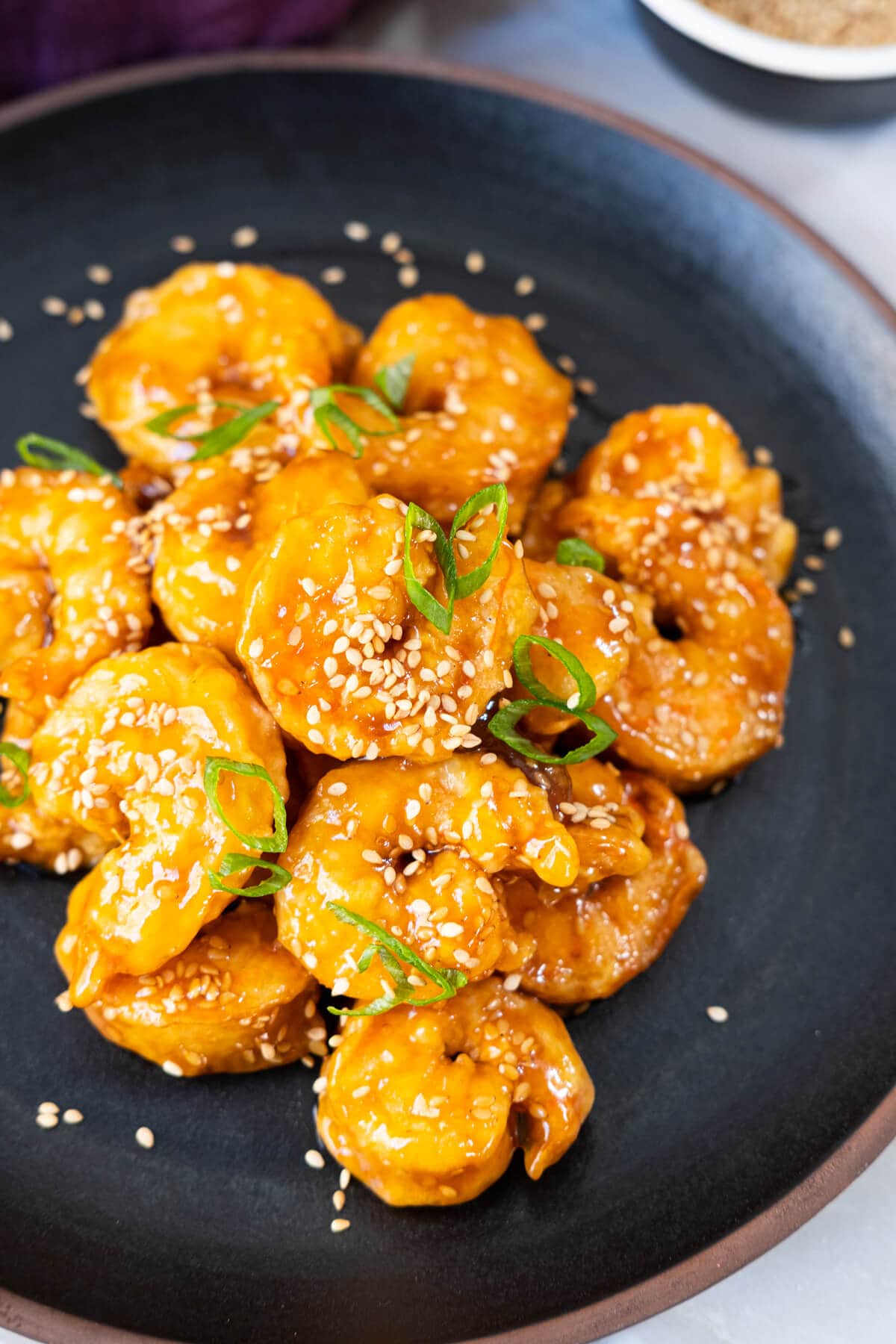 Sesame Shrimp Recipe
Sesame shrimp is a popular shrimp recipe that everyone loves. It is made with deep-fried shrimp and coated with a sweet and savory homemade sesame sauce.
This mouthwatering sesame shrimp is best served with a bowl of steamed white rice. Speckled with white sesame seeds, this recipe is insanely delicious and addictive!
Other Recipes You Might Like
Why This Recipe Works?
This easy recipe serves up a tasty meal in less than 20 minutes with only a few everyday ingredients. It is the best recipe for busy weeknights.
Making this favorite takeout at home means the total cost is a fraction of the price in restaurants. Plus, homemade sesame shrimp is always better and healthier than eating out and you can save time and money from restaurants.
This recipe can be either an appetizer or a main dish for dinner.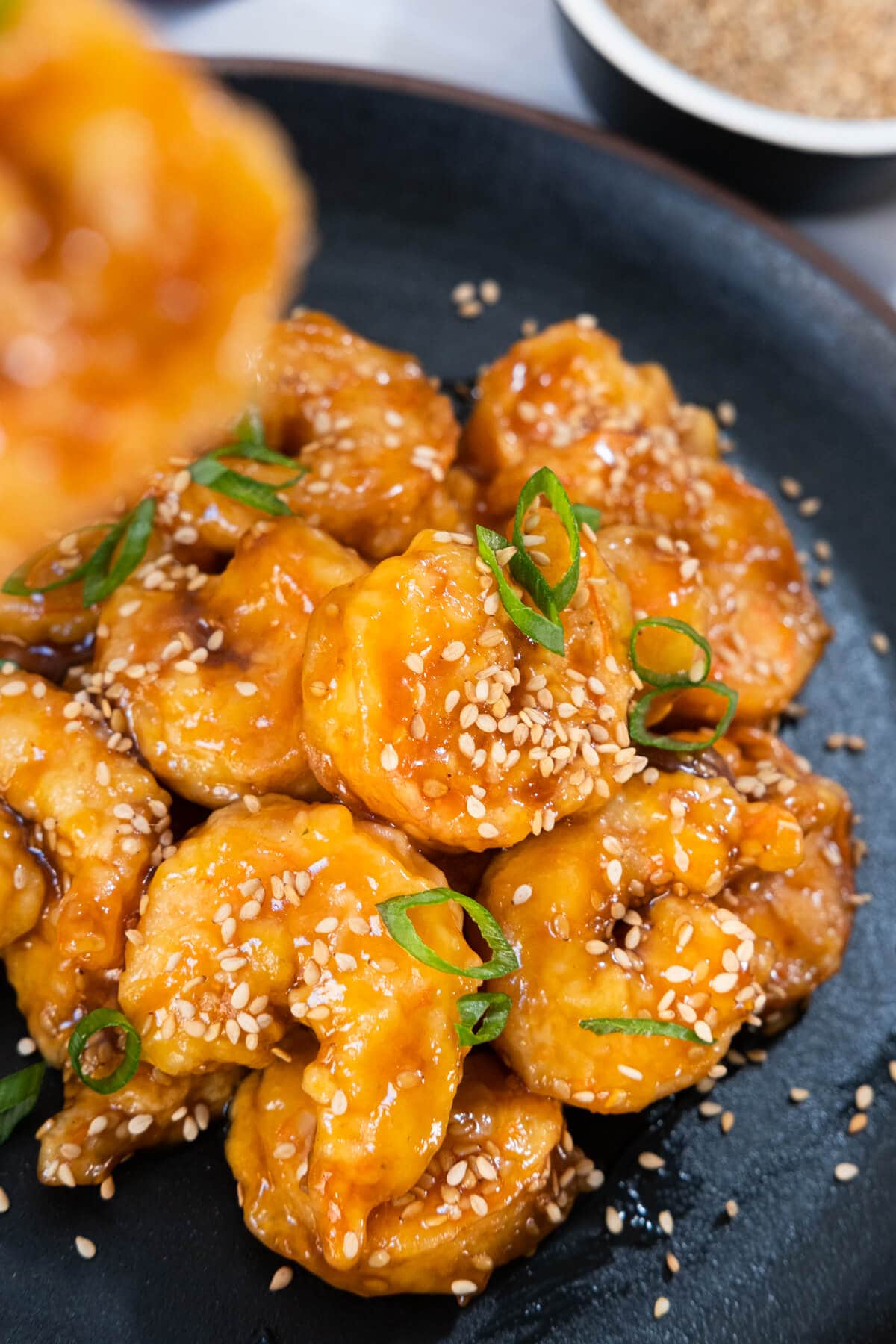 Ingredients for Sesame Shrimp Recipe
This sesame shrimp calls for a few simple ingredients below:
Shrimp
Oil for deep-frying
White sesame seeds
Frying batter requires the following ingredients:
All-purpose flour
Corn starch
Salt
Ground white pepper
Egg
Water
Homemade tangy sesame sauce is made from a few simple ingredients:
Soy sauce
Chinese white vinegar or apple cider vinegar
Sugar
Corn starch
Water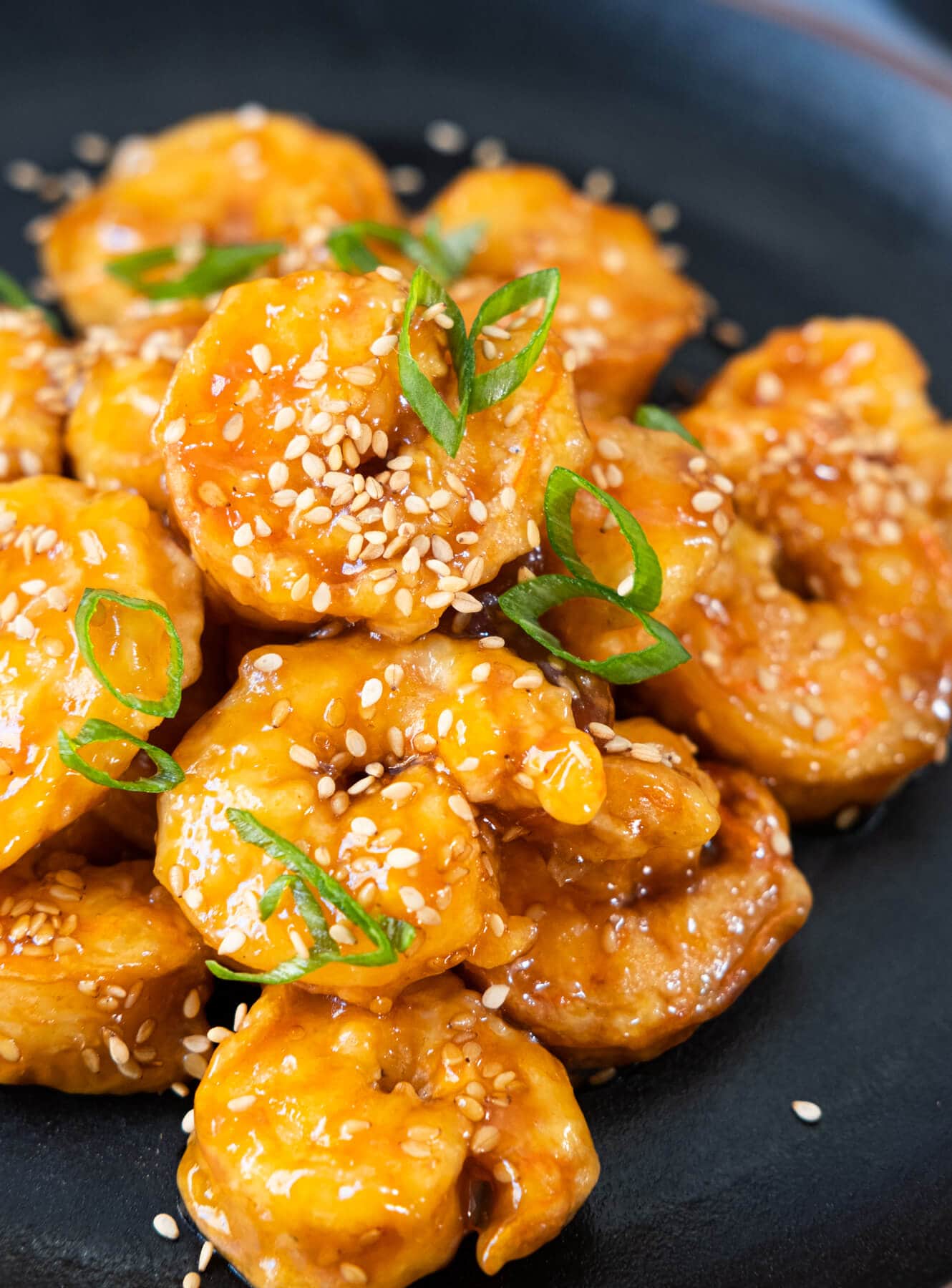 How to Make Sesame Shrimp?
First, prepare the shrimp, frying batter and the sauce mixture.
Next, coat the shrimp with frying batter and deep-fry the shrimp until crispy and golden brown.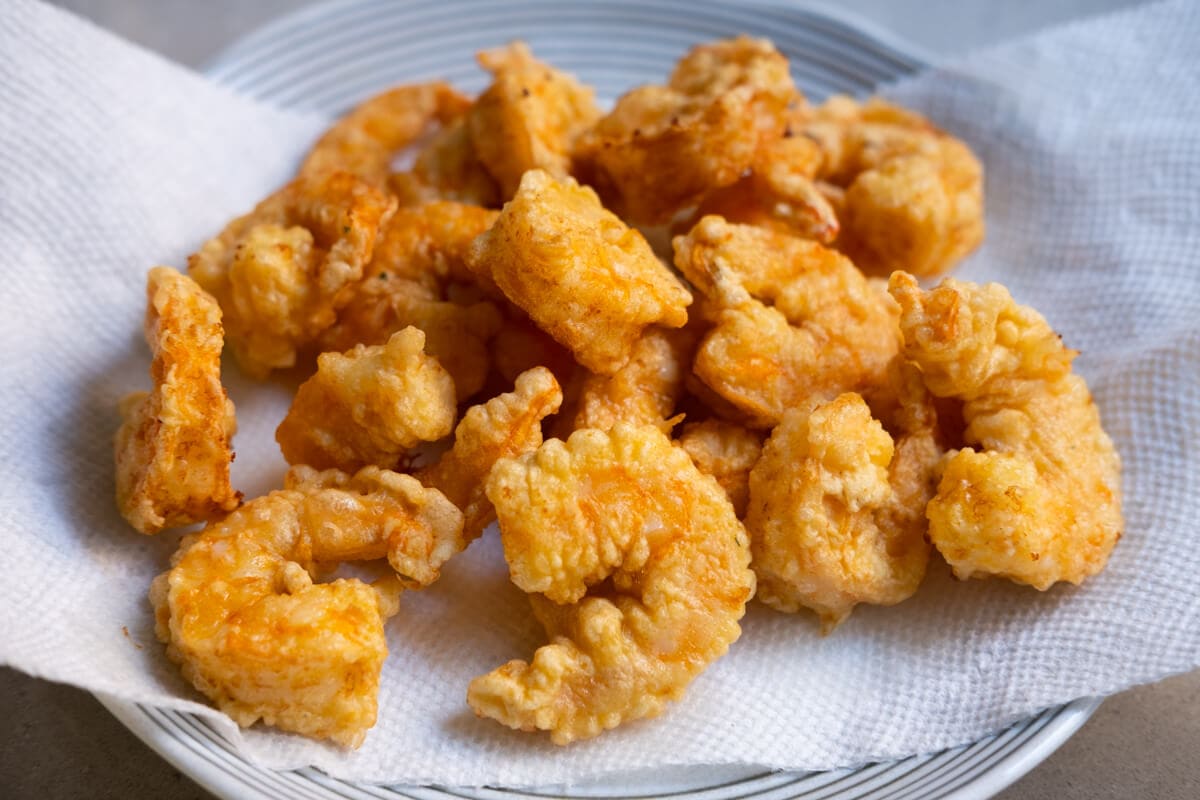 Finally, cook the sauce until it thickens and toss with the shrimp to evenly coat it. Now it is ready to serve!
Cook's Tips
For the best result, please follow my cooking tips below:
The crispy and airy shrimp are evenly coated with frying batter and deep-fried at a high temperature. Use a thermometer to keep the oil temperature at 350°F (170°C) while deep-frying.
Fry the shrimp in batches, allowing room between each other so that they won't stick together.
Prepare the sauce mixture first to simplify the cooking process and save time.
Do not coat the shrimp with too much sesame sauce. Overloaded sauce will make the shrimp soggy.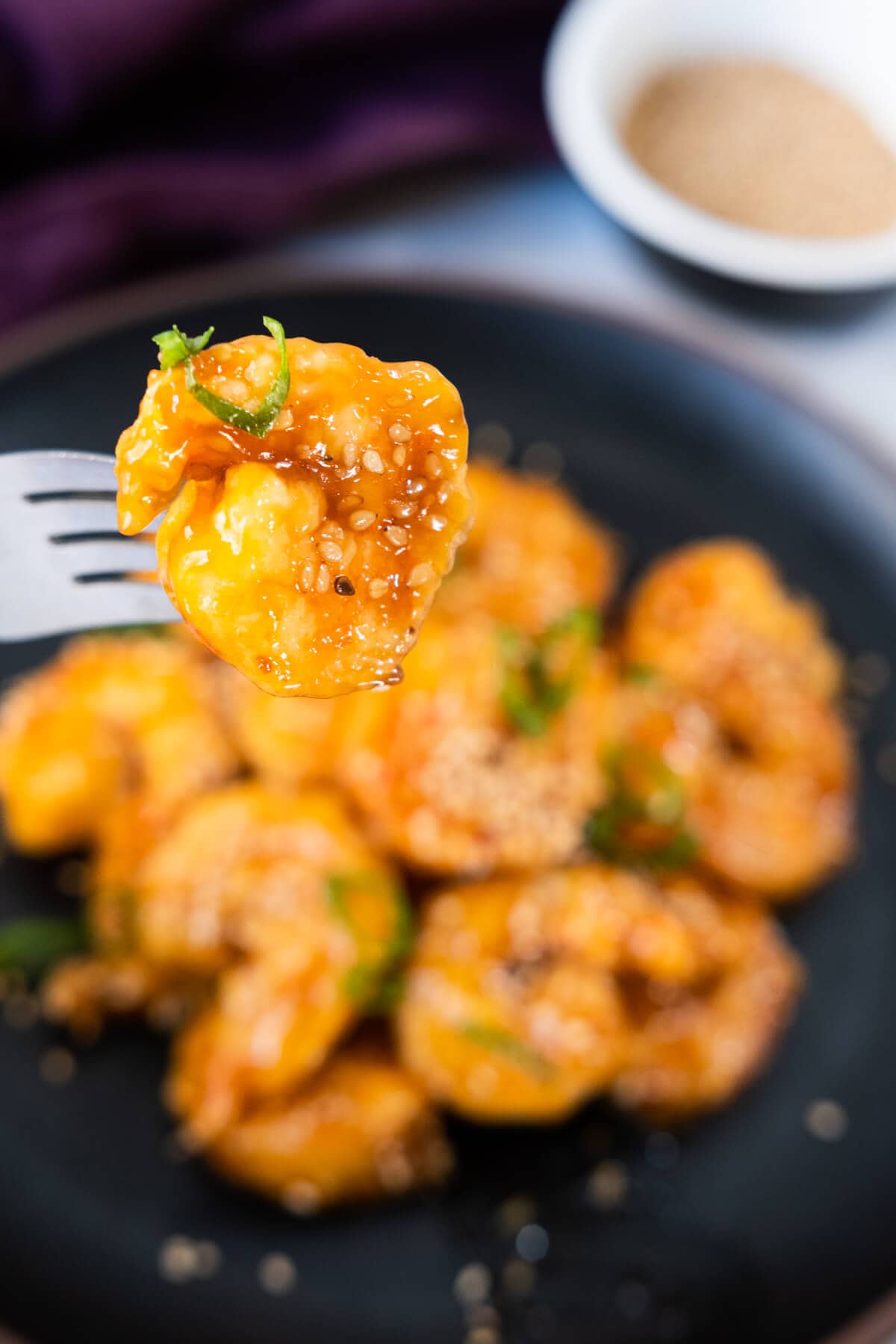 Frequently Asked Questions
What is the difference between sesame shrimp and General Tso's Shrimp?
Sesame shrimp is coated with a sweet and savory sesame sauce but not spicy. General Tso's shrimp is coated with a dark, sweet sauce and tastes spicy. They are two very different dishes.
Can I use the air fryer to fry the shrimp?
For the best result, deep-fry the shrimp with high-temperature oil. However, you can fry the shrimp with an air fryer.
How Many Calories per Serving?
This recipe is only 317 per serving.
What to Serve with This Recipe?
Serve this dish with steamed rice or fried rice. For a wholesome Chinese meal and easy weeknight dinner, I recommend the following recipes.
5 Secrets to 20 Min Dinners
Get tricks for quick & easy meals!
Yield: 3 people
Sesame Shrimp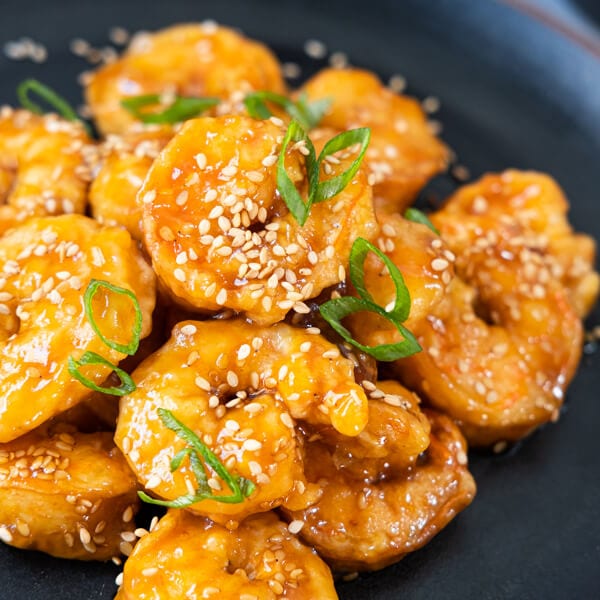 Delicious Sesame Shrimp is made with deep-fried shrimp and coated in a sweet and savory sauce. This easy recipe takes less than 20 minutes and tastes much better than Chinese takeout restaurants!
Ingredients
1/2 lb shrimp, peeled, deveined and tale off
oil, for deep-frying
white sesame seeds, for garnishing
Frying Batter
1 tablespoon all-purpose flour
2 tablespoons corn starch
1/2 teaspoon salt
1/2 teaspoon ground white pepper
1 egg
1 tablespoon water
Sauce
2 tablespoons soy sauce
1 tablespoon Chinese white vinegar/ apple cider vinegar
4 tablespoons sugar
2 teaspoons corn starch
1/3 cup (80 ml) water
Instructions
Rinse and pat the shrimp dry with paper towels; set aside.
Combine all sauce ingredients in a bowl and mix well. Set aside.
Mix all the frying batter ingredients in a bowl. Keep whisking the batter until no more lumps remain and the batter is smooth. Add the shrimp to the batter and stir to coat evenly.
Heat the wok or a saucepan with 2 to 3 inches of oil to 350°F (170°C) for deep-frying. Gently drop the shrimp into the oil one at a time and immediately loosen them up with chopsticks or a spatula to avoid them sticking together. Deep-fry the shrimp to golden brown on both sides, and remove them from the oil with a strainer or a slotted spoon. Place the fried shrimp on a plate lined with paper towels. Discard the oil in the wok.
Add the sauce into the wok; keep stirring until it thickens. Transfer the fried shrimp to the wok, and stir continuously until all the shrimp are evenly coated with sauce. Garnish the shrimp with white sesame seeds and serve immediately.
Nutrition Information
Yield
3
Serving Size
People
Amount Per Serving
Calories

317
Total Fat

4.1g
Saturated Fat

1.2g
Cholesterol

373mg
Sodium

138.mg
Carbohydrates

30.6g
Fiber

0.3g
Sugar

16.4g
Protein

37.7g